The Weekly Peanut, Issue 84
I'm happy to inform you that the roller coaster ride that is my child was a lot less dramatic this past week. For me at least. Daddy's not having quite as easy of a time, particularly if I'm around, D can be downright mean to him. I'm working really hard on developing D's sense of empathy; she's very sensitive and gets very upset when you point out to her that she's being "not nice," but she has trouble figuring it out on her own.
Ian's been enjoying some time off before starting his new job, so he decided to pull D out of school a little early to have some quality time. D continues to exercise her lungs in the car.
They had BemBom Food truck (mmm quesadillas) and ran errands. Ian forgot the diaper bag. If I did that? Poop blow out. Guaranteed. Ian? Nothing.
Friday we got a visit form Grandpa Bobo.
I spent Saturday at Florida Blog Con, so Daddy and D had a chance to work on their bonding. I've been having serious laptop issues the past couple of weeks, so I took the IPad with me to the Convention. Of course, I get a text from Ian asking where the IPad is (we take it with us loaded with shows and movies for D most places). I let him know, and of course, I get a guilt video in return...
Saturday evening I ran home to tag Ian out so he could go to a work-related event. Mommy-Daphne date night? Totes. Somehow every time I leave the house to eat without a clear destination in mind, I wind up at Cask & Larder. There are worse problems to have. Awesome food, surrounded by staff who know us and greet us with smiles and hugs? Yeah, definitely worse problems to have.
Having both Donut King AND Rainbow Sno so close to our house is dangerous. I couldn't help dangling a snow cone carrot in front of D on the way home. She LOOOOOVES a snow cone. Loves it so much that she dragged out the experience well past her bedtime, to the point I had to cut her off so we could get home at a decent time. I had to drag her away from that snow cone, kicking and screaming. Literally.
Ian had a late night Saturday so I offered to take D out for the morning so he could take his time getting up. First stop: Starbucks (D recognizes it and says "Coffee?? Mommy, coffee?"). D turned on the charm for the barista, picking out a pink cake pop while I ordered my coffee and (omg, if you haven't had one yet) pecan tart. I took out my card and the barista waved me off. EH? "It's on me! I felt bad we didn't have your sandwich yesterday!" I had totally forgotten that I'd stopped into Starbucks Saturday morning and they'd run out of the breakfast sandwich I wanted. Thanks, Starbucks Barista Monika, for treating us to yummy breakfast treats.
D was VERY excited to go to the playground. I was incredibly impressed with how resilient she's become. There are lots of aspects of that playground (climbing, etc.) that D couldn't tackle just a few weeks ago. I was blown away by her ability to not only to do all these new activities, but getting to watch her struggle with them and not give up. I spotted her all along the way, and there were plenty of times that I saw her getting frustrated and she'd ask me to help her up. I stuck to my guns and kept cheering her on and she eventually made it over every hurdle. So proud of my brave, strong peanut.
D has rediscovered Gooble this week. She's requested to watch Gooble's episode of Yo Gabba Gabba several times (or, more accurately, she wants to watch "Why is Gooble sad?"). We dug up the stuffed Gooble from a pile of stuffed animals in her room and she's been carting him around, giving him hugs and turning his frown upside down, literally.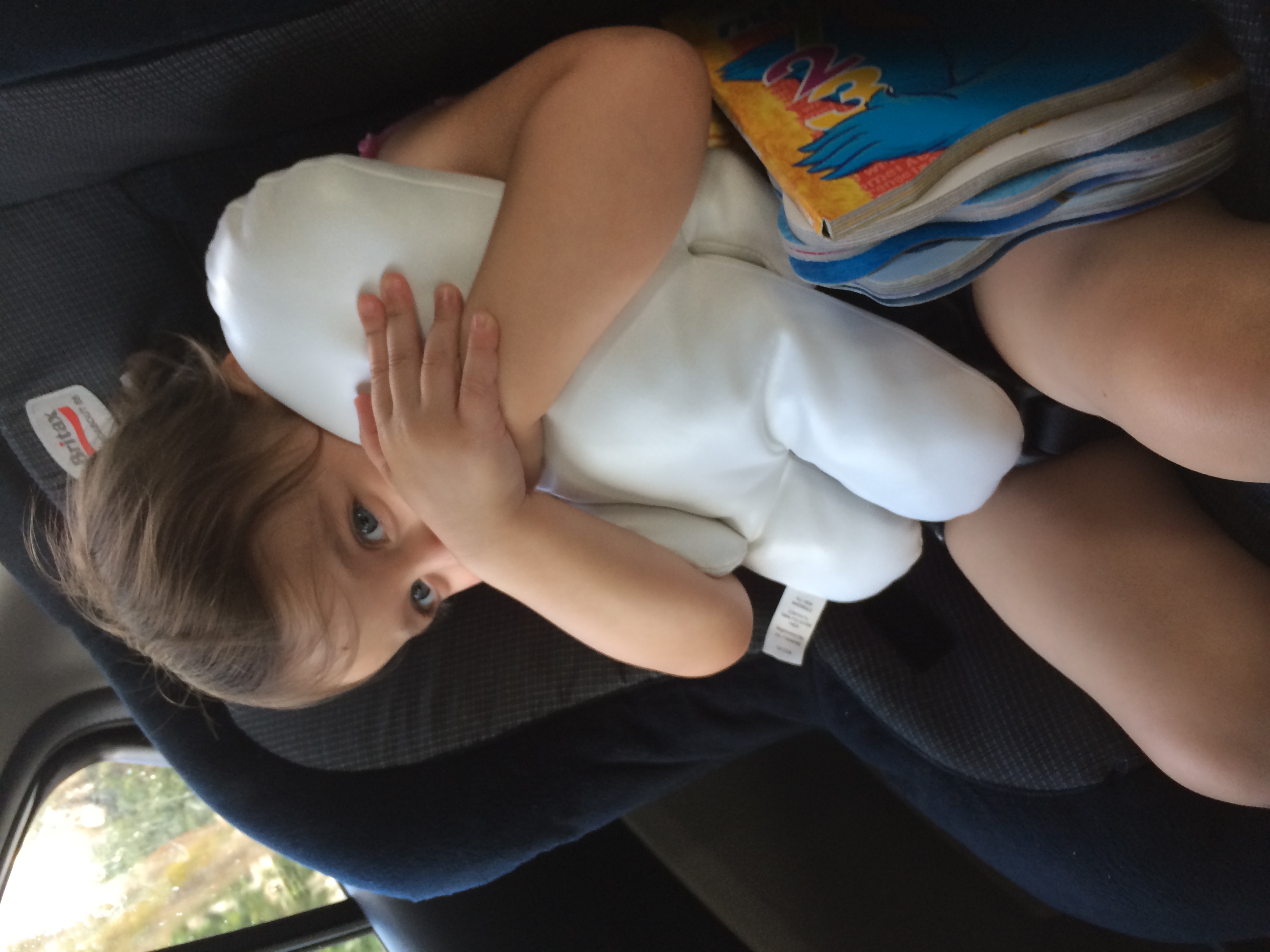 We got D's school pictures back (I totally forgot to write about getting the proofs a few weeks ago!). Is this not the cutest little stinker you've ever seen? I love how you can tell in both pictures she's about two seconds away from starting a ruckus...
Now I leave you with a Disney Princess Fashion show, D models Rapunzel's wedding dress ("Tangullllz, Tangulllz") and Anna's snow dress.