Two weeks of relative peace and joy. There are parents out there, I'm sure, who don't get even that. I should feel blessed, no? But still...
It would have been nice to keep the party going a bit longer.
The weekend started well enough. Despite the chaos surrounding it, D did an admirable job braving her second Megacon. (That was my last time going on a Saturday. Seriously.) All my attempts at assembling a family costume outing were thwarted by the grinch (aka my husband), so we ended up representing for Star Trek, of course.
D's dress is covered in Comic Book covers from The Original Series, Ian's wearing a Deep Space 9 shirt, and I recycled my next gen shirt from last year's con. Speaking of last year's con, come on, there's no way we were going to top that.
The place was packed, and if I ever doubted my choice in stroller, our Joovy Groove proved itself impressively handleable even in the ridiculous crowds. I kept D happy by bringing our fully Gabba loaded Kindle, which she stayed engrossed in for the duration of our stay, regardless of the insanity surrounding her. What surprised me was that we got a TON of attention from other congoers, but not for our outfits: for D's Kindle. I heard at least a dozen people we passed stare at her in wonder and mumble about "technology." Really, people? It's just a Kindle.
I gave up on MegaCon around lunch time, so D and I left Daddy to his nerdly devices while we tried to head home. Dear lord the traffic, but we got home eventually. Initially unwilling to nap, we played dress up for a little bit.
Then it was finally crash time. I decided, since Daddy was out having fun, we'd have fun, too, with a Mommy-Daphne Girls' Night Out. So we went out for a yummy dinner at Cask & Larder. I took pictures of us eating our food to try and make Ian jealous.
We had BIG PLANS for Sunday. After the success of our first Character Meeting, I was completely stoked to take D to Hollywood Studios to meet two of her favorite characters: Mike & Sully from Monsters, Inc. I also managed to swing us FastPasses for Toy Story Mania, which we'd never ridden. Things started innocently enough as we began our car ride...
...but then D started getting cranky. And decided to spill water all over herself. Making herself crankier. By the time we got to the park and pulled her out of the car seat, she was SOAKED. We had to swap out her adorable new Minnie Mouse dress for a spare sweater I had in the diaper bag. Mike & Sully weren't appearing for a little while, so we took D to the Muppet Vision for the first time. She was... not... into it. I don't know if she was mad because she was still damp, or if she woke up on the wrong side of the bed, but she wouldn't quit squirming and she kept trying to yank off both of our 3-D glasses. And SCREAMING when Ian had to take her crackers away so we could go in the theater. Oh well, surely going to meet her favorite characters would turn this mood around?
They had a really cool meeting area set up for Mike & Sully, made up to look like the Monster's, Inc. locker room. When we came around the corner and could get a peek of them for the first time, D started grinning and pointing and giggling. YES. If she was into Mickey, this should be OFF THE CHARTS. We even ran into D's BFF Audrey and her parents in line, who were sweet enough to take a little family pic of our growing Mike & Sully excitement.
I was all ready to record the video, we were next up, D's holding my hand and eyeballing Mike & Sully with a big grin. Finally, it's our turn. I look down at D and say "Ok, kid, go ahead and meet Mike & Sully!" The characters are both turned her way with open arms. First, D grabs my leg. "Aww, are you feeling shy, peanut? It's ok, it's Mike & Sully!" But she wouldn't let go of my leg! So I picked her up and walked over to stand between the characters with her.
Bless Mike & Sully's hearts, they tried. They really did. But D just lost it. This was worse than Santagate 2013.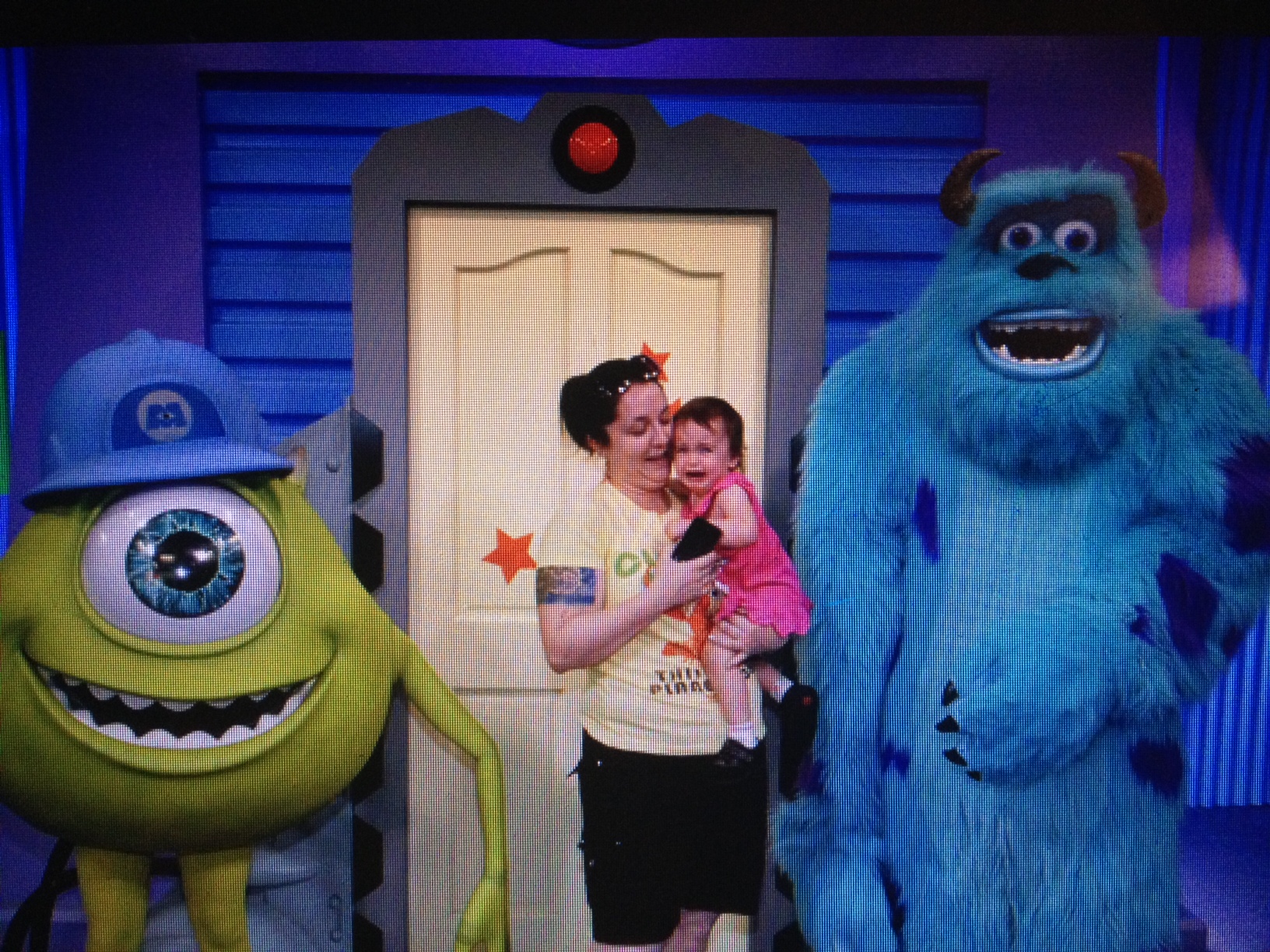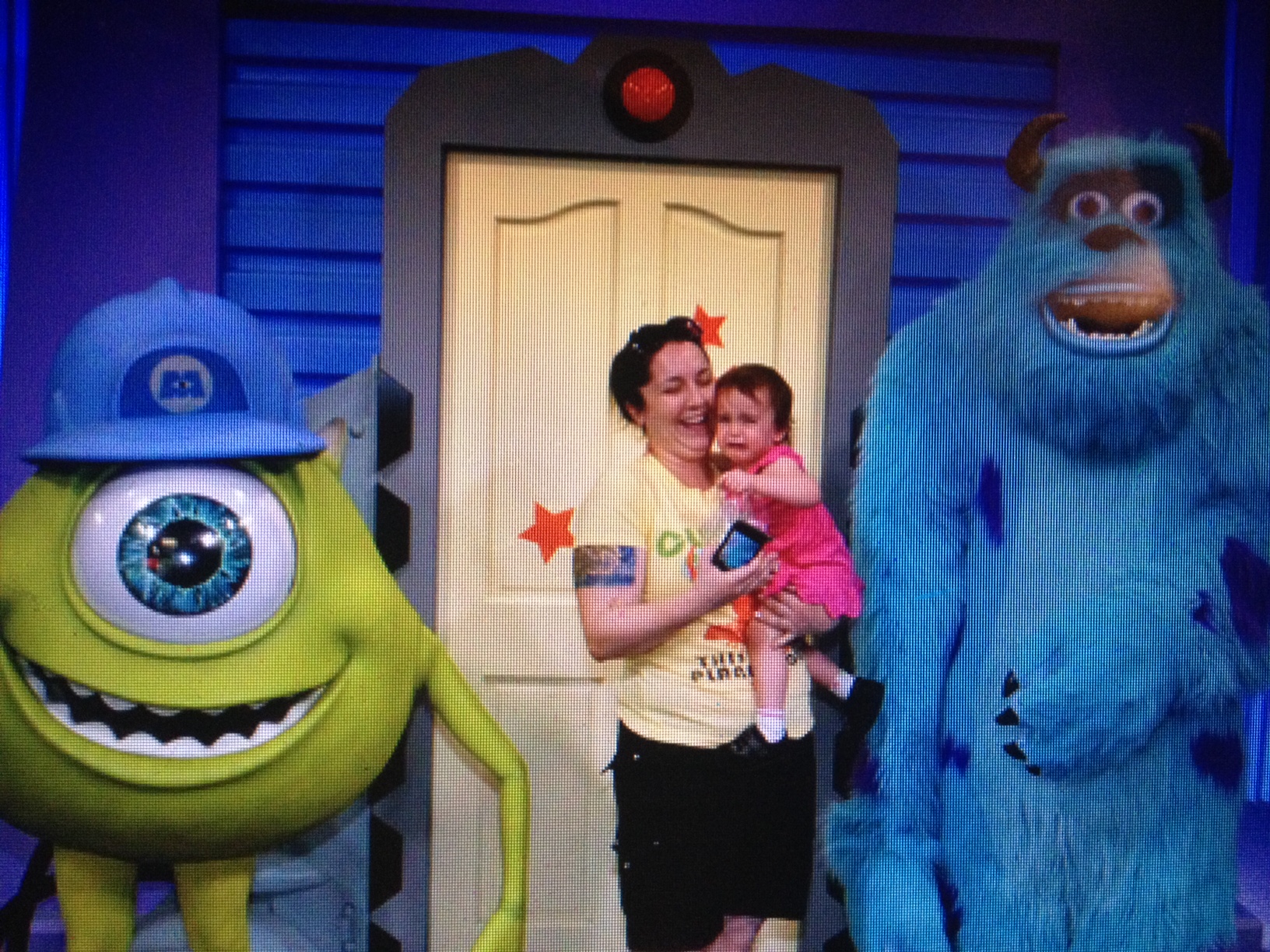 I laughed, because how could you not? Thirty seconds earlier, she'd been beside herself with excitement and then... what? WHAT?! I was a little crushed, but it serves me right for raising my expectations.
We tried to salvage the day. We fed the kid a hot dog and finally made it on Toy Story Mania, which we loved (D tolerated). I tried to bribe D with a cute new pair of Minnie Sunglasses.
Five minutes later she chucked them on the ground. In anger. In the next gift shop she charged the displays and grabbed a really cute shirt off the wall. Impressed that it was the least expensive shirt I'd seen at the parks, I figured we could get it for her. Well, D was too busy trying to put it on. Then pitching a fit when I suggest she let the cashier see it for long enough to ring it up. She demanded to wear it right away, of course. Ian and I were starved so we went over to the commissary that's right next to the Honey I Shrunk the Kids play area. D and Daddy went while I grabbed the food. Taking D away from the playground was apparently a bad idea. She got back to the table and started up a whining chorus about going back to the slide. I even took her back, but she was just being such a JERK we finally threw in the towel and called it a day. At noon. *Sigh*
It's been more of the same since then. The daily battles we're facing at the moment seem to be largely over food. For example: I cook dinner. D starts out eating the dinner, will take a several bites, then say she's done and not hungry any more. Fine. But ten minutes later she will try to raid the pantry. No. Eat your dinner. Meltdown. Oy.
Still, there are moments of light mixed in. Monday night we watched a Peter Gabriel Live DVD and Daphne danced vigorously to the happiest song on earth. So things could be worse.
Was there ever a time you were really exciting to do something with your toddler, and they totally rained on your parade?