The Weekly Peanut, Issue 96
Honestly, kid, how am I supposed to get this week's TWP written under these conditions?
This weekend was jam-packed again. After a pretty good run during the week, Saturday we started to see D's mood go south. It started on the world's longest, whiniest car drive to celebrate cousin Aria's 4th birthday.
No, seriously, I quote this scene on a daily basis now. I told Ian we'd seriously missed the boat on NOT naming our child Louis.
Aria was having a Frozen-themed party, so I broke out D's new Elsa tee (complete with attached armpit-cape). I asked her if she wanted Anna braids or Elsa braid. "Elsa braid." Ok. I painstakingly TWICE gave D a side-winding french braid. Honestly, considering how flimsy her hair is, this was an acclaim worthy feat.
As soon as it was done, "Noo! Noo!" Earnest pointing to the other side. "Elsa braid Elsa braid!" D, I gave you Elsa braids. Finally my husband chimed in, "D, do you want Elsa BRAIDS?" Nod. Kid... I just... *sigh* Oh well, she ended up taking those out during the long and whining road to Shady Hills.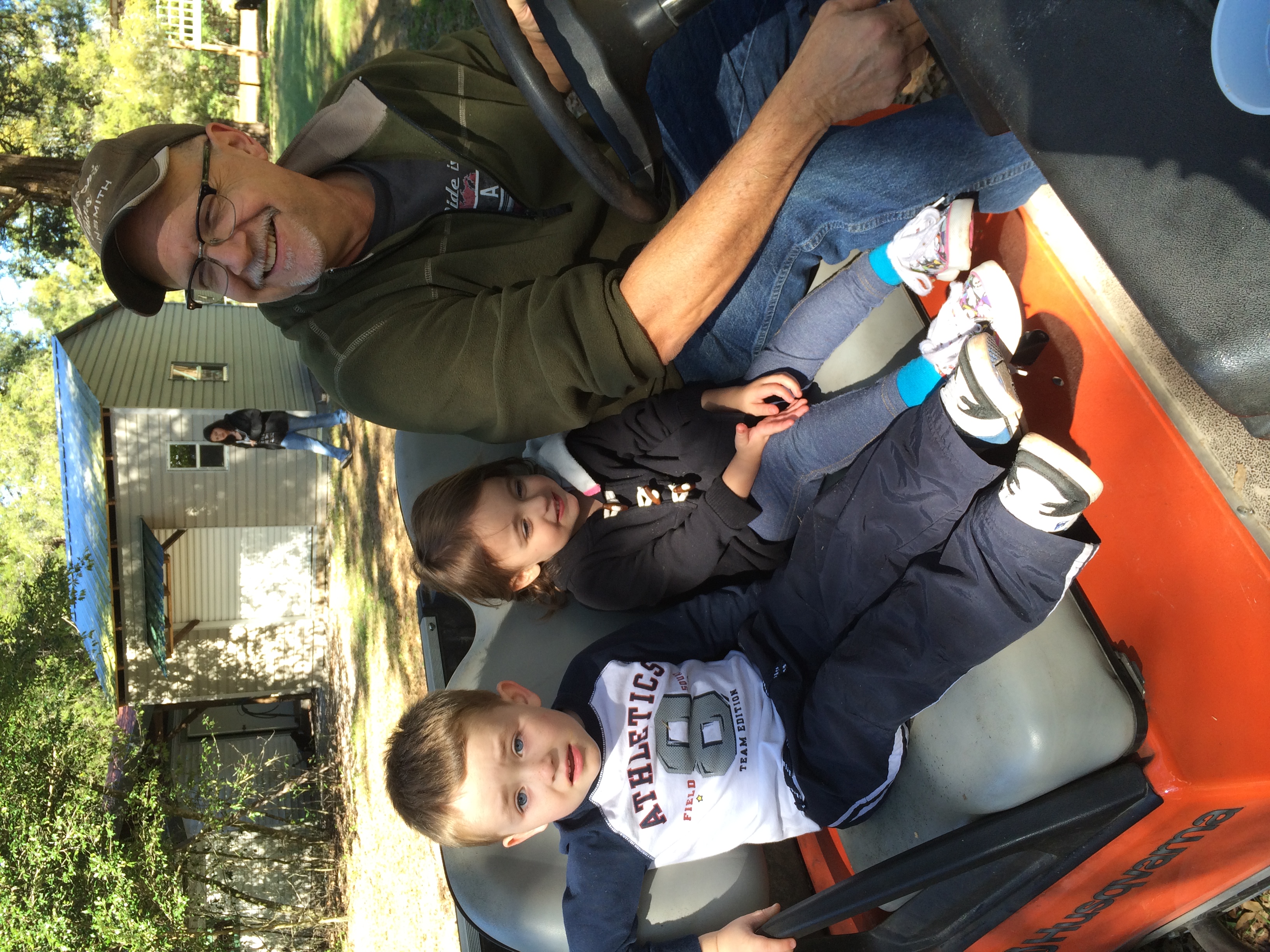 D took a little while to warm up, but she eventually hit her stride. Tractor hay rides, ponies, bounce houses, cupcakes, really what's not to like? We finally hit a road block when she decided to be a complete turd about saying goodbye to people when we had to leave. Yes, it was past her nap time, but I am O-V-E-R her being rude to people. Tired or not, you can still be polite. You don't have to squeal/whine if somebody tries to give you a hug and hide against my leg. Correcting this behavior is my current project.
Saturday night we took the opportunity to do one of our favorite Christmas traditions. There's a neighborhood near our house that goes ALL OUT with the lights. We got their right after sunset, which turned out to be perfect as far as crowds went (no trouble parking or getting to the neighborhood). Daphne had a lot of fun walking the neighborhood, but she was definitely the most taken with the snow machine. LOVED. IT.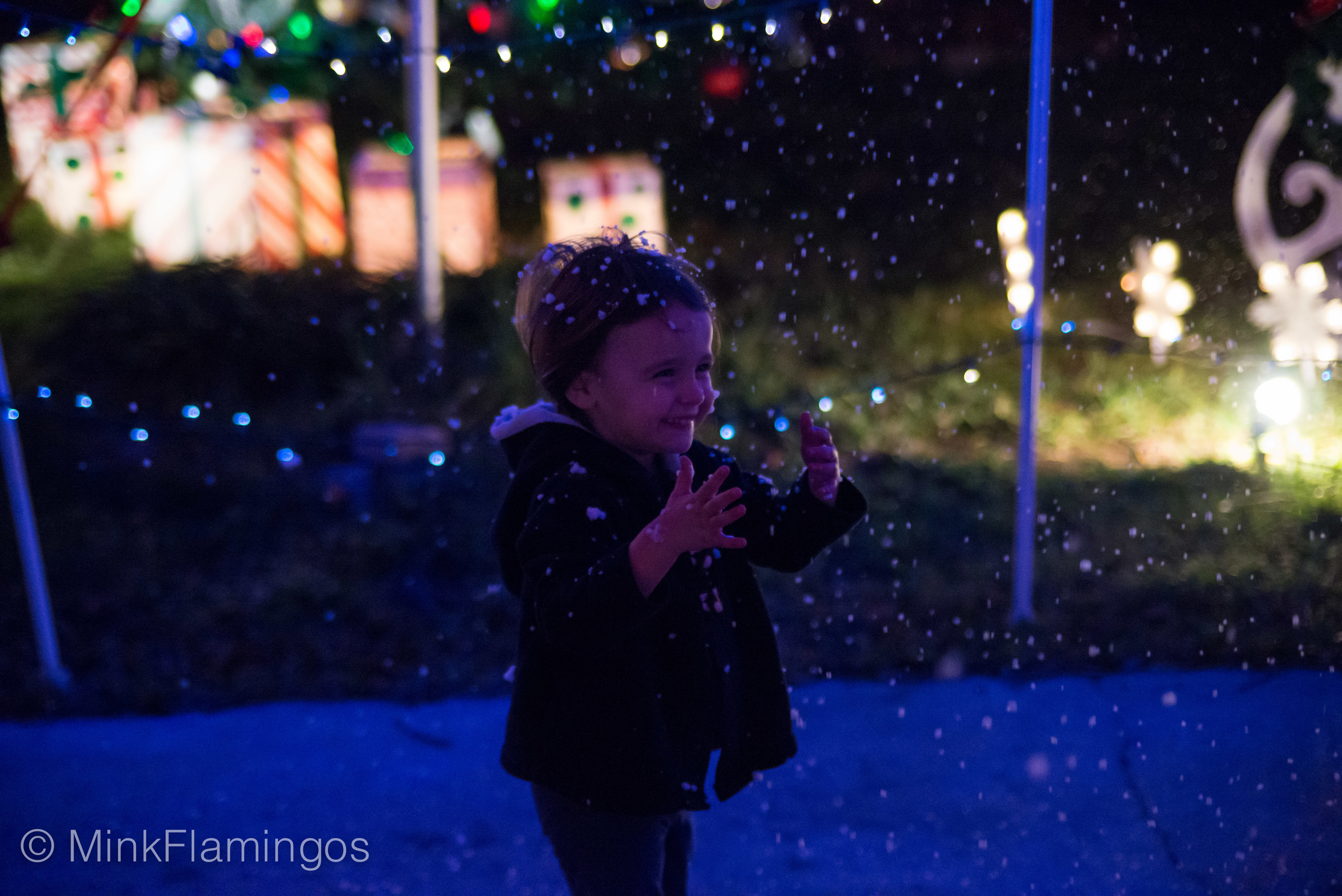 Sunday. Oh... Sunday. Well, here comes the honesty. We had plans for another adventure for Project Thank You at MK followed by lunch and an extra special visit at Epcot. Learning my lesson after the drama of the princess dress morning debacle, I put D's Anna dress into the car the night before and put Daphne straight into normal clothes with no further discussion. Worked like a charm. We arrived at the park, D asked to put on her dress. I told her that only well-behaved little girls who acted like princesses got to wear princess dresses, so as long as she was on her best behavior we'd put the dress on when we got to the park. The monorail center was BONKERS crowded, we ended up having to wait a few minutes for a monorail. By the time we got onto a monorail, we were packed in like sardines. D wanted to sit on a bench and look out the window, "Sorry, Peanut, the benches are full. You can sit in your stroller or Daddy will hold you so you can look out the window." Cue meltdown. Princess dress priveledges revoked. This was a common theme that weekend, not letting Ian hold her or sometimes even touch her without squealing or whining. Ridiculous. She started asking for snacks. Get her popcorn. "NO POPCORN!" Meltdown. Then demands popcorn and scarfs most of it. Once she'd eaten I asked her if we could go give Daisy and Donald their gifts. "No, can't." I gave her the schpiel about doing nice things for people and how it made them happy. Eventually she followed us in to Goofy & Donald's line. She sees them. "Can meet them?" Sure, kid, that's the whole point. Finally, we're on deck. Goofy walks over. MELTDOWN. Oh. My god. I am MORTIFIED. D hasn't had a full on fall on the floor meltdown about a character EVER, especially not one she has met and LOVED in the past. I walked over to Goofy, "Ok, well I'm going to give Goofy a hug!" BIGGER meltdown. I am not, apparently, allowed to show affection to ANYONE unless D dictates it. Oh hell, no. Ian scooped her up and abandoned ship. I apologized profusely to Goofy. He motioned that it was nothing, she was just sleepy. "Oh Goofy, if I didn't know better I'd say she was PMSing." I am pretty sure I actually heard Goofy choking on that one. He gave me a supportive pat on the shoulder and I abandoned ship.
When I rendezvoused with my family, D was in the process of melting down even further as Ian strapped her into the stroller (hitting, pinching, screaming for all she was worth). Thankfully Storybook Circus has this wonderful quiet tent area with nothing but some tables and phone charging stations. We wheeled her into a corner and let her blow off some steam. Not, of course, without capturing the moment.
Once she calmed down we had a talk. She apologized. We decided to try a new tack since she was fragile. "What would you like to do, Peanut?" She pointed at Dumbo. Short line. Ok, fine. We'll do Dumbo, hoping it turns the morning around (and AHEM her attitude).
It seemed to work as intended, she was all smiles for the ride. We got off, loaded her back in the stroller. "D, would you like to go see Cinderella and Rapunzel?" NO. Oy, here we go again. We walked around, hoping she'd see something to lift her mood. Nope. Nothing. More whining and turdy behavior. We're so over this cranky kid that if we hadn't had to pay a cancellation fee for our lunch reservations we probably would have thrown in the towel and just called it our Worst Disney Day Ever. So we grudgingly packed up and drove over to the new park, promising each other that even if she screamed through it, we'd at least enjoy some food.
Get to Epcot. D wants to ride Spaceship Earth. Huge line. Whining as we try to put her off until "Later." Make our way back to Mexico early for our reservation. D, let's go on the Donald ride. "NOOOO NO DONALD RIDE!" But she managed to stop whining by the time the ride started and enjoy herself. Get sat at our table. D is mad that I don't have the Babies episode of Yo Gabba Gabba on the IPad (she wants to watch it OVER AND OVER). Eventually she gets over it and gives us some peace for lunch. I get her quesadillas, expecting drama and not caring. She surprises me by eating them and only (accidentally) throwing a small chunk of the floor. Still hoping to salvage some part of this day, I ask D if she wants to go see Mulan. She starts in with the No, Can'ts, but it's not as vehement as earlier. So we wrap up lunch and head to China.
As soon as China was in sight, D piped up, "I see Mulan?" Yes, Peanut, that's exactly what we're going to do. Without going into too much detail here (I'm saving it for this week's Project Thank You entry), we had a VERY special little VIP moment with Mulan. Mulan, my favorite warrior princess, helped my kid to a total 180 and took our day from Worst Ever to one of the most memorable and special moments we've ever had at the parks. I am so excited to share the rest of it later this week (ohhh teaser). THANK YOU, MULAN!
Yup, D was a changed toddler from that moment on. First, she grabbed the blanket from the stroller and insist she wear a kimono from that moment on. I didn't have the heart to tell her it was more of a toga...
She kicked the ball with a cast member...
She ate ice cream and enjoyed the fountains in France...
She hid in the UK phone booth...
And on the way out, she insisted on visiting Pluto.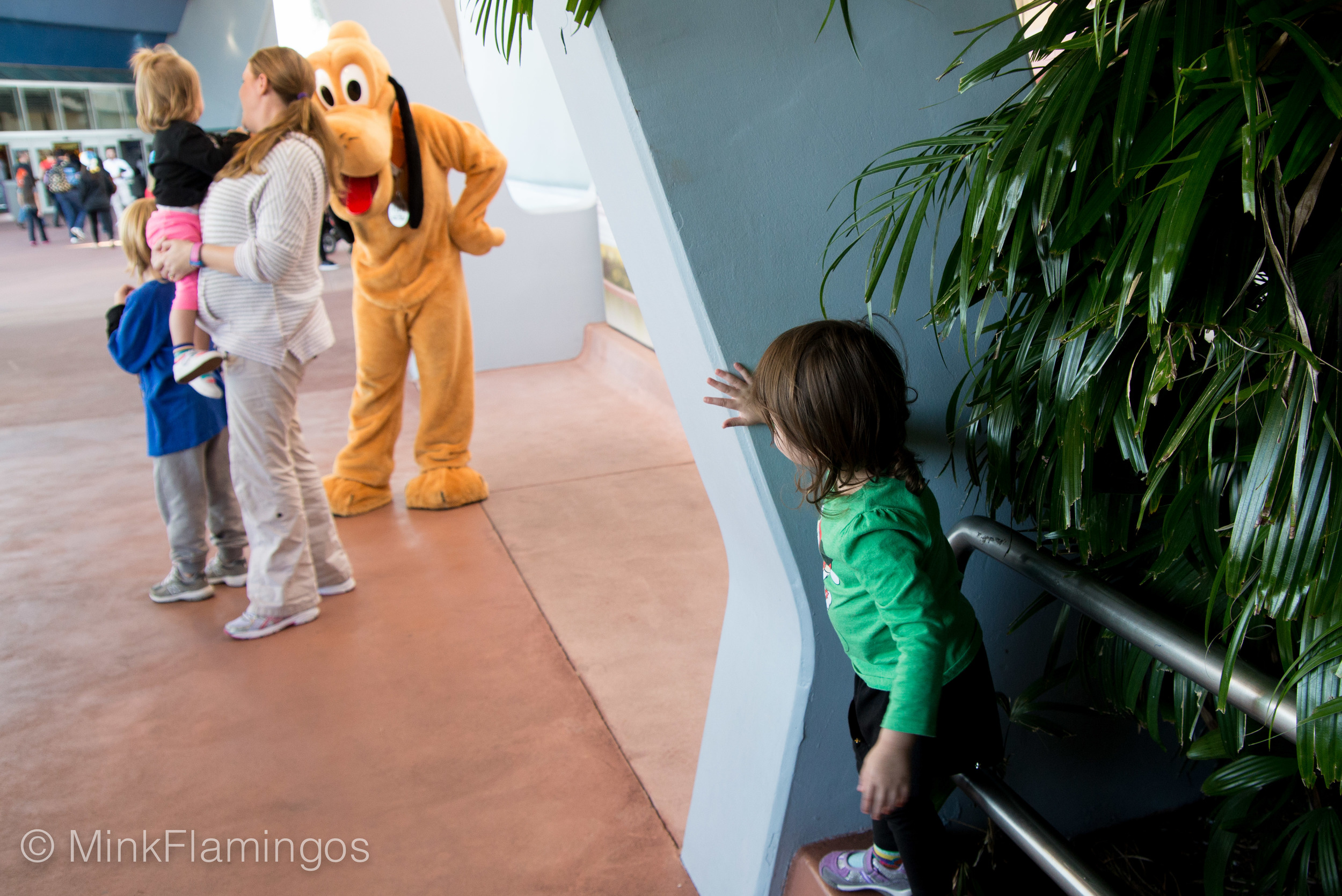 THIS is my kid. I have NO IDEA whose kid I was carting around for the first part of the day, but I hope I never see her again.
Adventures in toddler bed continue. I was going to say that we hadn't yet had a "getting out of bed after bedtime" incident, but D finally put the k'bosh on that Tuesday night. Within 30 seconds of leaving her bedroom, she was out in the kitchen, grinning and looking so proud of herself. "No, ma'am. Back to bed, it's bedtime." Oh... that was definitely NOT the reaction she was expecting. She cried all the way back to bed and during retucking in, but she stayed down and didn't attempt a second escape. On the other hand, she's definitely gotten the hang of getting herself out of bed in the morning and sneaking into our room. Since it's when he'd normally be getting up, I have to confess that I kind of enjoy her sneaking into our bed for a few morning "snugguhs."
Our current mission is working on some consistency with D's manners. It is an uphill battle. With Ian and I, with strangers, with friends, she has got to learn that it's unacceptable to be a turd to people just because you are tired/ hangry/ whatever. Some nights it works, others it doesn't. At the same time, we're training ourselves to try and better read her moods and triggers. I'm exhausted.