The Weekly Peanut, Issue 92 SUPER-SIZED WEDDING EDITION
I've mentioned this phenomena before, but it came up again this week and it's truly remarkable: this kid knows when I'm getting ready to write this. I say this because without fail, when she had been at her ABSOLUTE WORST and I'm ready to rake her through the coals on TWP, she suddenly turns it around the day before, buttering me up so that I'm reminded she's not a total A-hole. I'm not complaining. At least I got a couple of days. Sure would have been nice if it had been when we were in the clutch, but that's life with a toddler.
Mentally, last week decided to kick my rear all over town. After having to call out of work on Monday for a migraine, I was totally ready to do my next lecture on Wednesday. Dropped the kid off at school, swung back by the house to grab my work stuff. Phone rings. No. No no no. No good comes of a ringing phone before 10 am. Day care "Hi, this is Miss Vicki. Daphne has a temperature of 102, we're going to need you to come pick her up. You should probably take her to the doctor, too." Kill me now. Another work day bites the dust. I grab the peanut and take her to the doctor. They can't find a fever. "Did you give her any medicine?" No. Check for strep. Nothing. Just a light cough and a slightly runny nose. "Well... she looks fine to us. Just... keep an eye on her." Thanks. Daphne is 35" tall and 27 lbs. She was very well-behaved during the exam, not shying away from the doctor, letting her throat and ears get checked. That was refreshing. The mysterious disappearing fever never showed back up so she went back to day care the next day. Hmph.
This week's headline, the one I've been teasing for a couple of issues now: D had her flower girl debut. Out of town. While my husband was the Best man. I took the "better to have and not need than need and not have" approach to packing. Hubby had to work the first half of Friday, so I was on my own to get us up there, checked into the hotel, and to the rehearsal by 4pm. Have I mentioned I've never been to Jacksonville? 2 hour drive. Kid needs to nap. Plan the drive to start around normal naptime. Perfect, right? It would have worked out a lot better IF THE DARN KID HAD FALLEN ASLEEP. The first hour of the drive was fine. Somewhere around Palm Coast, D turned into a screaming turd. I started out patient, I swear. Then I got off I-95 and the directions I had? Wrong. Wrong wrong wrong. I'm in the middle of nowhere and I'm trying to figure out where I'm going. My phone is not helping. Daphne is screaming. Confession: I may have chucked wadded up napkins at her while desperately hollering "DEAR GOD, JUST STAHHHHP WHINING PLEEEEASE!!"
My natural sense of direction finally won out and we got to the hotel with only 15 minutes lost. We were still almost an hour before check-in time. Bless them, they had a room ready. And a luggage cart. And a nice young man who helped me get all our crap to the room without a single comment. He got a great tip. While I unpacked, D took the opportunity to relax.
Note I said "relax" not nap. Oh no. Napping was not in the cards. Just as we were getting back into the car to make the 30+ minute drive to the ceremony site (a catholic church downtown), Ian showed up so we got to ride together. When we got to the church, D declared that it was "RELLA'S CASTLE" and we didn't try to talk her out of it. The reception was mostly listening to a guy from the church explain how stuff was going to go down, not much doing. I'll give you two guesses on how well the "sit still and listen" plan went over with the peanut...
D wanted to wander the whole place. Then she discovered how every pew had a stack of hymnals. Hymnals she could flip through then restack. Compulsively. EVERY. ROW. I got to follow her around and make sure she didn't (1) tear up any bibles, (2) deface church property, (3) fall down rickety hidden stairwalls, (4) not make so much noise that ECHOED OH MY GOD through the entire frickin' church. I tried my entire bag of tricks to get this kid to just sit in one place. Nothing worked. Not the ipad, not coloring, not snacks. NO DICE. By the time the rehearsal was over we were both exhausted. At least she got to nap on the way to the rehearsal dinner. D and I ended up abandoning the dinner early in the name of getting her to bed at a decent hour. The good news was that I was able to finagle the portacrib into the bathroom area, with a wall separating her from the rest of the room. Why is this good? It meant she could fall asleep without the TV in the other room disturbing her. So I could watch the god-awful Aaliyah movie on closed captioning while she slept.
Wedding day had a way too early wake-up call for the hubby, who stayed up enjoying festivities with the bridal party. I snuck D down to the restaurant attached to the lobby and got Ian some breakfast in bed. I am an awesome wife. The ceremony was scheduled for 2pm. We planned to leave the hotel before 1pm. I brought two dress options for Daphne. Now, I introduce you to Daphne's new favorite phrase. "Nooo... I can't." This just popped up overnight, and it definitely pushes my buttons. For example the dress I preferred for her to wear, D took one look at it "oh no, I can't." Uhh, yes you can. Put the dress on her. She grabs and pulls at it, whining endlessly "nooooo caaaaaaaaan't I caaaaaan't." Ugh. We try the other dress. At first she is hating it, but Ian and I managed to sell her on its twirlability.
While I got dressed, Ian helped D "practice" her flower girl duties. The initial reaction when we showed her the basket and petals? You guessed it. "NO. CAN'T." Ian tried showing her what to do. Cue the screaming and whining and crying. Seriously, kid? I could hear Ian getting frustrated, he came to take a breather in the bathroom with me. When he walked back around to check on D, there she was, dumping the basket of flower petals out with a huge grin. Oh sweet Jesus, PROGRESS. From there Ian was able to coach D into trying to throw petals. It went... not horribly. Honestly, as long as I could make it down the aisle with her without a meltdown, I'd be happy. I took my turn, trying to hold D's hand with the basket while we practiced walking. New fun behavior emerges: D tries to yank her hand away and if it doesn't work, she tries to bite my hand. DAFUQ IS THIS TOMFOOLERY??? Oh no no no WHO IS THIS KID? She's lucky I didn't string her up by her ankle and dangle her out the window.
I hoped she would nap on the way to the church. Of course she didn't. I staked out an aisle in the front row with all my Daphne entertainment supplies. We went to the back to get ready for... whatever was going to happen when D took center stage. D got to peek at the bride, I told her she was the princess getting married, that this was her castle. D seemed to think that was pretty impressive. I found an old friend, Marisol, and asked her to get a video (for better or for worse...) of D's trip down the aisle. Here it is.
Yup. She NAILED it. Look at the way she tossed those petals over her shoulder. Drag queens wish they had that much flair. I'd love to say the rest of the ceremony was so successful, it wasn't. Not for me anyway. I had to chase D around the church as unobtrusively as possible, juggling the ipad with coloring books and snacks of every variety. Thankfully, other than the sprint we made to the bathroom stairs (oy), I don't think anybody else was disturbed or put out by my busy little troublemaker. PHEW. I left Ian to take pictures and packed up D to get her something to eat before we made our way to the cocktail hour. Ten minutes from the hotel, D finally drifted off, so I got to drive around aimlessly to try to get a halfway decent nap out of her.
She woke up and I shoved chicken nuggets at her. Nutrition? What's that? I just didn't want her hangry. She woke up grumpy anyway. I changed her outfit (the dress was half destroyed by then) and she grumbled about how much she didn't want to go to the party. NO. CAN'T. *Sigh* By the time we got to the reception, cocktail hour was pretty much over. D didn't seem to put out by that (I was, grumble grumble).
Any shyness D had previously toward all the new people was gone by the time the reception got going. I got D to hold till long enough for us to eat, but as soon as the toasts started, the Daphne Show resumed with a vengeance. While the maid of honor was trying to give her toast, D charged out onto the dance floor and planted herself right in front of them. Then she kept trying to slap the bride's tush. And play with the bridesmaids' skirts. Seriously. There was a lot of tush slapping going on (friendly, not angry). By then I was so done with trying to "control" my toddler I mostly just sat back and laugh. Ian gave me a few side-eyes, but after the mother of the groom took the time not once, but TWICE to come tell me that "we all love kids, don't stress too much, kids will be kids" etc. (I must have looked REALLY exhausted), I was kind of over chasing her. I felt it was less distracting than her screaming at me at the table, because I was trying to get her to hold still. Seriously, those were the two options: bridesmaid ass-slapping or table screaming. *Shrug* Finally the toasts were over and the dancing started. D found another little girl to chase around the dance floor, then she decided to enlist every female member of the bridal party as a dance partner. She pretty much stalked the bride around the room, repeatedly grabbing her hand and trying to yank her back to the dance floor.
Daphne's initial take on "dancing" involved swinging around in circles, then falling down. I got what she was after, drop her feet out and get the ladies' to swing her around. The rest of the ladies didn't seem to quite get what she was after. So mostly, D ended up looking drunkity drunk as she repeatedly tossed herself down onto the ground with every bridesmaid she could con onto the dancefloor. BTW- Ian and I were not acceptable dance partners. She refused. Only a bridesmaid would do.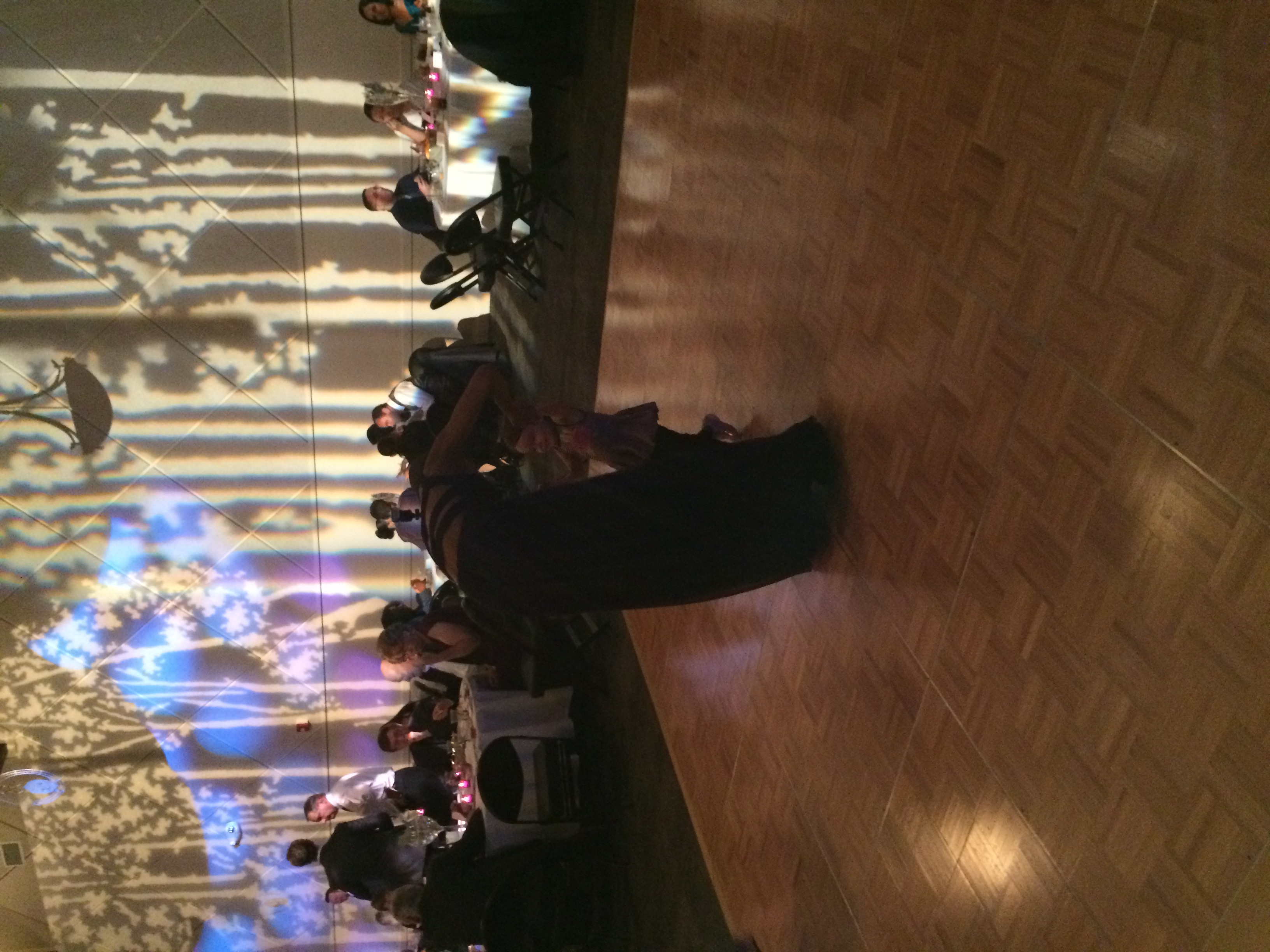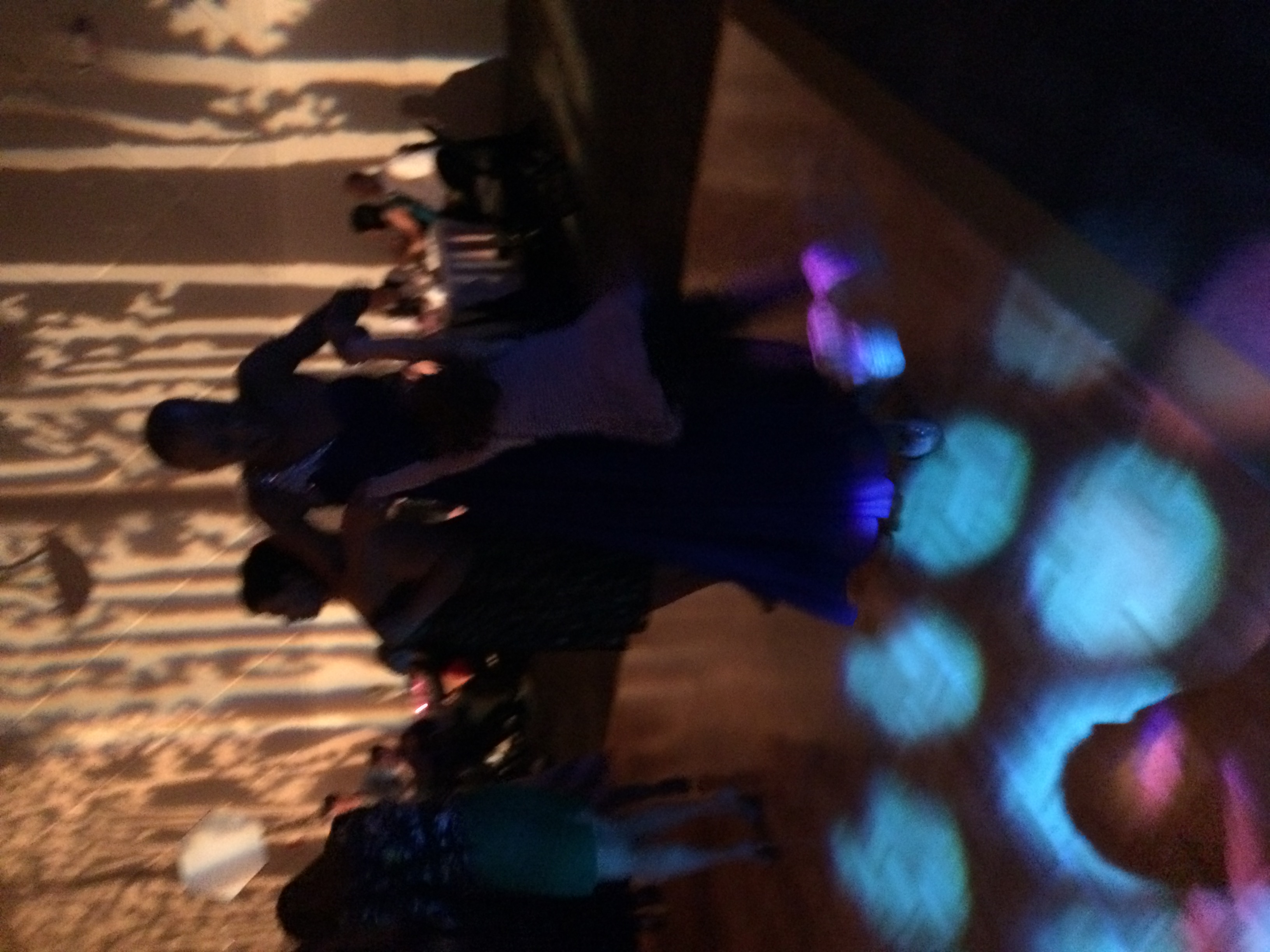 The music was pretty great, lots of 80s new wave and no sign of the chicken dance. D really started to get the hang of it. Then Depeche Mode came on, and I caught her striking some moves that would have fit right in on a Saturday night down at Independent Bar.
I know the video is shaky and dark and blurry, but watch in the background and you'll see some truly impressive goth-dancing arm flailing and posing coming out of my child (while I cackle helplessly). Then she starts prancing around and those light up shoes make her easier to find. I could watch this video over and over it's so darn funny. In a preemptive strike, I decided to take D back to the hotel before she turned into a pumpkin. Considering all her "can't"s before we got there, she was awfully reluctant to leave the reception.
The next morning we grabbed breakfast at a super tasty diner near the hotel. Ian, who knows me so well, offered to handle the drive back with D so I could have a peaceful return trip. Ian tells me she started wailing and whining about an hour in again, but then she conked out about 30 minutes from home.
In truth I am proud of the job D did at the ceremony, but so help me if we never do that again I'm ok with it. I am so. Tired. Still. I am STILL Exhausted. As I pulled into my driveway that Sunday and started to unpack I just felt... beat up. Successful? Yes. Brutal? Totally. D's overall behavior... the obstinacy, the biting, the hitting (hard), the pinching, the "can't" negativity. I told Ian that, for the first time since D was a newborn, I felt at a total loss for how to handle my kid. Every other period of change she's had these past 2 years has been gradual enough that we could adapt. The whole weekend had been an endless cycle of trying to figure out what my kid wanted, giving her what she wanted, then her telling me that NO, she didn't want that. Ugh.
So what do we do when we're feeling a bit worn down? Uhh... well... DUH.
On the drive down, we continually kept asking if we were nuts. Disney? After this exhausting weekend? On a tiny nap and in the evening? And it wasn't our idea!! D had been asking to go to Disney since Thursday. She'd been asking to go all morning. On the drive back form Jacksonville, Ian told D we could only go to Disney if she napped in the car, thinking the no nap would win out. Shocker, she falls asleep. After unpacking, I was changing her and, "Mommy, Disney?" So, screw it. We picked out a princess dress and got in the car. Seriously, out of our damn minds. But here's the thing: even a lousy day at Disney puts in me in a better mood than I would be in otherwise. I know, I know...
Side note, over the past few weeks several people have shared this link with me on various social media channels. Lane (or more accurately, Lane's mom) is somebody I've been following on instagram for months now, and I'm very happy for her that she's suddenly getting this huge attention. I'm on a mission to eventually get our kids to meet up so they can be Disney BFFs. Why does this apply to this day? I'd been noticing Lane doing some character meetings with rare characters and in areas I didn't recognize. Lane's mom mentioned something called "characterpalooza." I commented: what's that? She gets hundreds of comments on every picture, so I was thrilled when she took the time to send me a private message explaining the wonderful experience of Characterpalooza and how we could get in on the semi-secret character meeting action. Without getting too long-winded about it, it takes place at Hollywood Studios in the afternoons on some Fantasmic nights. A random assortment of characters, frequently ones that don't have any scheduled meetings elsewhere, will make brief appearances for any fans lucky enough to be around. So we decided to try our luck at making it happen. I did research on Kenny the Pirate's page and the hubby and I are now OBSESSED with meeting rare characters. The idea that it's a surprise is also kind of fun, no? Fingers crossed, NEEDING to have a good time, off we went.
A lady working near the location of CP was kind enough to let us know that we probably had 30-40 minutes to kill. D was.... a little iffy so holding still and waiting was off the table. Hmm... what would put her in a good mood and kill some time...
OF COURSE! As soon as we got to Animation Courtyard, it was boyfriend time. Thankfully, Jake usually has a reasonable line (better than Sophia's anyway). It's funny, she still only likes the show half the time, but she is in wuuuuuuuuuuv with Jake.
So. Stinkin'. Cute. Headed back to the area for CP to find a mini crowd had gathered (not the well-kept secret it once was, apparently). A few minutes later they rolled back the gates and we got to see the characters we'd have a shot at meeting today. And... YOU GUYS SERIOUSLY... one of the characters that I was the most hopeful for, the one that, allegedly, very rarely comes out but I knew D would just be over the moon for... there he was. I started squeeing and jumping up and down, I just couldn't help myself, because YOU GUYS, THIS HAPPENED.
MUSHUUUUU! And not just Mushu, Mulan and Mushu TOGETHER. I felt like I'd struck Disney character gold. D was of a similar mind. She grabbed Mulan first (cause, you know, that's her Girl), then Mulan introduced Mushu and after a hug, Mushu crouched down and played Peekaboo with Daphne. Daphne LOST HER MIND. Her giggles could have been heard across the park. During the Mushu interlude, I took the opportunity to lean over to Mulan and let her know the conclusion I'd come to, "Don't be fooled by the Aurora dress. You're her favorite. Your dress just doesn't fit yet." It's true, though: consistently, Mulan gets the biggest, best reaction out of my kid.
After that anything else was gravy. I was pretty excited to see that one of the rare characters that Ian was very excited to try and see was the next character down the line. D, however? Not so stoked. Poor Aladdin characters, she's just not feeling them yet. Genie took it in stride, and within about 10 seconds D was giving him a high-five. Way to go, Genie.
Minnie had no line, and D insisted...
There are 10 characters and only 20 minutes for the meeting, so you've got to pick and choose and MOVE FAST. The Evil Queen Grimhilde was there but her line was, by far, the longest. Gepetto, too. I saw another rare character hiding around a bend in the sidewalk with no wait. D wasn't super interested, but I was pretty stoked to meet Meeko. After all, the sidekicks were way better than the leads in Pocahontas...
With just a few minutes left in the window, I let D choose. For her there was no hesitation: Tiana, of course!
The next decision can only be attributed to the fact that we were high on Characterpalooza; we decided to drive over to Magic Kingdom so we could watch Elsa light up Cinderella's castle. 2 parks? One afternoon? WHAT COULD GO WRONG?
There were only a couple of hours left in the park before we'd get kicked out for the Christmas Party. I was on a mission by the name of Prince Naveen. Prince Naveen does meetings with Tiana, but only after the Festival of Fantasy parade and only on some nights (in other words, not when we're anywhere near MK). He was there. Naveen, AT LAST! The line was pretty long and the royal couple wasn't even at the gazebo yet. I sent Ian off to entertain D with a snack while I waited. The gazebo was all decked out for Christmas already.
D is still pretty iffy about meeting male characters at Disney (ahem, Aladdin). She clung to Ian as we approached the royal couple. Naveen clearly knew how to handle this, taking a step back but waving and smiling. D was clinging so tightly to Ian's neck that we were all blind-sided when she suddenly launched herself at Tiana as soon as we were within arm's reach.
Tiana was NOT prepared, but she managed a solid hug before gently lowering D back to the ground. Meanwhile, Naveen was WONDERFUL. The accent, the facial expressions, PERFECTION. We hugged. I asked him if he'd secreted any mucus lately. Didn't miss a beat, "Only on Mondays." That was when Tiana and Naveen gave D the ol' Disney Magic treatment.
Tiana walked D over to the Christmas trees and told her, "See this one? Naveen decorated it." Naveen took the opportunity to jump in and tell D all about the ornaments he picked out. Naveen and Tiana told D that her pink dress reminded them of Tiana's best friend Charlotte. Naveen mentioned that money was a little tight for them even if they were royalty, I told them they should be all set once Charlotte married his little brother. The conversation just kept going and it was so perfect. THIS is what is so special about character meetings: even as an adult you can forget that this isn't actually the character from the movie. Finally I remembered we were hogging all the time and we got together for a nice group shot. D was willing to dispense a high-five and shouted big Thank Yous over my shoulder.
Come on, how frickin' cute is Naveen? LOVE him. We still had enough time to sneak one quick ride on the Jingle Cruise (they put Christmas decorations on the Jungle Cruise and add cheesy Holiday jokes to their tour guides' repertoire). Lots of fun.
Made our way around to try and get close to the castle. It just wasn't happening. Ian got D on his shoulders which was good enough for her to have an idea of what was happening, no such luck for me. I did get a peek of Olaf, which was pretty cool. I somehow forgot just how amazing the castle looks with all those lights going. It's breathtaking. D was pretty awed, the rest of the evening all the way back to the car she kept turning around to look for the castle. ELSAA! ELSA ICE!
We made our way toward the exit (taking the back way to avoid the mass exodus). As we passed in front of Town Square Theater, D started shrieking "TINKER BELL! TINKER BELL!" Oh dear, apparently she remembers where Tink's meeting place is now. 10 minute wait. Ian and I shrugged. Why not? I'm pretty glad we did.
Tinker Bell got one look at my kid and swept her up into her arms to take her on a pixie flight around the room, giggling like a loon. D and Tink discussed Tink's winter jacket ("It's made of leaves, so it's extra soft!"), then Tink taught D how to pose "like a Princess!" D hung on her every word, and I wouldn't be surprised if she tries out this pose again in the future.
Enough, seriously, put a fork in us. We were feeling pretty darn good about the day as a whole. There was a line for the monorail. D's mood went south in a hurry. She didn't want to sit in her stroller, she didn't want to wait. She didn't want to be held. The biting and hitting started. Then, on the packed (standing room only) monorail, she leaned over and bit me HARD on the chest when I wasn't looking. By the time we got home and tucked our incredibly cranky (it wasn't that late, seriously, maybe an hour after normal bedtime) kid into bed I was pretty much fuming all over again. WHO IS THIS KID? None of our usual tricks were working as far as talking her through her mistakes and giving her reasons not to do things. She was just a BRAT. What did we do and where did this come from? I went to bed feeling utterly defeated and wondering where we'd gone wrong as parents to have created this monster.
Monday was a long day at work. I had to mentally prepare myself for picking up our tiny demon from day care. I had warned them about the behavior when we dropped her off that morning and was expecting plenty of ominous looks from her teachers. I was instantly greeted by a joyous "MOMMEEEEEEE" and a giggling, pig-tailed toddler tackling me for a hug. I raised an eyebrow at Miss Jessica. She shrugged. "Honestly? She's been really silly today." "Silly... ludicrous?" "No, just... [she pointed at my giggling kid] silly." Hmmmm. Took D home to figure out what to do about dinner. She grabbed Ian's tape measurer and started insisting on taking turns measuring Ian and I. Not being angry, just smiling and giggling and "Please" and "Thank you" and "Mommy turn" and "Daddy turn."
We took her to Mellow Mushroom. She colored, then patiently watched her ipad as if the weekend had never happened. D is (jinx jinx jinx) apparently back to the (still temperamental but manageable) kid she was before. I got to see a glimpse into the life of a parent of one of "THOSE KIDS," and, let me tell you, I don't get to judge them any more. No sirree. Just a sympathetic smile is all they will ever get from here on out, because that ish is brutal and it's not necessarily because you're doing anything wrong as a parent. I could try to write it off as she was tired, she was getting over a cold, but we've been in those situations before without ever having her escalate like that. Maybe it was compounded by being in a new place and having to meet so many new people?
This weekend will be the first in what feels like forever (for the first time in foreeeeeverrrrrr), that we don't have a million obligations. We are on a mission now that D is officially tall enough to FINALLY ride the Barnstormer (D's first coaster!).