The Weekly Peanut, Issue 39
This was not my week. It looks as though the era of mommy is over. Thus begins the era of daddy, long may he reign.
Daphne has, unquestionably, mastered "Dada." Ian had to go to work before she woke up last week, and Daphne kept pointing at the bedroom saying "Dada? Dada?" If Ian says "Who am I?" she will change over and DADADADADADA all over the place. If I ask who am I? Long pause. Am I Mama? Pause. Look at Ian. "DADA! DADA! DADA!" I swear she's doing this on purpose. She's also been saying a million (slight exaggeration) other new words, and seemingly on the first try. I'm sharing my chicken with her. "Daphne, would you like some chicken?" "Chichih!" "Daphne, let's put on yours shoes!" "Chooooooos." "Mama? Mama loves you!" ...... "DADADADADADA!" *Sigh*
After seeing a video on youtube extolling a brilliant and simple way to extract pomegranate seeds, I had to try it out. Daphne? LOVES. POMEGRANATE. I had a little tupperware full of them and she dove in by the handful. Most of the time she didn't spit out the little non-juicy parts either, just scarfed the whole thing.
Ian had a big bike ride for charity Saturday morning, so I decided to try out the new My Gym in Waterford since they were having a free open house. Brilliant. Idea. There were TONS of other kids, many close to her age, and so many different obstacles and toys to play with that she hadn't experienced before. Daphne really impressed me, only acting a little shy/grabby for a couple seconds before I had to run to keep up with her as she charged from activity to activity. At first she wasn't too into the ball pit, but once she discovered she could throw the orange balls around she was very taken with the place. She only threw the orange ones, all other colors were safe from her wrath. The place is really cleverly laid out in that most of the activities were accessible for kids Daphne's size even without help (big padded mat steps to get into the ball pit, etc). I had to help her get up to the slide, but not because she didn't try to get up there on her own. There will a couple of little guided class activities, and the staff was all super nice. If it weren't for the fact that (1) it's all the way down in Waterford, (2) the cost and (3) the fact that only one class a week would work with our schedule and no open play times that we could attend, we definitely would have signed up. Daphne was making new friends, she was very nice to other kids! Even a giant bruiser who got in her face and tried to push her out of the way, she was so sweet and patient and friendly. Her favorite thing was this little up and down set of stairs with a railing. She walked over that thing at least 30 times over the (holy cow) 2 hours that we spent there. The absolute best part of My Gym? They have a zipline set up for the kids! The biggest kids can hold on and get dumped into the ball pit, but for smaller kids they had little swings they could attach to the zip line. Daphne patiently awaited her turn after getting huge eyes watching the bigger kids go on the zip line. She loooooooved it.
We met up with Ian for lunch at Mellow Mushroom once he'd finished his bike race. Daphne looooves pizza. There was a guy there making balloon animals for all the kids. he made Daphne an Enterprise. Out of balloons. CLASS ACT.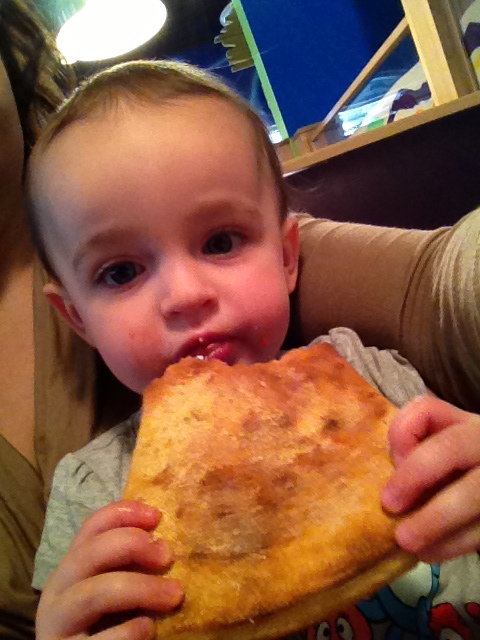 Saturday night we were joined by our Tampa friends Ed & Lydia, two of Daphne's biggest facebook fans (Ed's always trying to engineer a deal where he can trade some camels for Daphne. Contract negotiations are still ongoing). We went to Oblivion (duhh) together. Daphne was a bit of a turd, but she'd had a long day so I tried not to hold it against her. She seems to like hitting me in the face when she's aggravated, so we had to go have some "talks" outside about how this was not the way to express herself. The next morning the 5 of us all packed up to head down to the last weekend of Epcot's Food & Wine festival. We also met up with more Tampa friends, Mike & Ronni. We actually managed to get to the park within 20 minutes of it opening, and Disney ushered us down to park on the lawn, a mere 50 feet or so from the entrance. I've never parked that close to a theme park EVER. I felt VIP. Since the world showcase didn't open until 11 we decided to kill time doing Spaceship Earth (Ian's and my favorite, we like to make the most ridiculous face possible for the little video they make for you. Unfortunately Ian managed to lose his brand new preeescription eyeglasses (My Cousin Vinny voice) while we were in line, so going to guest services to look for them (and not find them) was a whole other debacle. Meanwhile the rest of us went on the Seas ride with Nemo and friends, which Daphne loved. FISHIES! Daphne was pretty great going around food and wine, too, despite it being WAYYY hotter than it should have been. She wiped out at least a few times, skinned both her knees, but other than the momentary meltdowns she recovered quickly and had a great time running around. She went on the Norway Maelstrom ride and wasn't scared at all (more than I can say for myself when I went on it the first time as a wee one) as well as the Three Caballeros ride. She shared crepes and pretty much everything else we ate there.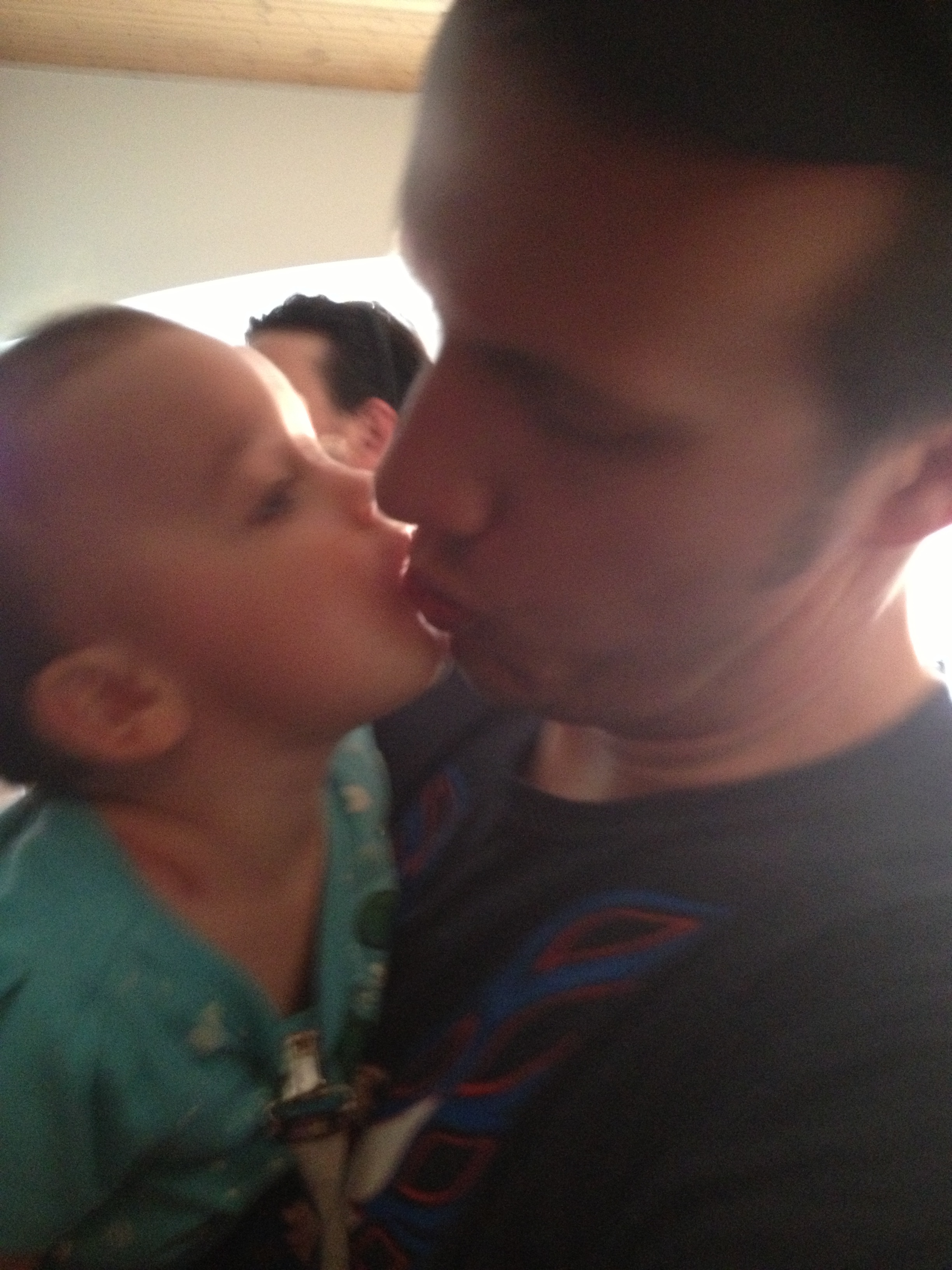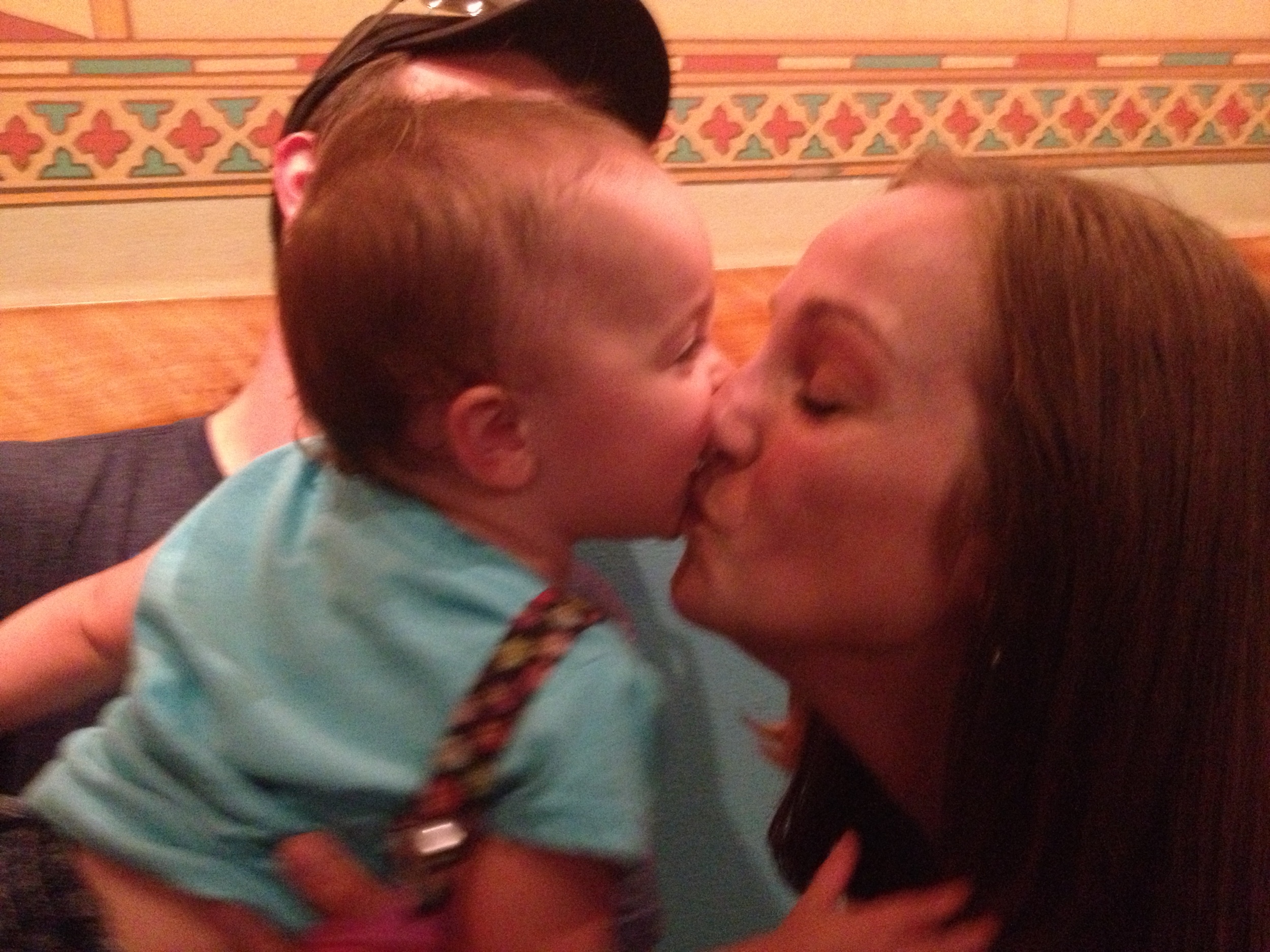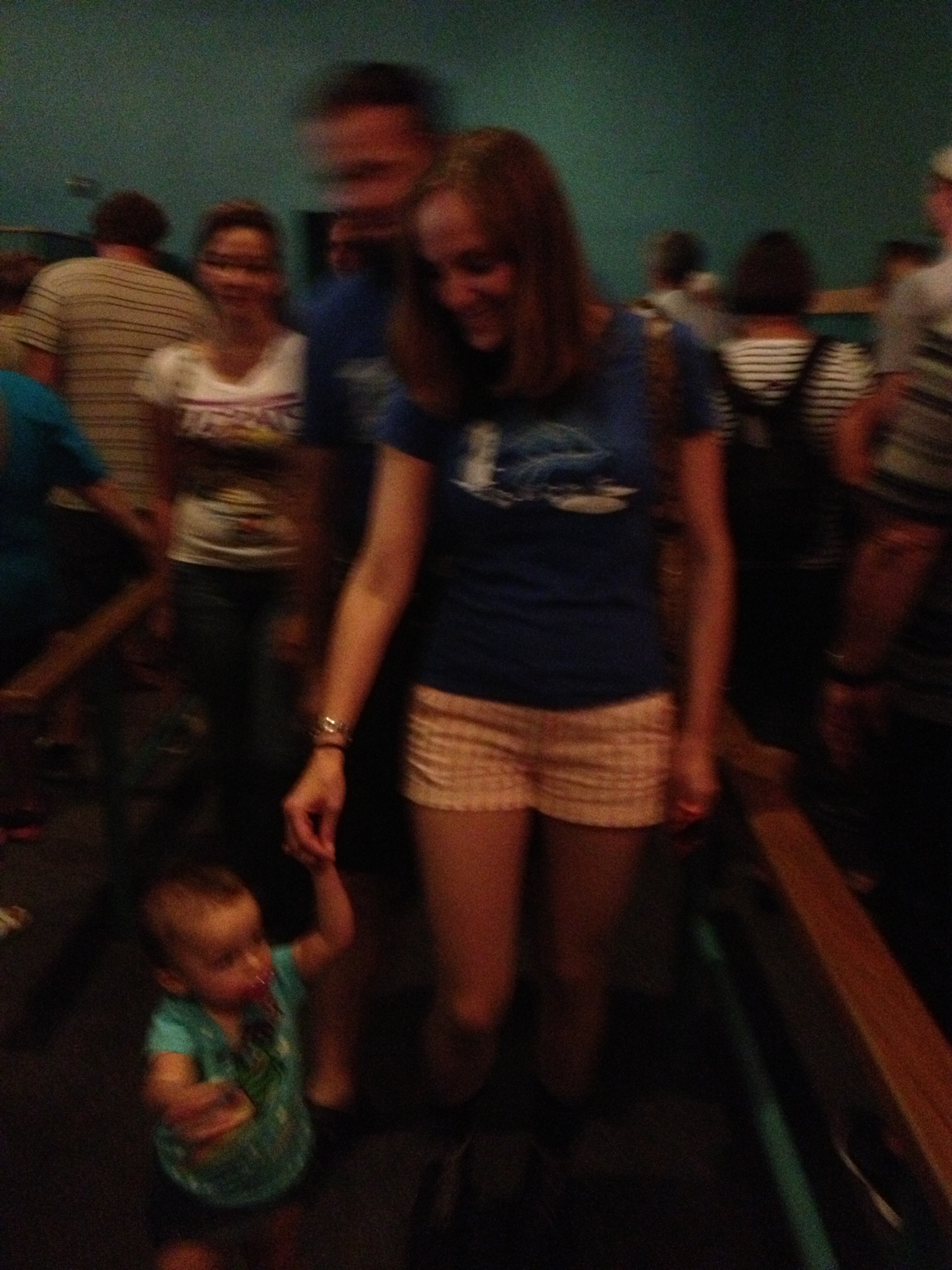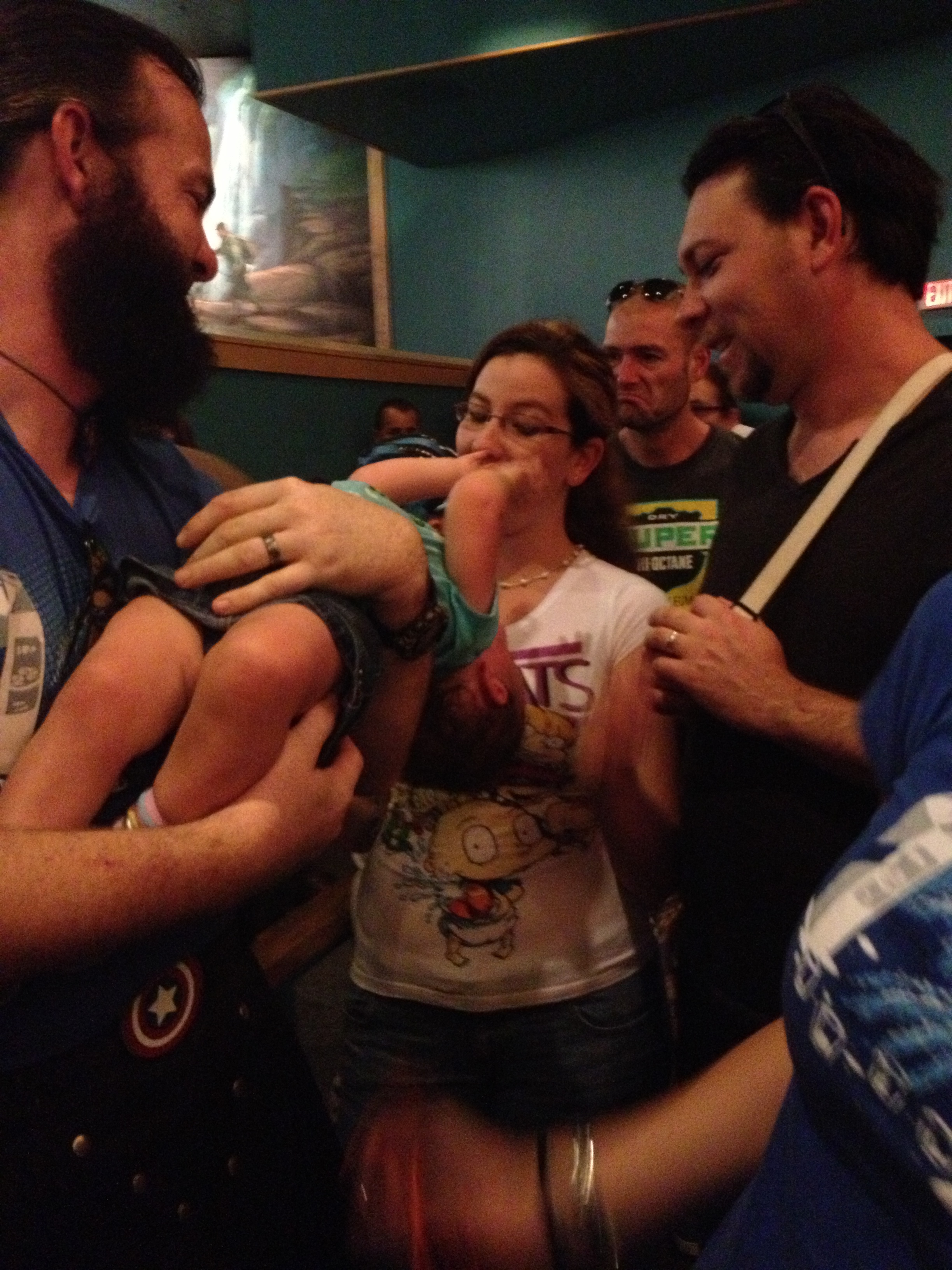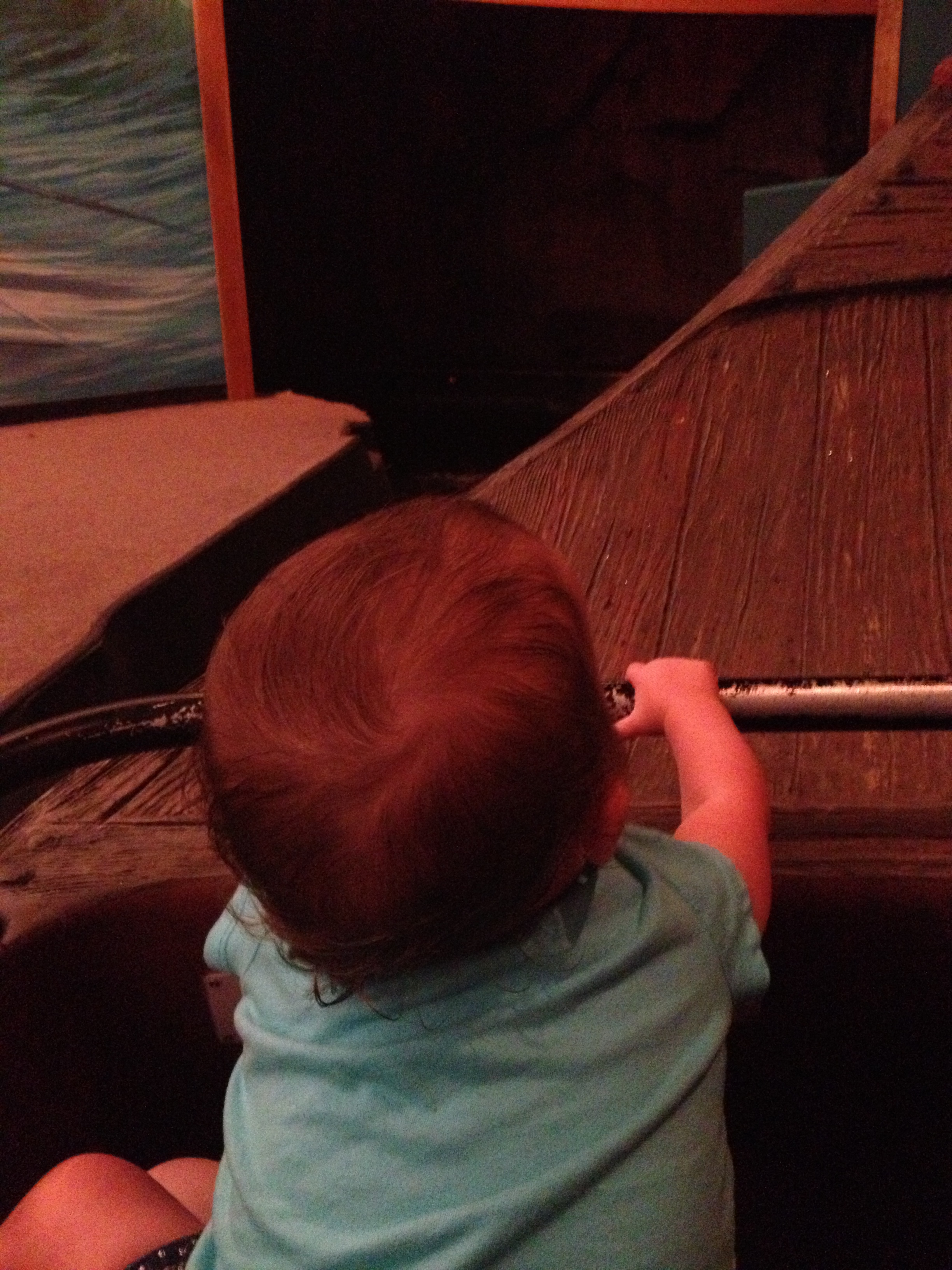 Daphne also got to meet someone very important to me: Martha. It's hard to explain to anybody how someone who you've literally only spent a handful of hours with your whole life can be so important to you, but that's who Martha is. We met through mutual friends at a party in St. Louis as early teenagers, and within minutes we just knew we'd been separated at birth. We went to a concert together a year later, but other than an aborted attempt for her to come to my wedding (she got sick right before the flight!), we hadn't seen each other since we were 16! Thank goodness for the internet! Martha happened to be in town to run the wine and dine half marathon, so we swore we'd make this connection happen and we did! I cannot tell you how much it meant to me that I not only see Martha, but that she got to meet my husband and daughter.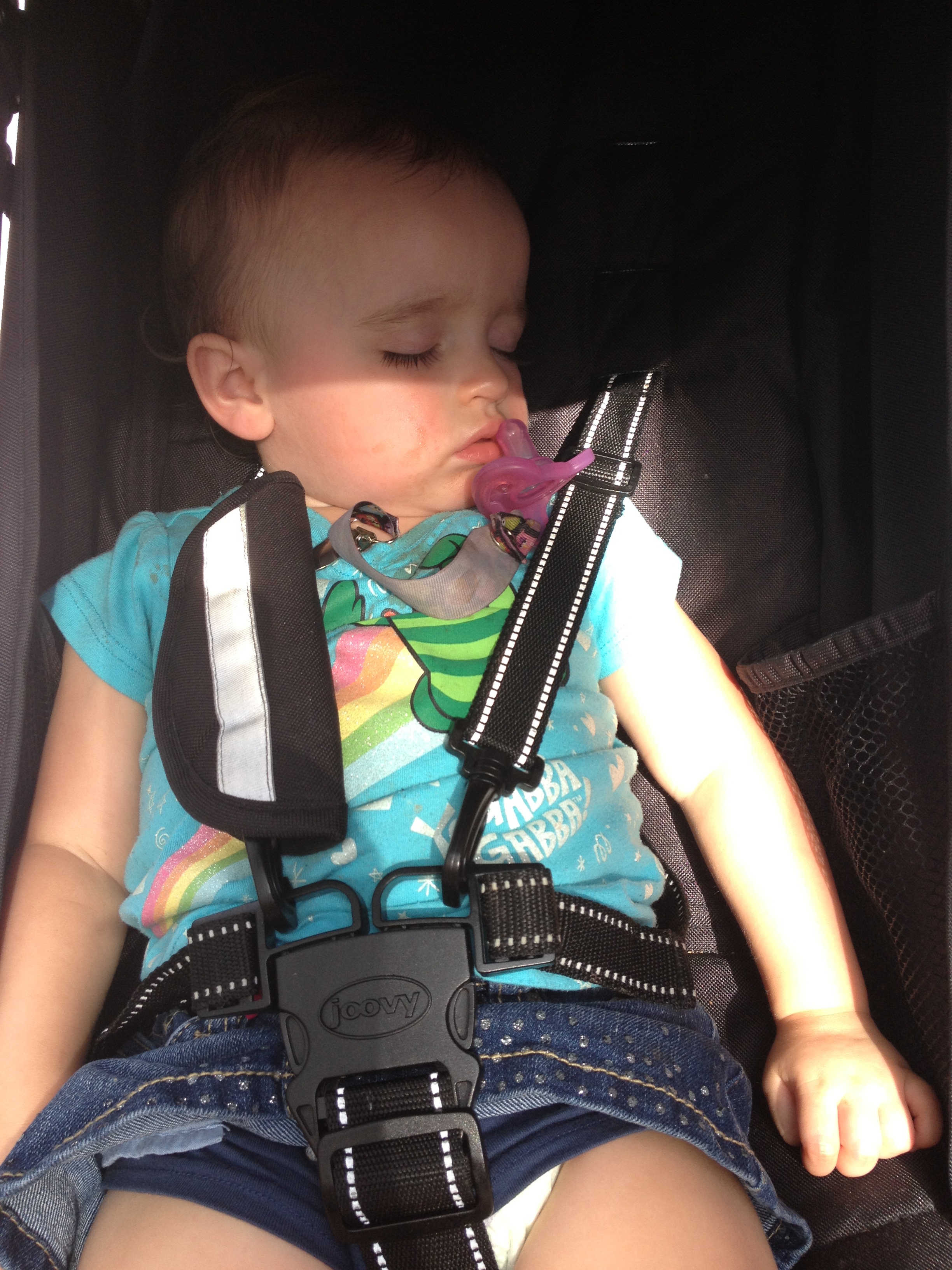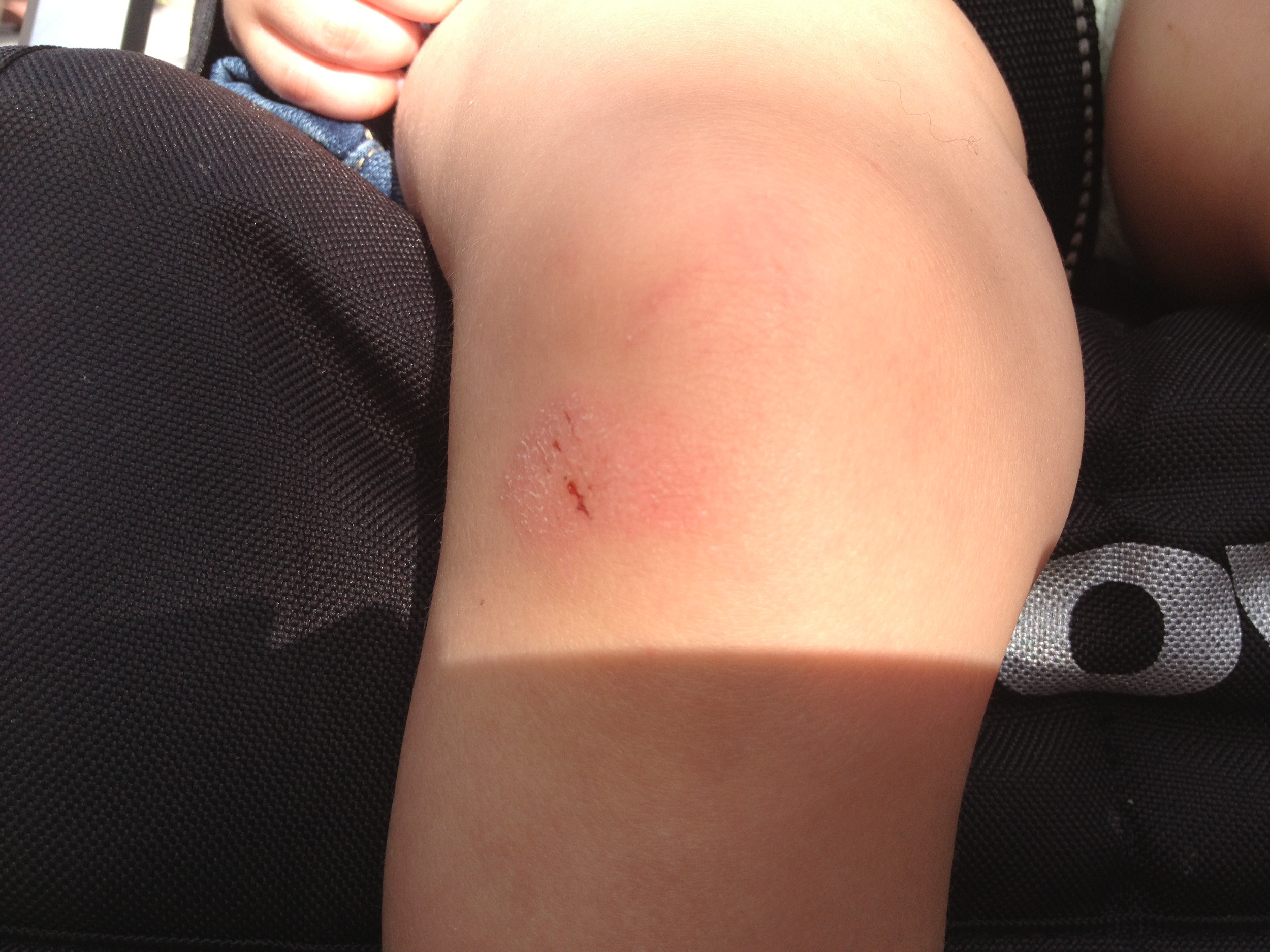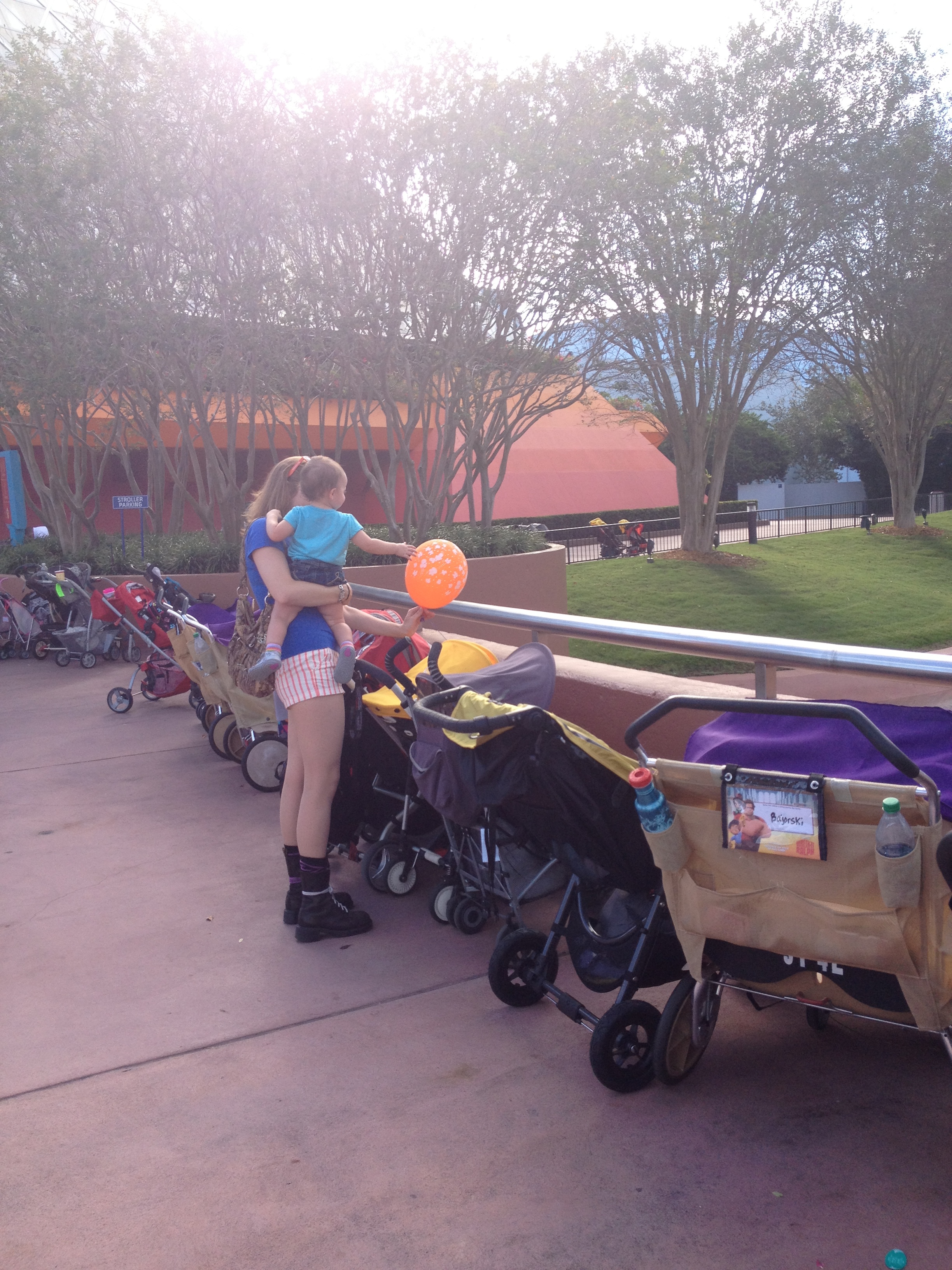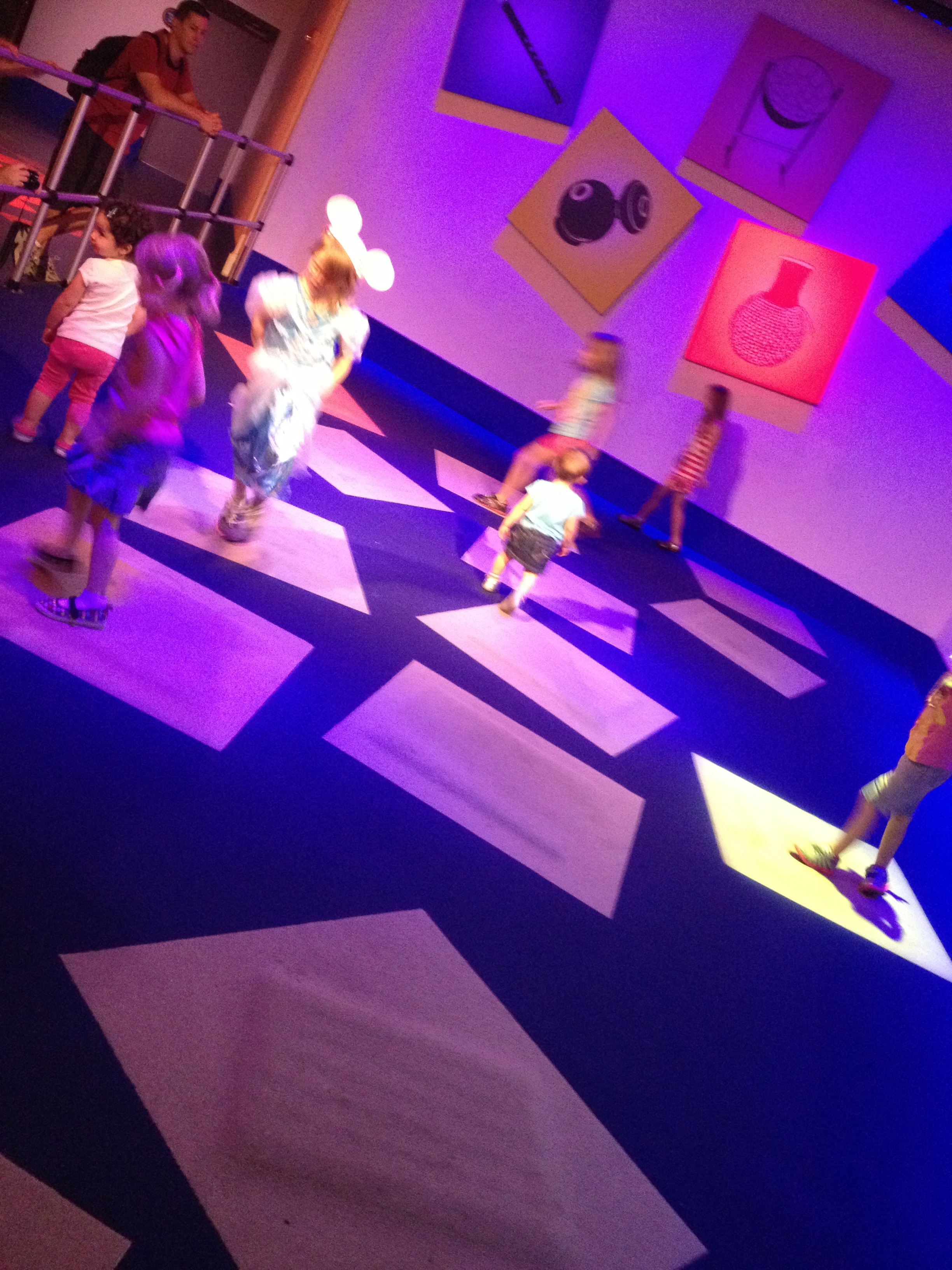 Daphne finally dozed off around 1:30, right around the time we were thinking we'd have to throw in the towel, and I thought "YES! If we can just get her to sleep an hour or so, we could stay a while longer!" She slept 15 minutes. Ugh. However she seemed reasonably recharged, enough to go on the Figment ride (which she loved, other than a couple tiny whimpers when it went pitch black with the really loud train noises). We made one more attempt at guest services on our way out and SURPRISE! THEY FOUND IAN'S GLASSES! It was definitely the best way to end a day that was pretty great anyway. Icing on the cake, that's the phrase, right?
Monday I had to work late (until after 9! Agh!) which means missing bedtime. Ian, however, obliged me with a series of videos. THIS KID! Apparently Daphne has discovered how great her own face is, as well as how great Fleetwood Mac is.
Tuesday morning while getting Daphne ready for "school" I did a double take, grabbed her, and forced her lips open. What the... WHY ARE MY CHILD'S FRONT TEETH CHIPPED? Uggggghhh. The pediatrician recommended we schedule an appointment with a pediatric dentist. Of course I haven't added D to my dental insurance yet, because WHAT 16 MONTH OLD NEEDS TO GO TO THE DENTIST?! UGHHHHHHHH. So the dentist was able to squeeze us in at 8:30 Wednesday morning. I have to say, the experience turned out to be pretty great. from the moment we walked in the door to the moment we walked back out was all under 20 minutes. We weren't left waiting for more than a minute or two at any one place, despite being a good 10/15 minutes early. The place is decorated great and had movies, games, and video game consoles (!!) all over the waiting area to help distract the kids. The dentist came into the exam room within 2 minutes of us being in there with our hygienist to look over the teeth and declare that just a little filing down should do the trick, unless we wanted to go the cosmetic route and get caps or bonding. No attempt to upsell us whatsoever. I've gotten so used to trips to the dentist feeling akin to going to the car service place that i was so ready to have to beg off expensive procedures, I was honestly taken aback. Ian held Daphne on his lap while the dentist managed to file down the rough corners of the chips in under 30 seconds total, even though D was definitely cranky through that part. Then he told us to keep an eye out for the tooth to darken and call back if that happened, sent us on our way. Didn't even charge us anything on top of the basic consult fee. WOW. 5 STARS TO YOU, DR. KING! And your staff and your facility.
Maybe this weekend we'll take it easy. O_o.