The Weekly Peanut, Issue 36
This kid is so BUSY! She's been bringing home lots of Art from school, and it finally occurred to me that she might enjoy drawing at home, too. I handed her a brown crayon and a piece of junk mail and she WENT. TO. TOWN. Then she tried to draw on the couch (oops) and on my back.
We've been pushing for the twice a day toothbrushing practice and started letting Daphne "brush" her own teeth (after going in there myself first). She's quite fond of gnawing on the toothbrush while she walks around the living room.
This kid has some seriously weird sleeping habits. I keep the volume on her monitor turned way down, because she has a tendency to mumble and roll around a lot. Thursday night I went to check on the monitor right before turning in for the night. She is sitting bolt upright in the middle of the crib but with her eyes closed. What the... I called Ian over to look at our strange daughter, who then started ROCKING BACK AND FORTH still dead asleep. OMG SOMEBODY CALL THE EXORCIST. Of course, as soon as I got my phone out to record this bizarre phenomena, she stopped rocking and did this instead, stayed asleep the whole time, mind you.
We introduced Daphne to the wonderful world of Animal Kingdom Saturday (yay annual passes!). I bit the bullet and bought a kid leash (harness?) at Once Upon a Child. She wasn't overly fond of it at first but seemed to get used to it when she didn't have much in the way of other options. It worked nicely for letting her feel independent.
We started off checking out the Lion King show, which Ian and I had never seen. As adults I can say we were VERY impressed. All the animatronic creatures were really well done, the Timon had an animated mouth, not just a dude in a suit. The music was great, the tricks were great, the layout of the theater was WONDERFUL so everybody had good visibility. it was also just about the perfect length to keep the peanut's attention. She even tried to clap along! Note I said "tried." Check out the video: I'm worried she's inherited her father's rhythm, a la Steve Martin in The Jerk.
Daphne loved petting all the goats and cows at the petting zoo. She even proved to us that she is fully capable of drinking out of an adult water bottle, thank you very much. Despite all our best attempts and extended stroller pushing, princess NO Nap maintained her reputation, so we powered through lunch and made it to our fast pass appointment for the safari. Daphne loved all the animals, especially the giraffes that came so close to our truck!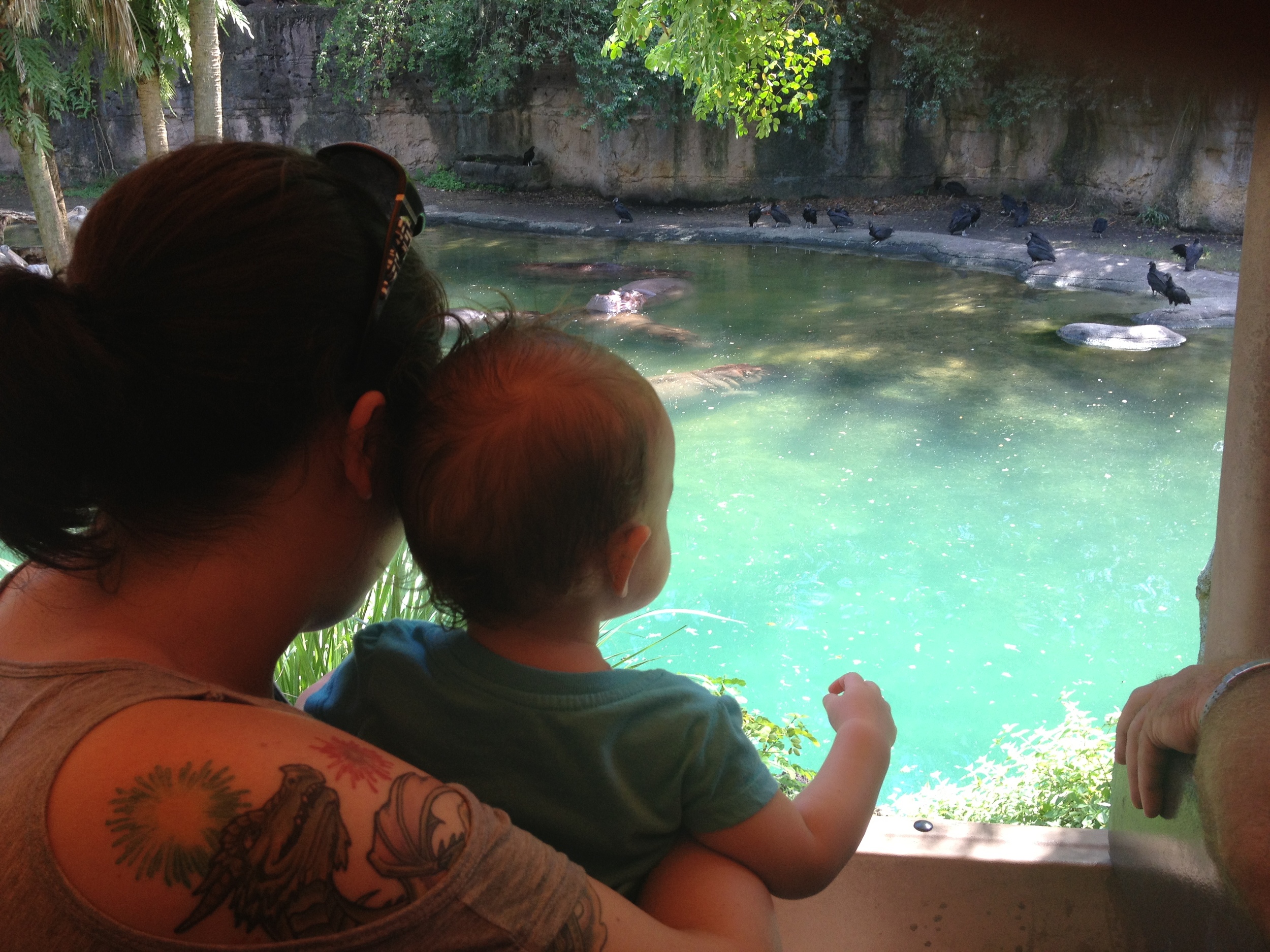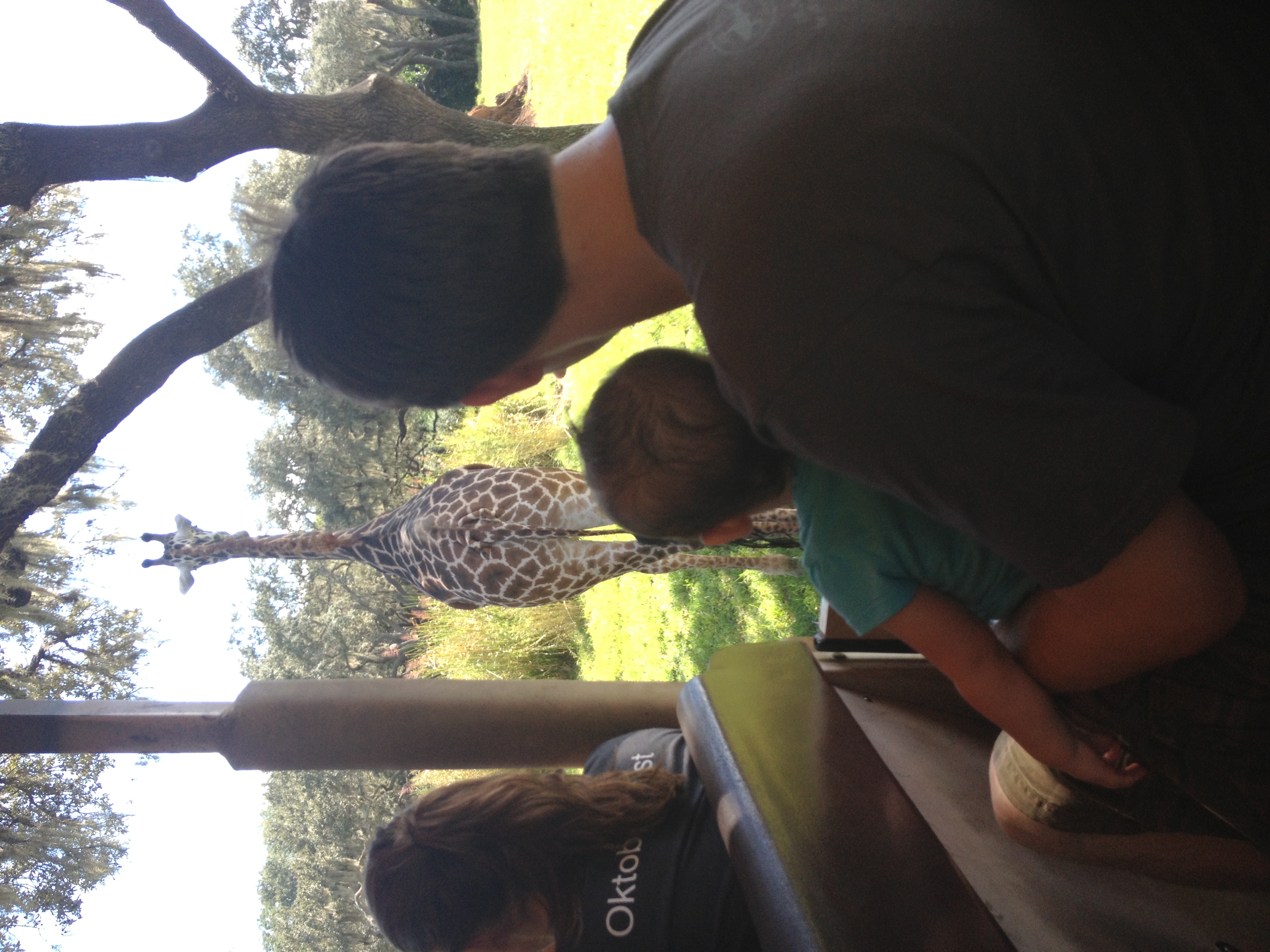 By then it was almost 3 so we decided to call it a day and head to the exit. We were almost out the door when I notice Daphne sort of slumped over funny in her stroller. What the...
Sunday ended up being a jam-packed day, too! We kicked it off with a tasty brunch at the Cask & Larder. Then we stopped by a charity event raffle at the Gnarly Barley, where Daphne demonstrated her continued mastery of drinking through a straw.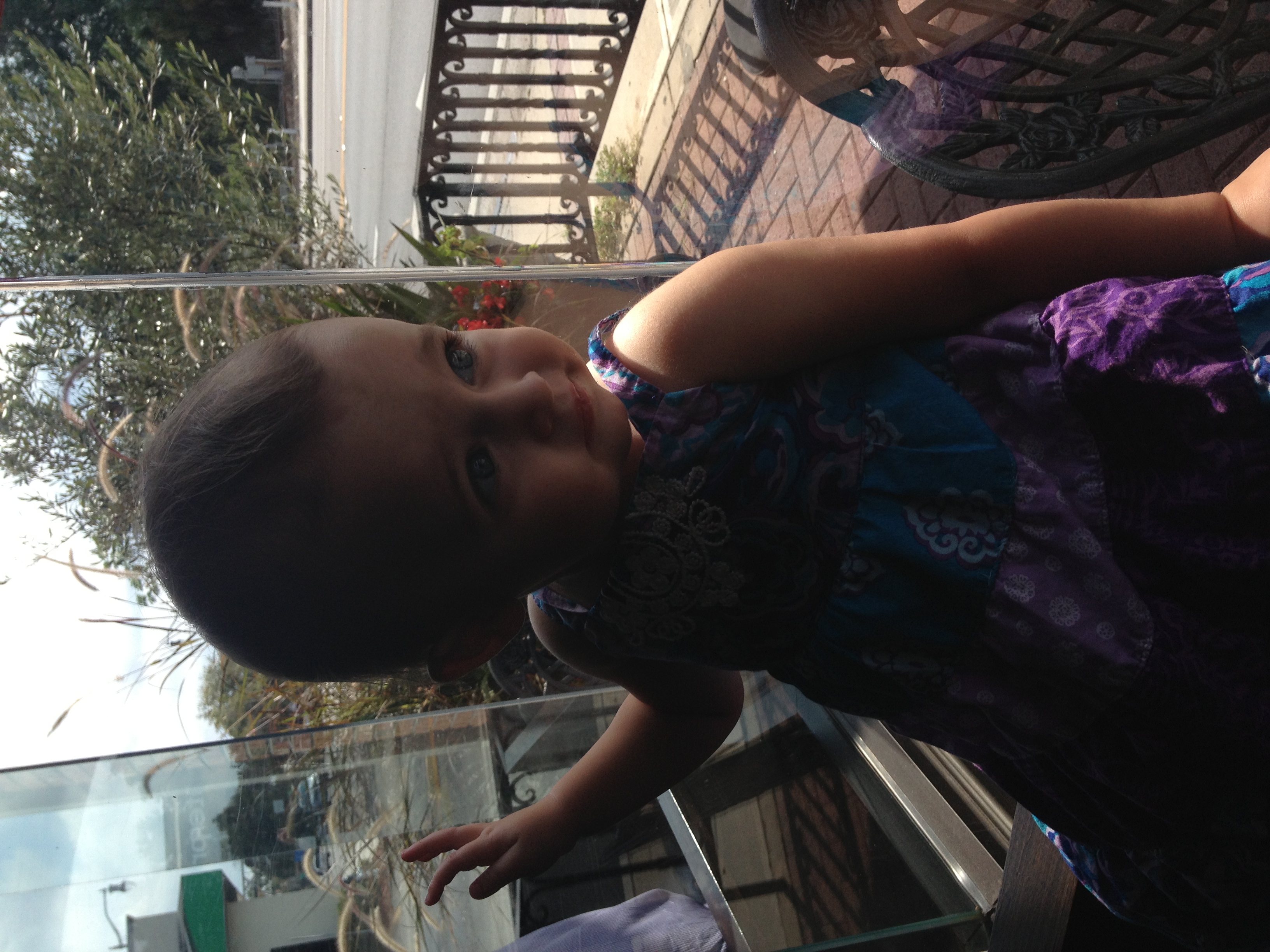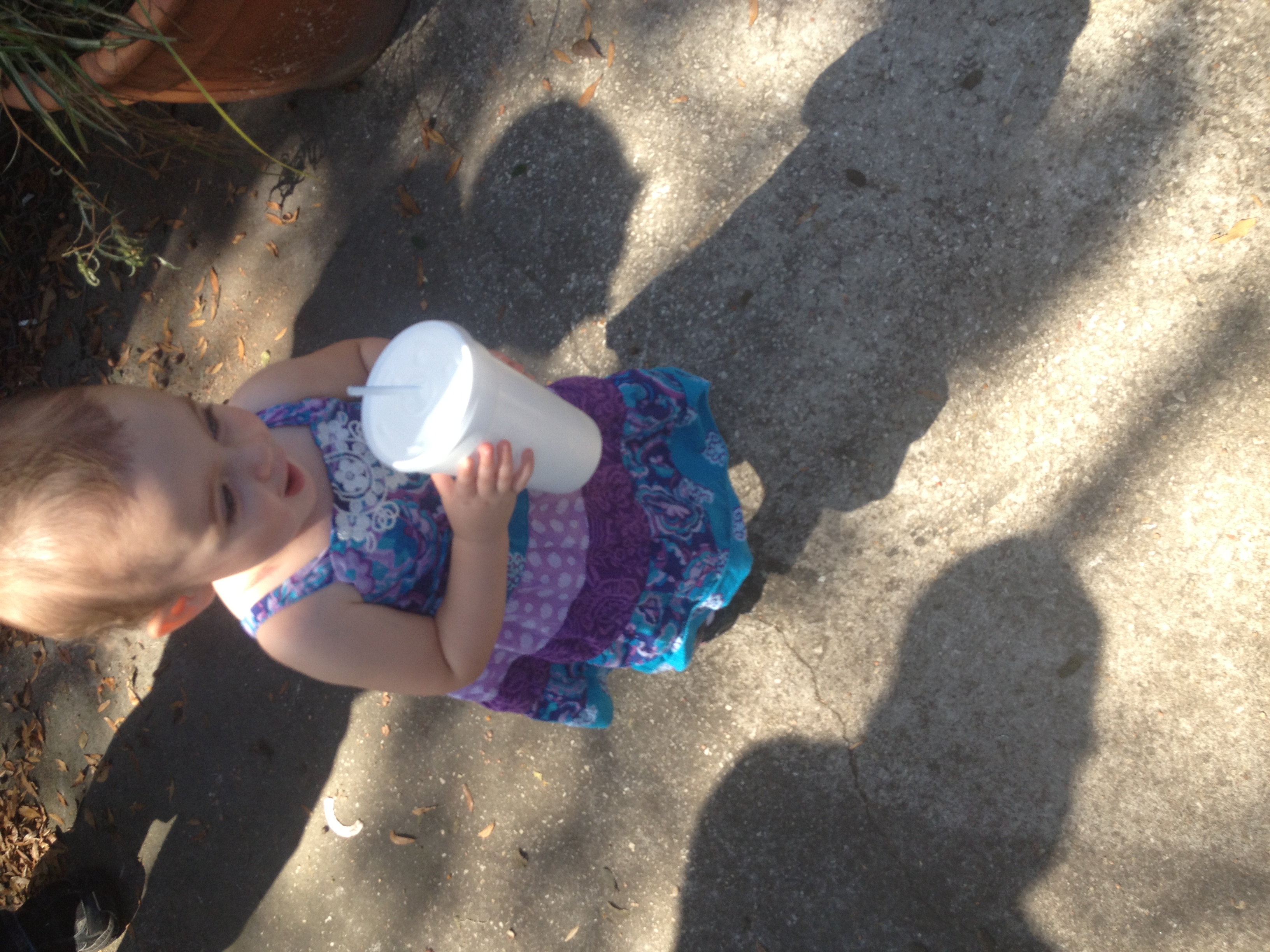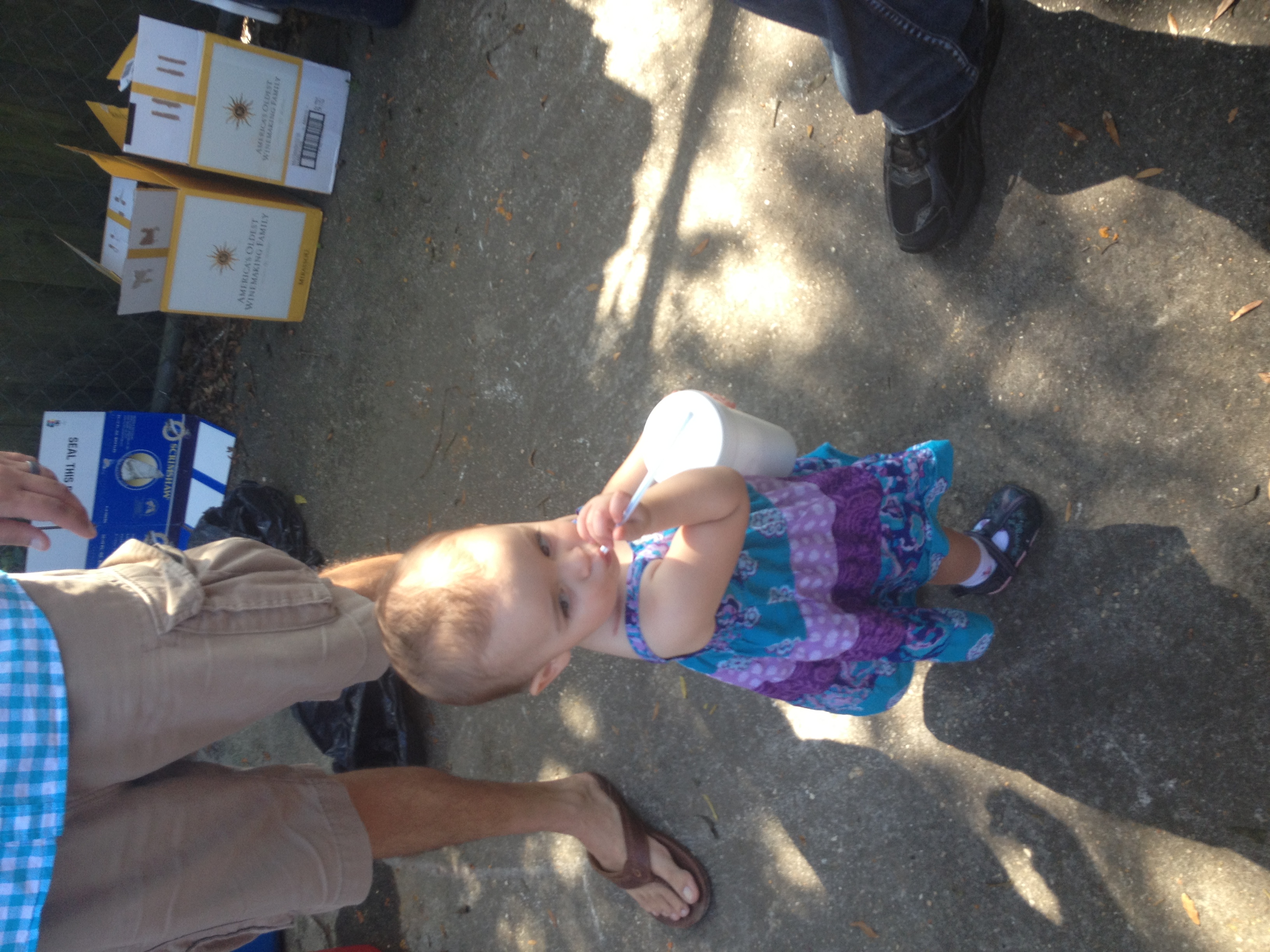 That night Ian and I were invited to a "bottle share" at Oblivion Taproom (a bunch of craft beer fans get together with rare/hard to find bottles and share them with each other). Daphne's very fond of "Uncle" Joe! Of course, right after this, she dumped a glass of ice water into his lap...
Monday was our follow up with the ID doc. The good news? Daphne is responding so well to the meds that she will be able to go off the antibiotics after just 4 more weeks, barring any strange relapse. The bad news? The weird mark on Daphne's chest that I asked him about out of what I thought for sure was paranoia? Ringworm. NO, really. *sigh*
Tuesday night we did something adventurous (for us): had dinner out at a restaurant VERY close to bedtime. Stefano's is one of our favorite spots, and the peanut did great! Considering she didn't have a bib, she managed not to make a huge mess out of herself in spite of eating penne marinara. An older couple next to us even complimented us on how well-behaved our child was on the way out the door.