Disney Villain Countdown: 37/40
**Spoiler Alert! Some villains are revealed in plot twists, so if you haven't seen all the movies...**
Fear/Intimidation Factor
Look at this guy. Just LOOK at him. The only thing scary about him is the fact that a goober of such a high order somehow managed to find himself in charge of an overseas expedition. The only reason he scores higher than anybody is that he has guns and a bunch of burly guys at his disposal.
Character Design
Now I know the animators are f***ing with me. DO YOU SEE. THE BOWS. IN HIS HAIR?! Pigtails! With ribbons?! No neck? Jowls? Giant barrel chest with teeeeny tiny legs? PURPLE! HE IS WEARING PURPLE, AND A FRICKIN' CAPE! If I'm going to say something nice... at least he's colorful? And he is reasonably unique in the Disney Villain lexicon? Meh?
Wit & Quotability
It's a low score. Slightly higher than the villains ranked lower, but only barely. Ratcliffe is the embodiment of all things Greedy and Xenophobic, so not a lot of cleverness can be expected. If he ever makes us chuckle, it's generally AT him rather than with HIM.
Memorability
For better or for worse, Ratcliffe does stand out, so I have to give him credit for it. I didn't give him a high score, but it's not in the gutter. Visually, he's quite memorable (for all the wrong reasons, but still), he also has a cute pet, and he PRANCES in a gold, sparkly, Liberace-would-roll-over-in-his-grave ensemble during one of his songs. I can't erase that image from my mind, no matter how much steel wool I take to the backs of my eyelids. On the downside we know very little about who he is or why he's such a jerk, he's pretty much a plot device. With pigtails.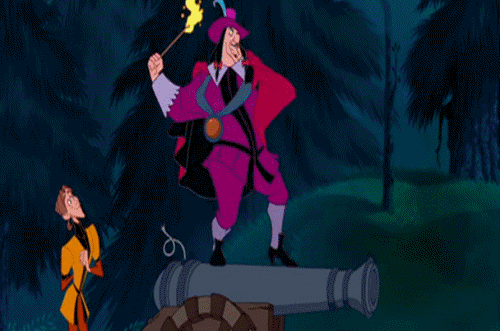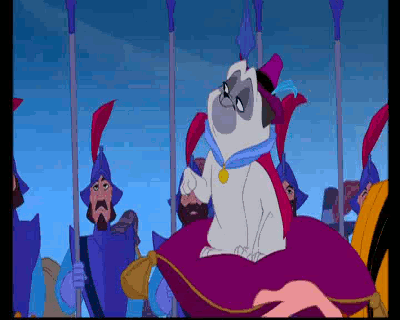 Sidekicks
Ratcliffe gets an average score here. Most of the men that make up the "explorer" group are pretty forgettable, but Ratcliffe has Disney's first closeted gay assistant in Wiggins, who is a ray of sunshine in an an otherwise mediocre film (or maybe he's mediocre and he just seems good in comparison). Ratcliffe also has a PUG! A PUG I SAY! Pugs make excellent villain sidekicks and comedic relief. Percy is probably my favorite part of the movie, way better than Pocahontas' lame raccoon.
Song
Ratcliffe tries really hard to be an overachiever in this category. Not only does he have his own song (the myopic "Mine, Mine, Mine"), he has a primary role in the *cough* climactic "Savages". I still have trouble believing Alan Menken had anything to do with these songs, they are just awful.