The Weekly Peanut, Issue 201
This week was definitely challenging, again, with adjusting to the 4-year-old 'tude and all. BUT, we finally saw light at the end of the tunnel.
First sign of improvement: D willingly ate a salad with Kale, shredded broccoli, and Brussels Sprouts. She didn't eat a LOT, but she ate some. She managed to go all of Friday evening without a meltdown, so I told her I'd take her to go see a movie.
No, we didn't go to see Moana. But when D saw the display, she told me I needed to take her picture with it. Again. So what DID we go see? The movie with the song that Daphne can't stop singing. The movie she talks about with her friends at school almost every day.
If you can't tell, no, we didn't take Daphne for her first explorations into LSD; I took Daphne to see Trolls. I had to snap this picture, because it was just one little sample of the WTF that is this movie. Not bad, just... wall to wall visual weirdness and trippy, bizarre situations. Daphne loved it, and can't stop talking about it, and I didn't want to drive ice picks into my eyes, so there you go.
Saturday night was D's friend, Bella's, big Christmas party down at the Coronado Springs resort on WDW property. Daphne got to wear her new Christmas Party Dress (covered in holly berries), and Ian and I even got a little fancy, too. Bella and her mom, Jeanna, throw the BEST parties.
Cake. Cookie decorating. Food. Tons of friends and kids to play with. A snow machine and bubbles. Special guests.
Special guests who took a backseat in priorities to Daphne in favor of snow angels.
We did eventually talk Daphne into a family photo with the world's biggest charmer.
But to her, it was basically an obstacle to getting back to playing with her friends.
After all the excitement and late night festivities, we were hoping D would sleep in Sunday. Not so much. OH well, we had big plans to return to the AKC Nationals for some puppy love. Our first stop? The diving dogs. Definitely D's favorite event.
There was a kids' zone with a bounce house and inflated slide.
But the highlight is always the Meet the Breeds section. We went from booth to booth, meeting dogs. D was pretty good at remembering to ask permission and letting dogs sniff her first. A few dogs were quite taken with her, especially this Norwich (or what it a Norfolk?) terrier that was ready to follow her home.
At the Cocker Spaniel booth, they asked us if we wanted to hold a puppy. ARE YOU KIDDING?! D asked if she could hold him, too. I was shutting her down gently, but the owner insisted "they're super sturdy, let her do it." So I made her sit down and the world's most cuddly schmoopy puppy gave her all the cuddle love.
It's a good thing they weren't trying to get that dog a new family, we might have ended up leaving with him. It was really interesting watching how the different breeds interacted with D, how some were more receptive and some were intimidated by her. Some dogs she had to go very slowly and gently, other dogs were ready for all the hugs and cuddles. This older boxer, for example, may have been the patron saint of children in a former life.
Sunday night was Ian's work Christmas party, and Amanda came through at the last minute to let D come hang out while we put in an appearance. We were gifted with Daphne and Maddie Snapchat shenanigans for our drive home. Thank goodness, D was on her best behavior and, despite being up for a second night in a row well past her bedtime, these two were nothing but love when we came to take her home.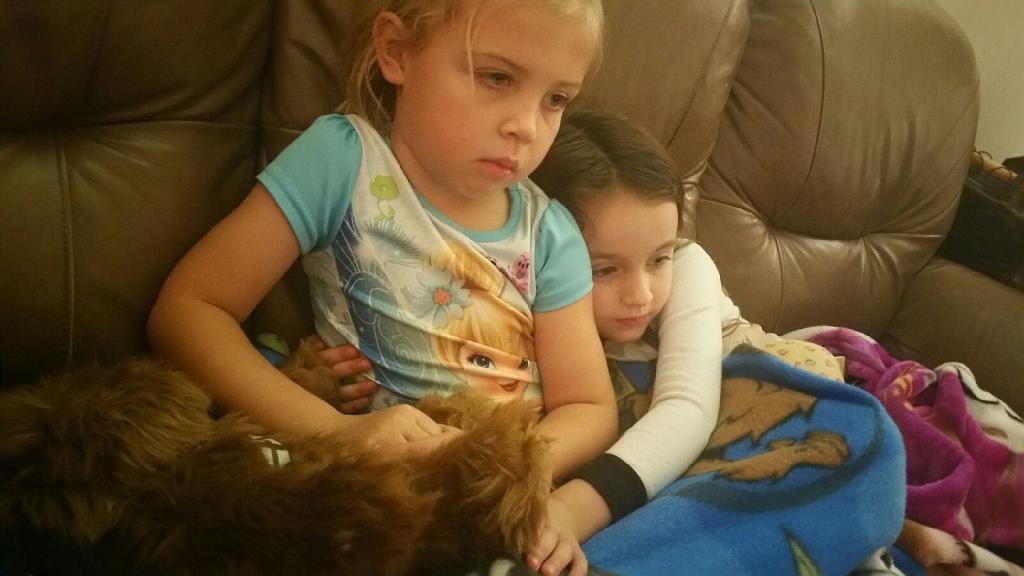 Monday? Monday was an amazing day. After what has felt like weeks of battles, D woke up pleasant and accommodating and stayed that way. Picked her up from school, talking about Christmas. I told her she had a little money, and asked her if she wanted to buy a Christmas present for Daddy with it. She said yes. So I took her to pick out a gift (which she did, and she did a pretty good job). She even earned back the gift I'd confiscated due to bad behavior last week when she helped me cook dinner and then bravely downed the fish tacos that were new to her with very little negotiating required. I know, it may be fleeting, but thank goodness for that day, for reminding me that we can have those days.
I'll sleep in January.