The Weekly Peanut, Issue 133
My little girl is growing up too quickly. Size 8 shoes and a brand new dress for another school picture day. She was so excited about this dress when she saw its twirl capabilities. When one of my former students saw a video (posted to FB) of her twirling, she drew a doodle of Daphne as a Disney Princess. How cute is this?
Daphne: DATS ME!!!
D really loves pop music. Right now her favorites are Maroon 5's "Sugar" and (much to Ian's remorse) "Whip-nay-nay!!!" After we picked her up on picture day, she arranged a little medley/mash up, making Ian sing the ABC song while I was supposed to sing Twinkle Twinkle and she alternated singing "the diamond song" (???) and Sugar. I was really impressed and never noticed before that Twinkle Twinkle and ABC have the same note progression and beats. Either way we had trouble controlling ourselves, and D was having none of our anarchy.
We treated D to Stefano's on Friday since she's been asking for it for a while. She's perfected her slurping form.
Saturday was a casual day of family time. We took our time in the morning in our jammies, watching movies and eating Mickey pancakes, compliments of Daddy.
D said she wanted to go to the "fishy" store aka PetSmart.
Kiddo has really been on her best behavior, so we decided to throw caution to the wind and take her to the Disney Store at JCPenney. Last time was a debacle that ended in Ian carrying her screaming through the store and out to the car. We explained our expectations for her behavior and hoped for the best.
We started out great. D walked slowly, put things away after she picked them up, all was going smoothly. Then we had to leave. Son of a... EPIC MELTDOWN. Gosh darnit. That place is cursed.
Publix cookies make everything better. I let Daphne play with my phone later that evening. She asked to take pictures. 30 seconds later, and a changed instagram user picture later...
Erika. All week we heard dire warnings about impending doom; Rick Scott declared a state of emergency. This is not our family's first Hurricane Rodeo. Sure enough, off she moved into the Atlantic. I looked at the forecast for Sunday: 100% chance of rain. ALL DAY. But Ian's cousin was in town with her family visiting Magic Kingdom. We waffled. We decided to go. We packed ponchos and water-friendly shoe options and extra plastic bags. I repeatedly took my camera out of my bag and put it back in, finally decided to take it but with extra plastic baggies just in case. D put on her new Mickey Mouse outfit, and we hit the road to try to catch rope drop.
NOBODY IN THE PARKING LOT. Second row of the Aladdin lot. VICTORY. It's not raining yet, but it's overcast. We figure we'll hopefully have a few good hours with family before getting soaked. Nobody in line for the monorail. Looks like Erika scared off everybody.
We made it for the welcome show and rope drop, meeting up with Ian's family right away and D's little cousin, Logan.
We all rode Winnie the Pooh and Under the Sea together with no lines (NOBODY IS IN THE PARK WHAT IS GOING ON??). They had FastPass for Ariel, so we took a quick side trip to visit D's big sister. Daphne had made some art for Tiana ("It's Nemo an' Dumbo an' footprints! Lotsa footprints!").
Tiana put D's art on display.
We met back up with the family outside the Tangled restrooms. What does D want to do? Run in circles of course.
We heard from D's friend, Bella, that they had just arrived and were on their way to see the Tremaines. We had a quick outfit change and hopped into the growing line to hold a place. D, of course, had no problem entertaining herself with the rest of the kids in line.
The Tremaines are so fantastic. I don't think I've ever laughed harder than during these meetings. Bella handed out presents to the ladies while D demonstrated her twirling skills. Lady Tremaine threatened to put her daughters into time out and told Daphne she should work on her Angry face, because she was really far too happy. Anastasia took turns twirling with Daphne then taught her how to curtsy. They tried to teach Daphne how to pose like a Tremaine. Mostly it was just ridiculous bedlam interspersed with awkward hugs and twirling. Perfect.
Followed it up with a quick turn on the Carousel. While trying to snap a picture of Bella and her Mommy, D leaned over and photobombed/took over the photo. What a ham.
We said goodbye to Bella and her family and reunited with our family to do Philharmagic. D loves it so much. Amen to air-conditioning. It still wasn't raining and the temperature wasn't too bad, because it was overcast. But it was so humid you felt sweaty despite it only being in the 80s.
Lunchtime at Pecos Bill. Daphne ate the cheese off her "grilled cheese" sandwich.
After a visit to the Tiki Room and a quick dole whip, we split up again for Fast Passes. Hadn't Jungle Cruise'd in a while.
Decided to head back over toward the hub to let D enjoy Dream Along on the hub grass. We ran into a familiar face on the way over.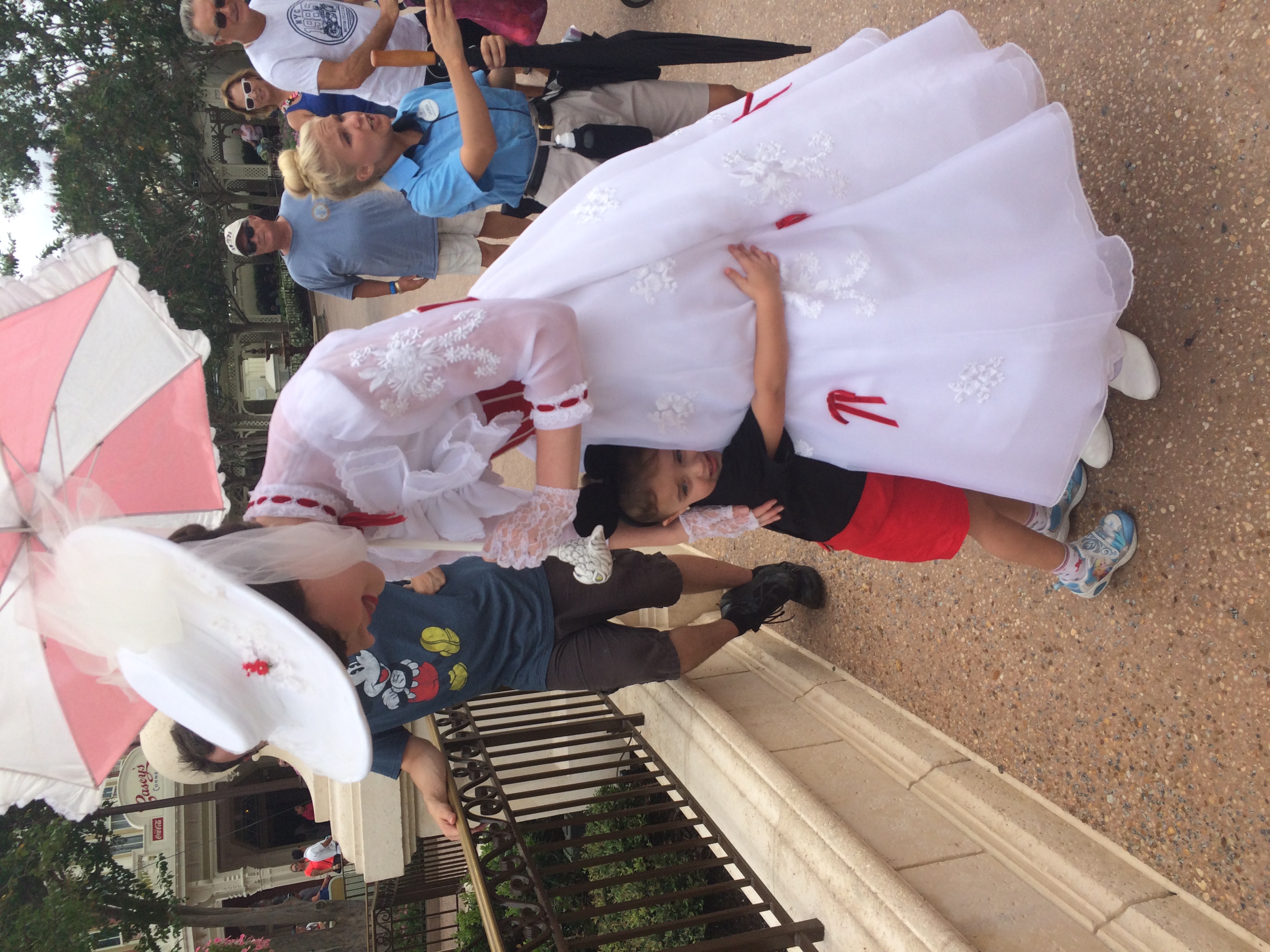 After showing off her ensemble and a couple of quick hugs, we let Mary go take her place for her meets in the hub. Ian and I got in line and Daphne decided to vigorously dance along with Dream Along.
When it was her turn to meet Mary, she tried to get that practically perfect Nanny to play tag with her in the park. Mary humored her, but come on kiddo, the woman is wearing heels.
D went back to playing in the hub grass when we had a surprise visitor. Mary Poppin's penguin!!
She tackled him right away. I did not get a good picture because I NEVER SAW THE PENGUIN COMING. Then she danced with him, and the penguin tried to show her how to do a penguin dance. Finally we let him go stand with Mary, his original destination. Pretty great getting to see a character we've never met before. We headed toward Town Square with a FastPass appointment to meet the Big Cheese with Ian's family. We were early. Snow White skipped past us, heading toward a meeting area. D chased after her.
It's been too long since we've seen Snow White. D had seen her movie now, and engaged Snow in an endless discussion about her favorite dwarves, the Queen (who likes purple, but "really isn't very nice"), and then showed her all of her favorite Inside Out faces (Joy was Snow's favorite). We met back up with the family to go meet the Big Cheese. I swear, the magic of Talking Mickey will never wear off for me.
Almost 3 pm and there is barely anybody lining the curb for Festival of Fantasy? WHERE IS EVERYBODY? Around that time I got a message from a friend that they had started the parade early to try and get ahead of some lightning that had been spotted near Animal Kingdom. We rushed over to our new favorite spot near the Emporium and settled in. The opening trumpet signaling the arrival of the parade on main street hit us just a few minutes later.
D watched the parade from Katie's lap. D and Logan got a visit from Pluto.
The rest of the family had Crystal Palace reservations, so we said our goodbyes and made our way to the exit. Aurora was looking very lonely, though. "D, want to go see Aurora?"
D would have stayed all afternoon looking at the flowers and talking about Prince Phillip, but the thunder was rolling and we wanted to make a go for the parking lot without getting soaked. The monorail was shut down, but at least the waiting area for the ferry was covered. We broke out our ponchos and covered everything in plastic, switched over to our flip flops, and got ready for a mad dash. It only sprinkled. Even on the drive home, nothing crazy. Where was the torrential downpour we were supposed to have? Oh well, gift horses and all that.
I can't help but marvel at what a wonderful day we had. I went into that day thinking I was going to be waging soggy battle, but we stayed mostly dry and HAPPY. D was on her best behavior, and, in a notable turn from recent weeks, she seemed pretty eager to do character meets. Recently (aside from her big sister or maybe the Tremaines) D just hasn't really showed much interest in characters. I'd ask her if she wants to go see Cinderella or whoever, she'd hmm and say "Nope." Sunday she was down for EVERYTHING. She even asked to see Cinderella and Rapunzel multiple times (they were one of the only attractions with a line, d'oh). We also got to share our Disney love with family and have playtime with friends. I continue to be bowled over by the incredible people we've met and the friends that we've made. Speaking of, our good friend Mellie is out in Disneyland this week. Before we'd decided to sell the house, we'd seriously considered going with her (next year, hopefully!). They still have the rest of the Disney Fairies doing meets out there (WDW lost the rest of the fairies a mere month before Daphne fell in love with the movies). I'll leave you with this amazing little video Mellie sent to Daphne from Disneyland. How awesome are our friends??? I may have cried a little... (and D may have made me play this on loop for her).