The Weekly Peanut, Issue 132
My new FAVORITE thing my kid does: fake cry. I don't mean phony crocodile tears. What I'm saying is, to express her displeasure with anything, she will loudly shout the word "WAHHHHH" on repeat until you can distract her. Charming.
We got two pieces of good news this week on the house front: the appraisal came in above our contract value AND the seller can close a week earlier than we'd thought, getting us into the house sooner and giving us longer to transition out of the condo. We celebrating by going furniture window-shopping. Daphne liked this carpet a lot.
D's reward for good behavior in the furniture store was getting to walk around the Toys R Us next door. A store full of toys and the only thing she was interested in was a display of rubber balls. Ok, and the Inside Out merch. This brings me to our next fun development. D is charging ahead of me, almost runs into a kid and his mom. The mom looks at me, "Uhh... you know your kid's nose is bleeding, right?" Not a nose bleed, no. This has been happening at school, too. Can you guess? MY KID IS PICKING HER NOSE TOO HARD. I clipped her nails this week without filing them and apparently she has gouged her inner nostril. Keep it classy, peanut.
Our only purchase was a Big Trouble in Little China Funko Pop. Ian fell down the rabbit hole. Daphne insisted on making the purchase.
The food of the week is eggs. D wants eggs for every meal. EVERY. MEAL.
It's a lot like this, in case you were wondering.
Saturday we decided to break our pattern and take a shot at a later trip to Magic Kingdom. We hadn't gotten to watch the afternoon parade for a while, and D doesn't really nap anymore, so we aimed to arrive around 2:30. We found ourselves in Town Square with a little time to spare before the parade, but plenty of time to stake out a good spot. I asked D on the monorail what she wanted to do at Magic Kingdom. "Play with friends!" The universe was on her side...
We've been trying to meet up with Alexis and her daughter Ava for ages, and these two were thick as thieves. They talked Inside Out and made all the faces, Ava gave Daphne a Joy Parkbound button. They chased each other in and out of the store. Ava fell down as much as Daphne does (it was great to not worry about D trampling over a kid she's playing with, their energy levels totally matched up).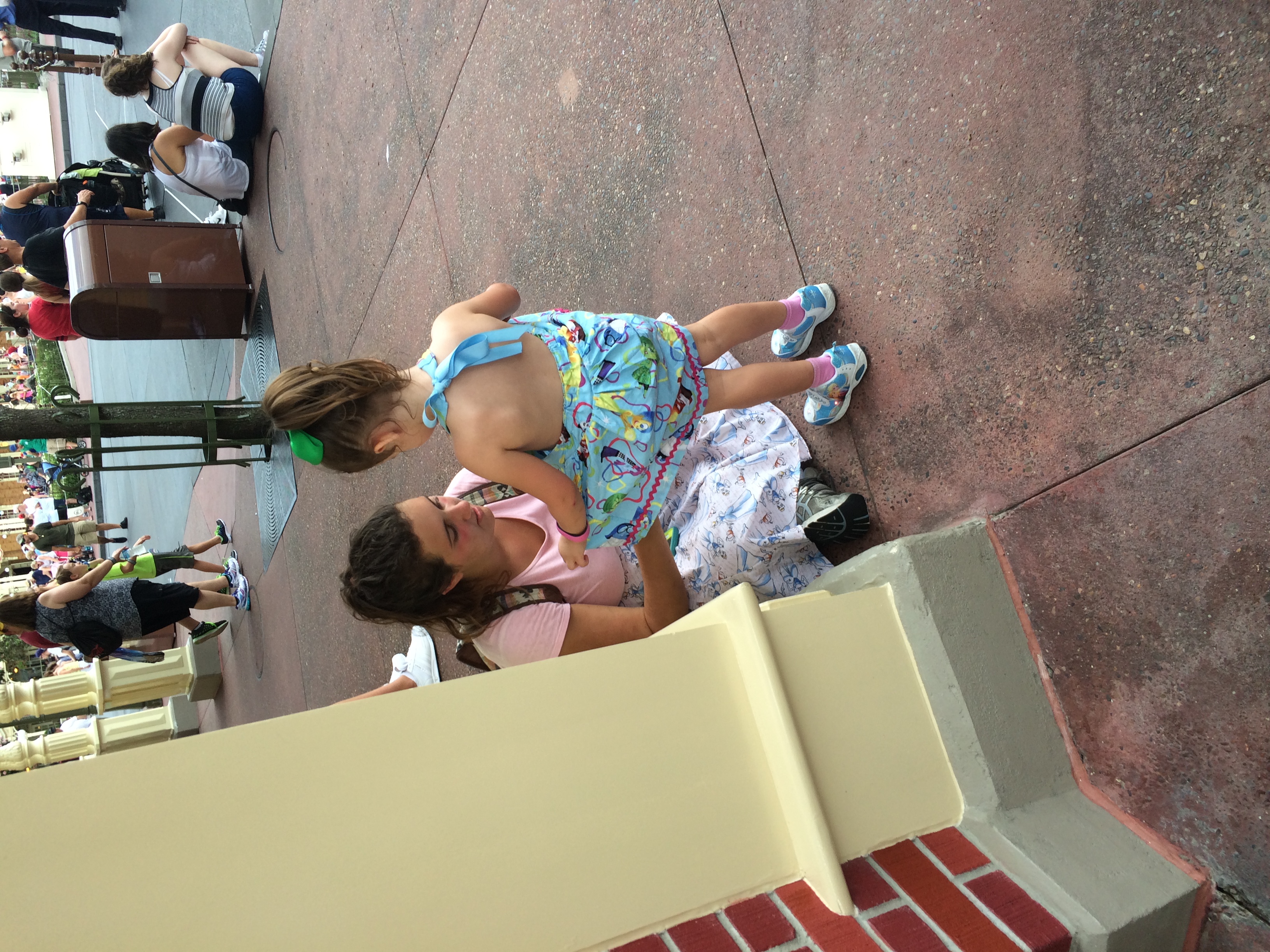 Turned out that spot was prime real estate for us to run into tons of friends from Instagram. We caught Junie coming off her shift, whom we hadn't seen since before Christmas!
Too much fun was had, I don't know how we are going to live up to this on future trips.
D watched the whole parade from Junie's lap, and Ian and I got to talk to each other and other grown-ups. It was a seriously great time, and D got a high five from the White Rabbit. After the parade we all went our separate ways, D had a tiny meltdown over her friends going away. Poor kiddo. Worry not! We were one mad dash away from catching D's big sister at the end of her last shift...
No photos this time since I didn't get a chance to set up my camera in the sprint. Just video of the silliness. This little story time thing went on for quite some time, as Tiana tried to make sense of D's random outbursts (Tiana's improv game is strong!). That last part when she shushed us all? Then yelled "PEOPLE IN THE CONDO ARE SLEEPING!" That's what we tell her every time she is pitching a fit back at the condo to try to get her to pipe down. The video cuts off there, because I fell over laughing. We said our goodbyes and were able to sneak over to the front of the castle just in time to grab a spot for the return of the Dream Along show. There's still a huge fence RIGHT IN FRONT OF THE CASTLE keeping you kind of far back from the show, which is weird, but D didn't seem to mind. She made friends with a sweet little girl who was also eagerly awaiting the show.
We headed toward Tomorrowland and, much to Ian's chagrin (he is not a fan of the Dream Along show), Daphne was sitting up in her stroller, dramatically flailing her arms, crooning "FIND YOUR DREEEEEEEEEEEAM! FIND YOUR DREEEEEEEEEEAM!" at the top of her lungs. I was so proud.
AT LAST! THE PEOPLE MOVER!! It's either been shut down or not in the cards our last several visits and we missed it so.
No, really. Daphne waved at all the other cars that passed us.
Almost no line for the teacups. I threatened to murder Ian if he spun too hard, since I'd just inhaled a peanut butter sandwich. We decided to let Daphne man the spinner.
It started drizzling on our way back to Liberty Square, so we ducked into Memento Mori for a few minutes. D made friends with the Haunted Portrait ladies, even went so far as to sing them the Grim Grinning Ghosts song. Who is this endlessly charming kid? Why is she like this with strangers but NOT US?? The rain let up and we finally got to try out SOMETHING NEW (for us).
The Liberty Belle! Daphne really enjoyed the steamboat. She got really excited when she saw Tom Sawyer Island, too. That will be our next trip, methinks. At last our hunger got the better of us, and we decided to give ourselves a little reward for going no-spend our last few trips to WDW (bringing our own food and such). We headed back to the monorail and hitched a ride to the Polynesian to check out the new Trader Sam's.
The inside of Trader Sam's is tiny and had a huge wait. The outside patio? Same menu and no wait. Alrighty.
Plus I could dash over to Captain Cook's to grab D some chow.
Can we just win the powerball so I can buy my Polynesian bungalow already? Seriously, I love that place SO MUCH. So enamored were we with the view, we decided to just stick around rather than go back to MK. We can see the fireworks from there, plus ALCOHOL. We found a stretch of beach where they were roasting marshmallows. D partook. Then they started showing Big Hero 6 on a big screen. Daphne loved the beach. She made sand angels (ughhhhhh sand everywhere).
We caught the boat version of the Main Street Electrical parade for the first time. It was... cute. Short. Pleasant. Around that time D came up to us. "I tired. I want go back condo." O_O Did she just admit she's tired? Wow. Ok. We can catch Wishes another time, let's call it a night. Kiddo fell out HARD in the car on the way home and was none-too-pleased with us when we got home and insisted on a shower to get rid of the sand that was EMBEDDED IN HER SCALP (the sand angels were NOT my idea).
We needed this past week. We had such a wonderful time at the park and at home, too. Needed it. Thank you universe. Now feel free to take a crap in my lap again (no, really, I'd prefer if you didn't.)
Also my kid TOTALLY knows spanish now. TOTALLY.