The Weekly Peanut, Issue 125 - Happy Birthday, Peanut!
We're going to make up for all the recent relatively uneventful house-hunting TWP issues right now. Fasten your seatbelts, readers...
It's summertime, y'all! Daphne's school closed Friday in honor of the holiday (and we had to house hunt in the afternoon), so I planned a return to the Downey Park splash pad with friends. Daphne finally got to break out her Minnie Mouse suit from Grandma DeeDee.
Daphne didn't want to go in the water at first, but she also wanted nothing to do with me as she marched around the pad. Eventually she started dumping cups of water on her head.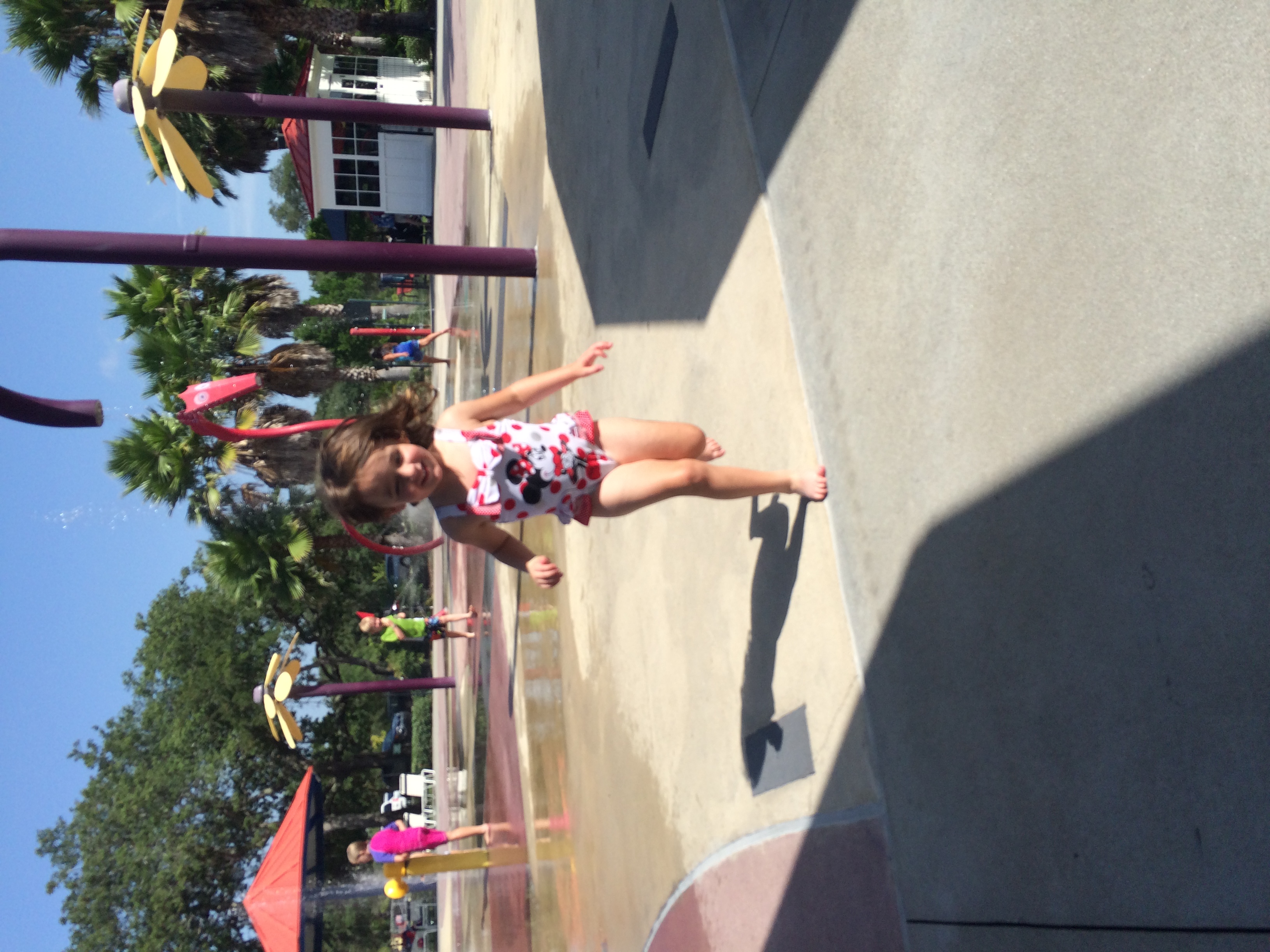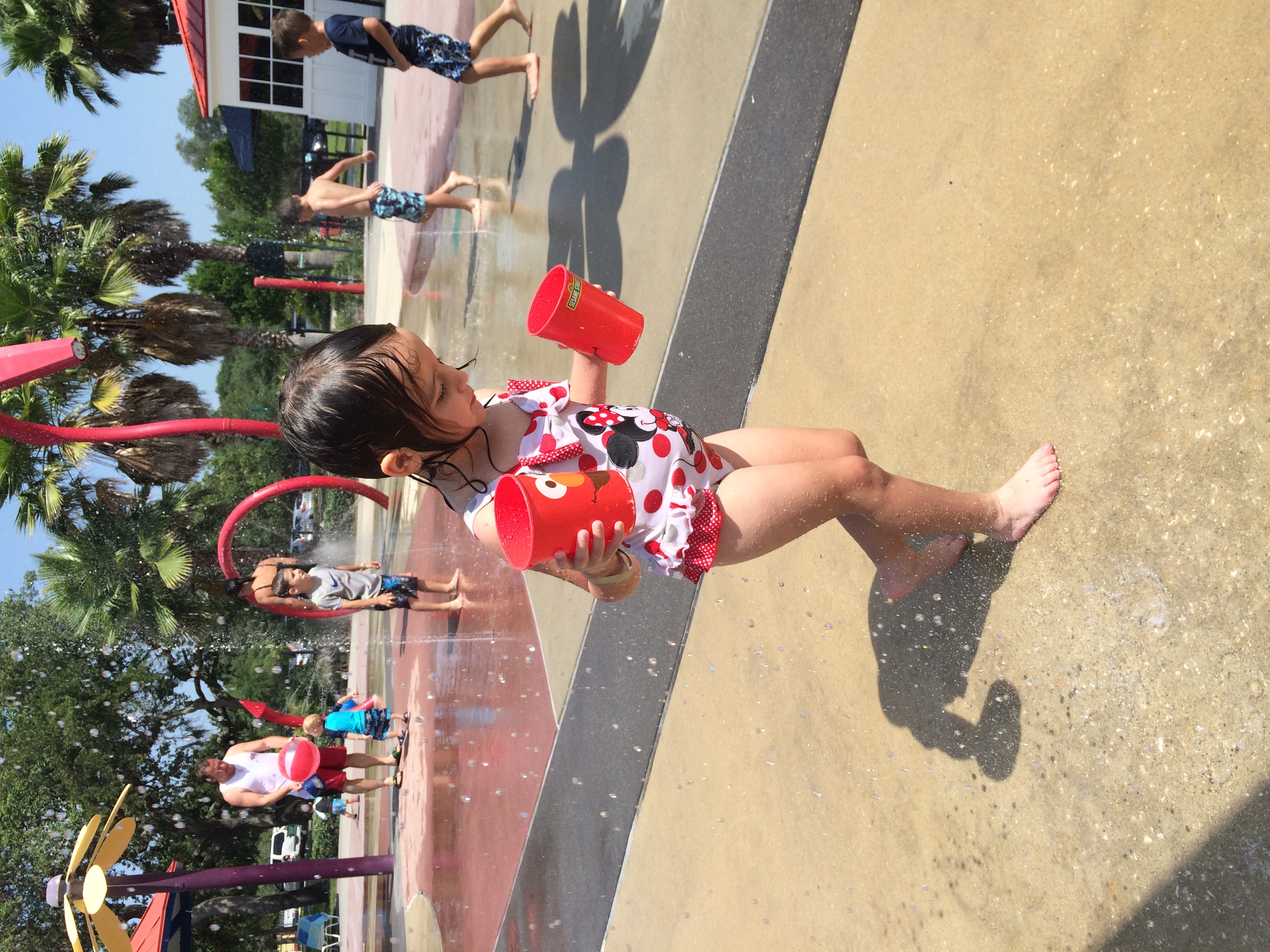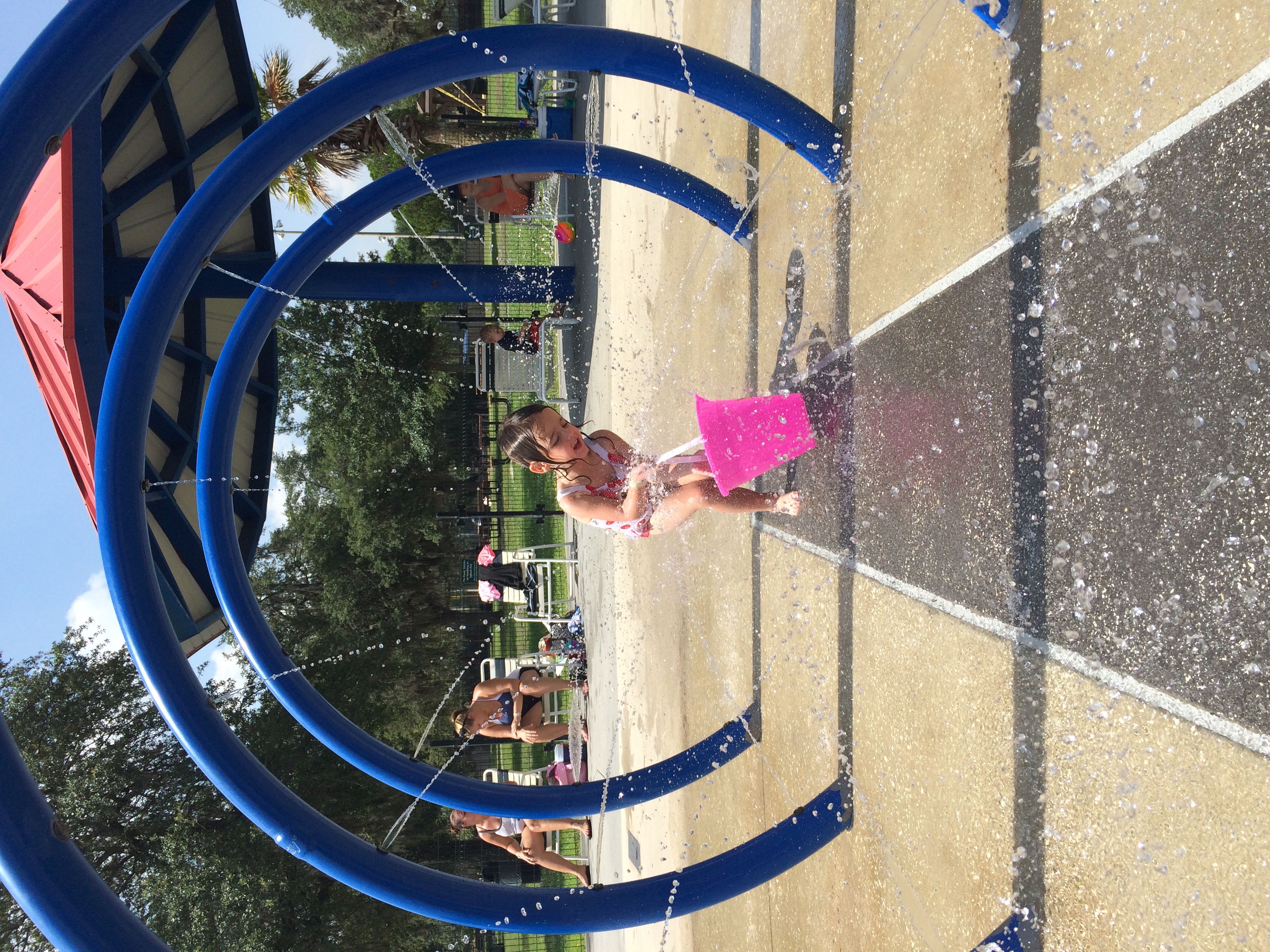 We were joined by D's friends, Maddie and Bella. Daphne managed to walk away with just a skinned toe, so a win overall. I was worried she would pitch a fit when we had to leave, but she nodded, turned to the kids she'd been playing with and said, "Thank you for playing with me!" and followed me to the bathrooms to change.
Grandpa Bobo came over again to look after the kiddo while the hubby and I went on yet another fruitless house hunt. We got to enjoy a dinner at Stefano's together, though.
Born 12:01 a.m., July 4th, 2012. Daphne has been starting every morning the last week with "IT'S MY BIRTHDAY!" followed by a gentle correction on our part. Saturday we finally got to tell her she was right. I have to say, this was the most special birthday yet. In no small part thanks to the incredible friends we've made through Disney.
After crawling into our bed, I showed Daphne the birthday video her friend Liv sent her all the way from the U.K. She made us watch it over and over (and how stinkin' cute is Liv's little accent??).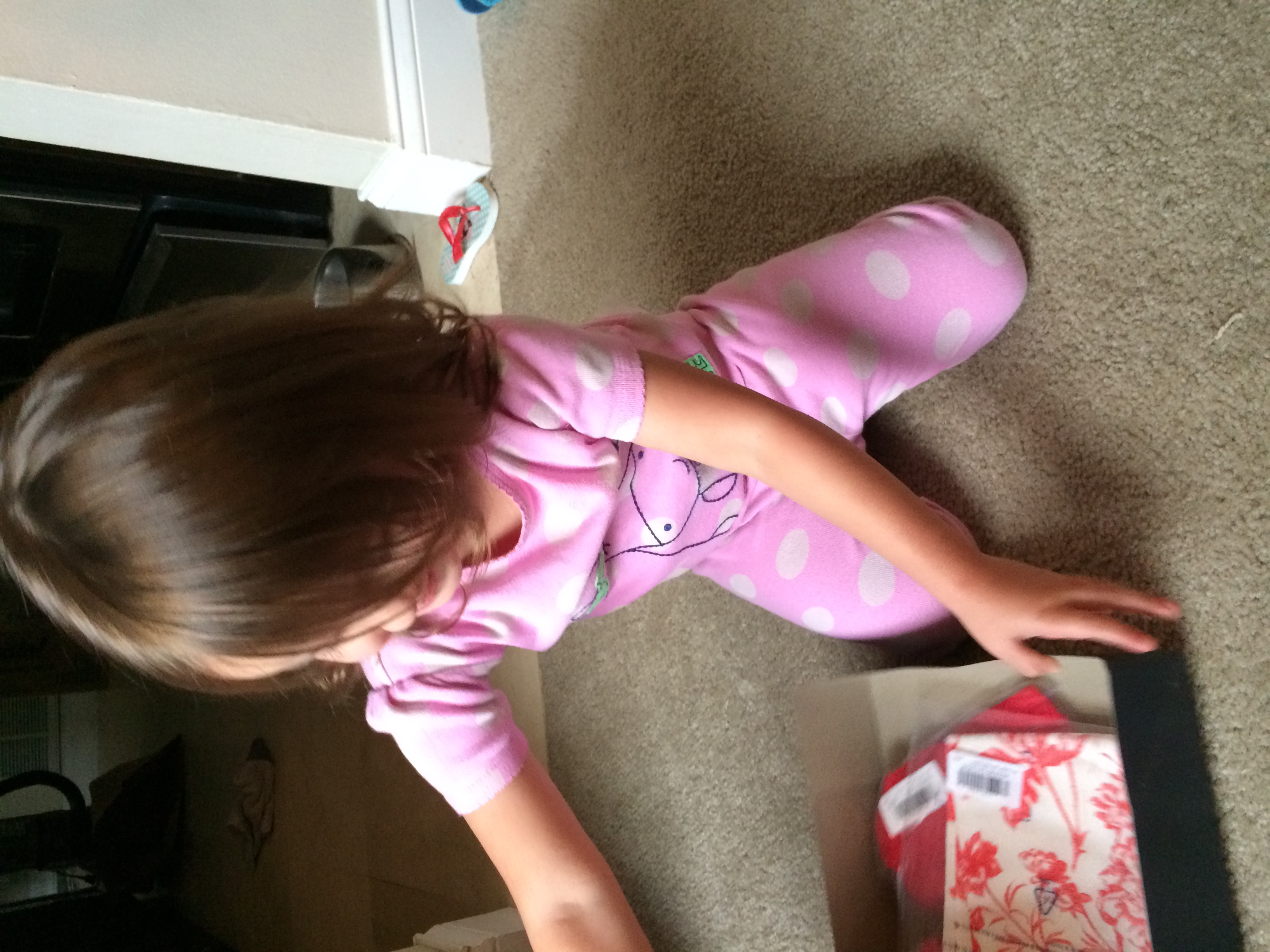 Next D opened presents. I'm very proud to say that Ian and I did NOT go overboard this year. She opened some gifts from out of town family and dug right in to playing with the Little People Princess Songs palace that I've been hiding in my closet for her for MONTHS (ever since it went on Deal of the Day on Amazon). It's really exciting to see D actually playing make believe. We had Belle and Beast share a dinner that Rapunzel "cooked" in the kitchen. Beast ate pizza and fruit, Belle had a salad, in case you were wondering.
Daphne donned her special patriotic Minnie Mouse dress for breakfast at B3 café.
Birthday indulgences. I blame Daddy for this one. Around that time I got a message on Facebook from another of our disney friends, Lena, who was working at MK for the fourth with Mickey Mouse. Daphne got a very special Birthday message from the Big Cheese himself. How cool is this?????
D watched it over and over, her favorite part is when he says "from Mickey Mouse," she giggles uncontrollably and hides her face in her hands. I get a little verklempt.
I'd had a long talk with D that day about the late plans we had that would hinge on her taking a nice nap. For once she took me seriously and conked out for a solid chunk of time that afternoon. Good thing, since our dinner reservations were for the time she would normally be heading to bed. Why so late? We'd heard great things about Magic Kingdom's fireworks for the 4th, but it's also one of the 2 busiest days of the whole year at the park. We'd gotten recommendations to watch the fireworks from one of the resorts for a more manageable crowd experience, so we booked our first ever dinner reservations for 1900 Park Fare at the Grand Floridian. We've only ever had breakfast there in the past, and while we liked it, we still preferred Ohana or Tusker House. Dinner came much more highly recommended at Park Fare, plus we'd get a chance to meet Prince Charming for the first time (Cinderella, Charming, and the Tremaines usually host the dinner).
We were even more excited because Bella and her family were also going to be having dinner there at the same time. The evening started with toddler bedlam as we waited to be seated. I kept having flashbacks to the "Shrieking Eels" scene from the Princess Bride for some reason (this video was actually the quietest moment of the whole interlude)...
Bella surprised Daphne with an Inside Out dress and matching hair bow! Bella's mommy makes the bows and uses the profits to help make kids' Disney Dreams come true. Link to their Etsy shop here, since they are doing such sweet things for good people.
They sat us a couple of tables away from one another. We'd barely sat down when suddenly Cinderella was already at our table. D. FLIPPED. Out. What the heck!?
She HID FROM CINDERELLA! Poor poor Cindy. She tried so hard to engage D (I'd heard correctly that the characters at dinner will take a LONG time with the kids). Eventually poor Cindy asked if she could take a picture "with the King" instead.
It was at that point that D finally went GRUDGINGLY to Cinderella and had a little chat on her lap. Cindy got a little hug in, but that was about it.
I felt awful. Probably because Cinderella was so great and tried SO HARD to engage D, rather than just cutting her losses like most characters who D showed no interest in in the past. All I can think is that because D hadn't had a chance to settle in and figure out what was going on, she just wasn't prepared for the surprise princess. I got her a slice of pizza and some milk to get settled. Charming showed up moments later and, this time predictably, D wanted nothing to do with him. I wasn't letting him get away without a photo op with ME though.
We had a very big surprise: the stepsisters were not at Park Fare. Instead, Suzy and Perla (the sewing mice) were meeting for them. AT LAST!!! The mice never do scheduled meets, you just have to get lucky with them sometimes outside the castle. Or, apparently, at Park Fare! Sure enough, the moment Perla approached our table D totally turned it around and was back to her character interaction loving self.
Yup, the whole evening turned around at that point. Lady Tremaine was definitely the favorite of the evening. We asked about Anastasia and Drizella "Oh, they were swimming... out there... in Bay Lake? They got stuck on a rock so I just... left them out there."
After several minutes of sitting on Lady Tremaine's lap and chatting (zero hesitation on D's part, btw), D started trying to get Bella involved.
The Tremaines are Bella's absolute favorite (she and Lady T are old friends). Eventually we let Lady T walk over to be with their family, and I got D to eat some food. After inhaling the food she immediately CHARGED over to Bella's table and reinserted herself into the conversation.
She spent the next 30 minutes running back and forth between our tables, eating bites of food, playing with Bella and Lady Tremaine, and finally meeting and dancing with Suzy (the other sewing mouse). I just can't say enough about what an incredibly special and wonderful night it was thanks to our Disney friends and family.
Before we knew it the time for fireworks was sneaking up on us. We had to pay and make a mad dash out to the docks. The docks were somewhat crowded, but totally manageable (particularly when compared to what it must have been like inside the park). It was drizzling a little, and D was a bit scared of how loud the fireworks were, but she clamped her hands over her ears and watched pretty avidly.
Allow me to insert here, despite how jaded and cynical I may be, those fireworks were just off the charts. I would highly endorse making "See Magic Kingdom 4th of July Fireworks" on your bucket list. Multiple jaw-dropping-awe moments. Wow. D stayed awake the whole way home looking for "more fireworks" out the car window.
Sunday was a more leisurely day. We shopped at Costco. Daphne perpetuated her Diva Status.
Daphne really took to one of her birthday gifts; one I wasn't expecting her to particularly go gun-ho for, especially given past experiences with getting Daphne to wear things on her head.
Yup, that's an Elsa wig. Good to know what my kid would look like if she came from the Village of the Damned.
Another Birthday for the books. Happy Birthday, Peanut. I'm so excited for what the next year will bring.