The Weekly Peanut, Issue 126
Just keep swimming, just keep swimming... What do we do? We swiiiiiim, swiiiiiim....
I don't think it's remotely unreasonable for me to be losing my mind a little right now. We have to be out of our house by Sunday. We are cramming ourselves into a 1 bedroom apartment (for (hopefully only a month). The pod we ordered which I was assured would be "plenty of space for a 3 bedroom home" is NOT plenty of space (and we are not people who have an excessive amount of furniture, I swear). We put an offer in on a house, but until we're under contract my life is a very thinly stretched rubber band waiting to snap. Thankfully, at least the last couple of days, D has been on a relatively even keel. This was not the case for the beginning of last week. She, too, appears to be hanging by a very thin thread with a mood that can snap for apparently no reason. We finally sat down and had a nice long talk about communication and expressing our needs. No, really. With my 3 year old. We talked about how we both need to listen better (ahem, some of us more than others). And we hug. A lot. D's latest deflecting tactic when she's mid-tantrum is to whimper "I want MOMMY." Manipulative little...
The talk seemed to help and she turned it around just in time to have a really good day Friday and earn a much needed trip to Disney on Saturday. I'm not kidding when I say that place is like family therapy. We still had tons of stuff to pack and other things to do, but we'd all become so wrapped up in it we really needed a few hours away to reset our batteries. D had her 3 year checkup at the doctors and measured 37.5" barefoot. Height minimum for 7 Dwarves mine train is 38". Put some shoes on the kid, YAY WE CAN FINALLY DO MINE TRAIN! We got to MK for rope drop and went straight back to the line. We got to the first heigh measurer. It took a few seconds to get D to stand up straight enough, but finally she passed and on we went through the queue. Probably took around 15 minutes. We're about to get loaded on and there's ANOTHER heigh measurement stick. I get D under it and I'm trying to get her to stand up straight, but unlike the stick in front of the ride there is a HUGE gap. What the... there's like a dip in the ground right under the stick and suddenly D has a HUGE gap between her and the height stick. I looked up at the ride attendant, "I don't understand... how could she be tall enough outside but not here?" I think she was ready for an argument from me, but I was legitimately curious. Instead I got, "I'm the final word, you'll have to leave the ride." Total dismissal. I have sympathy for the cast member, she probably gets a ton of grief doing her job, but WHY WOULD THE HEIGHT STICKS BE TWO DIFFERENT SIZES?? We waited in a queue for nothing, but can you imagine if someone had waited in that line for 90 minutes only to be shut down at the ride? DUDE. DISNEY. GET YOUR MEASURING STICKS FIGURED OUT. NOT COOL. At least D had fun in the line.
So we had a potty break and outfit change so that Daphne could debut her new Tiana waitress ensemble. We really caught a break on Saturday both with the crowds and the temperature, both of which were manageable compared to normal summer days. We decided, since 7 Dwarves was a wash, we'd just go where the wind took us. Our first stop? Duh.
When we got off the carousel I asked D what she'd like to do. "Anna and Elsa!" 40 minute line. Short for them, but still too long for us. What else? "Cinderella and Rapunzel?" Really? After the Cinderella shunning last week? Ok... We were the second to last family ushered into the room (with all of a 2 minute wait when it was posted as 20 minutes). D was acting all excited in line. Finally it was her turn, Cinderella came up to take her hand, D turns away and does one of her little "No Way" squeal/grunts. Oh. Hell. No. I asked Cindy to give us a moment and let the family behind us go ahead. Almost as soon as that family reached the carpet, D started nudging me like she wanted to go over with Cindy, too. Then she started urgently pointing over at Rapunzel, too. I cannot keep up with my kid. So Cindy came back over for another try and it was as though the previous failed attempt never happened. D grabbed her hand and practically skipped to the carpet. D was particularly taken with the curtains and playing hide and seek. Apparently D took so long with Cinderella that Rapunzel took a quick potty break, because she wasn't there when I first looked up to check on the other families. In fact, we had the whole room to ourselves with the princesses, Photopasses, and blueberries.
D noticed Rapunzel sneaking back in and charged. As much fun as she had with Cinderella, it was clear that Rapunzel had been the real source of D's desire to visit the Hall Saturday.
After some quick hugs, D seemed to realize that she had the hall to herself and that Cinderella was looking a little lonely. D took it upon herself to start up a game. She grabbed Cinderella and pretty much shoved her behind a pillar. YOU HIDE DERE! But then Cinderella talked D into hiding with her. Rapunzel (who is a hide and seek expert) searched high and low for D and Cinderella and finally (perhaps due to D's incessant giggling) found their incredibly sneaky hiding place. Without a doubt, one of the most magical moments we've had in the Hall. (Forgive the iffy picture quality, it's not well lit in that area).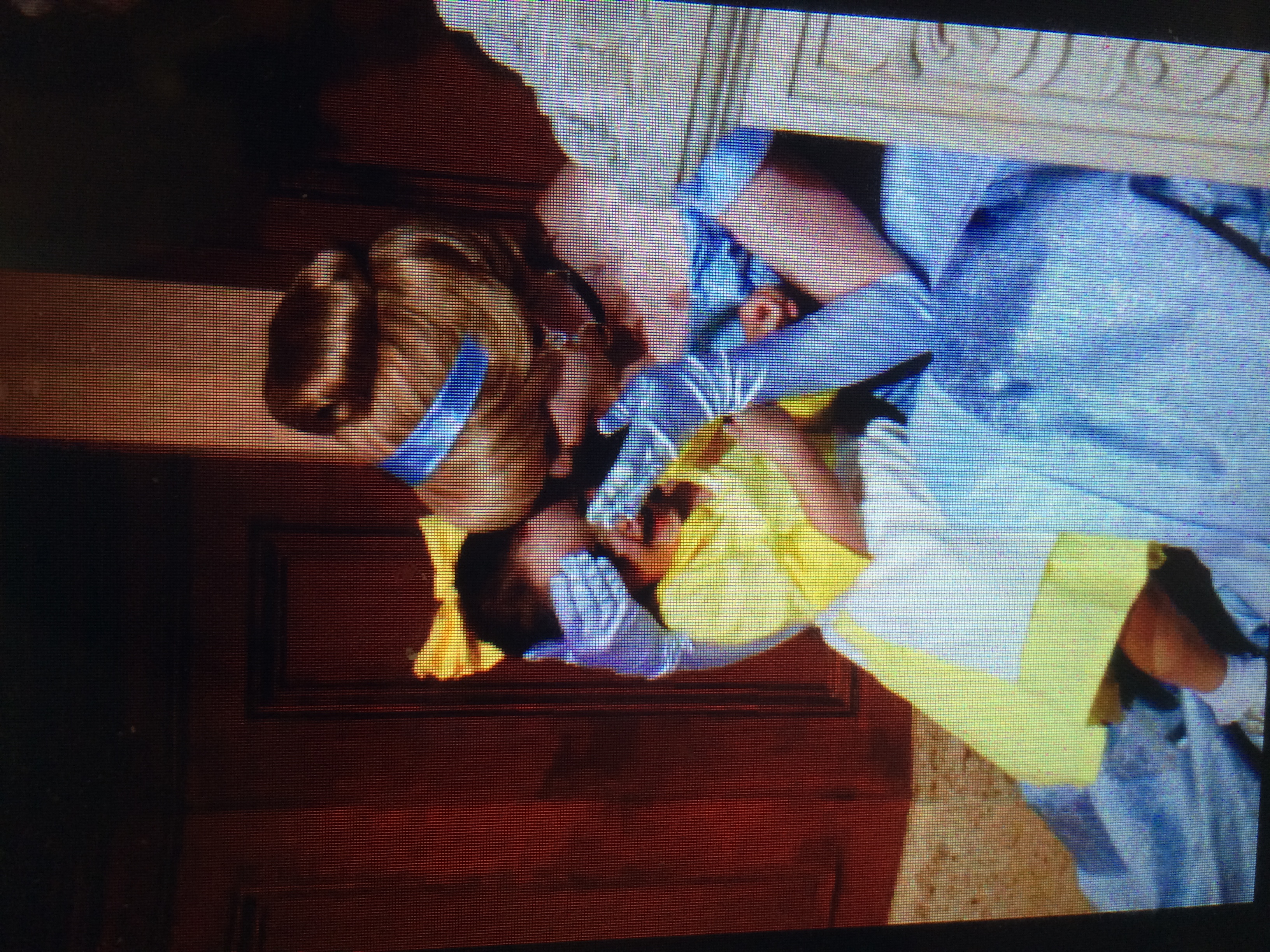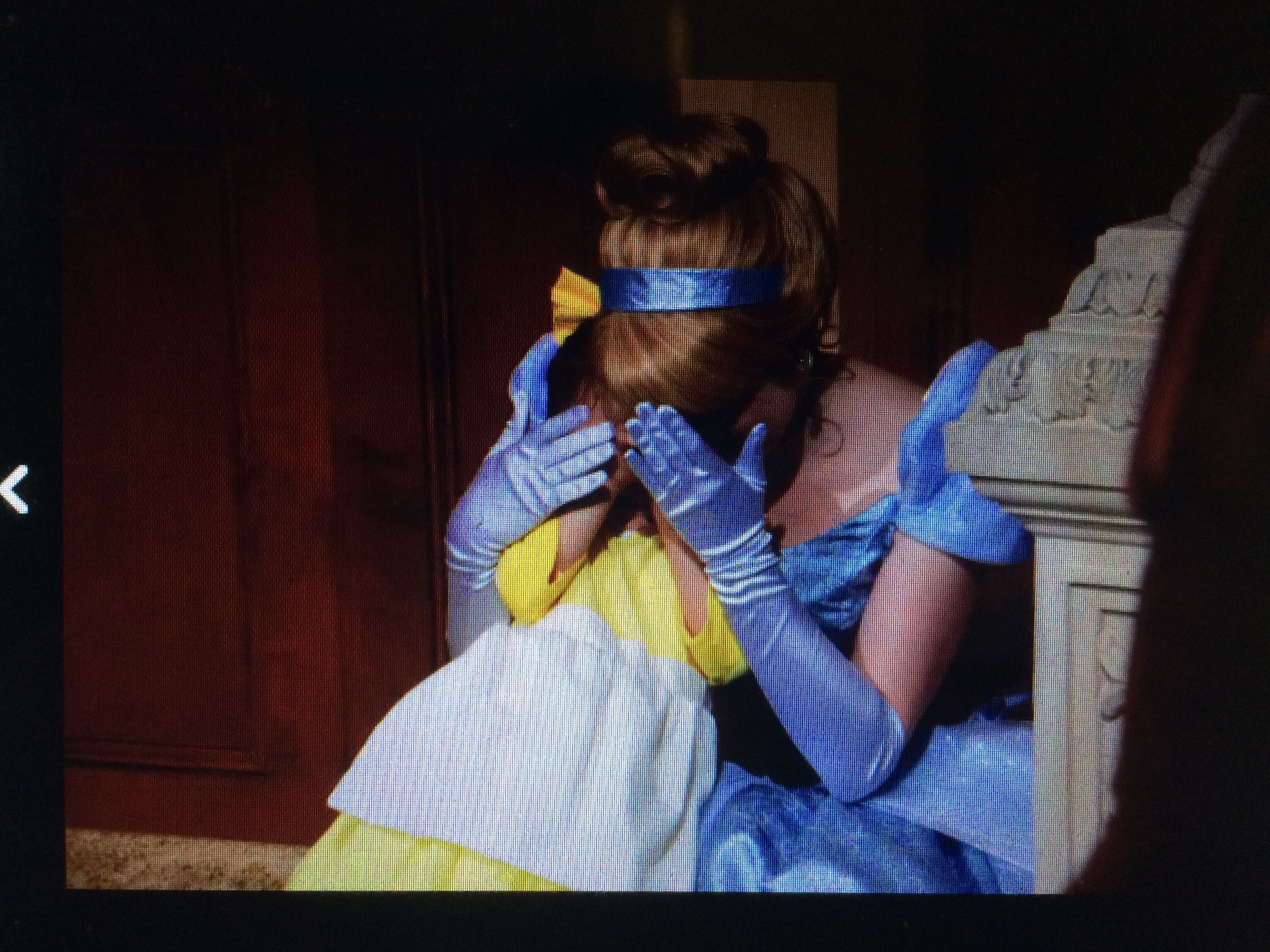 A new group of people entered the hall so we let Cindy go back to her carpet and D took the opportunity to play hide and seek with Rapunzel some more behind her curtain. The very SHEER curtain. Rapunzel leaned over to Daphne (who was giggling profusely) and said, "You do realize I can still see you through that curtain, right?"
We finally said our thank you's and farewells to Fairytale Hall. We had some time to kill before our scheduled meet up with D's "Big Sister" so, of course, Haunted Mansion time. D still hides her face in the stretching room.
Tiana and I wanted to do something special in honor of Daphne's birthday so we arranged to be the last family of her set so the two could have a special birthday scavenger hunt together in Tiana's new (air conditioned!!) location, The Heritage House. We surprised Tiana with the dress, though.
I just can't say enough about how much it meant to us to experience this. Every time we visit Tiana is magical, but I was close to crying by the end. It was everything I needed to take my mind off everything else we're trying to deal with. So huge thanks to Tiana for helping us make some belated magic for my little girl.
Believe it or not, D didn't even try to raid the candy. Her favorite part of the gift was the card. She kept asking to look at it and read it. We had decided to experiment that day with packing our own lunches. We snacked and nibbled on peanut butter and honey sandwiches. We let D switch into her new Inside Out dress from Bella since it was getting hotter. We went to the Tiki Room and rode the Jungle Cruise.
Of course D insisted on a trip to the Swiss Family Robinson Treehouse.
We introduced Daphne to the Country Bear Jamboree. It's just as ludicrous as we remembered. As soon as Big Al came out we started cackling and cheering. Bless that bear... D didn't seem to understand our humor but she was entertained all the same. I wonder if she's going to start asking for it the way she does Tiki room...
We continued just rolling with the flow. D asked for Philharmagic.
Then the teacups. We were having amazing crowd karma, managing to avoid waits everywhere we went.
We were heading back toward Fantasyland when D saw one of her new favorites, Lady Tremaine, doing meets outside the castle. The line was not bad. D made friends with the little girl in front of us. At last it was her turn. Zero hesitation on her part in charging up to the Tremaines and engaging them all in conversation. I have to say, we'd already had more than our fair share of magic at the park that day, but the Tremaines were about to sprinkle even more pixie dust over our day...
It started out with D trying to talk and NONE of us could figure out what she was saying. So we would start laughing. Then D would get her hands going on her hips and getting all sassy, "NO! NOT FUNNY!" and the cycle would keep repeating itself. Finally Drizella shouted out, "SHE'S SAYING GRAND FLORIDIAN!!!" and I picked out that D had been talking about seeing Lady T and the "Gland Floridian" on "fourth of july" and "fireworks." Drizella got high-fives from D for finally figuring it out.
It's hard to pin down what exactly was so memorable or magical about this meet. They mostly talked nonsense and took turns laughing hysterically with Ian and I, or twirling with Daphne, or talking about Inside Out characters or nearly drowning in Bay Lake because of their panniers. Mostly I just remember the infectious smiles on all of our faces and having to clutch my stomach from laughing so hard. And this picture, which is probably my new favorite picture.
As soon as we'd left the Tremaines, D made a beeline into Sir Mickey's. Before she could start grabbing/shopping she was waylaid by a sweet cast member who read a book with her. Yet another reason to love WDW.
We decided not to push our luck any further and quit on a high note so we made our way to the exit. That was when I realized we had fast passes to see Mickey. D wanted to. So we ducked in for a quick visit with the Big Cheese. There was twirling involved, of course.
D insisted on reading her birthday card from Tiana all the way home.
Sunday was back to reality. After Se7en bites breakfast.
[Insert mental images of trying to get things into boxes here] We took D to Ian's favorite cheap Mexican restaurant. D asked for grilled cheese, so we got her cheese quesadillas. It started out with her wanting nothing to do with the pieces that touches the beans. Thens he started dipping her quesadillas into the beans just so she could lick the beans off. She eventually cleared her plate of beans and rice and left the quesadillas. This is my kid.
I am surprised I managed to write this at all (albeit late). By the time the next issue comes out, we will be squatting in a 1 bedroom airbnb, hopefully not strangling each other. Serenity now.