The Weekly Peanut, Issue 121
D was better than last week. Not good, but better. Good enough? I was talking to her teacher about it at school: Daphne has entered a phase where she challenges EVERYTHING, everything must be HER idea (even if she wants to do it), and everything must be negotiated. Even when we maintain a good mood, it's still exhausting.
On the positive side, D is singing. A lot. It's pretty funny. I even caught her singing "Too Many Cooks" (she's never seen it, I swear, only heard us singing it), but didn't manage to catch a video.
Daphne's bossiness is simultaneously amusing and aggravating. She is a teeny tiny dictator who thinks she gets to control the activities of everybody around her. EVERYBODY. She rarely lets us read to her anymore.
She managed to keep herself reasonably in check for the week, so we returned to Disney Saturday. I had big plans to FINALLY meet Baymax and Hiro with the kiddo. This kid is totally gung ho for Big Hero 6 and the big cuddly star (so am I).
After riding the "new" Great Movie Ride together (it still cracks me up that D is more scared during the gangster scene than the Nostromo)...
We split up. I got into line for Baymax and Hiro while Ian took D to the Disney Junior show.
I made friends with other people in line. Finally with just 10 minutes to go, I was joined by my family. D looked around, realized what we were about to do... and flipped. We had been talking ALL WEEK about meeting Baymax and Hiro. Giving them hugs. Enthusiastically practicing fist bumps. Now? "NOOOO! I CAAAAAN'T!! I CAN'T MEET DEMS!!!" I tried. I showed video clips to her (she loved them all), I bargained, but as soon as they came out, D was NOT having it. She hid on Ian and I got all the warm marshmallow Baymax hugs. Your loss, kid, Baymax is my new favorite thing in the whole world.
Lest you think this was about D being in a crap mood or tired, as soon as we left the Animation building and she caught sight of the new Doc McStuffins meeting area, she perked right up and got super excited. D made a friend in line. She started hugging this kid instantly. Thankfully, the kid was also a hugger.
Doc is definitely a new buddy. The meeting area they made for her is FANTASTIC with lots of props that D went nuts over. I'm also going to steal Doc's shoes.
Of course there was no way we were leaving the courtyard without a visit to see D's boyfriend.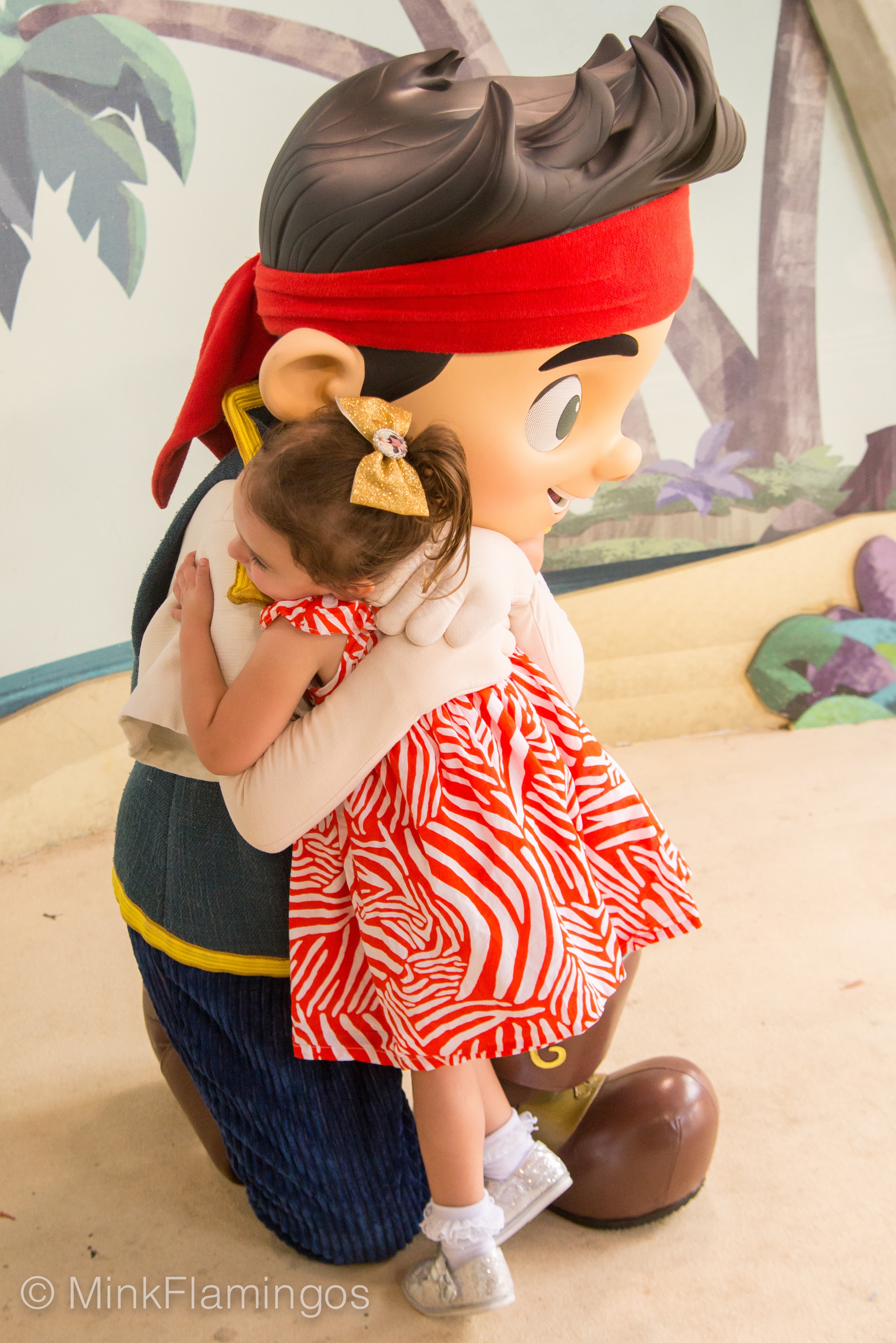 D must have kissed Jake about a dozen times before leaning over to whisper in his ear. I have no idea what she said, but Jake tried to wave me off and keep her when I initially suggested we move on. Typical. At that point the Studios were getting really full for Star Wars Weekends, so we had to (through the sea of people) make our exit. We transferred over to Animal Kingdom. We had FastPasses for the Kilimanjaro Safaris, but (as has been the case many of the times we've been there) the line for the FastPass was huge and backed up outside the entrance! I don't know what the deal is with that ride's FastPass, but it's clearly troubled. So we decided to grab lunch in the new Harambe Market instead. D was not adventurous enough to try the ribs or kebabs, so thank goodness for those snack packs. We had another FP for Festival of the Lion King, but D decided she wanted to do Rafiki's Planet Watch instead.
D was hell on wheels over there. She didn't want to stand near us or hold our hands, just wanted to charge all over the place, not standing in one place for more than a few seconds. We noticed they were about to have one of their indoor "Animal Encounters" when a Care Specialist will bring one of their critters out for an up close look and chat. D FINALLY was interested enough in something to hold still. Meet Karen: the Screaming Hairy Armadillo who likes to play with a ball.
We were all quite taken with little Karen (who is full grown and 3 years old). And yes, I find it strangely entertaining how much that care specialist sounds like Seth Rogen.
We tried to see Dug & Russel on the way out: nope, huge line. Tried to see Pocahontas: nope, out for a break for an hour. Screw it, let's call it a day. D's almost as happy sweeping that back porch as she is at Disney anyway...
D's "Uncle" David came for a visit. We had another tasty brunch at Se7en Bites (I know, it's becoming a thing, but they change their menu all the time! And D likes the eggs!).
Daddy and David taught D how to make fart noises on the way home in the car. Thanks guys. She did it for 20 minutes straight, long after I thought she would have passed out from lack of oxygen.
I'd noticed that Cinderella was showing at the dollar theater I asked D if she was up for it, so we could give the boys some sans-Toddler time to do grown up things like go to comic book stores and buy action figures. "YEAH!" First she had to put her glass slippers on, then she was ready (she wanted to put on her new Cinderella dress, too, but I talked her out of it).
We started out in great shape. We took a potty break a ways in. She was totally riveted through the beginning and the Fairy Godmother Scene. Then post ballroom it all kind of went to crap. She kept whispering, but then she started getting stir crazy. "Mommy, I wanna dance." Sure, kid, when we get home. "No now!" Then she started hitting the back of her chair. And squirming. And wanting snacks I didn't have. Ugh. The last 15 minutes was a real struggle. On the way out, D started crying. Hard. "MOMMY I SO SORRRYYYYY I SO SORRYYYYYY MOMMYYYYYY!!!"
So we had to have a sit down in the lobby and make sure she understood what she was sorry about. This is a new theme: D chanting how sorry she is before she even knows what she did wrong (just getting a sense from me when I'm unhappy with her behavior I guess). I was discussing all this with the owner of D's day care. "I was talking to her today, and I gotta tell you she shocks me every time." What could she mean? What's she done now? "Her language skills. Off the charts for her age." I just wish I could understand more than half of what she's saying.
Monday was better. Very little attitude. It probably helped that we had to get out of the house for a showing after dinner. Menchie's now has Dole Whips (they just call it "Dole Pineapple Soft Serve Sorbet") for staving off those between Disney Trip cravings. You're welcome, world!