The Weekly Peanut, Issue 113
There are plenty of weeks as a parent where you find yourself looking heavenward and wondering "What on earth did I get myself into?"
Then there are weeks like the one we just had that I just want to relive over and over. I guess it's just as well, because if being a parent was always like this I'd have waaaaaay too many kids.
We had big plans for the week: a friend from the UK and her toddler were coming WDW and I hoped to spend both weekend days with them visiting the parks with D. I told D last week when we hadn't gone to Disney even though she'd been a good girl, that if she was EXTRA good we'd go to Disney twice this weekend. She took the directive very seriously and was about as charming as she's ever been. In potty training news, D's teachers sent all her pull-ups home. A bold move, to be sure.
Friday night we took D to Rock and Brews, which continues to be surprisingly enjoyable. They've added a kid's area on the outside patio with toys and a flat screen showing Disney Jr and tiny picnic tables. The food is decent, and D showed us that she was entering a new growth spurt by INHALING everything that came near her. Pizza, carrot sticks, the black beans from my dinner: they all disappeared into my toddler. Ian decided to turn into Rambo on the way back to the car. It's possible he's been playing too many first-person-shooters on the PlayStation. I don't even know what's happening here, but D seemed to enjoy it...
So charming was she that we decided to treat D to Menchie's on the way home. The pink fizzies are still her favorite topping.
Saturday. Ian had some work to do around the house, so I flew solo with the Peanut for the first time at Epcot.
We ran into our UK friends Amy and Liv at the entrance and went straight to Spaceship Earth. Liv & D hit it off immediately and were holding hands by the time we were making our way to The Seas. For Amy and I it was a continuous revelation to see just how alike these two are. Right down to the way they pose when you ask them to say cheese.
We went looking for Nemo.
Had some Turtle Talk with Crush.
We separated briefly for our friends to use a FastPass while D had a wardrobe change.
Can we talk about how D is SOOOO Ian's daughter in this picture?
We rode Journey Into Imagination, visited the butterfly garden, and sipped on Violet Frozen Lemonade before taking a boat ride with the Three Caballeros and letting D color at Mexico Kidcot.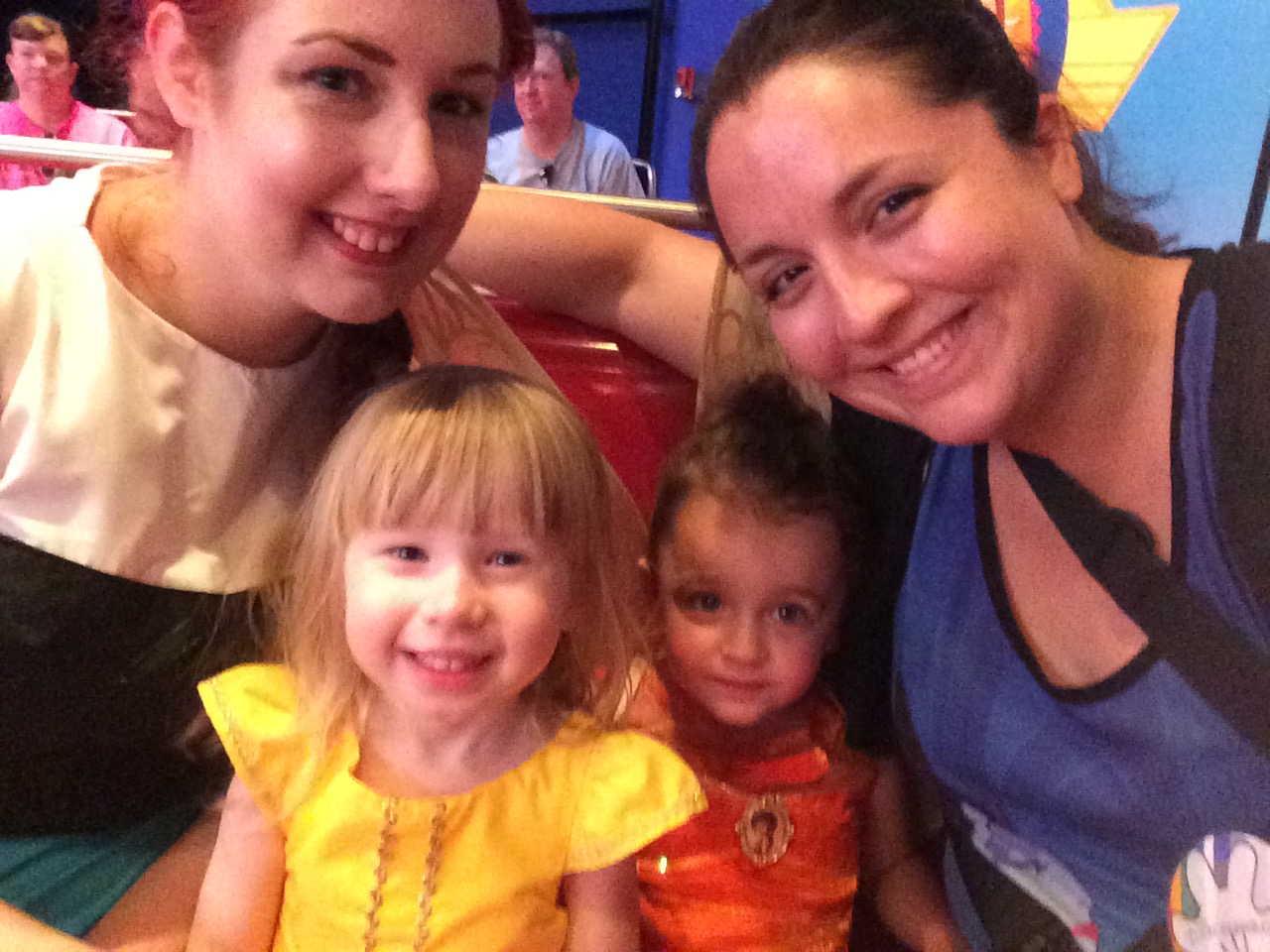 Around that time we headed to China where we planned to introduce Liv to D's favorite warrior princess. D and Liv got to walk hand in hand with Mulan through the China Pavillion and look for fish in the Koi pond.
Disney Magic at it's absolute best. Pinch me. Amy & Liv had lunch reservations so I took D to grab some snacks and kill time. D opted for a hot dog first, which she inhaled while we waited for Snow White.
When it was D's turn to visit Snow she charged forward, and (typical) wiped out right at her feet. She pulled herself up, whimpering "I okay... *sniff* I okay..." uh oh, skinned knee. Actual booboo.
I gave her a kiss on the knee with Snow, D promptly bucked up with an "I feel better!" A clear Mommy dismissal, I gave her some time with with the Fairest of Them All.
Aww geez, as aggravating as the light and shadows are at the wishing well some of my favorite Disney pictures I've taken have come out of D's time with Snow White here. Ironic, since D still hasn't even seen Snow's movie. I asked D what she wanted to do next. Despite having just scarfed not only that hot dog but the bag of chips that came with it, I was startled when she declared she wanted more food. Oy. Growth spurt indeed. For the first time we checked out the American Pavillion. I enjoyed the A/C while D scarfed macaroni marinara, yogurt, grapes, milk, and a cookie. Not even kidding.
Amy & Liv were still wrapping up at lunch, so I asked D what she wanted to do next. "DONALLL!" Conveniently right next to where Amy & Liv would be wrapping up lunch, let's go.
D was a bit nutso with Donald, but it was also one of the funniest meets we've ever had, and Donald kept up with every bit of crazy D threw at him. They chased each other around the space. They danced. Donald turned around and shook his tail feather for D, which prompted her to fall over laughing. As usual Donald also got lot of kisses. Those two are such a pair.
At last we reunited with Amy & Liv in time for the girl to go visit with Princess Aurora. I can't even with how cute these two are.
D had her moment with Aurora, but she was already pretty toddler drunk. Aurora got a big hug, they twirled, they danced.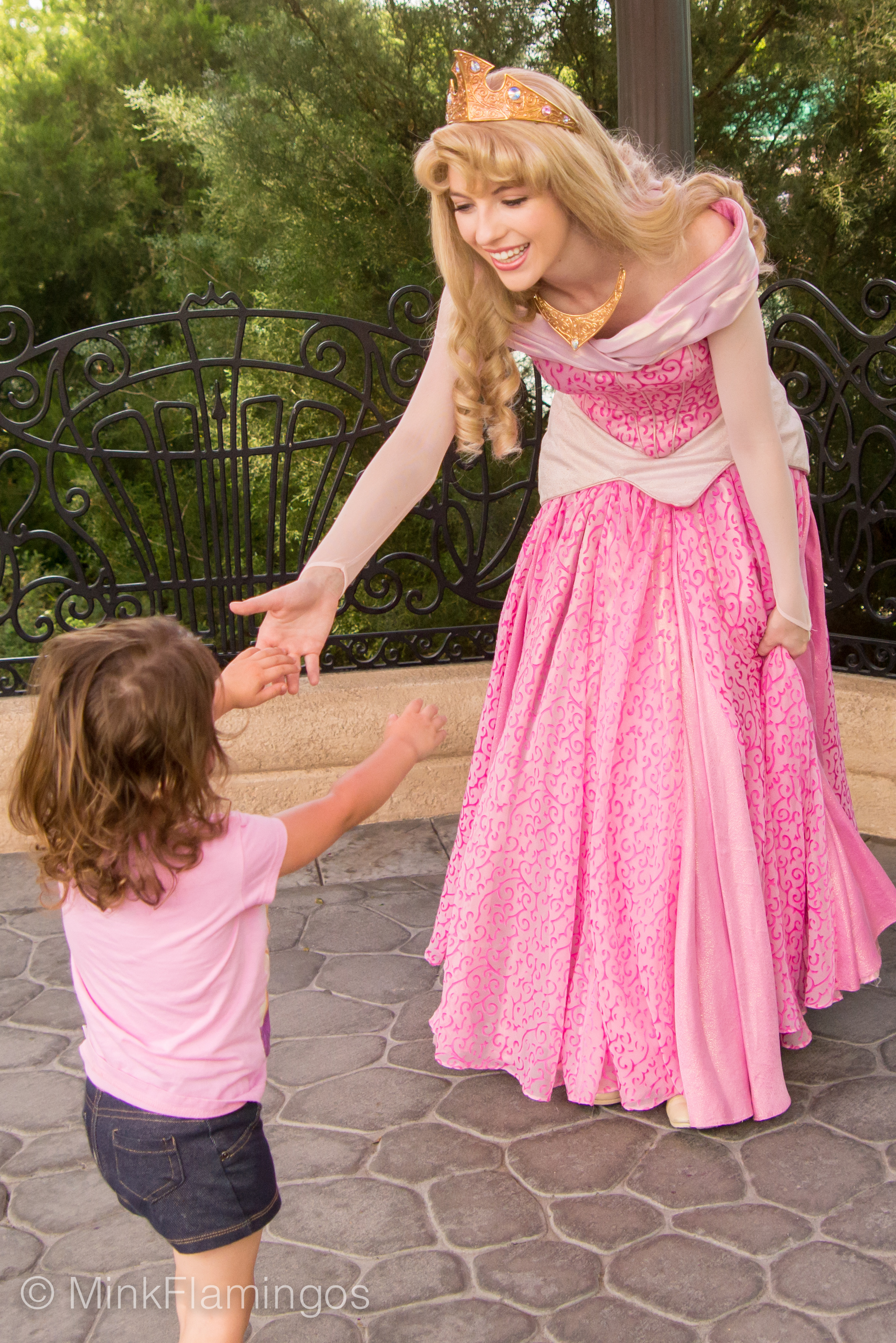 When I tried to get D to compose herself enough for a couple of quick pictures she literally threw herself at Aurora, slid down to the ground, and propped her feet up on Aurora. Aurora was great, "Oh, are we sleeping?" She struck the dreamy pose. D giggled drunkenly from the ground. "I knew those jell-o shots were a bad idea." Aurora heard me and made a few choking sounds between silent laughs. Ha! Me and drunken toddler: entertaining the masses!
At that point D was pretty loopy so we called it a day. D was out cold before we'd left the parking lot.
Sunday we were joined by Daddy for one last day with Amy & Liv at the Magic Kingdom. We just missed rope drop due to Monorail Malfunction (Ian is cursed), but we still managed to knock out Peter Pan's Flight be fore we ran into Mellie (ok, I ran into Mellie while I was avoiding going on It's a Small World with Ian and D). We all shared a trip on the Haunted Mansion before heading to the new hub to meet up with Amy & Liv. D reacted to the new hub and hub grass like everybody else: as though she owned it.
D was already asking for food so I grabbed her some popcorn to snack on while we rolled in the fake grass and watched Dream Along from a distance. Amy & Liv joined us and the girls acted like they'd known each other all their lives.
The girls played with Mellie.
And D made a new friend, former cast member and my IG friend, Mikayla.
D switched into her Tinker Bell dress (to compliment Liv dressed as Wendy). At first she was NOT having me put her hair into a Tinker Bell bun, but an angelic Cast Member at Casey's saw my struggle and somehow managed to talk D into letting me put her hair up. Bless her.
We used FastPasses to ride Aladdin's Magic Carpets while Mellie very graciously agreed to hold our spot to see the little green man (Peter Pan, not an alien, in case you were wondering). We still had a few minutes before Peter's first meeting window was due to start, so we also let the girl go to toddler heaven AKA Swiss Family Treehouse.
At last we made our way to the veranda where Peter usually meets and Mellie was holding a spot for us in a line that didn't exist yet. We waited. Waited. Nothing. What the... a Blueberry passed us then doubled back, "Are you guy waiting for Peter or just enjoying the shade?" Peter, of course! "He's moved to the area by his ride again, he'll start meeting in 10 minutes." Let Sunday be forever known as the day of even more helpful than normal Cast Members. At last we found ourselves in the right place at the right time. I was a liiiiiitle apprehensive about this meeting for D: she's never wanted to meet Peter and regular readers will remember that D's track record with male face characters has been pretty spotty. Liv, however, had already met Peter multiple times and was completely infatuated. The girls' turn came up, and they both ran to Peter for a group hug.
This lasted a good 10 seconds. Then D pulled away while Liv maintained her iron grip on Peter. D started doing her typical twirls, but you could tell she seemed out of sorts that the character she was meeting didn't also have a twirl-worthy outfit. Liv continued to cling to Peter, whispering into his ear, but D seemed pretty immune to the charm. Not scared, not rejecting, just... ready to move on.
Eventually Liv allowed herself to be separated from the boy wonder and we decided to make our way toward Liberty Square to see if Tiana was out. A blueberry had roped off the line and let us know Tiana would be back later. Apparently we had JUST missed the window, because Tiana came around the corner walking back toward her break area. "Look, D!" "TYAHNAHHH!" I expected her to just wave, and we'd come back to see her later. D LAUNCHED herself out of her stroller and tackled our bayou princess. I would not have thought any less of her if Tiana had given D a brief squeeze and made her promise to come back later, but that wasn't what happened. Tiana immediately crouched down and took D and a close-on-her-heels Liv up into her arms.
It was pretty much the flip of the Peter meet, with D draped casually over this Princess that she's spent all this time with while Liv tentatively held back asking sweet, earnest questions. Here I am feeling guilty that poor Tiana should have been back in the air conditioning relaxing, but you never would have known it by the way she interacted with those girls. In a weekend full of exceptional Disney Magic, this one still stands out as exceptional.
Eventually we managed to pry the girls away, and Tiana made us promise to come back and visit her again later in the glen if we were able.
The heat. Florida has this uncanny way of skipping right past spring and straight into summer. So we headed to the air conditioned Mecca known as the Enchanted Tiki Room. We ran into more IG friends there, too. After we grabbed a quick lunch we headed back to meet Tiana in a more official capacity. We had a serious talk with D while we were waiting in line about how she was NOT to run around the glen, didn't she remember the dent in her forehead? She was to WALK SLOWLY and look carefully at where she was walking.
D greeted Tiana as though they'd been separated for months rather than minutes. After the usual enthusiastic embrace, she proceeded to rain kisses all over Tiana's cheeks. I watched as she slowly rose up and gave me a side-eye as she gradually went to start walking around Tiana's skirt. "D, SLOWLY." Tiana missed nothing, "No running this time, princess! Look at the lovely bushes they put around the glen to help pad the hard bars!" Sure enough, bushes everywhere...
I'm sure they were likely put there to obscure some cosmetic work on the moat behind it, but I still found the "padded" glen pretty funny. Tiana got quickly to her feet and diverted that toddler energy, "Shall we dance?" D was quick to show off that new arm out to the side move that she debuted with Aurora the day before. D went in for one last tackling hug, and at that point she suddenly decided that Tiana's collar bones were fascinating. She trailed her little hands along them curiously, Tiana told her what they were, and then she leaned over and kissed them. My kid is such a sweet little weirdo.
We made our way down Main Street at that point for our last stop of the day: an apropos photo op with Tinker Bell.
At first D was content to give a hug and talk wardrobe with Tink. All too soon she noticed the crayon. It was all over. Tink was a great sport, trying to engage D in a conversation about the crayon. "Look, you can use the white crayon to color my shutterbug!"
She tried to distract D, to get her to share the crayon, a hilarious tug-of-war ensued.
Tink was getting that crayon back from D's cold-dead hands. As my maniacally giggling drunken toddler began her crayon victory lap, Liv stepped in to give Tink a hug. Oh, Liv is hugging Tink? D would be happy to come over and make a Tink Sandwich with Livvy filling.
As I dragged my crazy kid out, it was with a heavy heart: it was time to say goodbye to Amy & Liv. Hugs were shared, hopeful words were exchanged involving the potential for a future visit.
D was out cold before we left the parking lot. D returned to school grudgingly on Monday and proceeded to completely forget how to use the potty. Ugh. Thank goodness Tuesday was better.