The Weekly Peanut, Issue 110
*** Did you know you can now do in site searches? There's a search bar in the footer below now!***
After the last couple weeks of Toddler Drama, I am thrilled to report that we had a remarkably peaceful and pleasant time of it for this issue.
D has been making a concerted effort to eat her vegetables. She has two options for weeknight dinners: eat a serving of vegetables then choose her entrée, or eat whatever we are eating. Most nights she opts for the vegetable serving then follows it up with chicken nuggets. In an effort to try to get her interested in branching out, I had D "help" me make dinner Wednesday night. She "helped" boil the noodles, cook the "meatballs" and make the sauce. She loved doing it, and in the end she volunteered to eat the dinner she helped cook. More of this will hopefully be taking place in the future.
One of D's favorite "games" is to "play tsumtsums." This does not involve actually playing with the Tsums, but pulling them out one by one and telling me which is which. D's knowledge of Disney characters is getting pretty impressive.
This family is pretty gung ho for Big Hero 6. D is totally infatuated with the Baymax plush and has been practicing her fist bumps for whenever we get around to finally meeting him.
D got to spend Saturday with Grandma Kadi while the hubby and I attended a daytime wedding. It was glorious. And yet, the dilemma faced by all parents: can't wait to get away from the kid, then once you do you miss them terribly. Le Sigh.
Since D had been on her best behavior we agreed to go to Epcot Sunday. You can't kick off an Epcot trip without a ride on Spaceship Earth. Ok, WE can't.
D insists on visiting the sharks every time we ride The Seas. We generally have to drag her away from them.
We were thrilled to run into our friend, Mellie, waiting in line to see Chip and Dale. Oh, those chipmunks..
D, of course, tackled Chip first (she always does!). I mumbled quietly, "Chip first, ooooof course." (she's definitely been playing favorites) But DALE HEARD ME and gestured, "What gives?" D, never one to hurt feelings, immediately ran over to Dale. Dale got the first kiss! Chip sees this and starts to get indignant, too.
So D ran back to give him kisses AND more hugs. Dale gets jealous. This could have gone on forever... I finally got that last picture of her posed between them (it was difficult, D's not been very into posed shots lately, that continued throughout the day, too), then looked down to check a setting on my camera. Next thing I know, I hear "Uh Oh," I look up and this has happened...
HOW? HOW HAS MY DAUGHTER TACKLED DALE TO THE GROUND?! Nobody seemed upset, most people were "Awww"ing so I'm hoping Dale fell back on purpose to be dramatic and not because my kid knocked him over (something I live in constant fear of with my crazy kid, trust me, she's done it to me several times). D even went out of her way to help Dale back up and give him some extra hugs, so I'll give her credit for not just steamrolling the whole situation.
I took the opportunity to change D into her very appropriate costume for the day before we explored the butterfly garden. Have no fear, Daphne the Garden Fairy is here to help pollinate the flowers for the festival...
Next we rode Figment together at Daddy's request (still had about 20 minutes to kill before World Showcase and Flower & Garden Festival would open). D, after the tiniest bit of encouragement, was impossible to remove from the magical light up instrument activity area.
I am going on the record as saying I prefer Flower & Garden to Food & Wine for two reasons: 1) it's prettier and 2) WAYYYY less crowds. It's gotten to the point that, during F&W, you don't want to go near Epcot World Showcase on the weekends after 1pm. F&G? Not nearly so crazy. In fact, despite spring break crowds, our day was pretty leisurely (if sweltering). D insisted on stopping in Mexico. At first I thought it was so we could go on the Three Caballeros ride. Nope.
One of our special Mulan friends was working Sunday, so we made our way in that direction. We made a quick pit stop at the China F&G booth to try out the Beijing strawberries everybody's been talking about. They are pretty darn tasty. D refused to even taste them; she thinks strawberries are only tortoise food, apparently. D got some flying practice in while we waited for Mulan.
At some point the magic will fade, I know this. But right now I can't help but feel so fortunate that I get to be a part of moments like this for my kid.
D noticed Mulan's unique shoes for the first time (after showing off her Rosetta shoes, of course). "Oh these? I call them my Mu-shoes." Ha!
I always have to drag D away from Mulan so she doesn't completely bogart the meeting time away from other kids. Honestly, we just need a princess to hang with D all day since a couple of hugs don't seem to be enough any more. D wants to play, as shown by the next meeting we had around the corner with Snow White. But First! As we were leaving Mulan: "Mommy, I go potty?" Wait... really? Ok! We practically ran to Germany's bathrooms, me thinking I'd be too late for sure. Nope, D made peepee and her pull up was almost dry when I checked. Hot Dog. Progress? Maybe?? I was so proud of her I promised we'd get her a treat after saying hello to Snow White.
D got hungry.
We've only met Snow a couple times, but it's always fun. They started out sharing secrets, then D challenged her to a twirl off. I tried to get her to stop for pictures, but she started dragging Snow around to try to play hide and seek in the bushes. Snow didn't miss a step, even following her on tip toe (in heels, bless her) over the curb while humming "Following the Leader" under her breath. Forgive the pictures, patchy shadow and full sunlight do not make good photography bedfellows.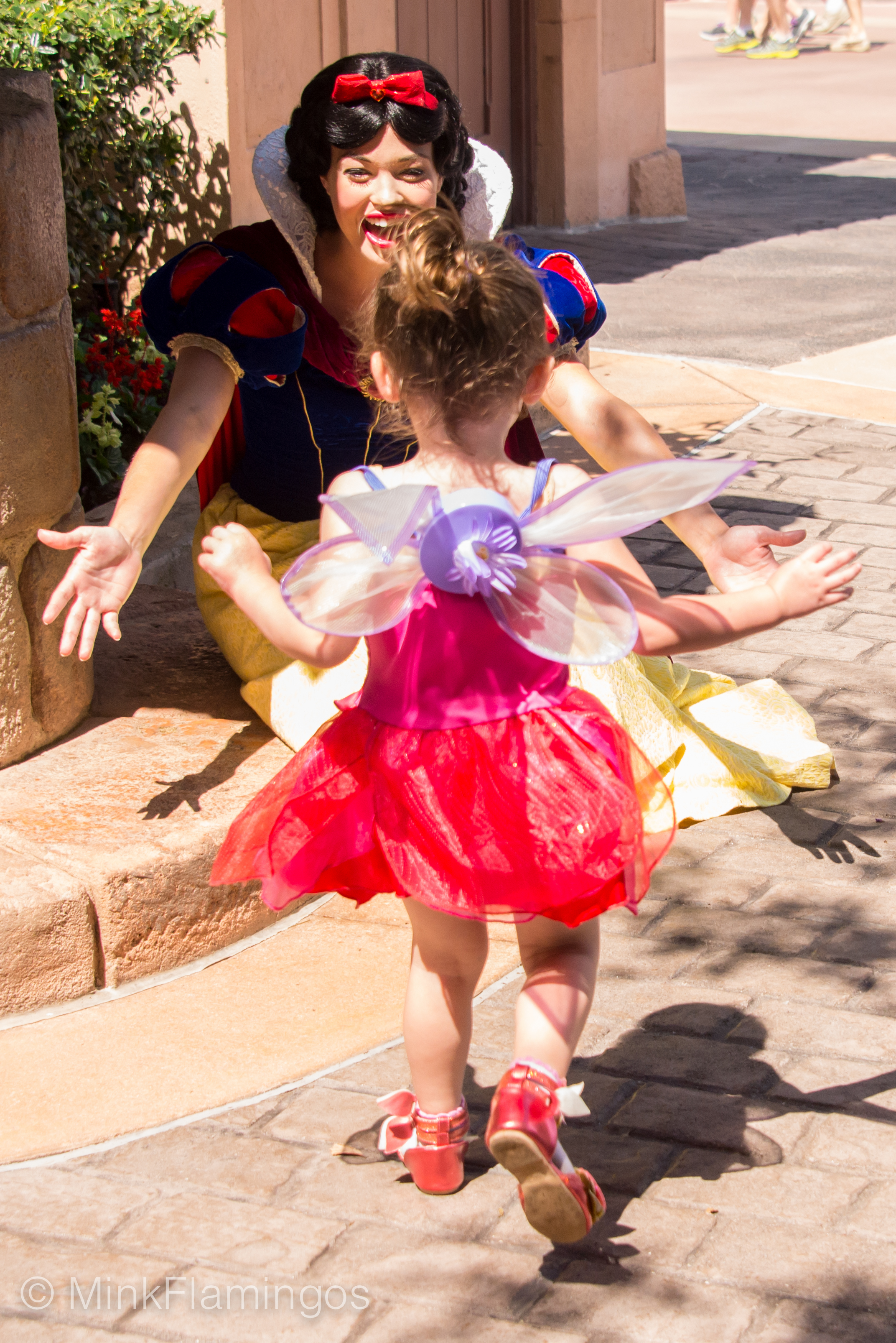 While in line for Snow, D started eyeballing some frozen lemonade some other little girls were slurping. Sure enough, found it at the America F&G booth. D was over the moon, repeatedly declaring "I NOT TIP IT I NOT TIP IT!" as she somehow managed to down it in mere moments without any outward signs of brain freeze.
We'd brought Baby Tic Toc Croc with us. If you've seen the Pirate Fairy, you know why these photos are important.
D had been asking to see Alice the whole day, but timing just didn't work. We took a consolation trip to see Winnie & Tigger. D, completely punch drunk on lemonade by then, led Tigger and Winnie around the room. They were such good sports, and the blueberry couldn't stop laughing.
It was so hot and D was so silly we decided to call it a day. D continued the no-nap-Magillicutty trend.
D surprised us both Monday night by busting out a new musical number. I can only assume it came from school. Still working on pointing accuracy, but pretty darn cute regardless.
D has been getting out of bed a lot after bedtime, and pushing up the morning wake up call to as early as 5:30 a.m. Not a fan. Hoping we can put a stop to both shortly. See ya next week ;)