The Weekly Peanut, Issue 106
Just keeps growing. I can tell, because I'm having to clip her fingernails at least once a week. Also when she lifts her arms her little belly pokes out of her shirt. Looks like it's almost time to transition to 3T... The other size gauge is trying on princess dresses that were formerly too long. Not anymore!
D's ability to remember songs continues to shock us. She knows some of these songs better than I do at this point. She's never even seen Aladdin and she sang along with "A Whole New World" Monday night in the car.
Early wake-up calls continue. Also middle of the night creeping. After a particular night when D came in 4 TIMES, I finally had a chat with her about staying in her bed. Jinx, but it seems to be working on the middle of the night creeping. It has not, however, helped with the morning wake-up call. Tuesday she came in at 5:30 and I sent her back. She stayed away until 6:30 and I counted my blessings. That's right, it's getting to the point when I'm grateful for a 6:30 wake-up call. Mumble grumble.
Saturday my long-time friend (and bridesmaid!) Katie and her boyfriend, Brandon, came to visit again. D continues to improve her ability to deal with new people. No warm-up period, she greeted Katie AND Brandon right away. We went to a park and let D blow off some steam.
Went to lunch at The Ravenous Pig. Ohhh...all the delicious foods. D gave the pretzels and truffle fries two very enthusiastic thumbs up.
We spent the afternoon watching John Oliver while D rested, had a yummy carryout dinner from Stefano's, watched Mary Poppins and Katie took D "flying.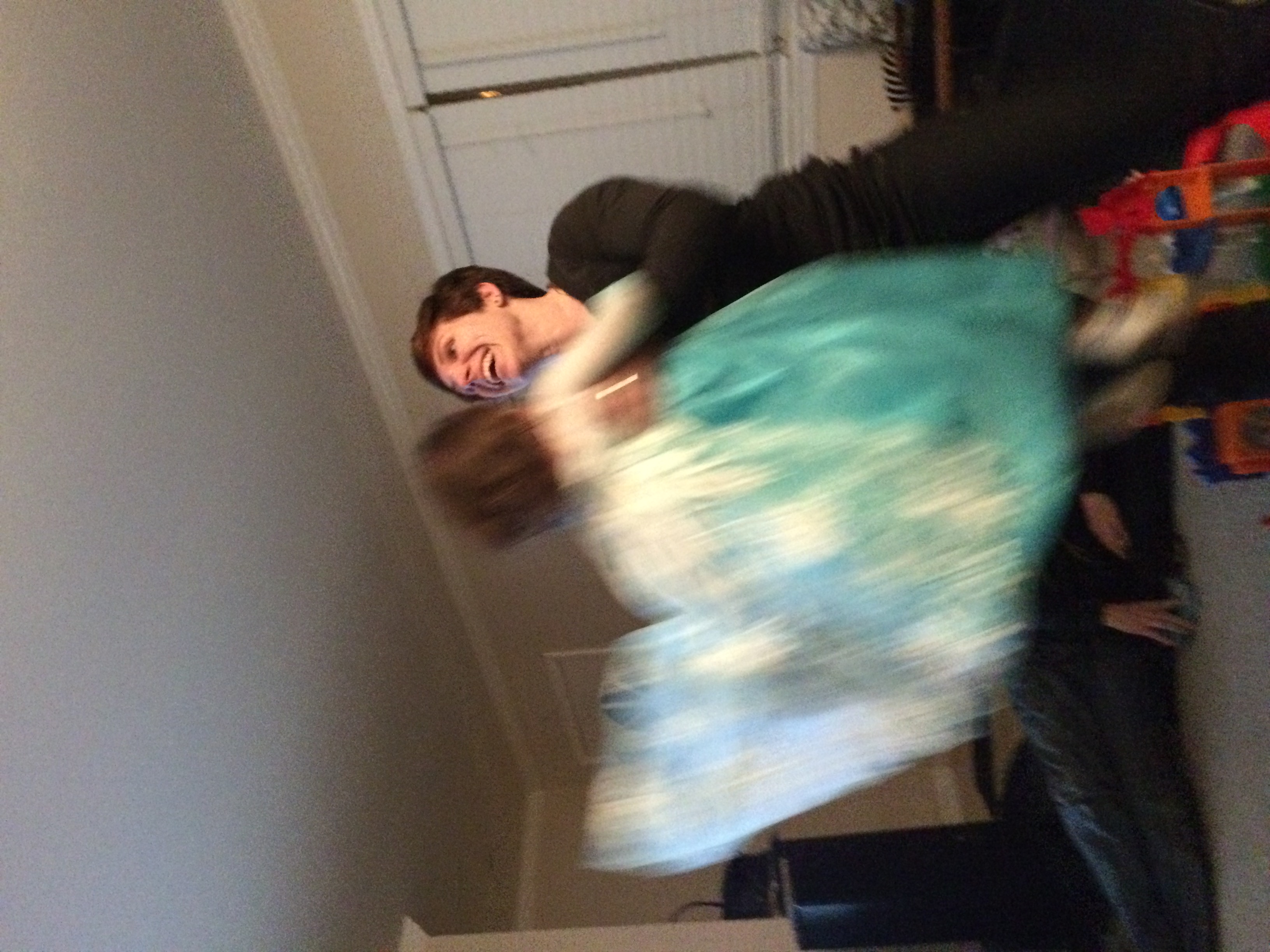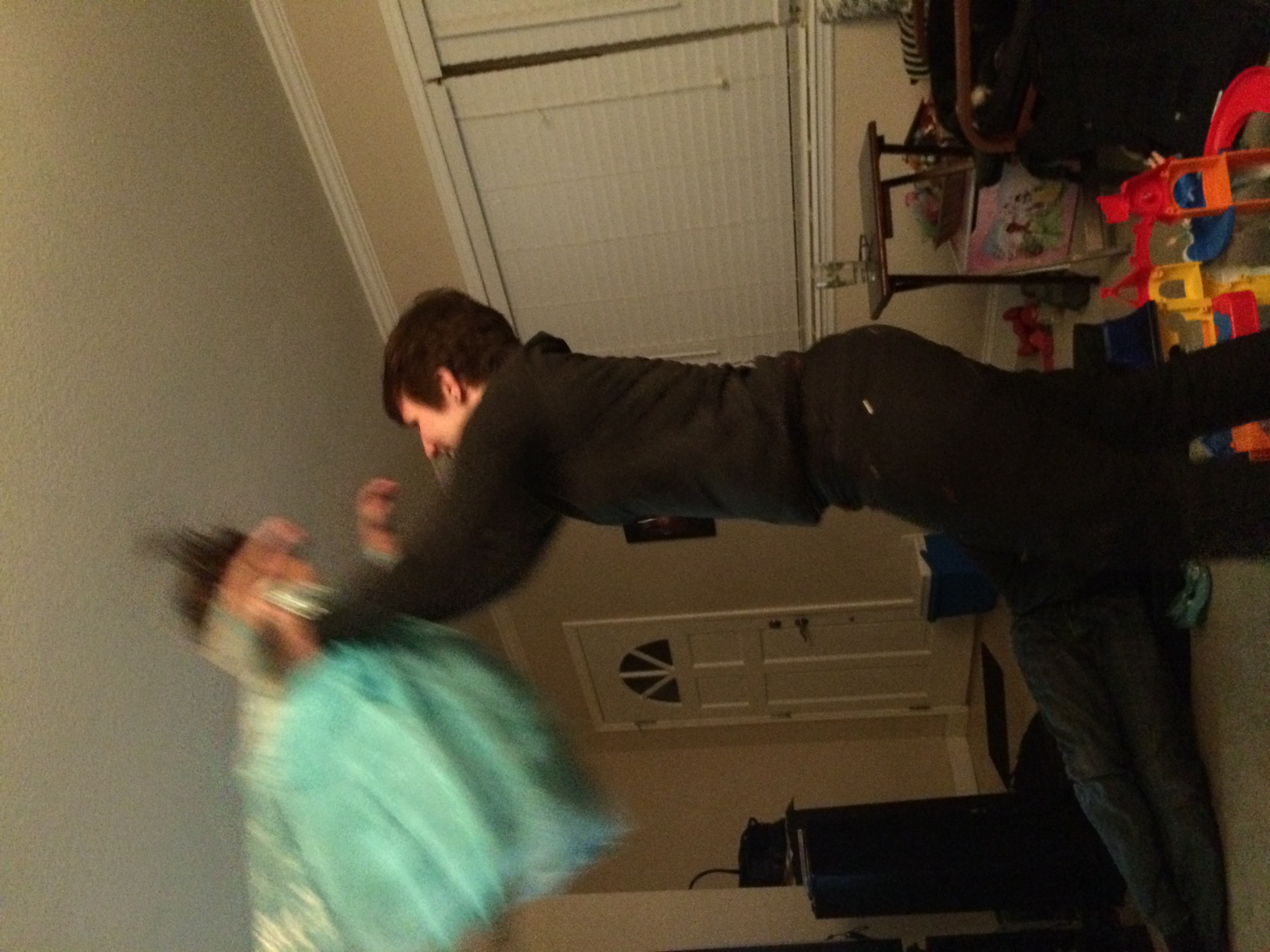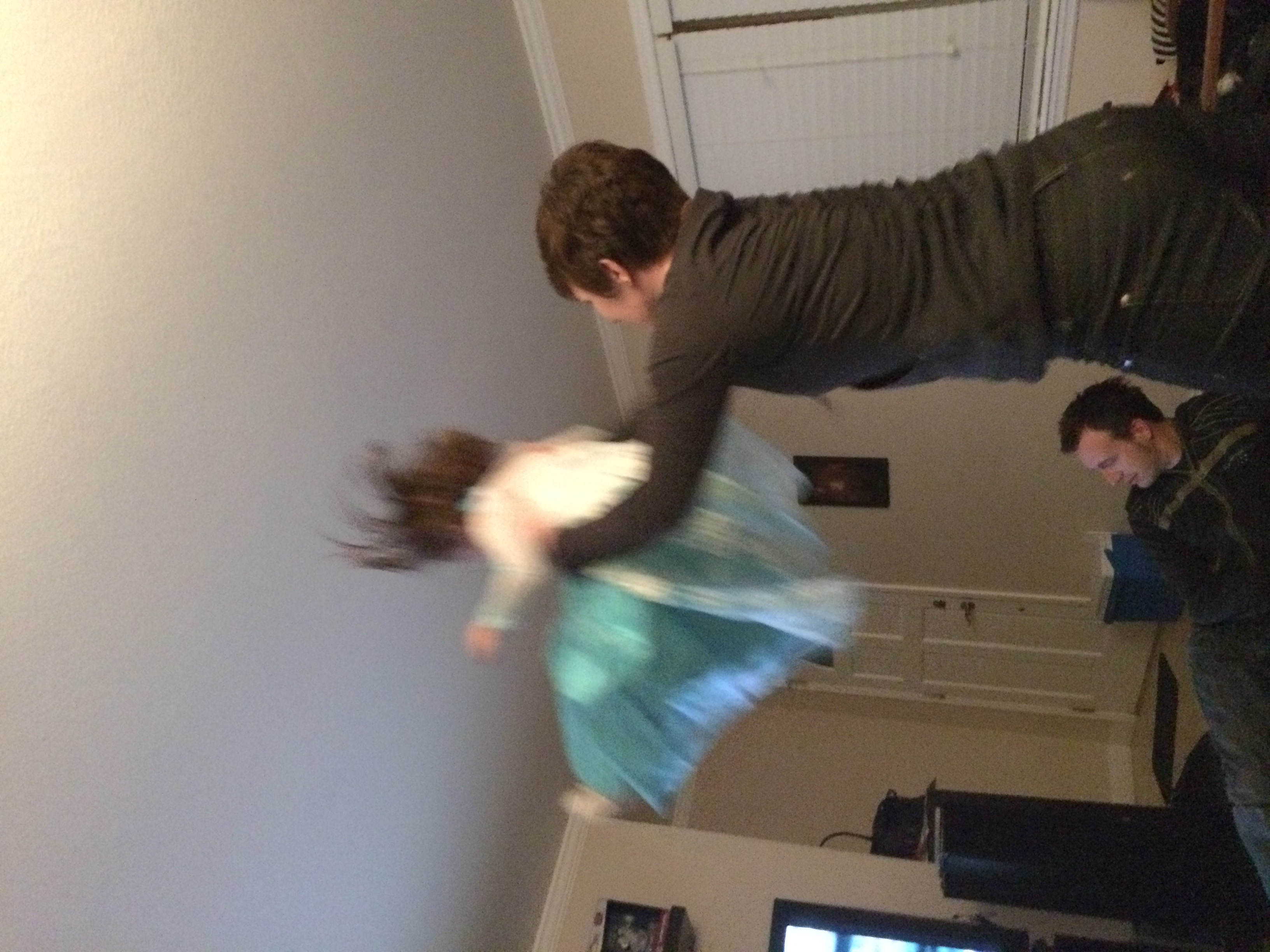 Sunday. Wowza. Sunday gave the day that I call our "Best MK Day Ever" a run for its money. It was unexpected, especially considering the dire warnings we received about the Princess Half Marathon weekend, but it was pretty much non-stop magic.
We have been foiled at every attempt to make it to rope drop and see the Welcome show. UNTIL NOW. We figured there had to be some benefit to our toddler waking us up before the sun, so we seized the opportunity. We'd had warnings to go extra early to accommodate road closures and such associated with the Princess Half. INDEED. Despite lots of detours, our early arrival meant we didn't have a lot of traffic back ups (I heard within 30 minutes of our arrival the delays got ridiculous), as well as the BEST PARKING SPOT EVER. Within actual SIGHT of the TTC. Score. D was on her best behavior so we let her change into her dress before we got on the monorail. SHE EVEN LET ME PUT A BOW IN HER HAIR. Christmas miracle!
We arrived at the gate with about 15 minutes to kill before the Welcome Show and a pretty small crowd. Hmmm... maybe all the delays and traffic would mean a particularly empty park for the first few hours? Yes, yes it would. D entertained herself while we waited by dancing with Daddy and making new friends.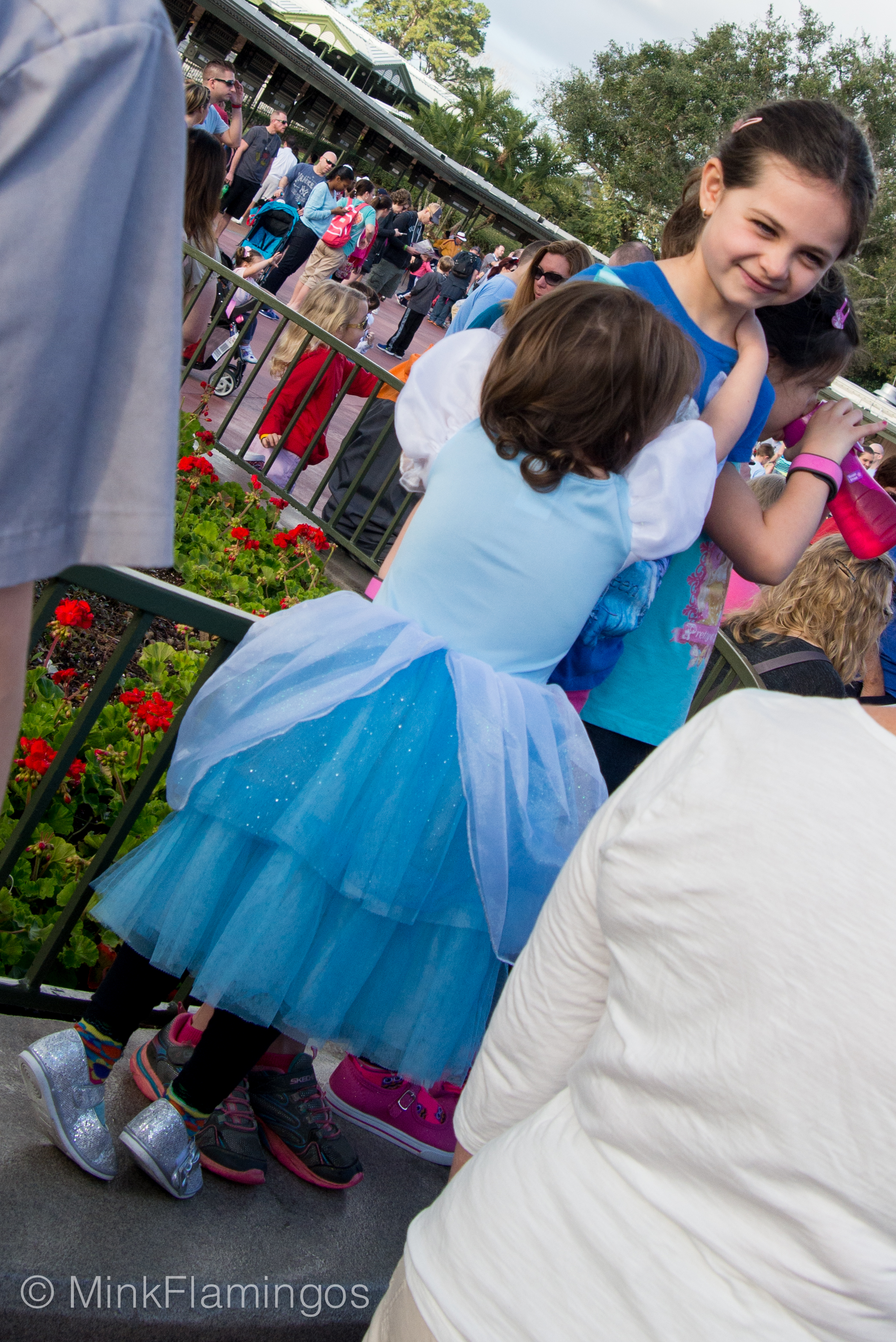 Finally the Welcome Show started! And we saw our special Tiana friend who I'd mistakenly thought only worked on Saturdays! I've heard horror stories about trying to do Anna & Elsa, even at rope drop, due to people with in-park breakfast reservations getting in line ahead of time, etc. I made D no promises other than "we'll try." Sure enough, the park opened and we followed the rope up main street, around the hub, around the carousel, and straight to an empty Anna & Elsa queue. We were the second family ushered into the room at 8:57 a.m.
D made friends with the character attendant in line. D has been working on her "Elsa Hand" and has been eagerly showing it off to everybody who will watch her.
Anna was up first, and she gushed over D's "coronation gown." They talked footwear and D highlighted one of her new fascinations: Hair and Counting. "ANNA HAS TWO BRAIDS!" Yes, kiddo, good call. Anna led Daphne over to Elsa's carpet. Elsa leaned down for the hug, but D was already quite eager to show off her new hand pose skills...
Then she had to tell Elsa all about how Anna has two braids and she has one. D kept trying to touch on Elsa's hair, making me nervous. At one point she took Elsa's braid and swung it back over her shoulder. When she went to pat Elsa's bangs, I almost has a heart attack. Finally she gave out some extra hugs and showed off her foot-stomping skills before I dragged her away from the Frozen sisters.
We had planned Cinderella & Rapunzel FP for later, but when we left the hall we saw only a 5 minute wait posted. Heck, let's do this. 5 minute wait? Uhhh, no. Nobody. Not only nobody in the line, we were the first people led in to meet these two Princesses. Nobody behind us, either. I loooooove these unrushed "private" meetings.
D showed off her Elsa hand to Cinderella. Despite having asked to go see Cinderella ALL WEEK, once she got in there, all D could do was keep looking over at Rapunzel. Ha!
I have to say this was one of our favorite Rapunzel meetings yet. Rapunzel totally matched my kid for silliness! They talked hair, "looked" for Pascal, and Rapunzel taught D the new "hands-on-hips" sassy princess pose!
We exited Fairytale Hall for the second time to a still mostly empty park. We walked by Peter Pan's Flight with a 20 minute wait posted. 20 minutes? We'd yet to see the lauded new standby queue, so we decided to go for it. I'm glad we did: there was NO wait (5 minutes, maybe, including the walking) and the new line is amazing (interactive displays and all).
Knowing D's special friend would be with Tiana, I knew that was a must. We headed over to the glen with just a few minutes to spare before the first meeting window. NOBODY in line. In fact the Blueberry that caught sight of us opened the queue just for us. A few quick minutes and Tiana arrived at the Glen. "DAPHNE!"
Gotta tell ya, it's pretty cool being on a first-name basis with royalty. D charged forward to give Tiana the belated Valentine.
After some hugs they walked back to the gazebo and kicked off one of the most entertaining conversations I've ever witnessed at WDW.
"Dass my castle! Over dere!" Yup, she's pointing at Cinderella's castle. Then D proceeded to do her best impersonation of the Flash, lapping Tiana as quickly as possible. Tiana laughed. "My goodness, I could do with that much energy. What did you have for breakfast, sugar?" Daphne (not kidding), "FROGS!" Yup, died. Laughed so hard I almost dropped my camera.
Once we'd all recovered (D was still doing laps), Tiana decided to embrace the energy. "Shall we play ring around the rosey? Do you know that game?"
That seemed to break D's crazy spell, so she clambered back into Tiana's lap for some extra cuddles. D gave Tiana a kiss. Tiana leaned in to give D a kiss, then at the last second D did the sneaky head turn to catch Tiana right on the lips! My sneaky girl... the quick head turn resulted in a giant smear of lipstick across her cheek that we had to keep Tiana from using her white gloves to wipe off.
By then we'd monopolized Tiana for a while and a line had started to form, so after one last hug and swoon, we said our goodbyes.
Ian went to grab us some waters and snacks while we waited for our friend Melanie to catch up with us. D entertained herself by jumping off curbs.
Melanie joined us and we walked onto the Haunted Mansion with no wait. D started asking to go on "Ariel ride" so we headed in that direction. Fairy Godmother was out at the wall. When your kid is dressed as Cinderella, you've really gotta go see her, ya know?
I'm so glad we did. D started demonstrating her twirling prowess, and the FGM took a magic wand out of her sleeve and started chanting "Bibbidi Bobbidi" over her while she spun.
Before we left she pulled D in close and whispered to her, "Hold on to your dreams, little one, they're closer than you think." It was so sweet.
Turn out Ariel's ride was closed for refurb, but Ariel's grotto had only a tiny wait. D climbed up onto Ariel's platform and sat beside her. Then she reached out and gently patted Ariel's leg, "Oooooh... I like dis!" (what is it with my kid feeling up princesses?) Ariel smiled and patted D's leg, "I like those!" We gave Ariel a Valentine and they shared a "fishy hug."
Melanie had to meet some friends at AK, so we said our goodbyes...
And headed to finally use our first FastPass: Jungle Cruise. D loves those elephants.
D asked to go on the Flying Carpets. We walked by Aladdin & Jasmine. "I know dem!" Want to go say hello? "Nooo... can't."
I took that as a sign it was time to eat. D scarfed her food and made faces at a little boy outside through the window.
Now that my toddler was refueled I wanted to try out the Move It Shake It street party with her. She mostly seemed confused, so we made our way to our second FastPass: Enchanted Tales.
I was excited to see if D would go for a role again. D bowled me over by being completely independent for the whole preshow: she stood all by herself in the front waiting for the mirror to open, she charged into the wardrobe room ahead of us and was kneeling calmly on the carpet when we caught up to her.
This time D participated in the "auditions" for EVERY role. Her hopping skills must be the strongest, since she was cast as Chip this time. The independence continues as D led the way into the library.
Somebody give this kid her Tony. You might notice how D snatched up the spot right behind Belle in line, so she'd be first to get to meet her afterward? Clever girl... D entertained the attendant while waiting her turn. Is it just me or do the best attendants work in Belle's library?
Now watch D's totally smooth maneuvering to get onto Belle's lap for her photo op.
I got a text while we were in ET. Katie and Brandon were in MK, would we like to meet up? By jove, we both have Pirates FP for 2pm, let's do it! We owed D a trip on the carousel, first, though.
We met up for Pirates then went our separate ways. We'd decided to give Festival of Fantasy a shot if D's behavior stayed good. When we got to the relatively empty Town Square, D asked if she could go see Tink before the parade. I am SO glad we did.
We'd met this particular friend of Tink before! She was the one that first introduced D to her obsession: the crayons. They embraced the crayons, had a crayon fight. Tink even cracked up Ian when she asked if her white crayon would "color everything invisible."
Not sure if D was more eager to hug Tink or the crayon...
We watched Festival of Fantasy for only the second time ever. I looooove that parade: not too long, not too short, no particularly irritating music. We hauled out of the park after that. Considering that D was asleep in the car before we even got off property, I was pretty proud of her relatively even-keel and good behavior for such a long day.
There will be no discussion of potty training in this issue. Like I said previously, O-V-E-R IT.