The Weekly Peanut, Issue 100 (!!)
The Terrible Twos. We are most definitely there. I thought D's mood swings were quick before, BAH! I laugh at 6-months-ago-me's ignorance. YOU HAVE NO IDEA.
Last week we had multiple mornings where Ian and I could do NOTHING right. To the point where the mere act of putting on my toddler's shoes (which she requested) turned into a meltdown during which my husband and I were seriously debating whether or not the record in D's brain had started skipping repeatedly on the phrase, "TAKE IT OFFFFF TAKE IT OFFF!" 10 minutes. Not kidding. Endlessly chanting it. To the point where I don't think any of us remembered why she was wailing or what could be taken off to appease her. Eventually my husband recorded her meltdown and played it back for D to show her what she looked like. It broke the spell. No I don't have the video, it's on my husband's phone. This week I am not so proud to admit that both my husband and I had multiple "tap out" moments (when either of us has reached our limit of toddler drama and we call in each other for reinforcements so we can go ram our heads against the wall for a couple minutes).
This weekend we were granted a glorious respite from the majority of the crazy. Friday night we went up to the Casselberry Food Truck Rally for delicious tacos. D doesn't eat tacos (or, like, anything), but I found a very nice food truck that was willing to make a plain hot dog and french fries. D surprised me and scarfed the hot dog (it's not one of her 4 foods!).
Ian had plans in Tampa for Saturday, so D and I planned our long awaited return to Hollywood Studios. The morning was chilly enough for D to finally break out her Princess Anna snow dress. She was THRILLED.
We went to the Frozen Singalong and got into the front row again, LIKE A BOSS. You actually get some interaction with the characters sometimes, especially if you are D and you are dressed like them.
The singalong showed a step up from D as far as participation. The first song she cracked up the Brazilian tourists sitting behind us by repeatedly trying to shush my while I tried to sing along. Love is an Open Door got some quiet mumbling along. Let It Go started and the warm up was over. D sang AND gave glorious (sorry, blurry) arm movements.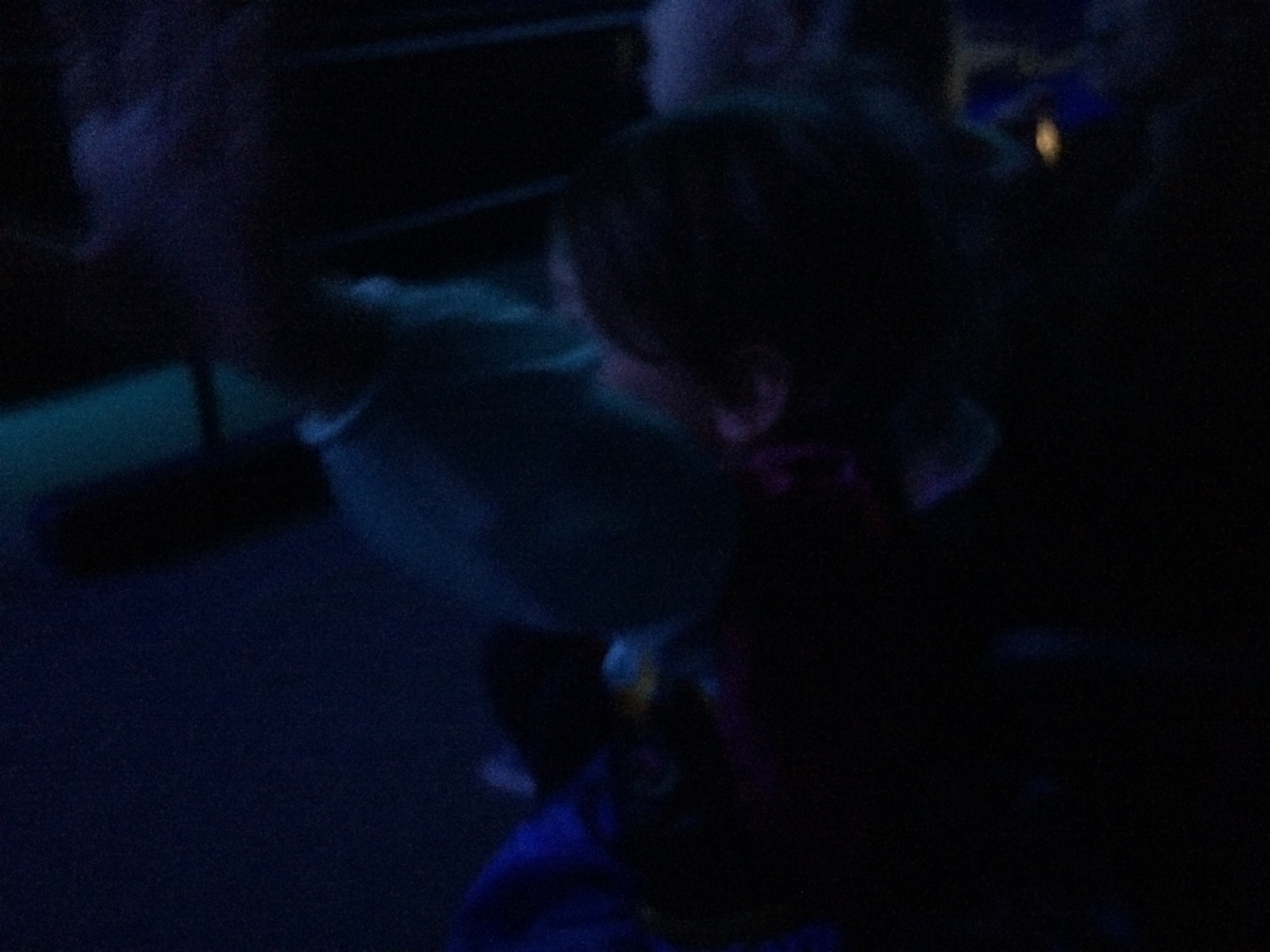 The show ended and we got up to leave. D started CRYING. D, what's wrong? "SHOW OVERRRRRR" oh lord. Here we go. It's ok, kid, we can come see it again another time. WAHHHHHHHHHH. We had to haul tush over to Disney Junior Live to make our FastPass appointment. D provided the preshow entertainment.
Lunch time! D wanted the applesauce. I wanted to feed it to her. She wanted to feed herself. I hand her the container. She IMMEDIATELY knocks it over onto her pants. This, kid, was exactly why I wanted to feed you. EXACTLY.
Wardrobe change before heading over to Toy Story Mania.
For the first time D managed to participate. She got a 1,500 score (mostly by accident, but I was proud nevertheless). It might have improved her score if she kept the glasses on, but... baby steps. Buzz and Woody were right across the walkway, and we'd never met them. I asked D if she wanted to meet them. She said Yes. Sweet!! I love meeting new characters with D.
D had wayyyy too much fun waiting in the line. Then she pooped. She has such a knack for pooping while we're waiting in a long line. Thank goodness Woody and Buzz have head pieces, hopefully they wouldn't be able to smell anything. D peeked around the corner at them and smiled. "Almost dere!" Yup, almost your turn. Finally, Buzz and Woody turned and beckoned D forward. She clings to my leg and hides. WHAT. THE. F. KID. I picked her up and carried her forward. She REFUSED to show her face or talk to either of them. Chalk Buzz and Woody up to characters D is not interested in. *SIGH* Wouldn't have waited in the line if that was the case, kid *grumble grumble.*
You would think I would have learned my lesson then, but oh no, I was bound and determined to get D to have a proper meeting with Mike & Sulley. D LOVES the movies! D, want to go see Mike & Sulley? Nod. You going to be nice to them? Give them hugs? No screaming or hiding like last time? Nod. Ok.
Liar Liar Toddler Pants on Fire. Hey, maybe D is just not in the mood for characters today? Maybe she's just tired? We walked over to Animation Courtyard. FIAAAAAAAAAA!
OH. Well. They twirled. They hugged. They kissed. We continued Project Thank You (tune back in Friday!). D's not even that into Sofia's show, and yet... Yeah, I'm just giving up trying to understand my toddler.
Of course we couldn't stop in to see Sofia without saying hi to D's boyfriend.
Jake gets THE most kisses. Period. She also loves his show. D has been picking up loose change around the house and calling them "my dubloons."
We made one last stop to see Sorcerer Mickey before calling it a day. Mommy was exhausted. D refused to nap on the way home. Or once we got home. Oy, kid.
For the record I planned that Saturday trip to give Ian his much requested break from Disney. Woke up Sunday. Asked Ian what he wanted to do. I mentioned we might head over to Universal to check out their new parade with the minions. Ian hesitates. What? What do you want to do? Yup. You guessed it.
Back to Disney we go. We got STUCK. ON THE MONORAIL. FOREVER. And STUCK. Behind WDW Marathon traffic. FOREVER. Finally we made it into the park just in time for our third planned FastPass of the day. And for the rain to start. We stopped by to visit one of our favorite Magic Kingdom Princesses, rain be damned.
True Story: Tiana understands my kid better than I do. Tiana asked D what she was going to do after she left the gazebo. D said "Puhzels." Rapunzel? D we hadn't planned to see Rapunzel today... "Oh, you're going to eat some pretzels?" Indeed. My child has pretzels waiting in the stroller. Good call, Tiana.
At some point all WDW frequenters should have to visit the parks during peak time. If for no other reason, it will give you a healthy dose of perspective and appreciation for what the parks are like when they are NOT at capacity. We were able to eat at Liberty Tree with no reservation. D discovered the magical world of dipping apple slices into cheese sauce.
While waiting I was frantically swapping out our unused FastPasses for new ones. BEHOLD! AN ANNA & ELSA FASTPASS! YOINK! It's like finding a golden ticket, you don't pass it up!
Today was definitely an Anna day. They talked shoes and swapped hair braiding tips.
D surprised us by opting out of the carousel and teacups but adamantly insisting on the Dumbo ride. For the first time, we also let D explore the Dumbo indoor waiting area playground.
I was also able to snag Enchanted Tales FastPasses for us. Ian's not normally too big a fan, but I told him last time D had been a little more interested in trying out for a part, and I was hopeful for an even more involved experience this time. I wasn't wrong. Once the doors opened from Maurice's cottage into the castle, D charged out ahead of us on her own.
We got into the room where they assign the parts by having everyone "audition." The attendant was assigning the suits of armor, grabbed Ian's arm and said, "You, sir, the one studiously avoiding eye contact with me." Touché, madame attendant.
I crouched next to D to encourage her to "audition." Roar like the beast? Nope. Shiver like Maurice? Nope. Hop hop hop like Mrs. Potts and chip? Suddenly my kid came to life. She charged forward, hopping like a cricket. Ian told me he'd been watching her face, and he could tell she'd been holding out for the part she wanted. Sure enough...
My little teapot, short and not-so-stout. So proud. So grown up. Finally, it was time for D's part. The attendant helped her hop up and pour Belle her cup of tea. Then Belle spun around and that skirt... that giant skirt.
Yup. Mrs. Potts got a little tipsy. Fortunately, D has lots of experience falling on her face and had zero negative reaction to the tumble. She hopped right back up, marched along to Be Our Guest, then dutifully took her place in line for her one-on-one time with Belle.
Enchanted Tales has the best cast attendants. Shaina played the "wrong princess" game with Daphne, one of her favorites (Who's that? Cinderella? Noooooo, that's Elsa!).
D and Daddy both performed admirably. I love Enchanted Tales, but I have to say I'm even more infatuated with it when my kid is in the show. Even when she falls down.
We were ready to call it a day, but D insisted on a trip to see Tinker Bell.
Oh no, it wasn't Tinker Bell she wanted to see: she wanted to play with the Giant Crayons. Of course she wanted Tink to play with them, too.
Tuesday morning marked the return of turd baby. Giant meltdown over, yup, her shoes. This time I tapped out to nobody and just let her scream at herself in her room until she got over it. Honestly, kid, it's just shoes. You don't get to flip out over your shoes until you're at least 19 and have watched a minimum of two seasons of Sex and the City with me.