The Weekly Peanut, Issue 82
*This TWP is dedicated to "Grandma Deedee," who is inordinately fond of 2's and 8's*
Reasoning. Dear lord, I've been waiting for this stage. I'm not saying it works every time, but when it does it is a big HIT, for mommy anyway.
Friday is Show and Share day at D's school. I asked her Thursday night what she wanted to take to S&S. "TINKBEWW SHUTT!" Well, kid, you can wear a Tinkerbell shirt, but I'm not sure if a T-shirt is appropriate for show & share. Here's an idea, why don't you wear the Tinkerbell shirt tomorrow, and we can bring your Tinkerbell Light-up wings for Show & Share? "OKAYYYYY!" Great. We have a plan. The next morning I went in to get her dressed, grabbed the Tinkerbell shirt. "NOOOO! NO TINKBEWW SHUTT NOOOOO!" Peanut, you asked to wear this last night? "NOOO! GABBA SHUTTT GABBA SHUTTTT!" Peanut, can you calm down and listen to Mommy for a minute? Remember last night we talked about show & share? You get to go show your classmates your Tinkerbell wings, so you should wear your Tinkerbell shirt with it. That's what we planned last night, remember? *SNIFFLE, POUT* Peanut, you can wear the Tinkerbell shirt today, then tomorrow if you still want to you can wear the Gabba shirt, okay? *SNIFFFF* "Okayyyyyyy." Then she sat down on the changing mat to get ready. I think I pinched myself, because I just couldn't BELIEVE that that had worked.
Reasoning is, however, an ongoing battle in other areas. For example, particularly coming off the weekend, D is really reluctant about going to school. As soon as the S word is mentioned, she dissolves into a blubbering mess, "NO SCHOOOO! NO SKOOOOOOOOOO!" Monday, I wasn't having any of it. She proceeded to throw a tantrum all the way to school and started up all over again when I had to leave. When I went to pick her up she was happy as always, and when we asked if she'd had fun at school she said YES and told us about all the fun things she did. "Kid, see, school is fun, there's no reason to be so sad about it in the morning!" Tuesday morning came around and, sure enough, we start again with the NO SKOOOOO shenanigans. Finally I sat her down and had a talk with her about why she had to go to school (because she couldn't be home alone while we went to work). NO WORK. Peanut, Mommy & Daddy have to go to work. If we don't go to work, we don't have a house, we don't have health insurance for when you're sick, we don't go to Disney, we don't have movies, none of it. We have to go to work. *Sniff* Okaaay. Good, she's acknowledged the necessity of Mommy & Daddy working, that's something. So while Mommy & Daddy go to work, you go to school. NO SKOOOOO. Peanut, school is important! You learn all kinds of great things like counting and letters and colors, you play with your friends, you learn how to use the potty. This is important! *Sniff* During the week, Mommy & Daddy work, you go to school, that's the deal. But on the weekends? That's when you get to stay with Mommy & Daddy and go to Disney and have fun! But we can't do that if we don't go to work and school during the week! *SNIFFFFF, followed by extended cuddles* Honestly I'm at a loss here. I've never had anybody, other than my dog, Charlotte, this eager to spend time with me. She still gave me grief about leaving once I dropped her off, but hopefully we're planting a seed of understanding that we can build on for the future. Every time we see the school's owner she remarks on how smart D is, so hopefully D proves it on this front.

Speaking of being smart and learning lessons at school, the potty training thing is starting to click in D's head (starting to, key words). For two nights in a row, HIT D has made poo & pee in the potty before bedtime. Miss Vicky (her teacher) says she's been doing great at school, and she asked if maybe we'd want to try this weekend just putting D in undies, no diapers? UHHH.... whut?? Really? We're there? I don't... uhh... have any undiess for her. She laughed and said we should think about it, especially if we were going to have a day when we'd be mostly at home since we'd probably be cleaning up plenty of piddle. Oy. Tune in next week to see if we decided to be THAT brave.
Ian had to work late one night, and I was feeling lazy and not in the mood to cook, so D and I had a date night at Stefano's. D was at her absolute most charming. They gave her a magnadoodle to play with, and she asked me to draw Olaf. I did (it wasn't spectacular, but it was recognizable). When she saw it she SQUEALED "OLAAAF! OLAF OLAF!" Then grabbed it and hugged and cooed and kissed at it while the whole restaurant "Awww'd" at her. D also surprised me when I presented her with food options and she chose chicken strips over pizza. She INHALED the chicken, I couldn't believe my eyes. The kids' portion was easily big enough for an adult, I figured I'd have leftovers to send with her to school. Nope: she left one tiny chunk.
I'm sure by now you've probably noticed the weird marks on D's nose. We picked her up from school last week with an incident note: MISS D had fallen and face-planted on the sidewalk. It honestly didn't look too bad at the time, just some scrapes on the side of her nose. 24 hours later the bridge started to turn yellow, green, and purple. Yikes. I started freaking out that she'd broken it, but when I poked her she didn't even flinch, so I don't think that's the case.
D had a pretty spectacular weekend, so I can understand why she might be reluctant to go back to school on Monday. Saturday morning started with breakfast at B3 cafe (chee tooooast! chee toast!). Since they expanded, there's a big open area. D sees an open area and she has to run in circles. It's in her DNA, I guess. She also insisted on retrieving her own booster seat. For the couch that we were sitting on. The couch. Yup.
Then we took D to Once Upon a Child for their first day of Halloween Costume sales. Ian wrangled the crazy kid while I combed over the racks. I love that place. I was hoping to snag some deals on some Princess gear, if not find a good Halloween costume and I was not disappointed. Disney Parks Aurora dress? $8. Disney Store Belle dress WITH shoes and Tiara, perfect condition? $14. I'm such an OUAC addict. D got a Cinderella toy phone for $.50 and a Grover board book for $.25. LOVE. THAT. PLACE.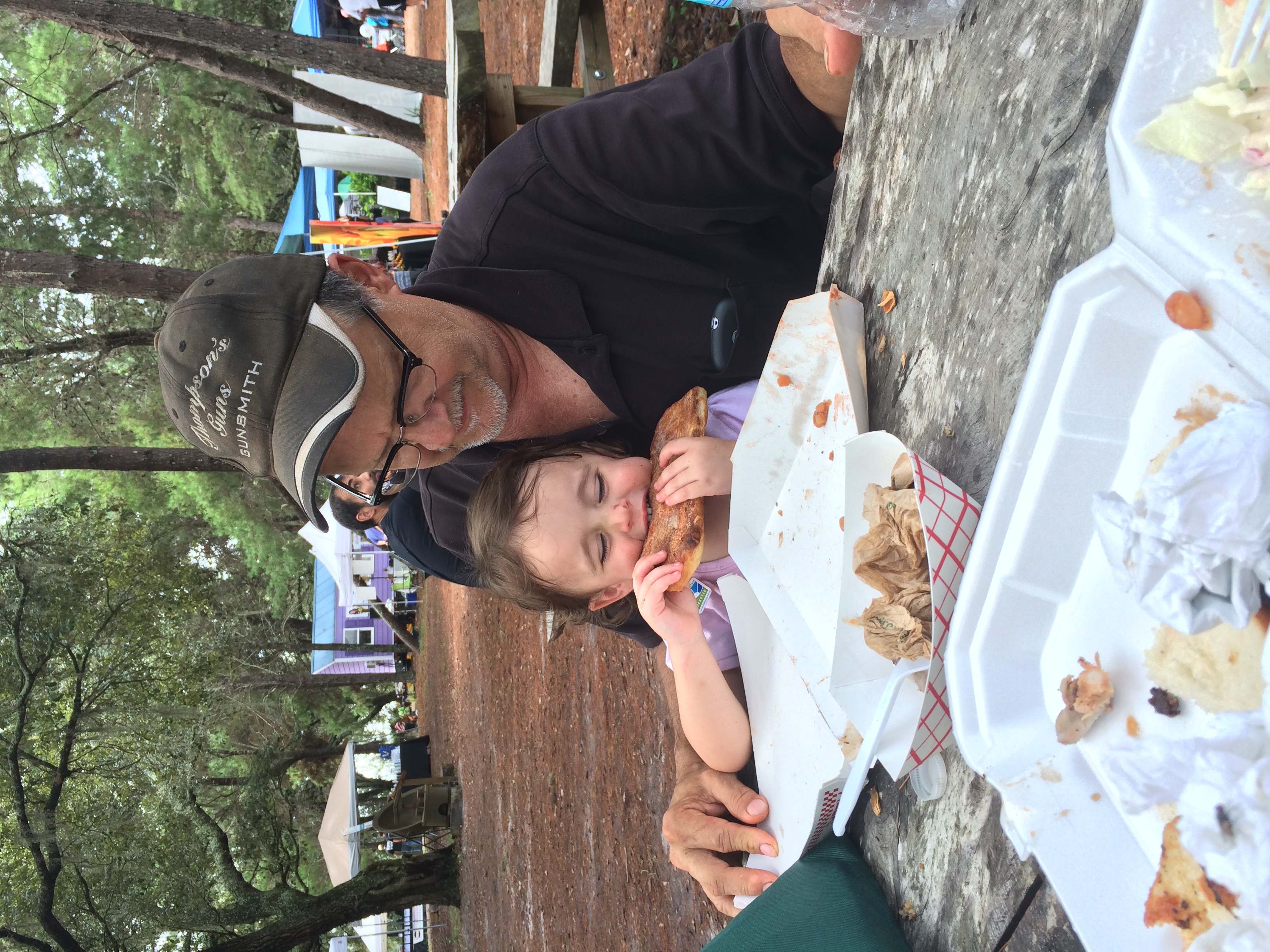 Grandpa Brant came for a visit. D went running to him and soon as he walked in the door, "GAMPA BOBO GAMPA BOBO!" She also got to Skype with Grandpa Marc & Deedee. Big grandparent day. We went back to the Good Neighbors Farmer's market in Oviedo. This time it was a little overcast, which made a huge improvement on the overall enjoyment. D had pizza, we had barbecue (really good barbecue, BTW). Then D took her stroll through the farm animal section and had a ball/showed no fear. Look at the size of the Brahma bull! She marched right up to stroke his nose. She also made a real show of "speaking" to all the animals.
D is kind of obsessed with rain right now. First she must point it out to you until you acknowledge it, then she sings some variation of "Rain Rain Go Away" on endless loop. It's not working kid, welcome to Florida.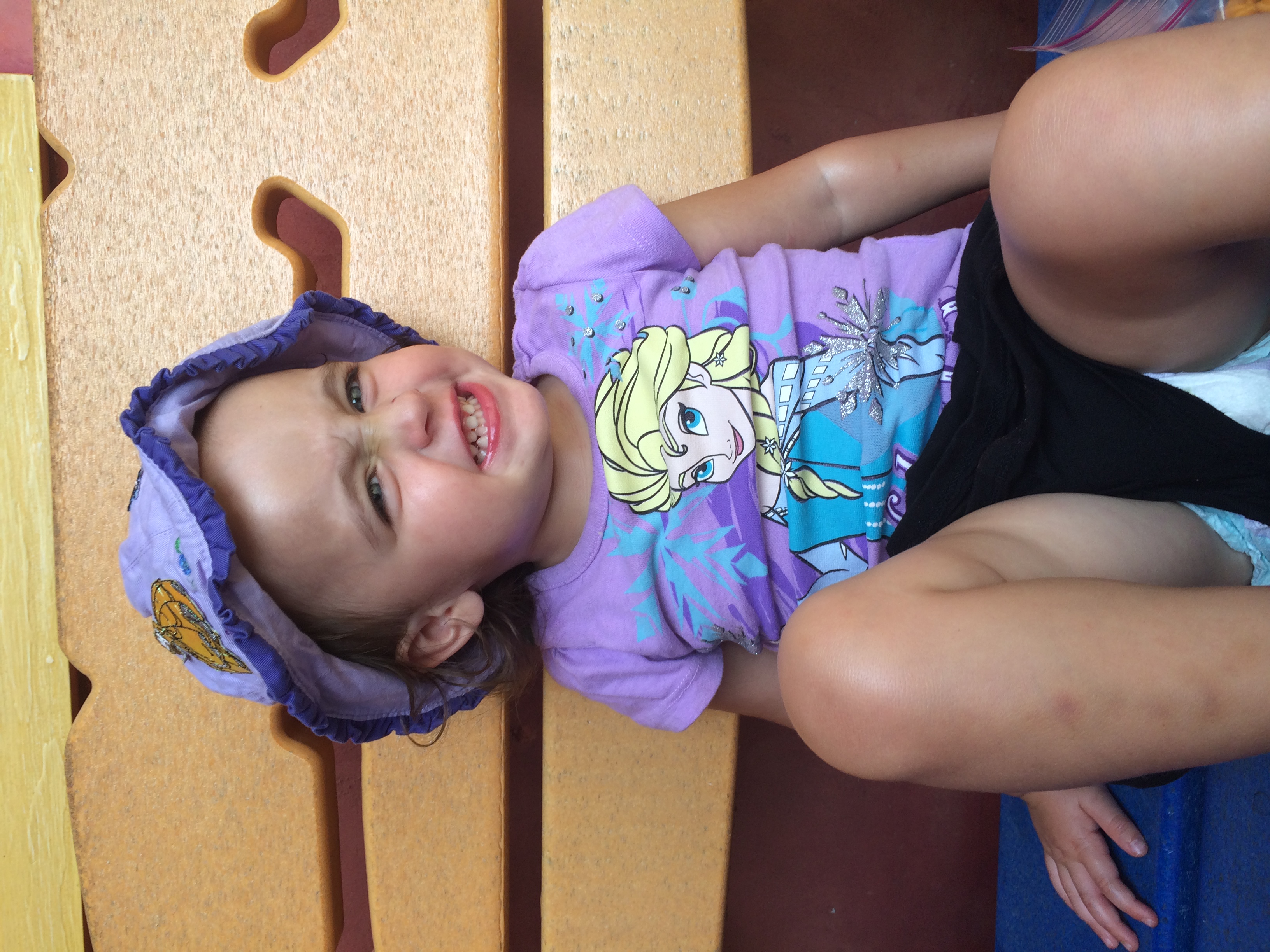 Sunday we finally returned to Animal Kingdom for the first time since blackout dates ended. We got a huge break with the weather (overcast), excellent parking spot karma, and the park itself was pretty dead (checked the app, no longer than a 10 minute wait for anything). Our first stop was Kilimanjaro Safaris. D has a cute new habit of calling out anything/anyone that is "hiding" from her: "Hippoooos!! Wheraryoooooo??" "Animewwwwwls!! WHEREARYOOOOOOO?" Fortunately everybody seemed to find it cute. D, in turn, found all the animals "cuhyoot" or "pitty." D's also got a habit of pointing out whenever an animal is eating. I am convinced D was a draq queen in a formal life, because rather than saying "eating" she always says "EAT IT!" If you don't watch RuPaul Drag Race, you don't know...
We decided to try out the Festival of the Lion King in its new location. We were all pretty big fans previously, and were stoked to get EXCELLENT seats this time. While D didn't seem to want to get too involved in the crowd participation (she takes shows VERY SERIOUSLY), she did applaud all the performers (cautiously, seriously). We went on to watch The Lion King later that night at home, and HIT she LOVED it (duh). This was our first time sitting in the Warthog section, right next to Pumbaa. I was frequently distracted from the main stage show by the adorable antics of Timon with the giant Pumbaa.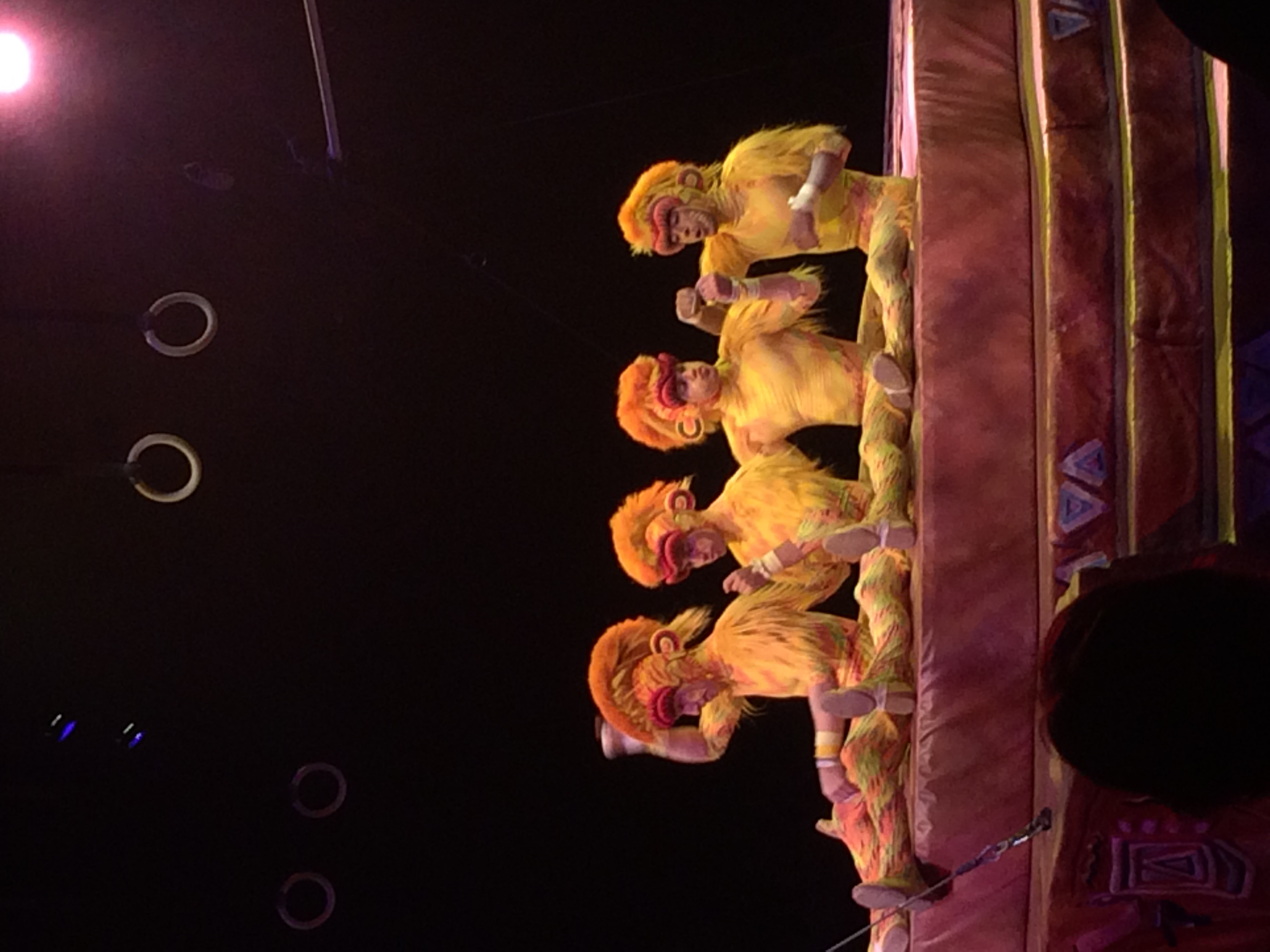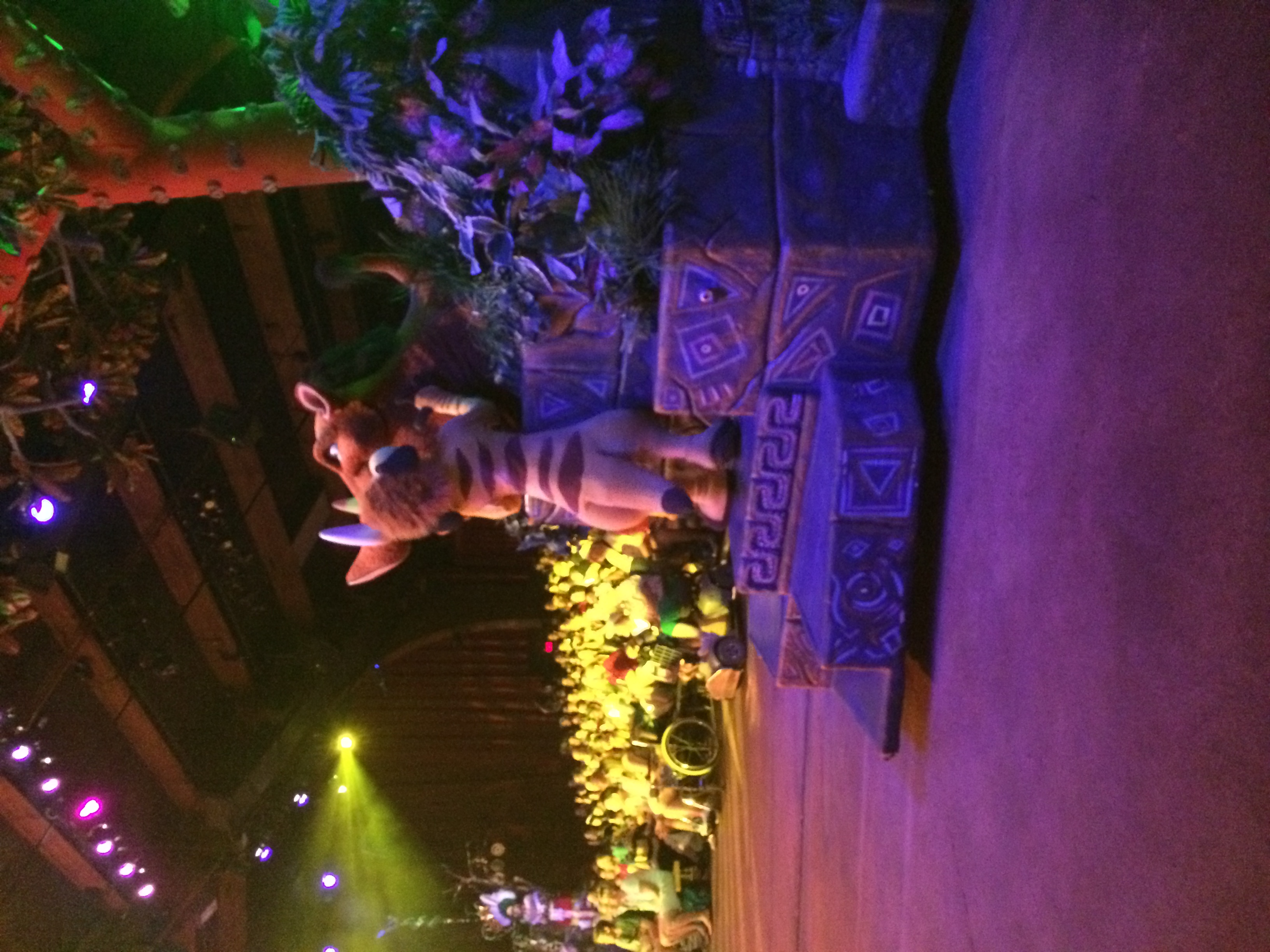 After grabbing some lunch, it was starting to drizzle so we decided to call it a day. On our way to the exit, a guy was waving us over to "come meet Daisy Duck" and "only a five minute wait." Well, duh...
D has one last MISS this issue: nap time. Again. She's such a turd about going down, and then it's hit or miss if she even takes a nap. Oh well.