The Weekly Peanut, Issue 85
The theme of the past week has been Independence. It manifests in the phrases "I do it! I do it!"; "Nooooo! No help!"; "Meeeee! Meeeeeeee!"; "I get it!"
Embroiled in all this Toddler Empowerment have been moments of intense codependence and snuggling. On the one hand, having my self-sufficient toddler want nothing more than to be curled in my arms is intensely gratifying. On the other it's hard to keep up with her emotional needs and desires from day to day.
Wait, I can't keep up with my toddler's mood swings? I AM THE ONLY PARENT TO EVER HAVE THIS PROBLEM.
D's independence seems to spike during reading time. She wants to hold the book, she wants to turn the pages, half the time she doesn't even want to sit in our laps while she "reads" to us. Here she is, trying to "read to me" while I get her dressed in the morning.
Saturday we took D to Epcot. It was not our best Epcot Day ever, in fact she was pretty moody, but Ian and I managed to stay on top of things and stuck it out for almost 8 hours (an D-Epcot record) and had a whole lot of fun. Taking lessons (and wishful thinking), I packed multiple outfit changes, but D had the luxury of choosing the outfit to start the day.
I don't know what it is about the Cinderella dress, but it chokes me up every time she has it on. Maybe it's (other than the blue) because of the quintessential bridal look to it, maybe it's because it's THE dress. She opted for the tiara, too. She tried to talk me into sparkle shoes, but I reminded her that practicality had to win out in the footwear category since we would be at a theme park all day. (In truth I compromised here, letting her grab her fancy Sophia shoes while I packed the sneakers for later).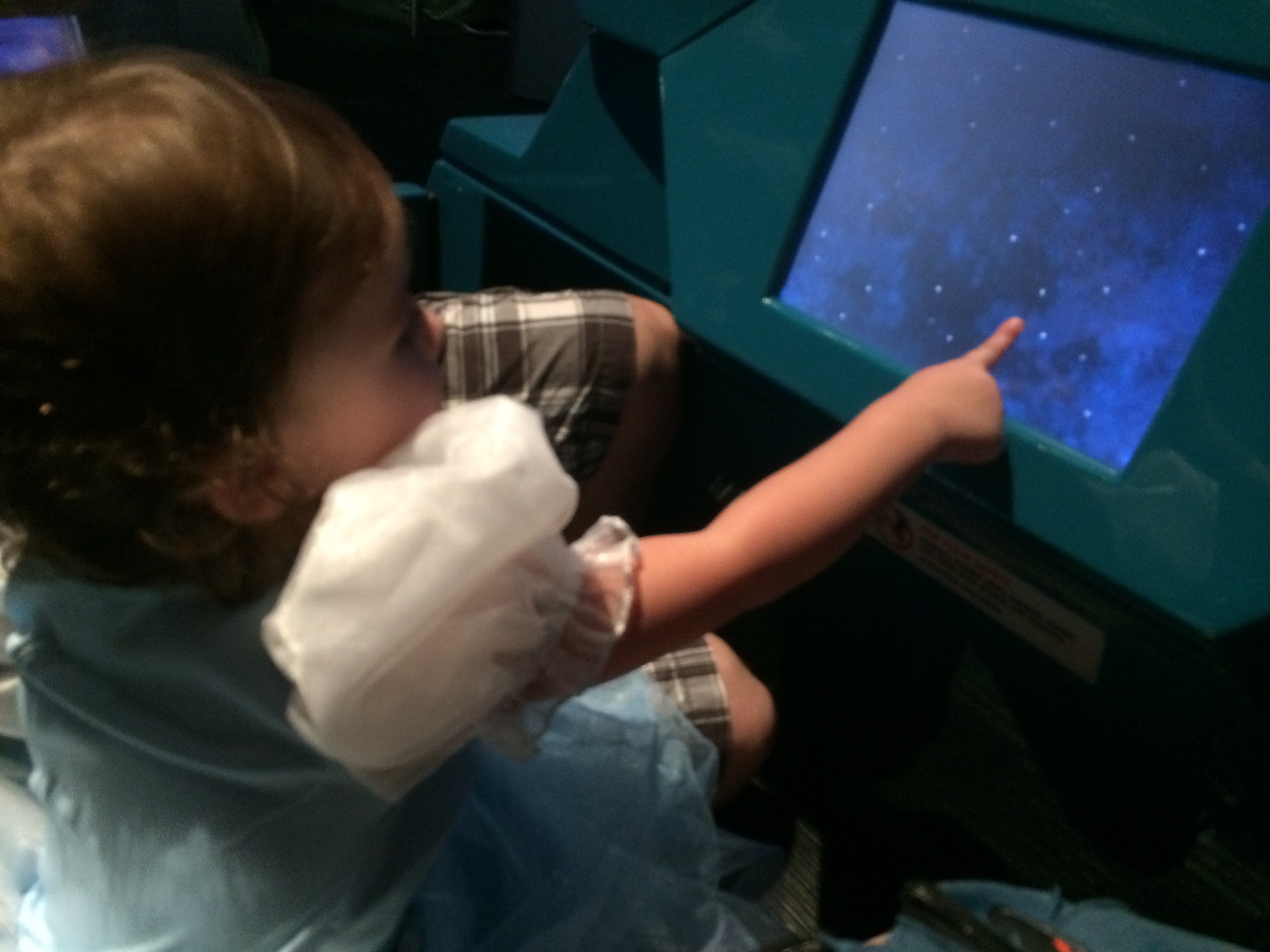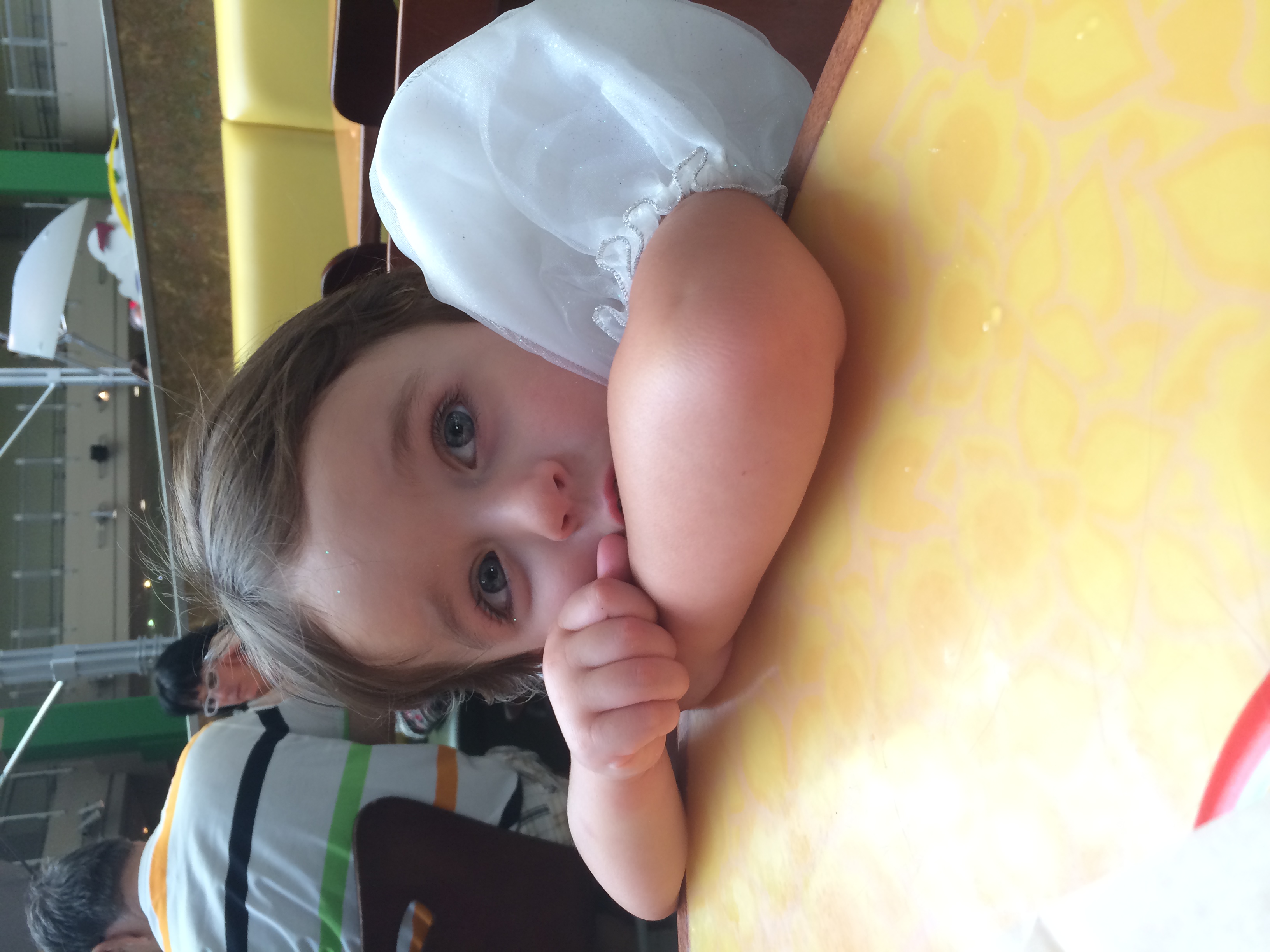 It's so fun going to a Disney park when your kid is dressed up. Staff and other guests inevitably react and can't help smiling. We rode Spaceship Earth, the Seas, and Living with the Land with only a few whiny Diva moments. Leaving the land, however, D seemed inconsolably.... crotchety. What's wrong peanut? "HOT! TOOO HOT!" Well, peanut, it is pretty humid, and that dress has lots of layers, let's change clothes! "Nooooo! No change!!!" This went on for a few minutes before Ian manhandled her into an outfit change. She seemed to see the light within 30 seconds of the new outfit and was back to being charming as we made our way through Figment and headed to the World Showcase.
I brought D's Frozen Umbrella, since rain was a foregone Florida conclusion. While we waited in our first Food & Wine line for the day at Mexico, D started playing with the umbrella.
Y'all: My kid has NOT figured out how umbrellas are supposed to work.
Thank goodness we were surrounded by people who found it as funny/cute as we did, but D opened up that umbrella, then proceeded to lower it over her head until she resembled a technicolor mushroom. She proceeded to scramble around giggling as she repeatedly ran into every person and object in the vicinity.
The downside to Food & Wine is increased weekend crowds at the park. The upside is that most people are in the food cart lines, and things like the Donald Duck character meeting is relatively uncrowded.
We headed up to China to check in with D's BFF, Mulan. Right when peanut was on deck, it started to POUR. Mulan didn't miss a beat, escorting the line into one of the buildings and a pretty little bench that looked like it's entire purpose in life was to support Mulan and my kid in their special moment.
The rain let up just enough for us to continue our stroll around the world showcase. D has never had a chance to meet Snow White, and she had a tiny line. Peanut, would you like to meet Snow White? Yup.
It started raining midmeeting, and while Snow had a little awning to stand under there was no cover for my camera, so our photo shoot got cut off.
Ian recently discovered the Coca-cola Cool-off spot in Future World. I'd always thought it was just a place to buy soda; I didn't know there were free samples of unique sodas from all over the world! D was a big fan of the Spazzberry (ok, that's not what it's called).
I was bound and determined to finally get our free 5x7 at the Disney Credit Card exclusive character meeting spot. There was a bit of a line, so we let D run around in one of her knew favorite spots: Innoventions West "Where's the Fire?" It's pretty much just an open floor plan mini house set up, with mini furniture that's all padded on the corners. Disney knows what they're doing. D was OBSESSED. She ran in circles, in and out of rooms, giggling like a loon. She would have stayed there all day if we let her most likely.
The Disney Visa Photo Place is cordoned off and has "surprise" characters (it changes from day to day, even hour to hour, whom you might meet), so we didn't know what to expect as we entered the curtained off area. Cool part about the photo place? Only one party goes in at a time, it is 100% private and personal, nobody waiting in the wings. I didn't know this, until we pulled back the curtains and were instantly tackled by Pluto. D was THRILLED. Minnie jumped out and surprised us from around the corner. Are there plenty of other places/opportunities to see these two characters? Sure. But it was pretty special, anyway.
We needed to kill time for the photos to be ready, so we walked around Future World. There was a 5 minute wait for the Character Spot, so... why not? There was a little girl right in front of us in line. Her mother was also an annual passholder, but she said the little girl (3 or 4) had yet to participate in any of the character meetings. "She always chickens out, but I keep trying!" Sure enough, Mickey was up first and the little girl wanted none of it. D, however...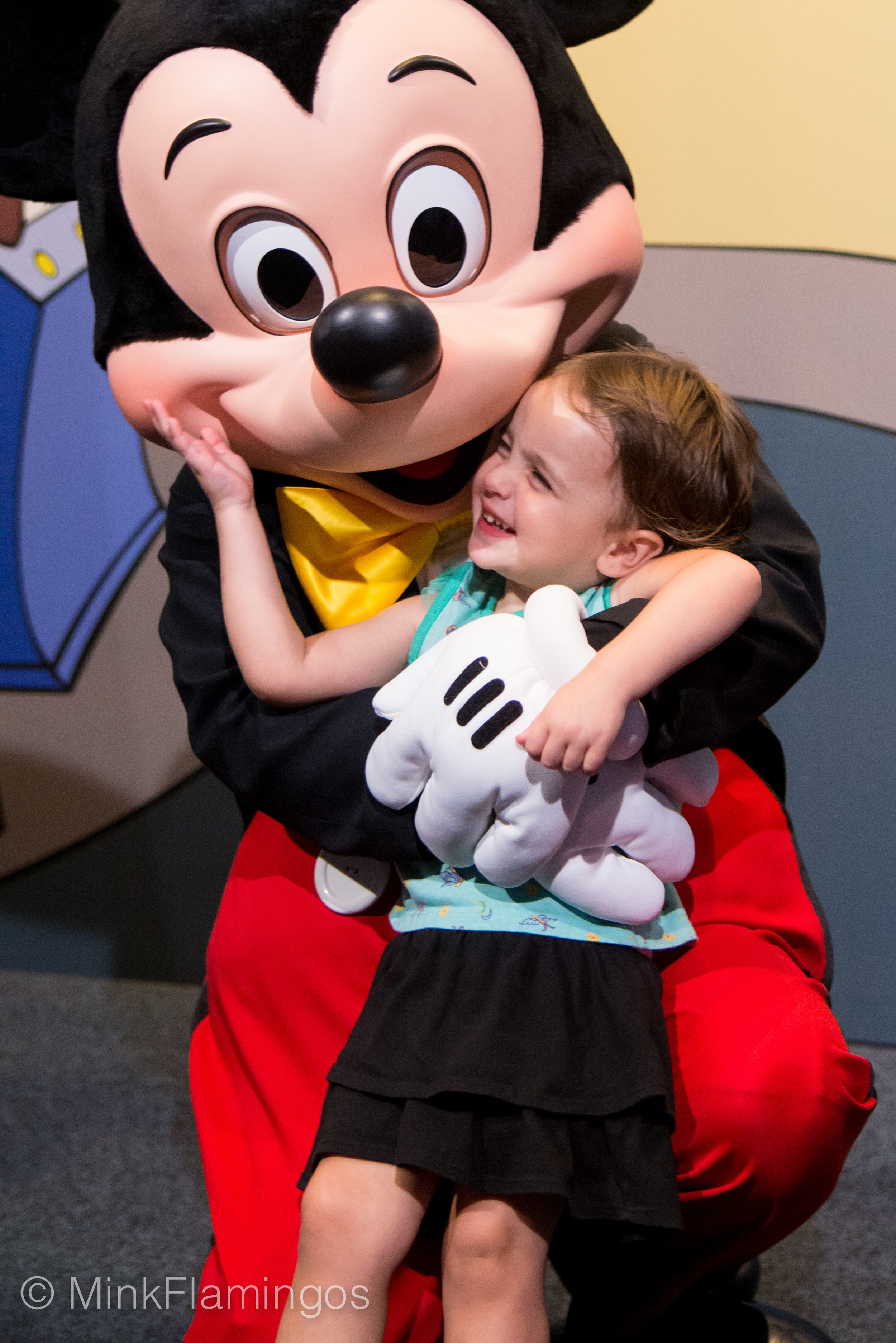 Y'all, I'm starting to feel like a third wheel when we go to visit Mickey. Seriously. The look of adoration in my kid's eyes... I thought maybe it would have waned a bit, especially since she's been less interested in Clubhouse recently. Nope. We weren't the only ones to notice, either. Goofy (quickly abandoned by the little girl in front of us who wanted nothing to do with him) had been watching in the wings during this little exchange, and seemed to recognize he wouldn't be able to live up to it. Instead, as he took D's hand and led her away, he immediately got her dancing. I couldn't believe it; D's been so anti-dance lately. Goofy worked hard and earned every one of the smiles she gave him.
There was a slight back up for Minnie (last stop), and that little girl had been watching D pretty closely. Her turn with Minnie came, and I heard her mother gasp as the little girl ran right up to Minnie and gave her a big hug. It was SO sweet. Her mom looked like she was going to tear up. "Minnie! You're the first time she's done that!" She clutched the little girl tighter and took extra time for pictures. I immediately flashed back to our first Mickey Meeting and started to get a little misty, too. Ahhh, Disney magic.
We squeezed in another ride on Spaceship Earth (what can I say, D loves it) and finally called it a day. D was pretty loopy by then, but still refused to nap on the way home. Story of my life. She did, however, start singing in typical fashion. This time she busted out a song she must have picked up at daycare, because we'd never sung it with her before.
Sunday was set up to be a low-key day of errands and things that have been done a million times. The Peanut had some surprises in store for us, and not the bad kind.
We wanted to try out the brunch at Smiling Bison, which didn't start until 11, so we had time to kill around the house. D, up at 7 as always, opted to put on her Mulan dress for movie time. I recorded Hocus Pocus off TV in desperate hopes I could talk D into sitting through 10 minutes of it, get into the Halloween spirit, ya know? I turned it on, and D started up her typical "Nooo nooo" song and dance we usually get, especially if we try to play a live-action movie. She piped down and finally started watching... and watching... and watching... Sure she had her typical interludes of taking a lap around the room or grabbing a snack, but she was INTO that movie. The trick or treating scene was particularly hilarious as D continually YELLED "Witch! Witch! Pirate! Arrrrr!" as different costumes flashed on the screen. She was actually MORE engaged in this film than a lot of others we've recently attempted, I was blown away.
By then we were still hours from brunch but ready to get out of the house, so we headed down to B3 cafe for coffee fuel.
D chose a chocolate muffin, and continually tried to steal sips of both our coffees. She "shared" her muffin with Daddy... sort of...
I was 100% not prepared for the words that next left my child's mouth, seemingly out of left field.
"Mommy, I go potty."
After the debacle of our attempt at underwear a couple weeks ago, we've definitely pulled back from potty training. Yes, we still ask occasionally if she'd like to use the potty, but there's no pressure or undies involved. Since that awful day, even though her teacher swears up and down that D is using the potty all day on her own at day care, she has wanted little to nothing to do with potty if the parents are involved.
.... You went potty? Did you make a poopoo? You need a new diaper? "No, I go potty." Surely not... You want to go to the potty? *Emphatic nod* Uhhh.. Ok. I've heard this song before, we go, we sit, she stares at me, she asks to flush the toilet and tries to con a reward sticker out of me but nothing really happens. I walked her back to B3's bathroom, helped her up onto the potty, 2 seconds later...
PEE!
I was flabbergasted. D was thrilled. High fives all around (after hand washing, of course).
Our next stop was Target, partially for socks (which hubby and I both need), partially to buy a bunch of things I didn't need but suddenly DO because I am at Target. Bless their dollar bin, guilt free impulse shopping for the kid. We picked up Bedknobs and Broomsticks and, so cheap, we went ahead and grabbed Hocus Pocus, too. D grabbed the box. "Good movie!" You liked that movie, huh kid? *Emphatic nod*
We were nearing the end of our store lap, when D surprised me again. "Mommy, I go potty!" Again? Ohhkay.
Yup, that's victory flush #2 of the day.
In the days since, Sunday appears to have been a fluke. She still sporadically sits on the toilet, but mostly fruitlessly. I did, however, take Sunday as the final push I needed to switch our monthly Amazon order over to Pull-Ups. THE SAGA CONTINUES!