The Weekly Peanut, Issue 70
Daphne kicked off the week with her first dental appointment (we don't count the first time with the chipped teeth). I have to say, again, how well run Dr. King's office is: very little waiting, streamlined, great.
The overall experience as far as D goes was a mixed bag. She started out a bit turdy with the poor hygienist, who did her best. D's just kinda grumpy about people poking around in her mouth right now, even us with the darn toothbrush. After the fiasco with the hygienist, I took her into the corner and had a little time out/ talk with her. It seemed to help, because the second half of the appointment, when Dr. King came to check her out, she was great. Dr. King says her gums are "super healthy" and she has good spacing between her teeth. He also said that her two year molars are about to poke through. WTF THEY HAVEN'T YET? YOU MEAN SHE'S BEEN A TURD THESE PAST FEW WEEKS AND I CAN'T BLAME IT ON TEETHING?! *grumble grumble*
I treated D to a new movie: The Pirate Fairy. Yes, the Tinker Bell movies have grown on D (ok, me too), and this one might be the best yet (has nothing to do with Tom Hiddleston... almost nothing... ok it's totally because of Tom Hiddleston).
D has been reading herself to sleep every night. I heard her adorable little mumbles, and tried to get it on video. Not only did I catch her reading, I caught her counting to ten! Well, sort of. She's got a mental block on 1 and 2, but she's got 3-10 down!
Friday we decided to crash the Casselberry Farmer's Market for the Food Truck Rally (Ian's obsessed with BemBom food truck, I can't blame him). D made quite an impression on the other patrons. First she made friends with a cute little boy. His parents were astounded by how young she was when I told them, "but she's talking so much!" D is BOSSY. She would only accept hugs from the little boy (who was quite the Romeo) if she initiated them, then she showed him the proper way to hit the bushes. After the little boy left, D continued to scope out the scene for more kids. A little girl and boy came by us and D kind of waved at them. They kept right on walking and D took great offense, she followed after them hollering and gesturing at them, waving her hands, how DARE they ignore her, NO DICE. Ian and I were not the only adults watching this little act, choking on tears of laughter.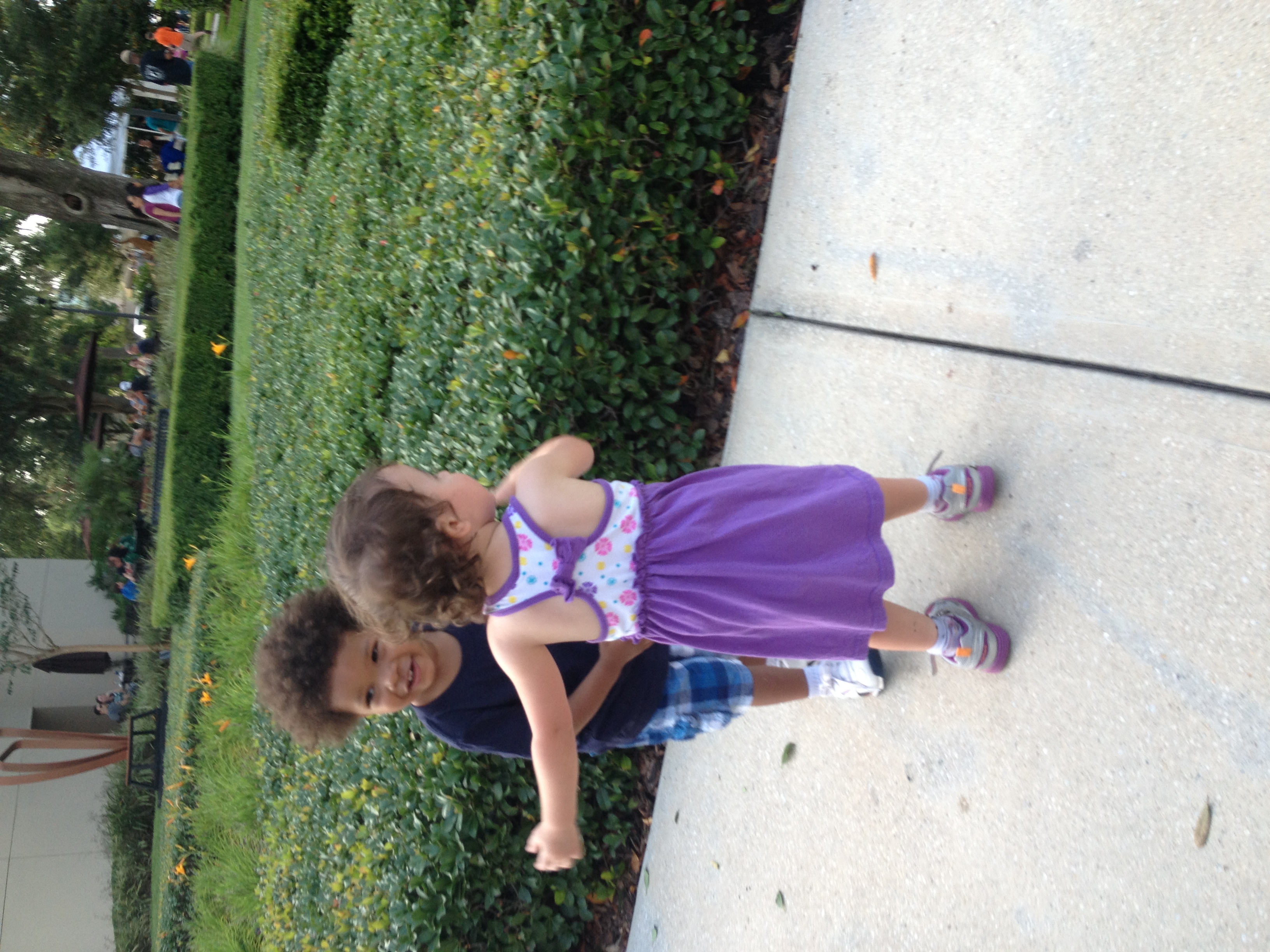 Daphne loves watching the rain. Just as well, since it's storming every day now.
Saturday morning I had to work, so D got a Daddy morning. They went to lunch with "Uncle" Mason and Eileen. D was on her best behavior for lunch, but not so much for Eileen's "put a kid in a car seat" tryout.
We had dinner at Hawkers. Although D was on reasonably good behavior, I finally managed to get the "Daphne won't eat green things" saga on video for you faithful readers.
You may have also noticed in recent pictures on here and Instagram that D might be getting, dare I say it, even more photogenic? I can't take credit, the kid somehow, somewhere, has picked up the ability to pose for pictures. I don't even have to prompt her and she says "cheeeeeeeese." (ok, I prompted her for the video, but I swear she does it anyway)
Sunday morning was both Father's Day and Ian's birthday. We continued on our quest to do all the character breakfasts at Disney Resorts, this time going to 1900 Park Fare at the Grand Floridian. We decided to go early so we could pool crash the super neato splash pad with D.
I'm sorry, when did my kid become afraid of water? She was 100% NOT having it. The lifeguard on duty noticed my struggles and mentioned she noticed a lot of kids were bothered by how loud all the water was. Maybe that was it. Oh well. Splash pad fail.
As for the breakfast, although we had fun, I think it might have been our least favorite so far. Mostly because of the food. Ohana and Chef Mickey's had WAY yummier options, 1900 had stale bagels, blech. The organization of the character meetings was also a bit off and not well-timed/organized compared to the other places. D was at her usual charming best, except with the Mad Hatter. As you can see from her face, she was not having it. Not one bit. (She didn't scream though!)
We continued to lament our blackout dates with an extended ride on the monorail all the way to Epcot and back. Yes, We're sick.
Tune in next week for part 2 of Ian's birthday/father's day extravaganza. Because he guilted me about them falling on the same day.