The Weekly Peanut, Issue 66 part 1
For the second time, the Peanut had a week that was just too much for one issue. Check back for part 2 on Friday!
Remember the INSANE idea I teased you with in last week's issue?
I got it in my head that I really wanted D to have a picture with all of the top 6 ladies from the Disney Heroines countdown. Getting in to see Anna & Elsa? A nightmare. An impossibility unless you want a 5 hour wait. FastPass has been sold out for MONTHS. I HAVE TO MAKE THIS HAPPEN!! So I started googling for insider tips on how to get through the line, and I read a suggestion about how to get your hands on difficult FastPasses. I tried it on a whim, and BEHOLD: an Anna & Elsa FastPass on Wednesday for 12:15. I grabbed it on impulse, but seriously? The middle of the week? Am I going to pull my kid out of school and put in a vacation day at work just to do this?
Uhm. Yes?
So Wednesday became Mommy & Daphne's day of surprise Princess Fun Time. Did I mention this would be my first time ever flying solo with D at one of the parks? *gulp* We headed down to MK nice and early and went straight to meet #5- MERIDA!
Merida has a really neat meeting area near Cinderella's castle with an area that kids can color or practice archery while the parents wait in the line for them. When there were only a couple people left in front of me I picked D up. She was a little squirmy, whiny. Finally I felt the telltale impact against my arm. "MOMMY I POO!" Oh, great. I checked her diaper. Nothing but air. "No Peanut, those are just farts. It would be really great if you could hold off on the poop until after you meet Merida, so you're not that kid that smells like poop." That message was apparently lost on her, because 30 seconds later, "MOMMY POOOO I POOOOOO!!" Yup. You sure did. Oh well, I hope Merida doesn't have a very sensitive nose.
D did her part and charged forward for a hug. Merida proceeded to engage D in VERY animated conversation about bears and Mothers and such. D was enthralled. It was all pretty darn wonderful.
We still had plenty of time to kill before Anna & Elsa (I hadn't told D yet, wanted it to be as much of a surprise as possible). We knocked out a few rides like Peter Pan. It was HOT, and D was over her tiara so she let me wear it.
We also had a mandatory stop at D's new FAVORITE RIDE EVER: Prince Charming's carousel. At least it never has more than a 5-10 minute wait. While in line, I looked up and spotted some "celebrities" having their turn: Anastasia and Drizella! Lady Tremaine was standing near the exit yelling at them that it was terribly inappropriate to ride on a Carousel. Drizella kept making her snobby snarl/smile at people gathered around to ogle while doing her patented fan/wave. Anastasia clung to her horse like she was terrified she'd fall off. D was hypnotized, and terribly disappointed when they left the carousel before she'd had a chance to sit next to them. Maybe next time, kid.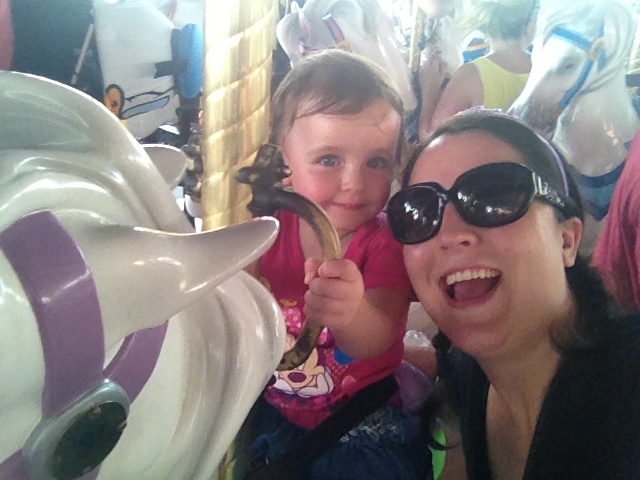 I wanted to stuff D full of food to increase my chances of a pleasant day. Although she took her time, she finished her Mac & Cheese eventually. Meanwhile I shared my table with some other lovely couples who were all very jealous of our approaching Anna & Elsa FastPasses (and asked how I'd gotten them). Typical D, once she was stuffed full of food she got a little kooky, dancing around in circles. I latched on to that positive vibe and dragged her to Rapunzel's tower for a wardrobe change. D was SO. EXCITED. when she saw the new dress she got to wear.
Still had a few minutes to kill and once D saw it she insisted she have another go at... yup... the carousel. Come on, could YOU say no to this face?
Finally the hour was upon us, I told D we were going to meet Anna & Elsa. I don't think she fully grasped what was going on as we headed to Princess Fairytale Hall. I was worried, I'd heard horror stories about the wait even with FastPass being pretty hefty, but we walked right up and were ushered almost immediately into our private room behind about 4 other groups. Finally, D got a look at the ladies and figured out what was going on. Her jaw about hit the floor. Seriously, she was dumbstruck. "Who is that Daphne?" GAPE GAPE GAPE. "Is that Elsa??" More gaping. It probably took a good ten minutes to get through the line. D was getting a little antsy, trying to charge the rope. "No, Peanut, we have to wait our turn. These other people get a chance to meet Anna & Elsa first, then you." Then this adorable little girl in line in front of us all princess'd to the nines turned around and told D, "Don't worry, they make sure everybody has a turn, you'll get to see them. Right after me." That little girl was a trip. I talked to her about her other experiences with princesses and how many she'd met, she was quite the old pro.
I already wrote pretty extensively about what followed in my petition for Aurora article, whom D was a total peach to despite having no idea who she was. Daphne was very quiet through the meeting with Anna & Elsa, pretty much just staring in awe at Elsa the whole time (although she gathered her wits about her long enough to cling to their hands like superglue and get her obligatory hugs in). Overall, while not the squealing hysteria I was anticipating, it was a very special moment, one that I'm glad I took the plunge for and made happen.
The exit for the hall was filled with, apparently, the only Anna & Elsa merch left on earth, and parents and children in a shopping frenzy. A wall had Anna & Elsa plush dolls. D and her new friend had a field day.
D kept both of them clutched under her arms like life preservers, no matter how I tried to distract her with other fun things. "D... can't you pick one?" I check the pricetag, "Oh god, PLEASE PICK ONE." Not. Happening. With a heavy sigh, I took D to the cash register and managed to talk her into putting the dolls down long enough so we could check out. "PSSSST" by jove, the clerk is trying to get my attention. "Hey... did you see?" "What?" She flipped the doll over and lifter her skirt... good heavens! These weren't two different dolls! Anna & Elsa are both just flips of the same doll! Elsa is one half, Anna the other. OMG BRILLIANT! I REALLY DO ONLY HAVE TO BUY ONE! I could have kissed that clerk. So we snuck away one doll when D wasn't looking and I paid for the other.
I strapped D into her stroller with Elsa as it was just starting to rain. D, perturbed "ANNA! ANNA!" "D, [flip the doll] there's Anna right there!" Wait for it... more perturbed... "ELSA! ELSAAAAA!" I flip the doll again. You see where this is going. She tried to pry the halves apart. Then she had a fit. Maybe that doll isn't as genius as I thought.
With that, I was done. I counted the day as a roaring success (sans doll meltdown) and we headed home.
After an attitude cleansing car nap, I decided to kill the rest of the day with The Lion King, since D hasn't watched it in a few months. OH. MAN. She started out the movie snuggled on my lap, but the INSTANT Hakuna Matata came on she scrambled down and gave me a show...
The rest of the movie was spent alternating between dancing and lap-sitting. Until Daddy got home near the end of the movie. Then we got a whole new show.
The dramatic hand motions really make the moment, don't you agree?
Thus concludes Mommy & Daphne's Day of Awesome, come back Friday for Part 2!