Remember my previous sentiments about having a quiet weekend? Hmmm. Looks like that won't be in the cards any time soon. At least, not until our pass blackout dates.
Remember D's school picture day I talked about a few weeks ago when she got all adorable plaid schoolgirl'd up? Well.. apparently I was slightly mistaken. There were pictures, but they were class pictures, just the whole class together, no individual photos except for the pre-k grads. Oh. Well. She's still pretty redonk. Look at my big girl, sitting all perfectly in her little chair. You go, Glen Coco! (That reference is for my husband, btw).
As we enter the final weekends before the massive Disney passholder summer blackout dates, we are desperately trying to burn out on these parks. We planned to revisit Animal Kingdom on Saturday (since we've been sort of over-saturating Epcot and Magic Kingdom lately). Animal Kingdom is a pretty light day, easily accomplished in a half day with fastpass. We had time before our first fastpass for Kilimanjaro safari, so we hopped on the train out to Rafiki's discovery... thingy (SERIOUSLY WHY CAN I NEVER REMEMBER THE NAME OF THAT PLACE). On the train I got my two new favorite family selfies EVER.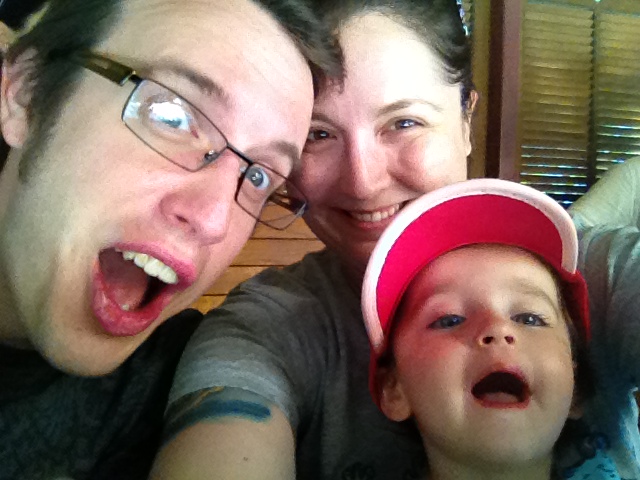 Notice D's Elsa hat? She's obsessed. Rafiki was out greeting in the lobby as soon as we arrived. D only watched the Lion King once a while back so I didn't think she would be interested. She proved me wrong.
Is she a character meet and greet pro now or what? Another cool thing was that for the first time the observation window into the Veterinary exam room actually had something going on! A Teeny Tiny Fennick Fox was under sedation for a dental treatment. Neato. We headed back to Kilimanjaro Safari, only to find a GIANT LINE for the FastPass! It looked longer than the regular line! WTF?! We decided to skip it and get D some food. One of the quick service counters had a kids' snack pack which included yogurt, organic sandwich cookie, carrot sticks, apple slices, milk, AND a pack of goldfish. For under $6. THAT is the best deal in the darn park. We had FastPass for the Finding Nemo show which got us some pretty sweet seats only a few rows back. Again, a lot of time had passed since the last time we'd attempted the show with D, time during which she has grown quite fond of Nemo, so I was pretty excited to see her reaction. She LOVED it. As soon as the show was over we had to haul tush to get over to Downtown Disney and meet up with family at the Rainforest Cafe. Our only experience at Downtown Disney was at House of Blues, so that was where we parked. Then we decided to just carry D so we could get there faster. Little did we know, Downtown Disney is HUGE and the Rainforest cafe was literally the farthest we could possibly get from where we'd parked. And it was nine million degrees out. With no shade. Ughhhhhh. We all felt like fried eggs by the time we got to the restaurant.
D has a great time seeing her cousins and sharing her goldfish. She also ate her dino chicken nuggets like a champ. She's definitely fond of chicken nuggets. The entire walk back to the car, D and Aria were inseparable. D is a BIG Fan of her cousin.
Ian had been asking me for a while what I wanted to do for Mother's Day and, like my birthday, I told him I didn't want to decide what we were going to do. Cop Out! So Ian had been surfing around the Disney Experience App and discovered a cancellation had opened up at Chef Mickey's for Mother's Day brunch. Two Disney days in a row? WHY NOT? What could possibly go wrong?!
Parking at the Contemporary kind of spoiled me. It is, literally, the closest you can get physically to the Magic Kingdom. It makes me want to be dishonest and park there all the time. I would pay the $17 dollars to do it anyway! Disney is on the ball with Mother's Day right off the bat, every woman was handed a carnation at check in. Chef Mickey's is a breakfast buffet, and we get visits at our table from Mickey and friends in their best Chef outfits (except Minnie, Minnie is in her perfect polka dot dress and heels, because she's Minnie). I was bowled over by how good the food at the buffet was. D had Mickey waffles and tater tots (and a plate full of ketchup) so she was happy. She also commandeered my carnation and pretty much destroyed it. She did, however, try to fix it on the monorail to MK.
We mixed it up a little and took D on Buzz Lightyear for the first time. We let her take control of the middle joystick which spins the car. THAT was hilarious. D always gets a little spooked on Haunted Mansion when you're in the holding area and the lights go off. Other than that, she's pretty fearless. We discovered they were selling grilled Zellwood corn in Liberty Square, too. YUMM. Next was D's first ride on the carousel. Oh yes, she was a fan. That was the first time she's cried coming off a ride in WEEKS.

Still having a few minutes until the window would open for when MY ultimate goal of that MK trip would be available, we took D to the Philharmagic show. I'm very proud to say that I managed not to get choked up this time (for some reason that usually happens between the Peter Pan/ Aladdin scenes). D refused to wear the 3-D glasses but still loved the show. She thinks Donald Duck is the bee's knees.
Finally, with about 15 minutes until she was set to arrive, we headed over to Tiana's glen so D could meet the Princess. The night before, D had watched Princess and the Frog for the second time and she REALLY liked it. There was already a small line formed, so I held down the fort while D and Daddy went for a fresh diaper. Right in front of me in line were two young men who were newlyweds! They were wearing the "Just Married" Disney buttons. They told me how they originally thought they weren't going to be at all interested in the character stuff, but that it had ended up being their favorite thing to do. I told them to make sure to stop and see Stitch before they left, since he's still my favorite at MK.
The lady of the hour arrived and started greeting guests. Even though it was outside in a gazebo, it's pretty cleverly set up with a curving path so there's an illusion of a somewhat private meeting with the Princess and there's plenty of shade. D was a bit antsy while we were waiting until she got a look at Tiana. Then she got REALLY quiet. We are still working on her waiting her turn patiently. Finally, Tiana turned to greet my baby girl.
No matter how many times I do this with my kid, even if she never remembers these moments other than the pictures and video that I have to show her, there are just no words for that swell of magic bubbles in my chest when I see the joy on D's face when she gets to meet these characters.
Tiana was really exceptional. She let D get in what was, even for her, a pretty excessive amount of hugs and snuggles. They took turns pointing and smiling at the photographer and exchanging idle chit chat. D finally extricated herself from Tiana's lap and stood staring at her pretty intently, in no mood to leave. I'd say D seemed to be the most... awed? by Tiana of any of the Princesses she's met so far. Finally I tucked my camera back into its case and told D "Ok, we can let somebody else have a turn..." At this point, I shall switch over to pictures from Disney's photographer who was kind enough to capture what followed. D charged Tiana for another hug, which Tiana quickly crouched to enthusiastically receive. Then, midhug, D started pointing urgently behind Tiana. "WATERRR! WATERRR!"
Ok, side note- D has become the Queen of Obvious in the past week or so. Her favorite things to point out are WATER! ROCKS! FIRE! Anywhere she sees it. She's particularly fond of pointing and exclaiming at fountains and bodies of water. Behind Tiana's glen, there's a stream/moat that runs through the woods up to Cinderella's castle. D was quite helpfully pointing it out to Tiana.
"Yes, D, there's water..." I went to coax her away, but Tiana grabbed D's hand and said "OH! Please show me!" Well... oh... kay... I scrambled to take my camera back out, while Tiana swept D over to the edge of the gazebo and crouched down next to her to hear all about the water. Tiana then started talking about how she and her Mom used to feed ducks together and then LIKE FRICKIN' MAGIC some ducks just happened to go floating by on the stream, to D's delight and my astonishment. HOW DID SHE DO THAT?! Tiana has some voodoo going on. She spent SO much time with my kid, until D couldn't come up with any more ways to stall and she finally allowed us to escort her away. Tiana, from the bottom of my heart, if you ever see this, Thank You. As we walked away I told Ian that she had exceeded my loftiest hopes for the meeting. Wow.
Confession: Between rewatching the movie and this meeting, Tiana deserved a revisiting of her original score for the Disney Heroine countdown. So she got one. Come back on Monday for the final countdooooown!
Not wanting to push our luck any further, we headed out. Once we were all packed into the car with D snoozing, Ian and I congratulated each other on finally having two consecutive Disney days that ended relatively drama free. PROGRESS IS GOOD.
We hit the grocery store on the way home. I let D sit in the racecar cart for the first time. She was a fan.
The best part of the Disney Heroine project? I am watching an excessive amount of Disney with my kid, all in the name of RESEARCH. Monday night I hesitantly introduced D to Brave. No music? No talking animals? I was skeptical, but D continued to impress me with how engaged she was in that film. Which started to plant a seed of crazy in my brain.... one I'm not going to elaborate on at this time, but that's where I'll leave you as a teaser for the week to come.