This kid has a more active social life than most adults I know. Myself included.
Thursday afternoon Ian called and asked if we'd like to go to the Taste of Winter Park gratis. Heck, why not? D walked the few blocks from parking to the Farmer's market with me, stopping to smell the roses, of course.
Her favorite "tastes" were the Shepherd's Pie at Fiddler's Green, the pizza at Mellow Mushroom (2 pieces!) and the Chocolate Chip italian ice at Jeremiah's Oh yes, she definitely liked that italian ice.
Good Friday, Daphne's day care was closed, so Mommy-daughter day was in order. Breakfast at B3 cafe, sporting her new Bubble Guppies outfit, a visit to my work, and a quiet lunch at home before nap time.
When D walked up I decided to take a big gamble and take D to her first ever movie theater. I hedged my bets by taking her to the dollar theater, bringing lots of snacks, and choosing Frozen as the film of choice. Driving down to the theater, I told D I was taking her for a special surprise. When we got to the parking lot I sat down with her and told her we were going to a movie theater to see Frozen. This huge grin lit up her face and she bunched her little fists up in excitement. I laid out the rules for her: we'd have to stay quiet and still in the theater otherwise we would leave and not get to watch the rest of the movie. She nodded. Here goes nothing.
Roaring success. At first she wanted to sit in her own seat but before the previews were done she was over that and she settled into my lap. She barely moved, other than to nosh on some goldfish. So proud of my peanut!
Saturday was my (cough) 25th birthday. My birthday wish? I told my husband (the night before, when he asked what I wanted to do) I wanted to go the whole day without making any decisions. After an initial panic, I'm happy to say that my husband definitely rose to the challenge. Ian was determined to surprise me, so he told me only that we had to leave the house by 9am and that I shouldn't eat before we left. We got D saddled up, and I actually showed D how to smile for the camera, rather than tilt her head all crazy.
Ian took us to our very first character breakfast at Ohana restaurant in Disney's Grand Polynesian resort. While waiting for our table, D went shopping. D wanted to buy all the things, then she got a look at the Frozen DVD behind the case and it was all over. Thank goodness the pager went off right around that same time.
Ohana is really well set up. We had a table by the window with an incredible view of the grounds and the lake. Food is served "family style," while each of four characters takes their turn visiting your table. Almost as soon as we sat (and D started tucking into the pastries, OY) Stitch came to visit.
As much as D enjoyed the pastries, she was even more into the Mickey shaped belgian waffles. Right when she was tucking in to one, Mickey came by. Awkward... chatting with Mickey while you're shoving his face into your mouth. Pluto came by next, and D greeted him like an old friend. His whiskers tickled her face. I was most pleasantly surprised, however, by Lilo. The costume is a little creepy, especially with the fake hands/arms (necessary???), but Lilo took a lot of time to interact with Daphne, showing her how to make the "surf's up" symbol with her hand. I can't wait to do another Character Dining experience.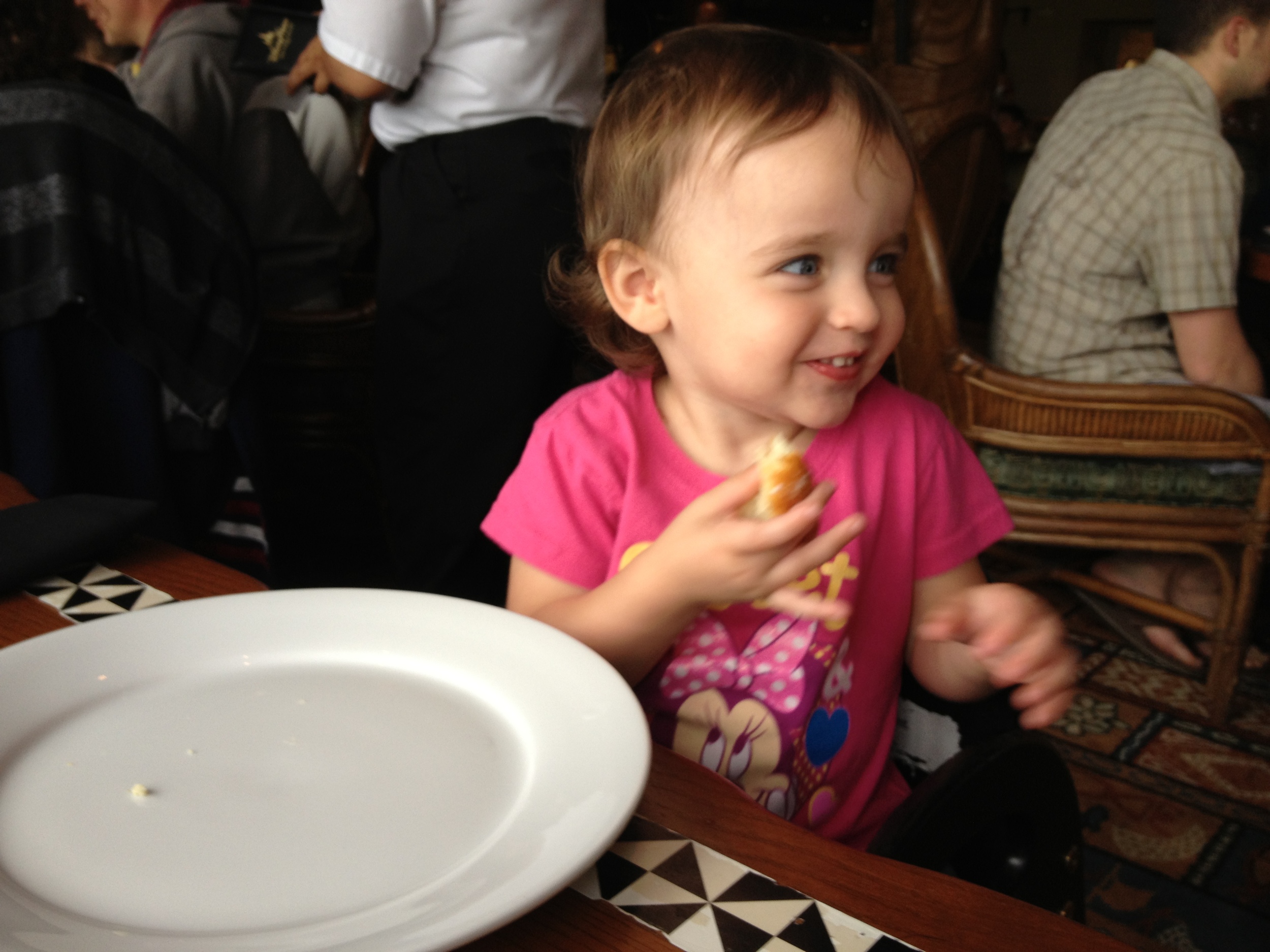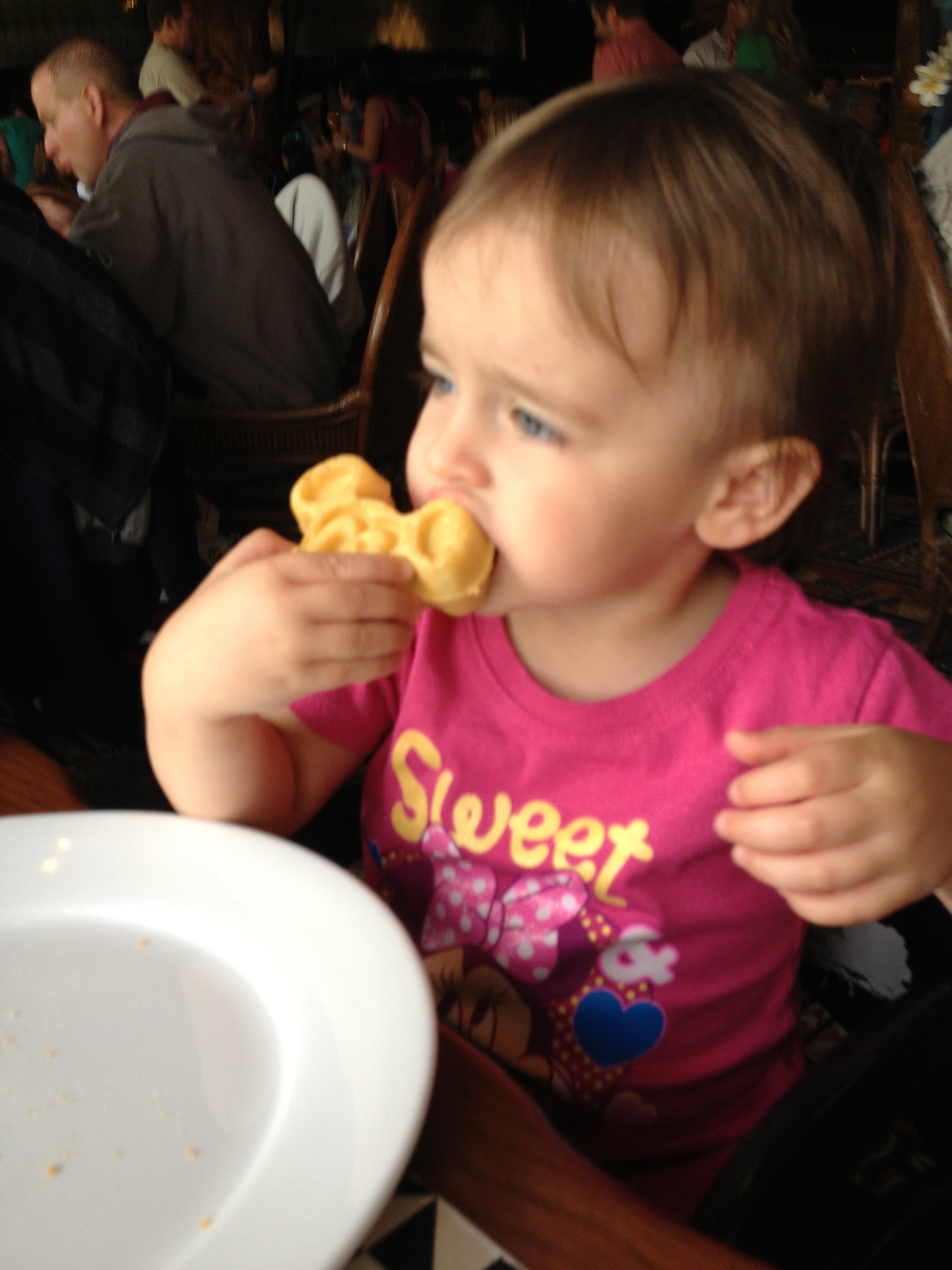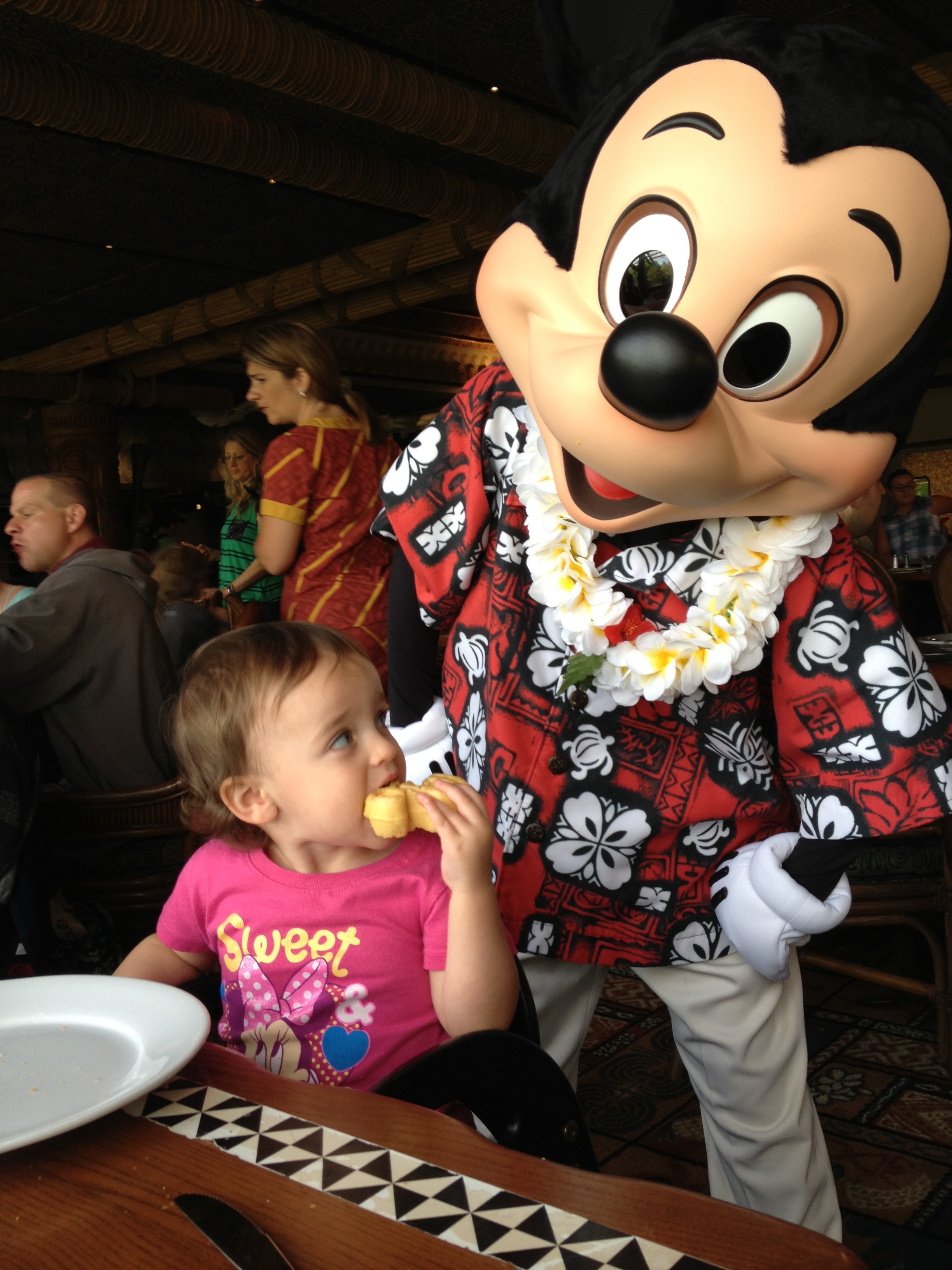 Blacked out from Disney, we decided to do the next best thing: hop on the monorail and explore the resorts. The Grand Floridian is even more spectacular than my vague memories allowed. At first D got hung up wanting to just go up and down stairs forever (she probably could at that hotel, honestly) but we dragged her outside to see the UNBELIEVABLY AWESOME splash pad set up (we are so coming back, toddler water slides! Mad hatter themed!) and... Daphne's first beach! Not Technically a beach since the water is fresh water, but the sand is super fine and soft.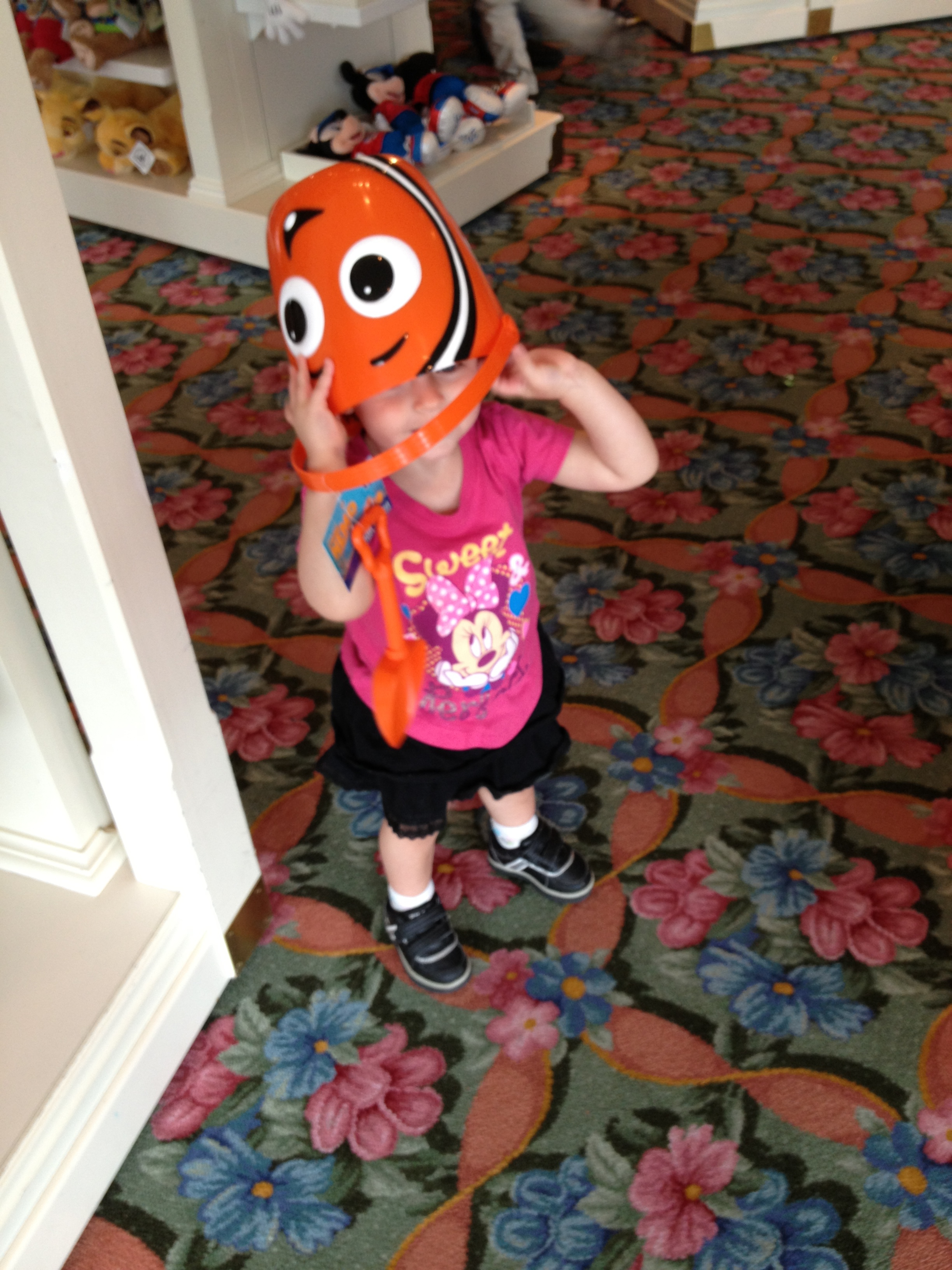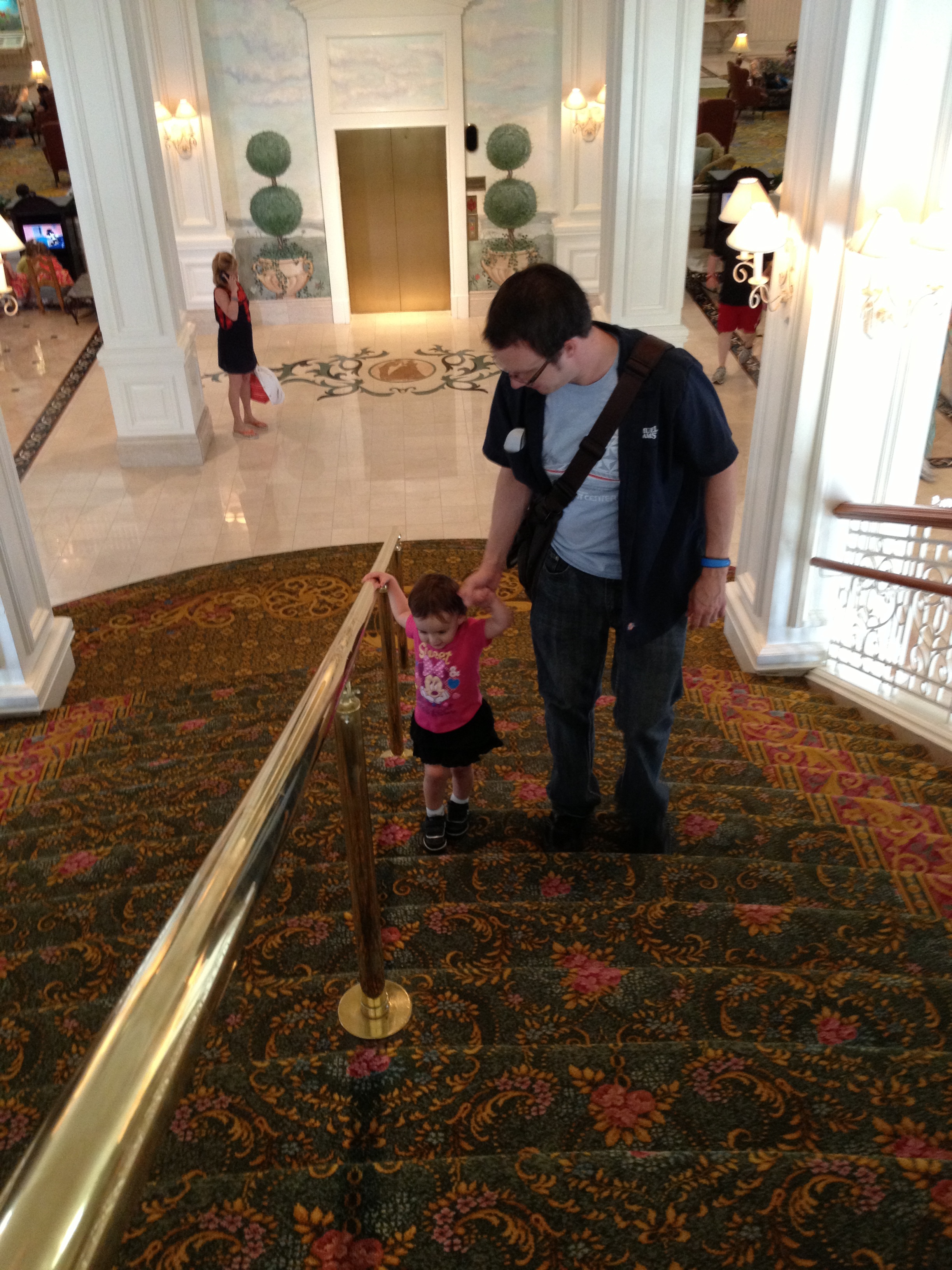 Our final stop was the Contemporary. D started getting grabby. She snatched a pair of sparkly Minnie Mouse shoes and I let her try them on. She stomped around in them for a few minutes, then (when I saw they were $30!!) I asked her to sit on my lap so I could take them off and put her real shoes back on. Cue meltdown. We tried a time out and talks, but D was clearly done, so home we went.
Capped off the most excellent birthday with dinner at Cask & Larder. They were PACKED so we ended up squeezing in at the bar with D on our lap, but it went well enough.
Easter was a bounty for D. She started with her Easter Basket, filled with Bubble Guppies and a stuffed Sulley. A little later we were joined by D's BFF Audrey for a super fun Easter Egg hunt! D is an old hand, but I was so proud when she shared her eggs with Audrey. These two are the cutest.
After such a great weekend we were bound to hit a snag. Monday night. D decided to engage me in an epic battle of wills over what she would eat for dinner. I refused to cave and let her stuff her face with goldfish (I was offering her pasta with chicken, something she normally would eat with gusto). She fought me on it for almost 2 hours, until Ian finally got home and for whatever reason she caved and ate for him after about two minutes. Oy. I know having a strong-willed child is supposed to be a good thing in the long run. Keep telling me that.
Next week our Disney passes go active again. I have no idea how we are going to survive the summer blackout dates.