*We interrupt your regularly scheduled Peanut for this important announcement: Due to recent kvetching from unnamed parties about not being able to comment on the blog, I have reduced the security settings to eliminate moderation and even allow anonymous commenting. Please don't make me regret this decision ;P*
This is my process for writing most Peanut issues: sigh deeply and wonder what on earth I'm going to write about, sync iphone with laptop, review this week's uploads, wonder when I took 65 photos (ok, that's this week), remember that I've done something this week other than feel like my head is full of cotton, write the issue. I feel like I've had this illness that the kid brought home for a month now, and if she has been feeling even half as crappy as I am, no wonder she's been having turdy moments. Yes, spell check, I meant to spell turdy that way, stop triggering my OCD with your angry red underline.
Every day is a crap shoot right now. Heck, every hour. Tuesday morning my daughter screamed. Not just loud angry cry, truly high-pitched ear-and-glass-splitting scream. In the car. What triggered this drama? I honestly have no clue. She seemed unhappy with me taking her to school, but the screaming didn't start until after we were a good 3 blocks away from the house and stopped before we reached our destination.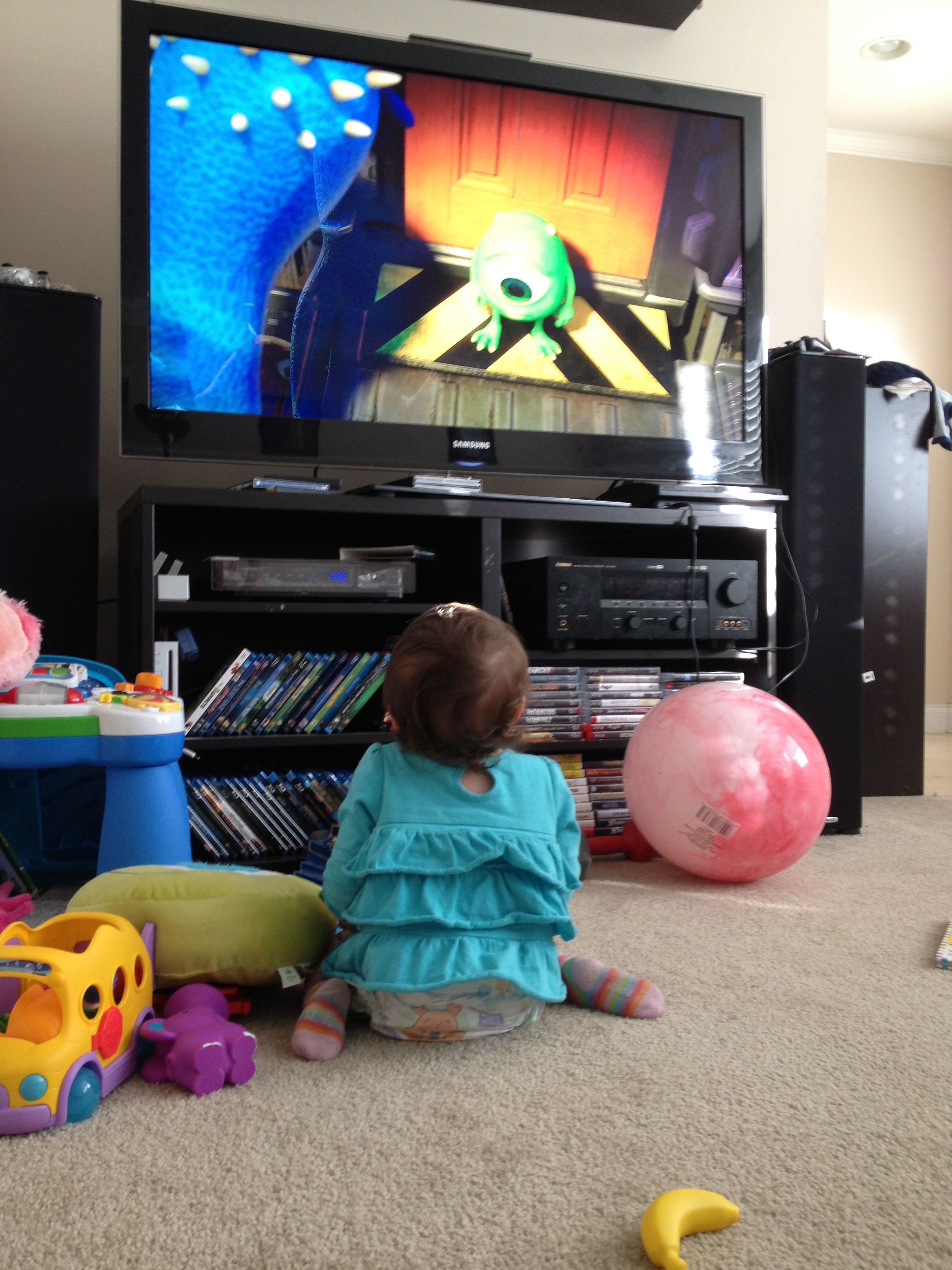 In fun news Daphne is starting to develop a taste for feature films. So far her choices have been Finding Nemo, Monsters, Inc., and Monsters University. On repeat. She will point at the box for me to put it on, then insist on having her Mike Wazowski pillow to snuggle with (which she calls "Culluh" for some reason only D knows). Working on getting her to like other movies, or at least give them a chance. Speaking of Monsters, check this:
Daphne has been almost impossible to get out of the bathtub lately as she scribbles away with her soap crayons. After sitting in the drained tub for at least 3 minutes, she started eagerly pointing at the tub and babbling urgently to me. What, kid? "I DREW SULLY!" I leaned over and, sure enough, there's a blue scribble. You drew Sully! She pointed at the opposite wall where there was a large black scribble "TURTLE!" You drew a turtle, too? Big proud grin. You go, kid. This is the first time she has let me know there is any sort of intention behind her drawing (even if it all looks like the same scribbles).
Saturday we had a visit from Seattle friends. After a yummy breakfast at B3, we checked out the playground at Fleet Peeples Park (the best dog park ever, but our first time at the playground). It was definitely geared more toward older/more developed kids, but I was super impressed with the special needs/large harness swing option. It took D a while to work her way up to going down the slide which was HUGE and only reachable with a series of steps and ladders.
We had a rather... awkward moment. After making her way down the slide, she trotted around and grabbed on to one of the support poles. She then proceeded to straddle it, swing herself around it, grinding and grunting. Ian's and my mouths fell open in horror. "Daphne, NOOOOOOO!" Chris Rock's words ringing through our ears, convincing me I'd failed as a parent... WE HAD ONE JOB!!
One of the other mother's smiled and arched an eyebrow at her, then looked me dead in the eye and said "They say kids pick these things up at home.." Ian didn't miss a beat, "Knew we shouldn't have bought that Carmen Elektra workout DVD..."
Sunday we met up with D's BFF Audrey and her parents for a morning at Epcot. We were understandably cautious after the last Epcot Debacle. I armed myself with our cooler full of GoGurt (D's new very messy but favorite treat) and a diaper bag full of snacks and hoped for the best. Things did not start off promising, with D throwing a tantrum over sitting in the stroller AGAIN. The promise of Nemo and "Audreeeeey" finally pulled her around. We may be forever obligated to start our Epcot days from The Seas from now on. The girls had a great time chasing each other around the fish tanks.
We split up for lunch (Ian and I are very attached to the San Angel Inn). D was engrossed in my phone and wanted nothing to do with sharing my lunch. Until it was gone. Then she wanted the chips. She kept trying to dip her chips into the very spicy salsa. It took a lot to convince her that was a bad idea. We met back up with our friends for a quick ride on the Maelstrom. By then it was early afternoon and everybody was ready for a nap.
Three days later... still ready for that nap...