Adults are only kids grown up, anyway. -Walt Disney
I can recall a conversation with a coworker (who has a 4 year old) while I was still pregnant. Teaching at a film school, all conversations inevitably return to movies. Matt told me one of his favorite parts about being a parent was getting to go back and revisit his favorite movies through his son's eyes.
Growing up we experience a tremendous loss that most of us never consciously recognize or mourn: our sense of wonder. I keep returning in my head to a quote from Knocked Up that particularly resonated after becoming a parent myself.
I wish I liked anything as much as my kids like bubbles.
I've never had difficulty finding my inner child when it comes to movies, but all the rest? The kiddie coasters? The princess dress up? I can't even remember a time when I was into those things. I was the kid standing on her tippy toes to go on the grown-up coasters, the kid who wanted to go on roller coaster vacations.

This gem is from my first and, up until my pregnancy, last trip to the Magic Kingdom. It just... wasn't my thing. Even at seven, I was all about the THRILLS and uninterested in childish "magic."

Longtime Universal Passholders, I poopoo'd the Disney Passes (largely because of the comparatively exorbitant cost). At some point my friend Jackie got through to me, probably when she told me that Disney was their escape with baby, because "We could go there, and no matter how much of a jerk our kid was being, nobody looked at us twice." Challenging kid that needs constant entertainment? SOLD!

Our first few trips with D were all we hoped: flashing lights and colors, animals, distractions, half a day killed, sleeping happy kid. Magic Kingdom has a particularly large quantity of rides geared toward ALL ages (I was ready to just walk around and look at stuff, who knew almost every ride at MK was safe to take a baby on your lap?).
More recently, D has finally started to have an attention span large enough to watch some Disney movies. Nemo has become a particular favorite, and seeing D react to her favorite characters on the ride at Epcot was pretty remarkable.
My general feeling when it comes to the characters that walk around the parks is usually to look at them, then feel a tremendous swell of pity for the poor people stuck inside those giant fur suits in Florida. I heard that the most hated suit is Baloo the bear, that when the actors first put their feet in, the bottoms squish from the puddles of sweat that accumulate. That's not to say I'm not above the occasional photo op. On a recent trip, I truly fangirled out over Stitch (who, seriously, made my day). We hadn't previously considered bothering with characters for D because 1) lines, OMG the lines and 2) D didn't really know any of the characters.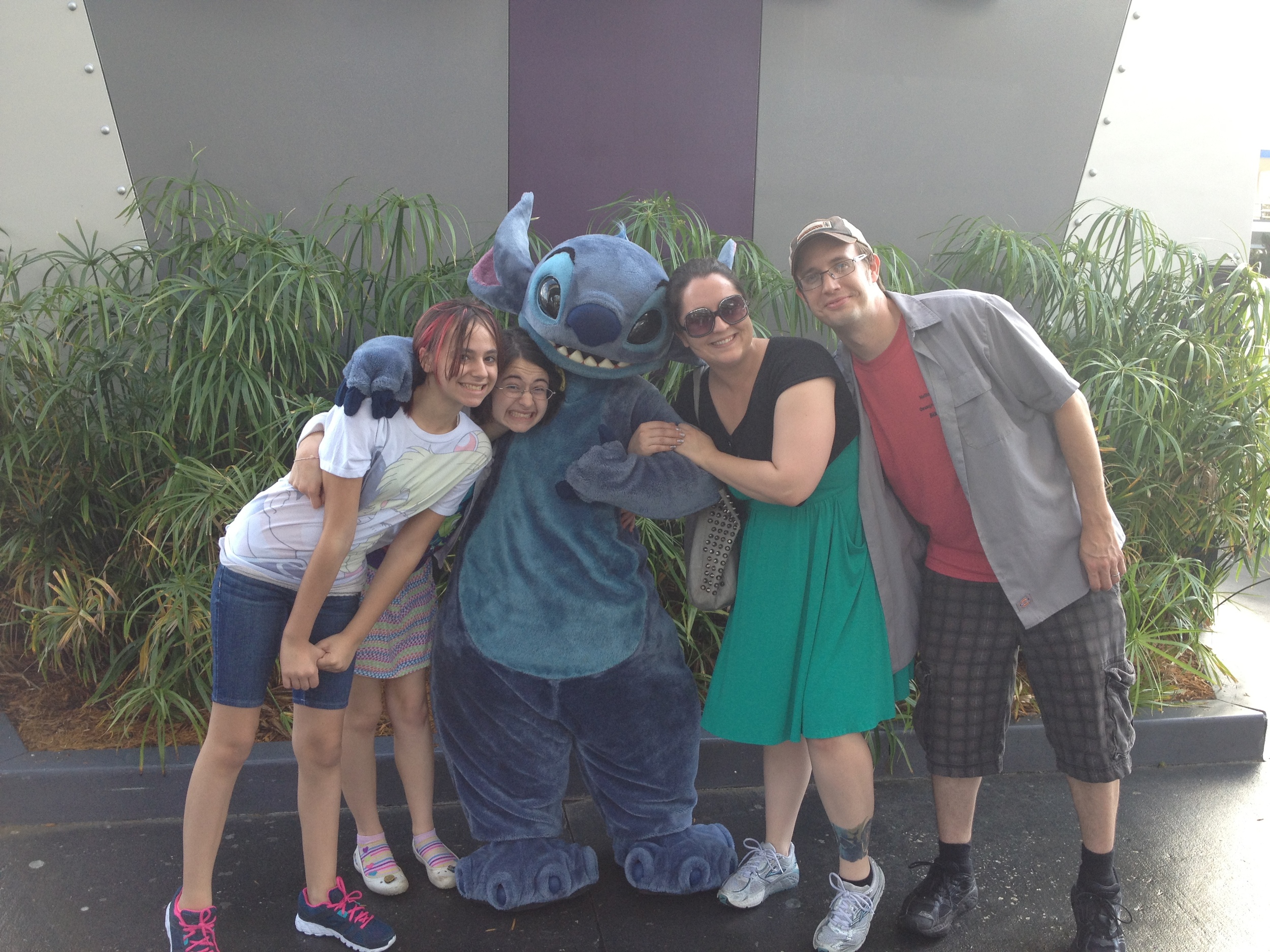 D has developed quite the attachment to Mickey Mouse Clubhouse; it comes on Disney Jr right before bath time and she LOVES to solve the puzzles with the characters and do the Hot Dog dance. Friday night, before our most recent trip to Disney, D was DEVASTATED that there was no Mickey Mouse Clubhouse before bed (Cinderella? Oh HELL no). So that night, while doing our first advanced fast pass planning, I found myself debating the option of getting a fast pass for a character meeting. Sure enough, there was an opening right around noon to "Meet Mickey Mouse at Town Square Theater." It was close to the exit, and right around the time we'd probably be ready to leave anyway, so I signed us up.
I had NO. IDEA.
We arrived when D was starting to get tired for her nap, so thank heavens for Fast Pass because there's no way she would have survived the 40 minute posted wait. This character meeting took place INSIDE the theater, so my sweaty costume guilt was assuaged. The set up for the photo op was that you were backstage at Magician Mickey's theater; the hallways and walls were decorated with old-timey show posters featuring Mickey and friends. The Mouse himself was nowhere in sight. As it turns out, the specific meeting room is isolated, so that only ten people are ever in the room at one time, making the experience seem much more personal. Disney had me feeling that I was some V.I.P. going back stage to meet a rock star. Not far off, as it turns out.
The moment we entered the room, and D got her first look at Mickey peeking around a few other kids, it was ON. Her jaw fell open in IMMEDIATE recognition; it was more than I ever could have imagined. From there it was a waiting game as the 2 or 3 families ahead of us got their turn. Taking in the scene, it was my turn to let my jaw hit the ground.
This was no ordinary Mickey Mouse.
This Mickey's head was fully animatronic, complete with blinking eyes and a moving mouth. The actor VOICED Mickey, so each kid got to have their own personal conversation with Mickey. I'd say they let each kid get a full 1-2 minutes of time with Mickey, no pushing the kids through for the quick photo op then out the door (COUGH MEGACON COUGH). I got a little overwhelmed, honestly, with the magic that.... I mean... It's Mickey. It was so easy to dismiss that this was an actor in a suit, because I could SEE Mickey, I could HEAR Mickey. I found myself listening in on some of the other families' experiences while we waited.
A little girl was dressed as Rapunzel. When it was her turn, Mickey turned to her and exclaimed "OH, Rapunzel! I'm so glad you could come! I've been so excited for your visit!" A peculiar tickling sensation started behind my eyes... "Rapunzel, would you mind if I took a photo with you?" (So clever, Mickey asked all the kids for permission to take a picture with them, as if they were the rock stars, BRILLIANT). "I'm just going to kneel down next to you here, as if I was your prince!" Choking, I'm choking now, I can't even stand the cuteness that's happening in front of me.
Finally, Mickey was saying his goodbyes to the family in front of us, while D clung to my hand with huge eyes. The MOMENT Mickey turned to face us and D saw there were no more obstacles, she CHARGED him. Ian got the moment on video. You can hear Mickey saying goodbye to the previous family at the beginning.
You can also just barely hear me saying "OH GOD, I CAN'T!" After the initial tackle, she seemed to realize that this was a new person that she didn't know, and she turned around to grab my leg for a second. A SECOND. Then she went right back to tackling Mickey. It should be noted that, although not shy, my daughter does not embrace strangers; she takes her time to get to know somebody. Mickey, apparently, got to FastPass that wait and go straight to the Hug zone.
Mickey went on to have a little conversation with D like they were the only two people in the room; he talked to her about his friend Donald, and how he likes to stomp his feet (he demonstrates, D follows). After a few more hugs, we took our photos. You might have noticed me handing my phone over at the beginning of the video: Disney has multiple staff in the room, one of whom both wrangles the crowds but will also take pictures for you on your own camera/phone. There's also their professional photographer, taking the overpriced pictures, and no doubt they will come out better (I coughed up for two of them, $15 each for a DIGITAL DOWNLOAD. Ugh. Nobody said magic was cheap). Still, it's a nice touch and you don't get any pressure to buy the photos.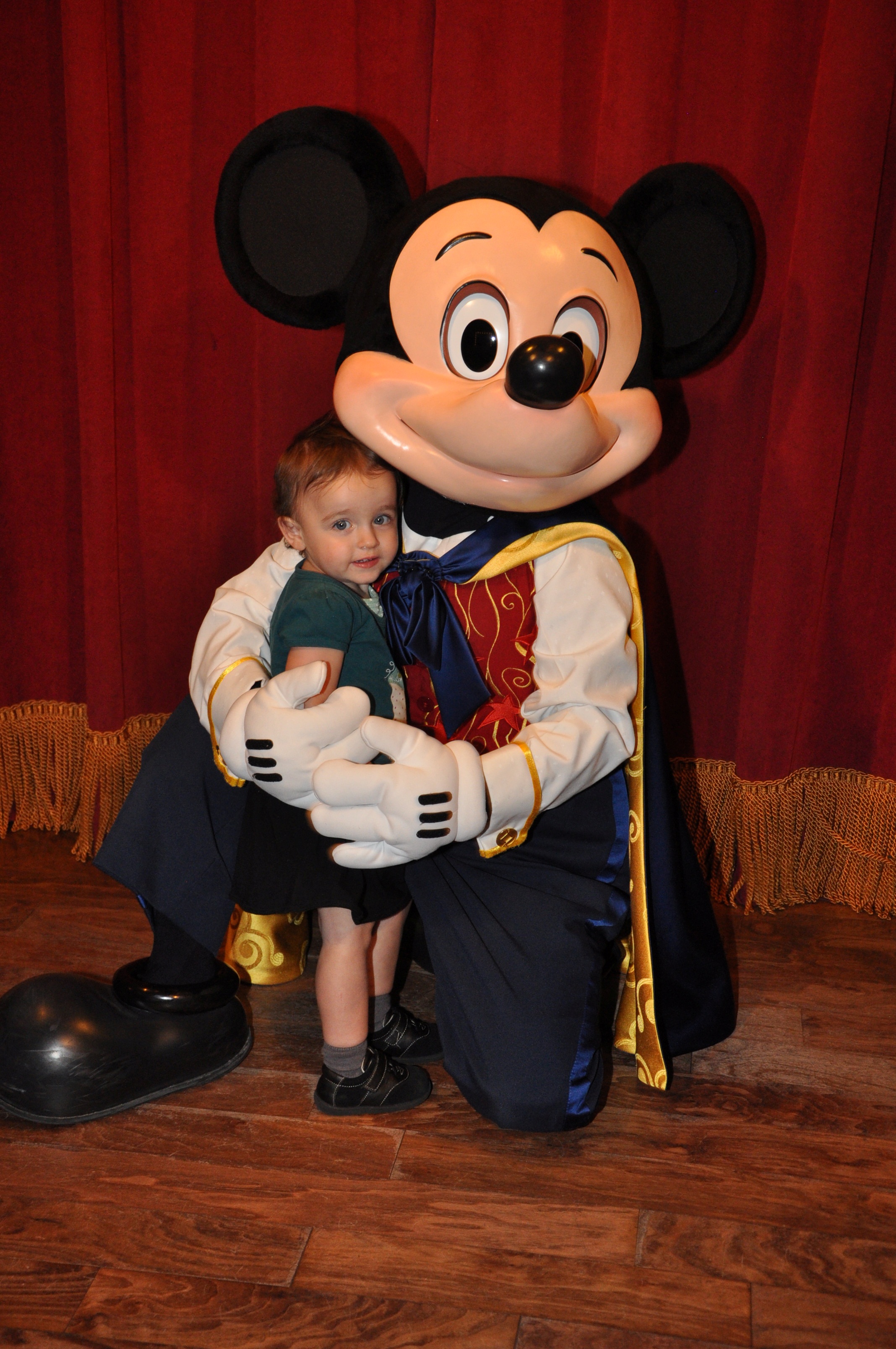 We said goodbye to Mickey and got dumped out into a gift shop (of course). Daphne went straight to the stuffed Mickeys and started hugging. She wouldn't put him down. We kept walking around the store, and let her see other stuffed animals, Minnies, Donalds, Goofys, she hugged them all but she never put Mickey down. Clearly he was coming home with us.
Another great touch? While checking out, not only did the cashier not even try to separate D from her Mickey, he brought out a pair of scissors and offered to cut the tags off for us before we left. Little touches. Very nice.
More nice touches? You're given a photo card that links to the pictures the photographer takes, and you can access them at the park and make prints/ purchases OR you can go home and link the card to your My Disney Experience cart, view the shots and order/not order at your leisure.
We've had fun at Disney before, but this was our first sample of the "Magic" that Jackie has told me about. I'm 100% hooked. I'm already planning taking D to meet Mike Wazowski and Sully from Monsters, Inc. on our next trip (her other favorite movie).