Sometimes my kid is a jerk. So we wrap her up like a burrito and let her throw a tantrum while we giggle and call her a cute little baby burrito. Doesn't she look adorable? Not like a total jerk, throwing a tantrum?
D used to understand and use yes and no appropriately. Lately all she does is NO. She leads me to the pantry, and I start going through items one by one, offering them to her. "No. No. Nooooo. Nuhnuhno. No." Kid, there is NOTHING left in the pantry, you must not be hungry. "Unnnnhhh unnnhhhhhh" (followed by urgent pointing to the shelves of the pantry. Finally I have to try and read her mind (she's clearly pointing at the olive oil but I KNOW she doesn't want that, and take a stab at offering her something. Sometimes, I'll offer her some crackers and in the midst of "Nuhnuh.... shankshoo mahmeee." Then she toddles off, happily munching her MumMums. Sometimes it doesn't work and she pitches a fit. BABY BURRITO!
This weekend was chock full o' Ian's family. Ian's cousin, David, came to visit Friday night/Saturday day. We all went to the Central Florida Fairgrounds for Repticon Saturday morning. D was reasonably interested in all the critters (especially the TURTLES). However, I have no pictures of any of this, because she was being a turd and demanding I carry her around ALL THE TIME. I did get some fun shots of David and Ian swinging her on the way out to the car. If you click through the slideshow really quickly, maybe it will be like a flipbook?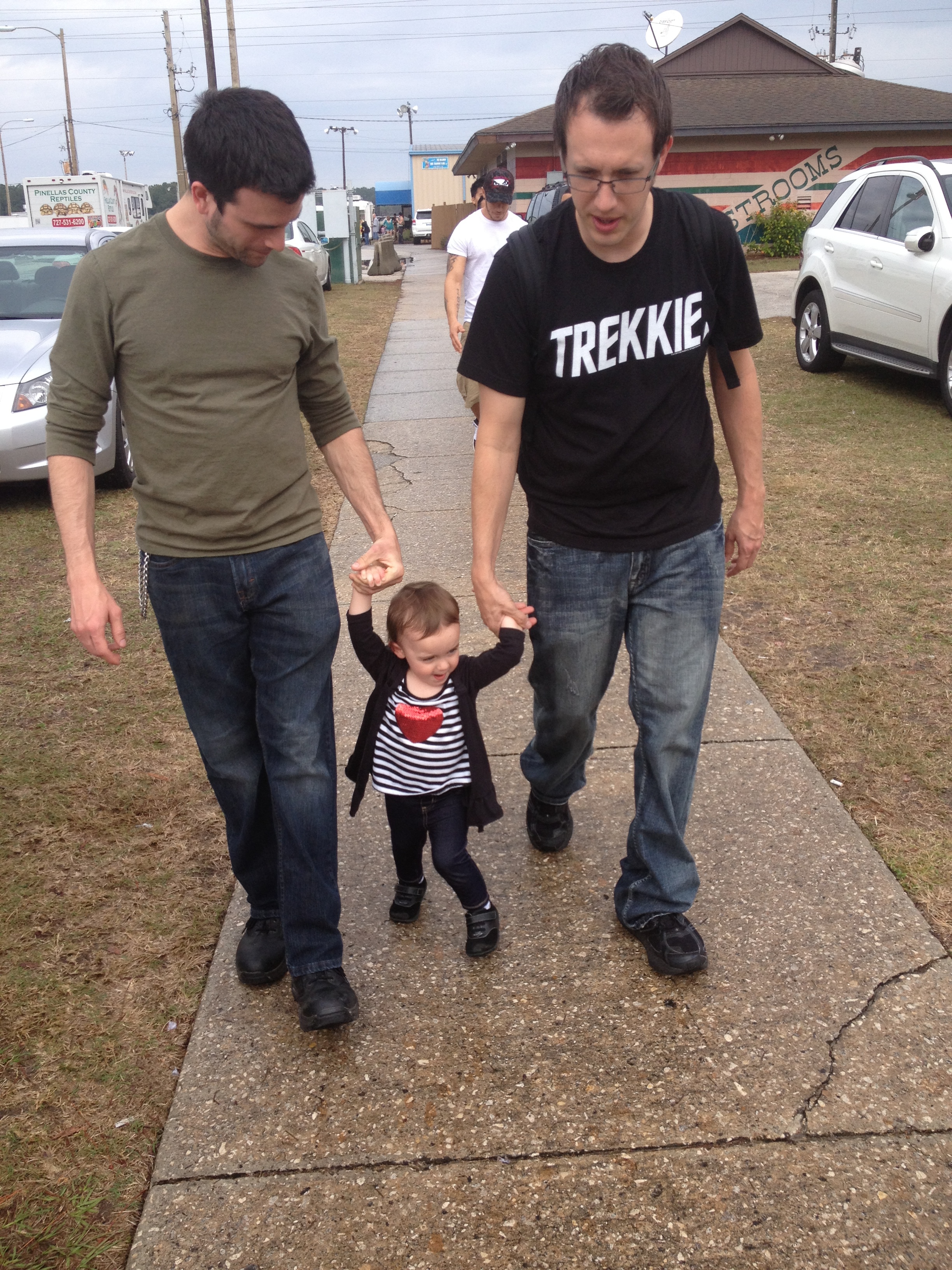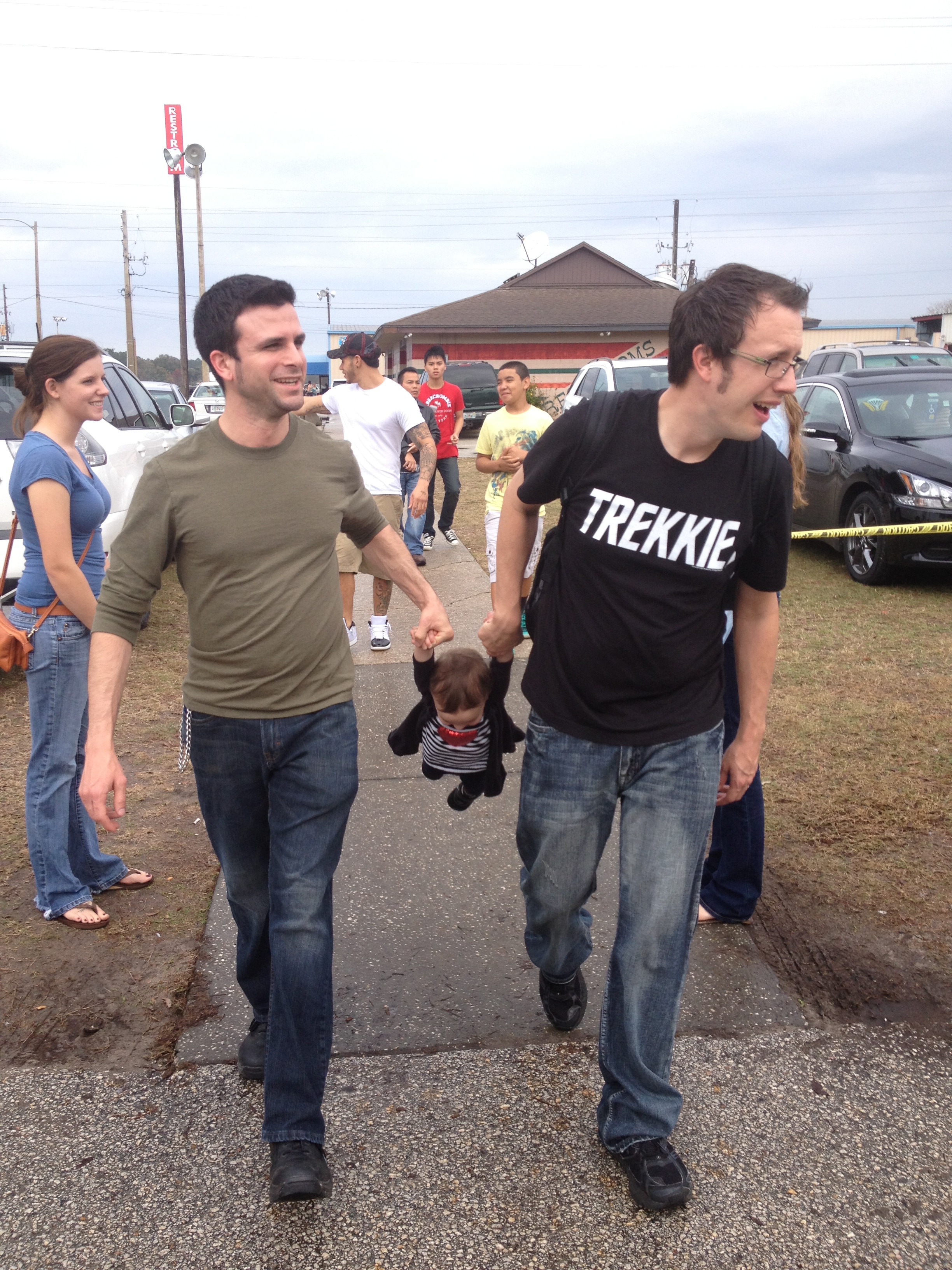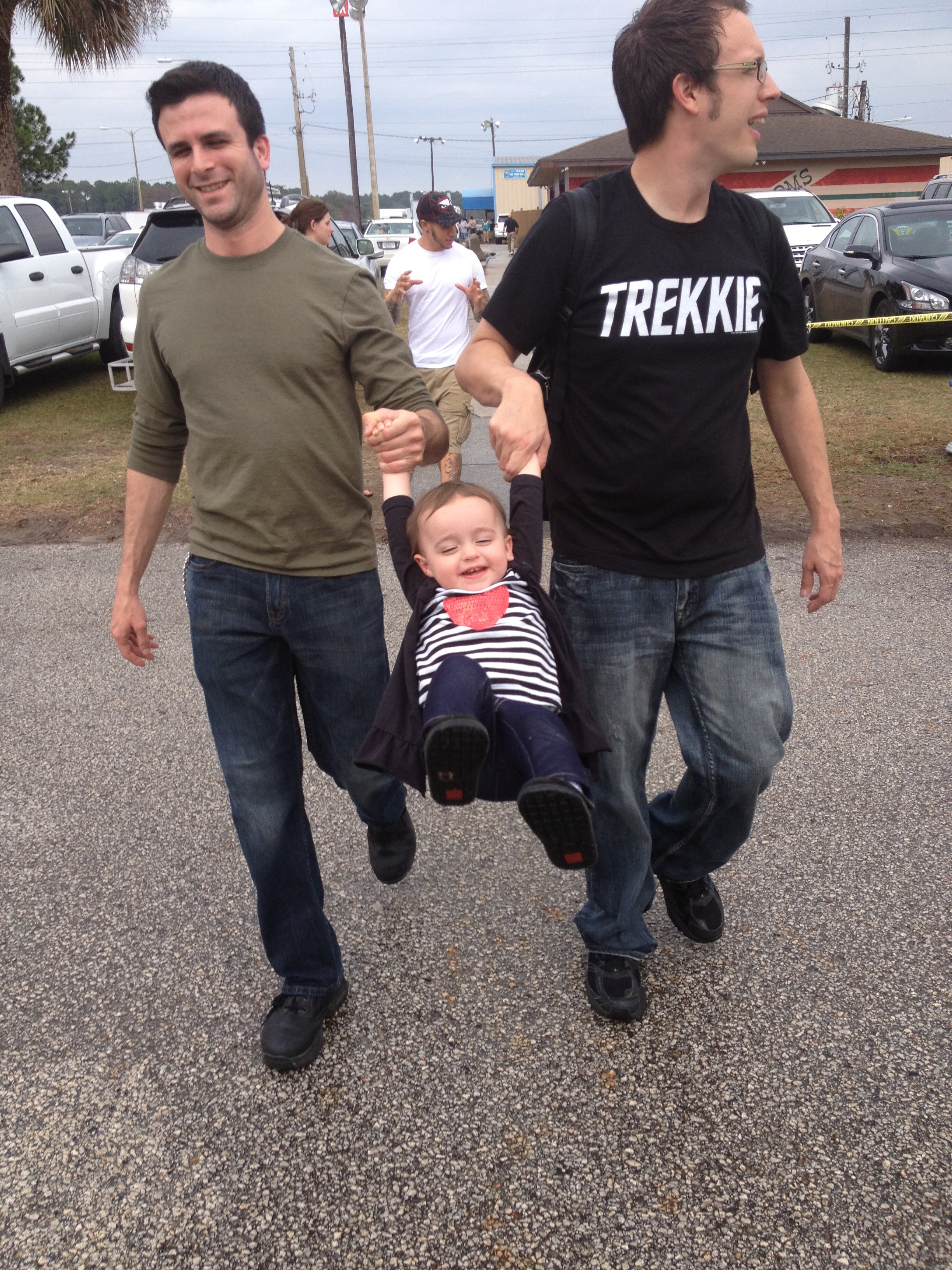 Saturday evening Ian had a work event at Oblivion Taproom (where else?). D got to catch up to Audrey. For once, Audrey was hell on wheels while Daphne was more subdued. Audrey kept running by Daphne (toward the bathrooms/kitchen/etc) and Daphne would scream at her every time she passed "AHDREEEEE! AHDREEEEEE!" Some former coworkers of Ian's were also there with their 3-year-old Tristan. Tristan is going to be a big brother in a few months and he's been polishing up his baby wrangling/herding skills. check him out in the awful dark cell phone video.
Ian and I took our nieces to Magic Kingdom for their Xmas Present on Sunday, so D got to spend the day at our house with her Aunt Shelley and cousin Aria to entertain her. Shelley was kind enough to take a few shots to share with you outlining D's adventurous day which included "naked time," bubble time, hot dogs and mac & cheese, and eventually a nap.
That's right, Daphne is a BIG fan of hot dogs. I'd brought home these all natural Johnsonville Brats for myself last week, and while enjoying one for my dinner D was giving it the hungry eye. So I cut off a chunk and let her try it. Then she kept whining for more. SHE ATE AN ENTIRE HOT DOG. I had to go heat up another one for myself. Tuesday night, we took D to Oblivion for another event and I was prepared with a cut up hot dog (and a good thing, the kitchen was so backed up for the unexpected AMAZING turnout for new Dead Lizard Brewing Company's tasting!).
Next week is the Peanut's (the blog, not the kid) first birthday! I'd like to say I have something special planned, but life is something that is happening TO me, not with me at the moment. In that spirit, I'll leave you with a selfie that Stitch took when he stole my phone from me at Magic Kingdom. Little troublemaker.