The Weekly Peanut, Issue 95
It's been a huge, busy week filled with experiments and new things. Fortunately, D was in much better shape than last week (behavior-wise).
Daphne's been super into pointing out Christmas lights to us in the car, so we were pretty excited to check out the Osborn Spectacle of Lights at Hollywood Studios with her. Friday night we headed that way. Lord save us from evenings at Hollywood Studios, for it is truly an exercise in futility every darn time. By the time we got there almost all the character meetings were shut down, huge lines for the Frozen sing-along, and ONE food service open that didn't require reservations. Ugh. By the time we finally got food and made our way to the lights, we were perhaps a bit grumpy.
At first D seemed pretty awed by all the lights. Then the music picked up and the show started. Terrified. She hid her face in Ian's neck and chanted "Too loud! Too loud!" So much for that. In the spirit of trying to have one successful venture that trip, we went to visit Sorcerer Mickey for the first time on our way out. That, at least, was fun.
Saturday Ian worked, so it was a Mommy-Daphne morning. We tried to check out the Winter Park parade, but parking wasn't happening. The nearest playground was Lake Lily. D really impressed me with how far she's come physically. She tackled ladders and weird climbing things that gave me a heart attack, she fell on her butt and dusted it off, and she finally let me teach her how to descend a ladder BACKWARDS (what a revelation).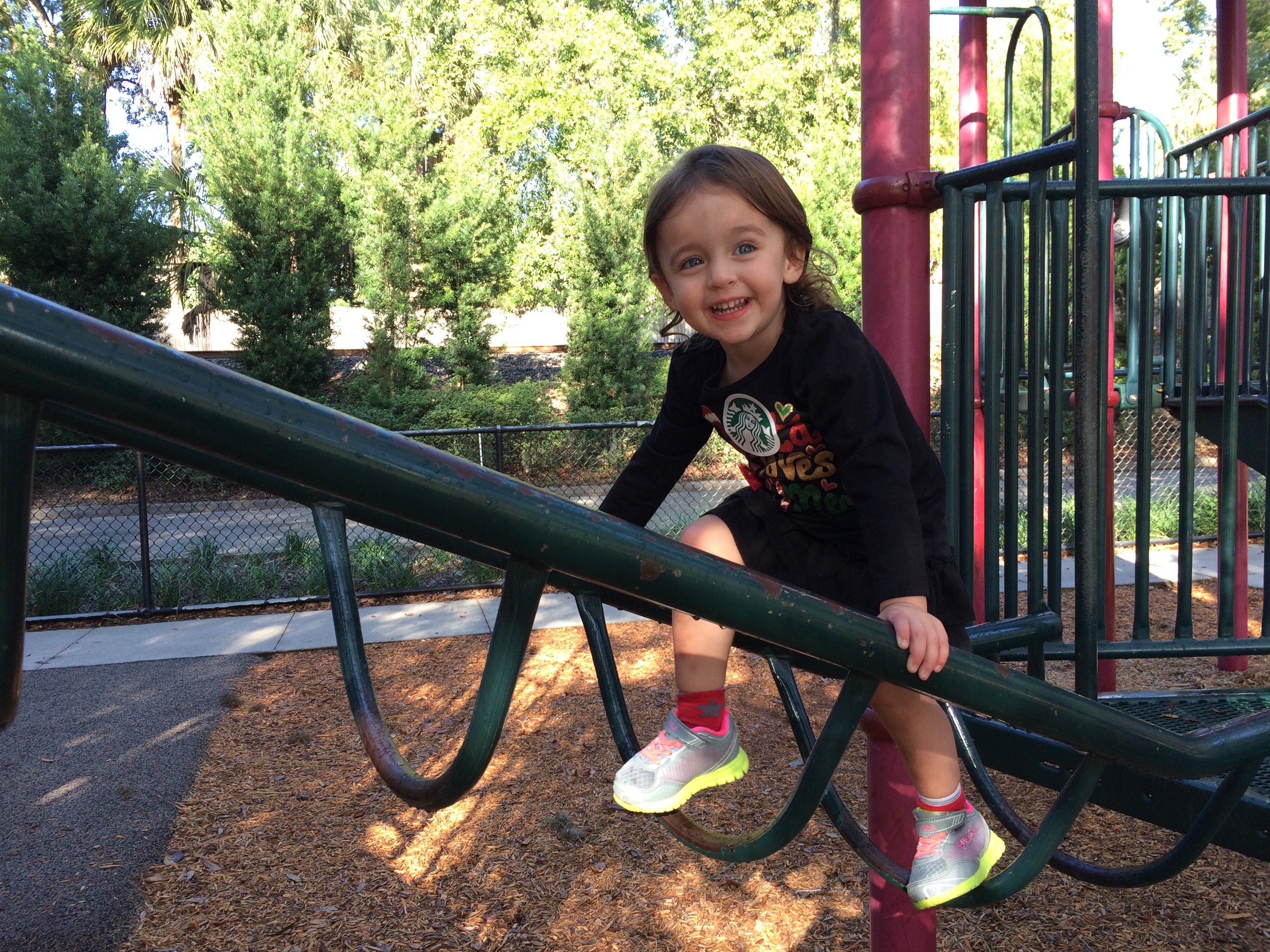 I was making a concerted effort to wear out my kid. I NEEDED her to nap that day. Why? We had tickets for a super special event that evening.
Katy is now responsible for taking all future full-length photos of me, because this is the most flattering image of me since my wedding.
It's distinctly possible I was more excited about this show than my kid. Admittedly I've been a fan since before she was born. I had at least 5 kids call me "Brobee" in hushed voices. We bought our tickets through groupon, knowing only that they would be in the front orchestra section. They were labeled row "CCC" seats 1-3. I figured this meant third row all the way to one side. I'd never sat in the front orchestra of the Bob Carr. When we were led to our seats, I was over-the-moon. Yes, they were third row, but the first few rows are all on a slight curve. This meant that our seats had none in front of them. I could reach out and touch the stage if I wanted to. They also didn't sell any seats in the front row, presumably to leave room for kids to gather in front of the stage.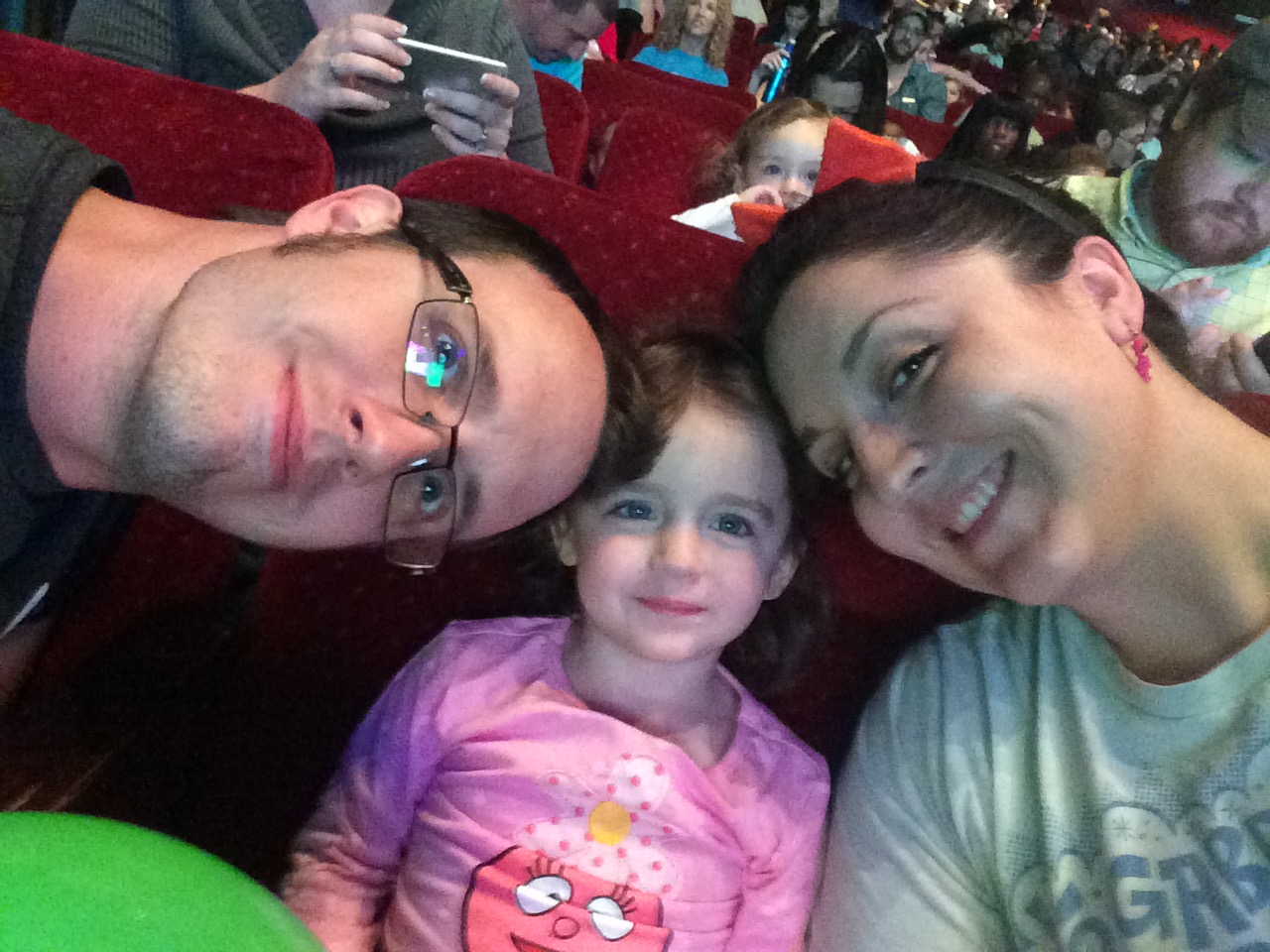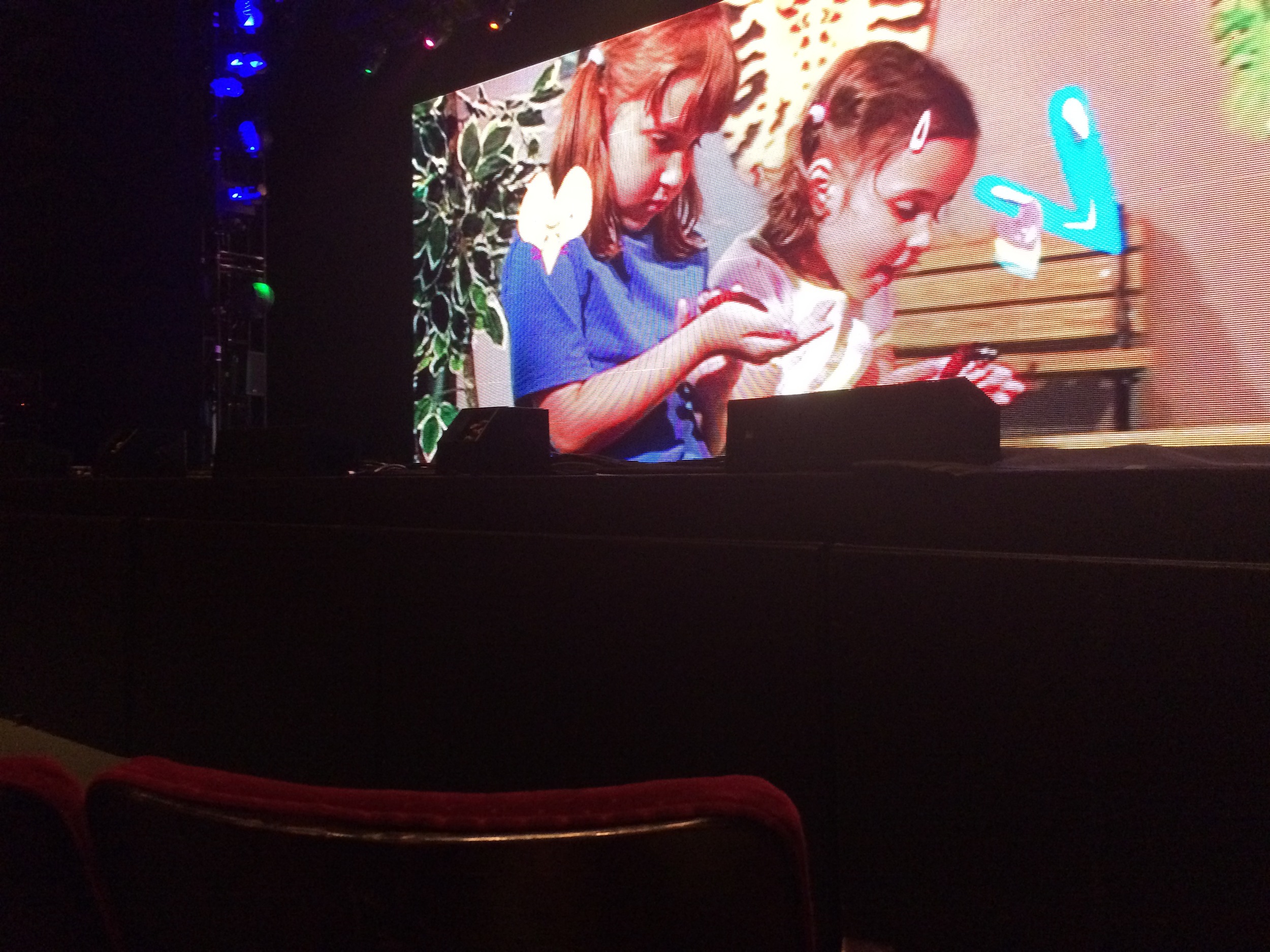 It should also be noted that Gabba knows how to handle a show for toddlers: they had cartoons up on the big screen until the show got started. I don't think D understood what was about to happen; Ian and I think she thought sitting there watching the cartoons was the whole thing. Oh boy, was she in for a surprise.
At first she seemed shell-shocked, there were some minor explosions and confetti. She had to compulsively clean up confetti before she could enjoy the show. Then the bubbles came, and she ditched us.
She found one of her friend's from school and kept trying to sneak in to sit with people as far away from us as possible (yup, already ditching her parents at concerts). She clapped along, she danced with new friends. Here she is clapping along with Biz's beat of the day.
I seriously can't tell you how amazing this show was. At the end the characters said their goodbyes, and Daphne got to get high-fives from Muno, Brobee, and DJ Lance.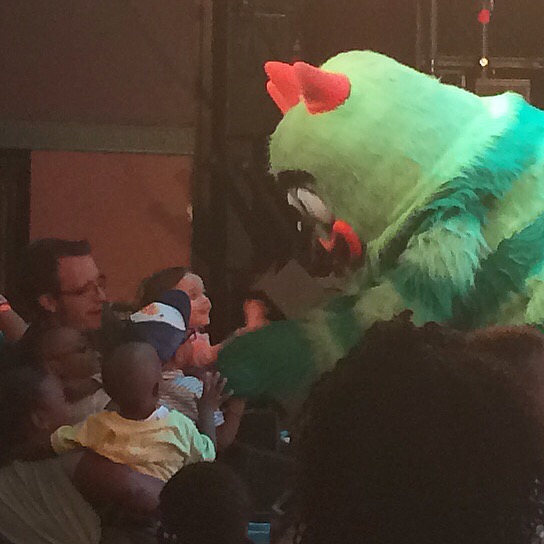 Even my husband agreed it was a pretty incredible experience. D was glowing, she is still talking about her "high fives" days later.
Saturday night was a big night at home, too. We FINALLY converted D's crib to a toddler bed. In honor of the big girl bed, I gave D one of her Xmas presents early: a big girl (Frozen) comforter to go with it.
We were ready for a battle, endless hours of putting her back in her crib until she fell asleep. Fingers crossed, knock on wood, so far our fears have been mostly unfounded. I know it could change, but D seems to be pretty content to hang out in her bed once she goes into it. Of course we haven't tried to do a nap in there yet...
A small tangent before I get started on our Sunday at the Magic Kingdom... a few months ago I stumbled on an instagram account that I fell in love with: the mother of a toddler was making incredible costumes for her little girl and then taking her to Disney to parade around and meet characters. My god, it's exactly what we do with our kid (minus the sewing, my talents do not lie in that realm). Then a few weeks ago she was featured on Huffington Post (come on, that Megara costume is EVERYTHING), and the rest of the world got to share in the awesomeness. I had no less than 5 friends show this link to me and say "ARE LANE AND DAPHNE BEST FRIENDS YET?! WHY NOT?!" Lane's mom saw the pictures I had posted at the Gabba show, she messaged me and said she had a Gabba outfit that Lane had outgrown, and would Daphne like it? ARE YOU KIDDING?! So we made tentative plans to try to meet up at MK Sunday.
Trying to learn from last week, I grabbed 3 princess dresses and shoved them in the car without asking for D's opinion. We dressed her in normal clothes, stuffed her full of cheerios, and hit the road with no drama. When we got to the parking lot, I asked D which she wanted to wear. To my surprise she finally chose her Merida dress (we've had it for months and she's never been interested).
It was then that I realized the dreaded Christmas Parade taping was going on. I thought I'd done my research and it would only be happening the 8th and 9th. Fortunately, it was only in the hub, so other than some navigation detours the only side effect we saw was reduced crowds in the rest of the park. It gave us the opportunity to stop by and give our gift to one of my all time favorite characters at the parks.
Leaving Tomorrowland D got a glimpse of her new favorite thing: the Speedway. No FastPass plus long line? I put her off with a "maybe later, Peanut." I've been wanting to try to take D back to see Merida for ages, but her line is always ridiculous. Still, D finally had the dress on, I had to try my luck again.
Oh. My god. NO LINE. At least not outside of her little area, only a few people inside. I don't think I've EVER seen that happen. THANK YOU PARADE TAPING!! Hubby had never been to see Merida, either. I waited in the short line while D colored with Daddy.
At last we greeted Merida. D, always so fond of showing off her cameos, was very excited to show off the Merida cameo to Merida, especially since when you push on it MERIDA'S VOICE COMES OUT. Merida is hilarious, she leaned in to hear it then said, "Well, you know, it's cause I don't sing, they had to let me talk. Sometimes they say I talk too much. Oops." One of her attendants piped up, "Oh, Merida, you should sing more!" "Ohhhh no, trust me, nobody wants to hear that!"
Merida really is adorable. I wish her line wasn't always so crazy long, because we always have so much fun with her. Speaking of new experiences, look what D finally got to do after meeting Merida!
At last it was time for our first FastPass, Cinderella and Rapunzel. There was a small back up even for the FastPass people. While I was getting my pile of Cinderella and Rapunzel photos out, I heard someone behind me, "MinkFlamingos??" OH MY GOD, LANE AND HER MOMMY!!! YAY! We were about to be separated to different rooms so we agreed to meet at the exit post princess time.
Cinderella was also treated to the dulcet tones of Merida.
Credit where credit is due: Rapunzel was the first princess who managed to do synchronized twirling. She and D had the cutest chemistry together talking about Rapunzel's hair flowers and laughing together. Then as we were saying goodbye, D said "Thank you, Rapunzuhh." Oh, my god! That's the closest she's ever come to saying the name, and I told Rapunzel that. She nodded sagely, "Yes, I usually get Punzah or Punzie." D usually calls her Flowers or Punzel or some strange amalgamation of those two words.
We plopped down on some seats at the exit and D started asking for food. Yeesh, kid it's, like 10 am, really? "SNACKS!" Oy, the snacks demands continue. Before I could scrounge anything up, our new friends joined us.
And they came bearing snacks. Lane's mom, Jennifer gave D the awesome Gabba outfit she'd made, with a matching purse and Brobee keychain! I think D would have put it on that minute if she weren't so distracted by the goldfish her new friend was so generously sharing. As for Lane, what can I say? She's a sweet, quiet little girl who loves Disney. She came up to me and pointed eagerly at my Maleficent shirt with a big grin. When I bent over to talk to her she gave me a big hug. Aw geez, my ticker. D was a little whiny due to the hunger, but Jennifer assured me that, despite what gets posted to instagram, Lane still has her moments. It's always nice to know your toddler isn't the only one that goes into Beast Mode. The girls climbed up onto the little stools for us to take their picture...
And got interrupted by an exiting princess for an impromptu princess pow wow.
Lane tried to teach Daphne a new princess pose, "The Sleeping Beauty."
At that point we went our separate ways, but we are hoping to meet up with Lane and her awesome family again in the future for more princess adventures. We were all getting hungry so we decided to wander toward Pecos Bill and mourn the loss of our precious Taco Salads. Then Ian remembered that supposedly the "Tortuga Tavern," if open, would have them. We found the Tavern, it was open, and they had the salad. Among other tex mex offerings. And a topping bar. YUSSSS.
I am brilliant and remembered to take D out of her dress before the meal started. D opted for a PB&J, which she actually ate, as well as her applesauce. We went toward the Jingle Cruise, but once it was in sight D was all about the [Swiss Family Robinson] "TREEHOUSE TREEHOUSE!" Oh well, at least it's not an attraction with a huge line.
On our way to Main Street to see the big man, we stopped by the baby care center to freshen up. D wanted to go "watch the movie" until she caught sight of the books, which she dove on. When we tried to separate her from the books? Cue the first (and, believe it or not, only HOORAY meltdown of the day). We probably wouldn't have even had to escalate to time out if she hadn't swatted at Ian when he took the book away from her. In the end we were able to get her to turn it around and apologize by letting her know we'd leave if she didn't. Ahhh, the power of Disney...
Our curse of non-talking Mickey came back. D doesn't seem to mind.
How to con your parents into buying you new shoes at the parks: put on your regular shoes and wear them normally, then halfway through the day start whimpering about how your feet hurt and let your parents discover that you have, indeed, had a foot growth spurt and are in need of new footwear. I'm so sad to retire her light up princess shoes from my friend, Jessica; they were our official WDW footwear for the past few months.
We'd used our three FastPasses so we decided to take a stab at booking a fourth FastPass for (hopefully) the Speedway. We were in luck: a window 20 minutes later. Perfect for a quick jaunt on the People Mover.
I got to drive D this time. I have exactly one picture while trying to steer that completely screwy little car between ramming into the rails without actually looking where my phone was pointed.
NEW THINGS! Ian somehow talked me into the Teacups since there was no line. I agreed on the very strict condition that I would be subjected to no additional spinning from within the cup.
In the video you can see D having an absolute ball while I threaten to projectile vomit all over my husband if he keeps turning the ****ing wheel.
D saw Ariel's grotto and started asking to go meet her. I took it as kismet that there was only a 10 minute standby wait. D was quite taken with the sea shells this time O_o.
The crowds were starting to pick up for the Christmas Party so we called it a day. And a success. D really was a champ for most of the day.
PSSSST! PSSSST! No, I don't want to tell you a secret, I'm telling you D's word of the week. She think's it's hilarious to "tell secrets."
So there you have it, another jam-packed week in the world of Peanut. Next week is also sure to thrill with an out of town FROZEN birthday party to attend. See you next week :)