The Weekly Peanut, Issue 98 SUPER-SIZED HOLIDAY EDITION, PART 1
I officially need a vacation from Holiday vacation. You read the title correctly: not only is this issue giant-sized, but it is only part 1 of 2. It didn't work out for us to make plans with family, so Ian and I overcompensated. Clearly.
A tiny google search will inform you that Christmas and New Year's weeks are about the busiest of the year at the Disney Parks. And we've been to them 4 times this week. Because we are clearly insane.
We decided to take D to Epcot for Christmas Eve with no agenda other than to see some holiday lights. We parked at the Boardwalk to see their decorations before walking over to the world showcase. We took the opportunity to allow our well-behaved toddler to slip into her chosen ensemble for the evening.
We made our way to the World Showcase and saw a short line forming for Princess Aurora. "Short line" on Christmas Eve? "D, want to see Aurora?" "Yes." Alright, let's do it.
While waiting for the sleeping royalty to arrive, D went and made friends. These sisters were hanging out together, D marched right up to them and tapped them and said loudly, "HEY GUYS! HEY GUYS!" until they paid attention to her. Oh gawd, my pushy toddler. Be her friend, OR ELSE. Finally the royal lady arrived and D got to have her best Princes Aurora meeting yet.
Aurora asked D if she knew how to twirl. Gurl, please, let me show you how this is done...
And D taught Aurora the "Sleeping Beauty" princess pose from Lane...
We ate at the walk up counter in Morocco, which was pretty darn tasty. Then we made our way toward world show case, because D kept asking to ride "Spaship Errf." Despite our FastPass, it was SHUT DOWN. Yikes. We deflected D by taking her to the Seas and Innoventions where the "fire house" and Disney Visa photo op are. Ian and I were amazed to see NO line for the photo op, so why not?
Then, of course, we had to let D run in circles through the house. This little boy tried to share the chair with her. She kept saying, "No toucha me!" but then she'd giggle. Little flirt.
Spaceship Earth was still closed so we rode Figment. As we were leaving (and Spaceship Earth still hadn't reopened...) I remembered something near Figment that I thought D might be interested in: the bouncing fountains.
D was just as captivated as I'd anticipated. She probably would have chased the fountains all night, but Spaceship Earth reopened and that was probably the only thing that could have enticed her away.
Finally we called it a night and headed home. Even getting caught in the rain, D was pretty great the whole night.
Christmas morning I woke up early so I could intercept D before she saw the gifts in the living room. I hid her face and snuck her into our room until we were all ready and I could be in position with my phone to capture her grand entrance.
Yes, D had a Very Frozen Christmas. Santa was also too lazy to wrap his gifts this year, but D still had plenty of opportunities for the "opening" experience with gifts from her family. We were even able to Skype long distance with some of them so the present opening could be shared.
D got so many great gifts. Right now she's surprising me by fixating on her new toy monorail, box of Frozen board books and a new obsession introduced to her in her stocking...
Disney Tsum Tsums. Especially her Elsa Tsum. She wants to take it everywhere, and if she can't find it she'll call out, "Where my Elsa Tsum???"
We watched the Disney Holiday parade special on TV. We were kind of disapointed that there was... almost no parade. WTF? Guess we'll have to go to the parks to catch it...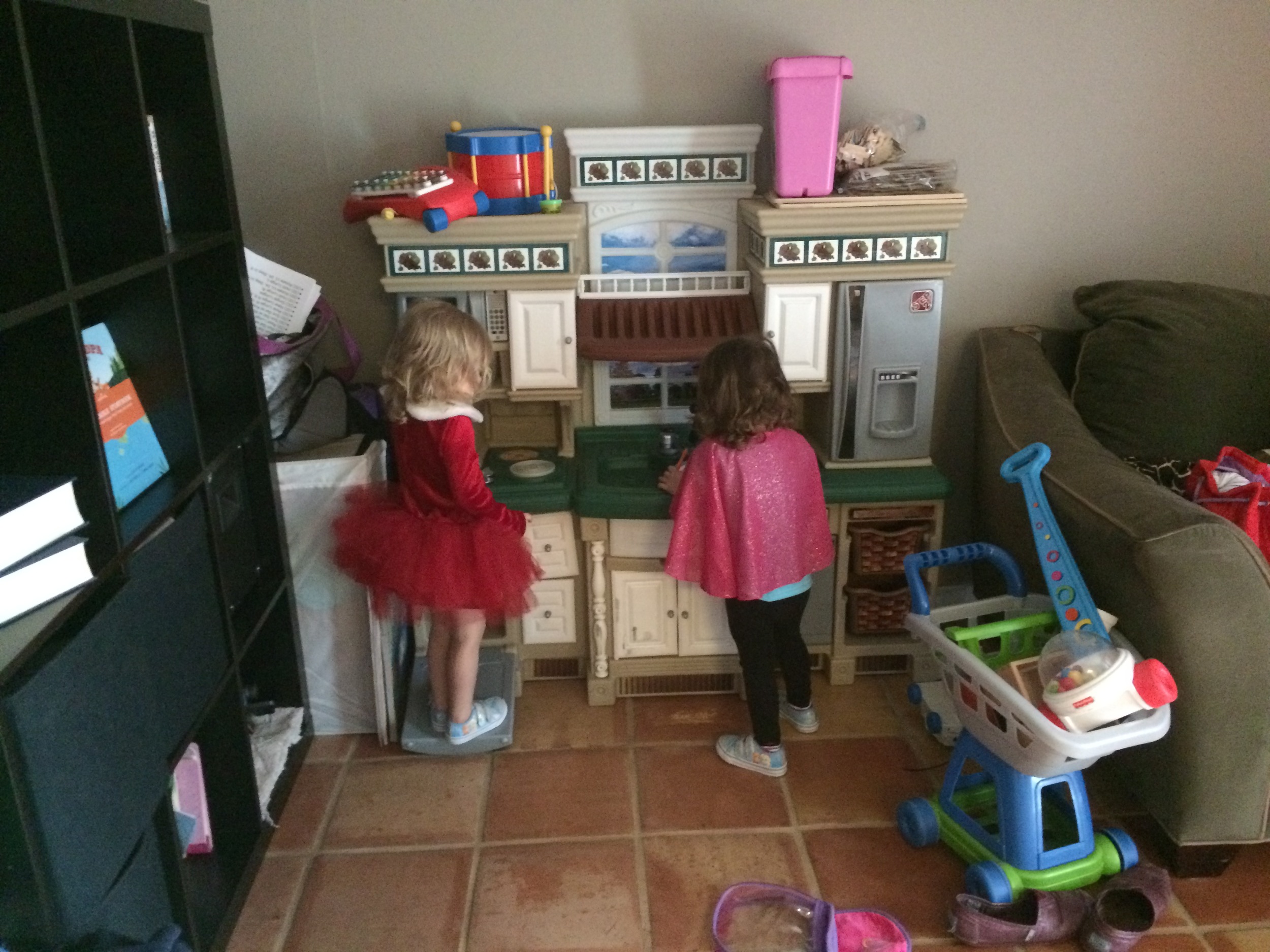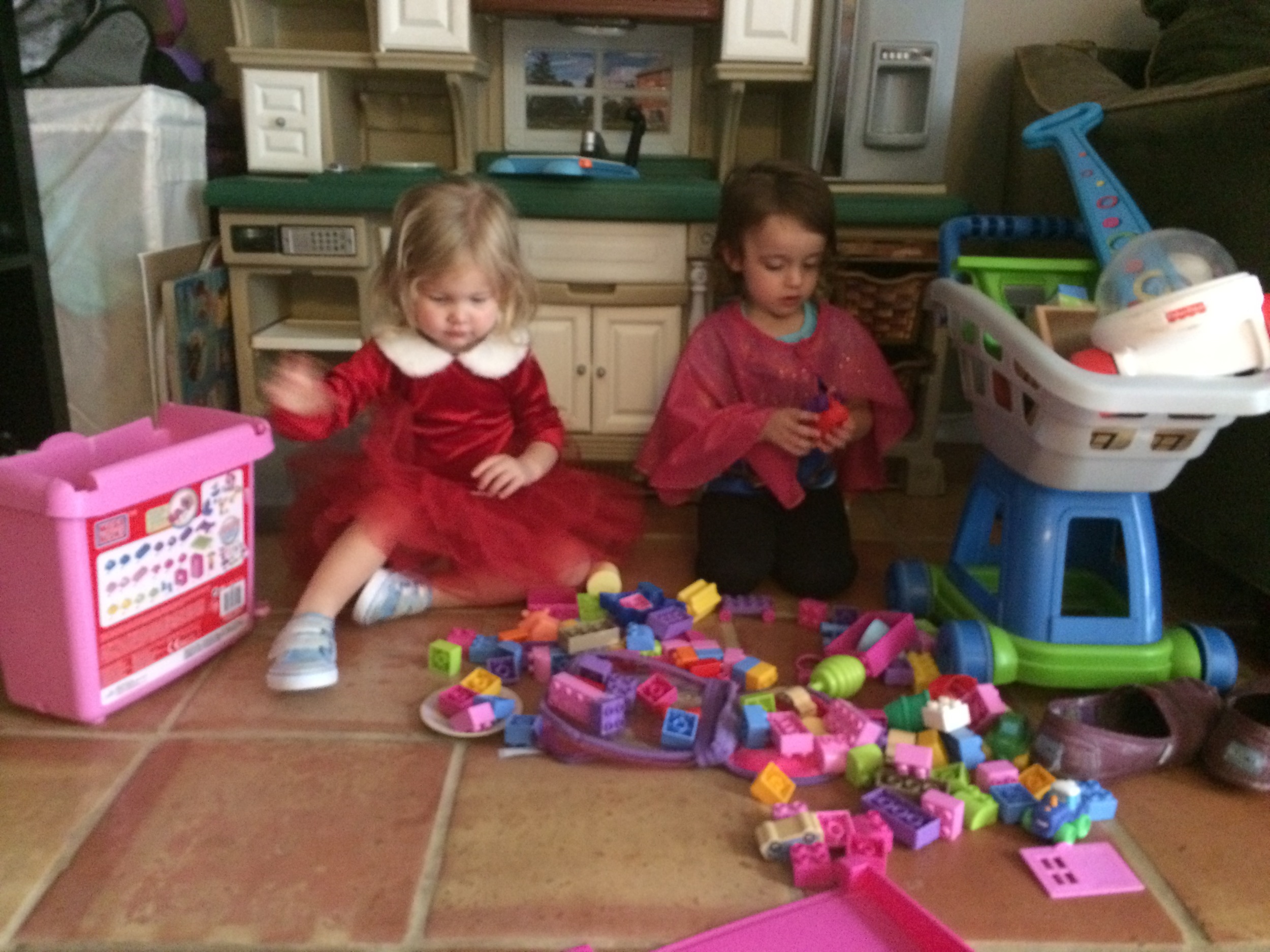 We spent the evening with our friends, the Widricks, exchanging gifts, eating dinner, and watching the floor show. That's right, D put on a show for the whole room. Whose kid is this?
Quite the soprano, isn't she?
On that note we draw the first half of the holiday week issue to a close. Happy New Year, readers! Come back Friday for more Peanut Adventures!