The Weekly Peanut, Issue 91
"Daphne, can we take a picture to send to Daddy since he's missing bathtime?"
OKAYYYY! CHEEEEEESE!
Confession: We are those people who don't throw out our Halloween pumpkin until it is rotten and shriveled, most likely a shovel is involved. It would appear D has inherited our inability to let go of holidays. She greets and/or hugs our Mike Wazowski pumpkin every day when she gets home from school.
JAM-PACKED NOVEMBER WEEKENDS OF DOOOOOM commenced this week. Friday night would have been relatively low-key, but Ian "needed to get out of the house" so we went out for a Park Ave adventure in Winter Park. I was mostly excited to break out D's new Minnie Mouse hoodie (Floridians be like OMG IT'S 70 DEGREEEES). Daphne loves a hood. Every time her hood fell down we had to stop walking and put it back up.
Saturday morning we made the long drive up to Mt Dora to meet up with Ian's Mom and Aunt for their 2nd ever Highland Games. After going to our local games this one was... very tiny. And a bit awkward to get to and park for... but we made it eventually.
We hung out and watched sheep and keg toss for a while. D would cheer if they made their goal, and shout "OH NO! WHA HAPPEN?" if they didn't. D started getting stir crazy, so we walked around and found THE BIGGEST PLAYGROUND EVER. Seriously, it was pretty darn cool, with plenty of equipment for different ages and physical development levels.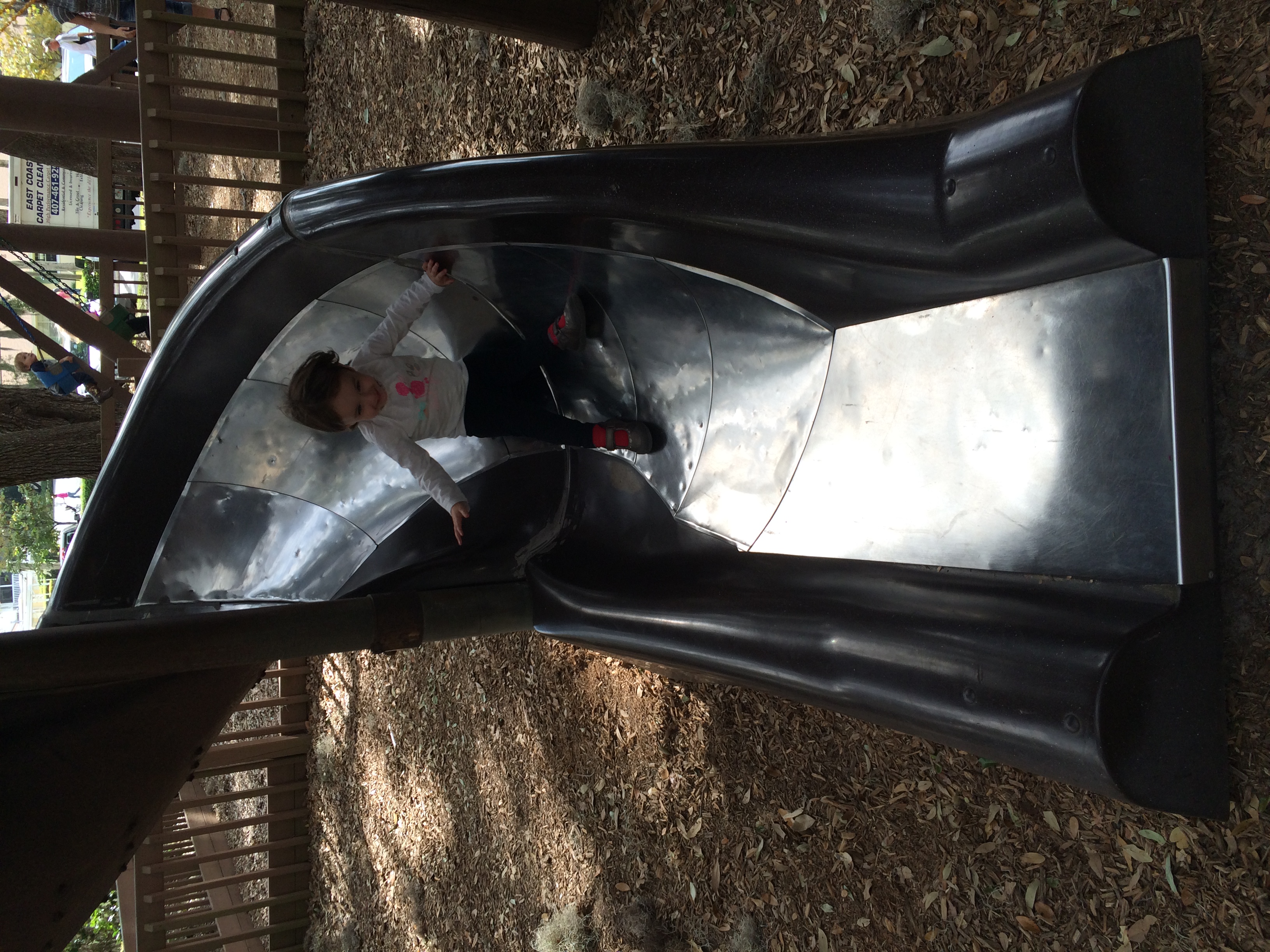 We finally caught up with Ian's family. On the way to lunch, D suddenly noticed all the leaves on the ground and started singing the Yo Gabba Gabba Fall Song. I'd share it with you, but Ian kept talking over her in the background. We ate at one of Ian's favorite Cuban spots in Mt. Dora. D polished off a GIANT order of black beans and rice.
Driving home D conked out pretty quickly. Ian and I were debating what to do for dinner, when we remembered our friends were having their annual "Drinking Around the Backyard" party (a la Epcot Food and Wine Festival). I'd been thinking we wouldn't go, but we ended up getting back in town in time to attend. So we ran to the grocery store and grabbed stuff for our "country" ('Murica). D had a ball at the Beaumonts fetching wiffle balls the other kids would hit and trying out Jack's drum set. I told her to enjoy it while she could, because there was no way she was getting one at home.
D had started coughing a little earlier in the day, but was otherwise not sick. Makes me think she has her parents' allergic leanings. Tucked her into bed a mere hour after her normal bedtime, then conked out myself in preparation for our last visit to the real Food and Wine Festival this season.
For the first time since the time change, I was not awaked at 6:30 am by my kid loudly chattering. I took that peaceful interlude as an opportunity to get all my ducks in a row for our day at Disney before heading in to get D started for the day. Fully dressed, I swung open her bedroom door and was greeted by... not a good smell. D was staring at me quietly, surrounded by (and, yes, honestly, a little covered in) puke. OY. It was not particularly fresh, either. "AW, Peanut, why didn't you wake us up? We would have come taken care of you!" Blink blink. She seemed blissfully unaware and unbothered by the carnage. I swept D into the bathtub while Ian did damage control on the bedroom. Tried to get D to eat and drink, she was reluctant. Finally she looked at me with big serious eyes, "Mommy, I go potty." Uhhh ok. Hustled her in. "Kid, you need to be sick?" "No, I go potty." Cue epic BM. Good lord. Thank goodness it was in the toilet. It explained a lot, though. D ate too much, got too tired, then yakked. Just like the last time this happened. We decided to take it easy to make sure D wasn't sick. 2 more poops and one Disney movie later, D turned to us and asked "Go Disney?" She'd been really excited all week, asking to go. "Kid, are you sure?" "Go Disney!" Ian and I shrugged, packed lots of extra diapers, and figured we'd give it a shot.
D picked her outfit (in case of further issues, we opted out of a Disney dress which are hand wash only). Despite the look you see, she was in good spirits and started eating on the car ride, so we were optimistic about our chances. I know, you all think we are nuts, and what were we thinking, but I swear she was acting normally and asking to go. If she hadn't started eating, we still would have said no... but... STOP JUDGING ME!
Starting our day later than normal, we opted to go straight to the world showcase and hit up our favorite booths before the crowds got crazy. D had no problem sampling our warm chocolate pudding from Ireland, thank you very much. When we got to Morocco, there was no line for Jasmine AND ALADDIN WAS WITH HER! I was OMG SO EXCITED. D was... not. She'd met Jasmine before, but not Aladdin. Here you go, proof that D isn't the consummate character-meeting pro she'd have you believe...

Nope. Nope nope nope. Aladdin was PERFECT, they were both super charming and tried their darndest to get D out from my shoulder but it wasn't happening. At least she wasn't screaming like with Mike & Sulley. I know what you're thinking, because it's what Ian said, "She's just not feeling good." Ahem. Cut to 19 minutes later...
Nothing like some quality Mulan time to turn around a grumpy facade. As soon as we walked away from Mulan, D has a one track mind "DONALLLL! DONALL DONALL!" D was on a mission, and so long as she was skipping merrily from China all the way to Mexico, we were inclined to indulge her.
Oh yeah, she's real sick. O_o D started calling for Nemo after that, so we made our way to the seas. We made a pit stop at the Baby Care center. It was there that I won the mother of the year award. After changing D, I brought her into the bathroom stall with me. I tried to open the stall door but it was stuck, so I started tugging on it more forcefully. Suddenly D starts SCREAMING. You guessed it, D had her fingers stuck in the door. OY. Seriously, I'd given it at least 3 tugs before she made a sound. I carried her screaming to the (conveniently, next door) first aid center, where we got the world's most gigantic ice pack. D carried it like a badge of honor, though. Still, it was good for plenty of Mommy guilt. Moving on...
Post Nemo we decided we'd pushed ourselves far enough and started making our way to the World Showcase exit. When we passed between Canada and England, I could not pass up the opportunity to check out Epcot character training. Neither could D, apparently.
D CHOSE to meet Mr. Smee first (despite her Captain Hook misgivings). No shyness here. Now I feel even worse for Aladdin and Jasmine. Yesterday night I was going through a Disney Princess book with D and we got to Jasmine and Aladdin's page. D, who's that? "Ahhhh, Jasmine!" Yup, and that's Aladdin. Remember, we tried to meet them, you weren't very nice. "Oh no... no can't meet them." What do you mean, D? Why not? "I too quiet." I'M NOT MAKING THAT UP. THOSE WERE HER EXACT WORDS. I choked. Anyway, back to Epcot...
FIKI! The longest wait was for Baloo the bear, but he's pretty hard to find other than at AK, and since the weather was so pleasant.. Baloo also insisted on pulling Ian and I in for hugs of our own.
Post Baloo, Ian and I were definitely ready to call it a day, but D started clambering for Princesses. "RORA!!! BELLE!" Well... France is right there... we'll check it out and see. Aurora wasn't due to come out for another 40 minutes. Yikes, no. Belle was out meeting, so we went to get into the line. The attendant informed us that those of us getting into line righ then would be meeting Belle at the NEXT visit, 35 minutes from now. Nope nope nope. D was rather crushed as we pushed that stroller out of dodge. "BEEEEEEEELLE! BELLLLLE! BEEEEEEELLLE!" Sorry, Peanut. I promise. Next time.
Since Sunday there's been no sign of digestive problems. That cough has been a little persistant, though. Bless our doctor, who gave me a prescription for Albuterol months ago with 3 refills and an extended expiration date "in case we need it." It has kept D (and, yay, us) resting relatively peacefully the last few nights.
This weekend is the wedding in Jacksonville. Oh lord. Pray for me. If there's no Weekly Peanut next week, it's because I've checked myself into Belleview.