The Weekly Peanut, Issue 86
My child is vibrant, hilarious, charming, kooky, and fun.
She is also (at least recently) a Bossy McBossypants teeny tiny dictator.
Maybe I'm just feeling a little burned out right now after watching my daughter's epic fifteen minute meltdown this morning that was triggered by getting shoes onto her feet that were both a) on the correct foot and b) appropriate for school (THE STRUGGLE IS REAL, PEOPLE).
Let's rewind, though, because we started out the weekend on a surprising high. Ian has been pushing to take D for Disney fireworks again for a while. I have been (I think, understandably) reluctant after our last attempt. A lot of time has passed, so I finally agreed to give it another shot. Ian booked a couple FastPasses, and we headed down to Hollywood Studios.
The car ride gave us an excellent display of D's bossypants behavior. Not only did she shush us if we attempted to talk, but she also kept telling Ian to "SLOW DOWN!!" (ahem, backseat driver).
We arrived with a few minutes to spare before our Frozen Singalong appointment. We let D pick out a treat at the coffee shop. D's definitely a fan of cake pops, so when she saw one decorated as Olaf? Nothing else would do.
Daphne recognized the Frozen singalong soundstage as soon as we were inside. She was VERY excited. The show started and D continues to be more shy about the singing than Ian or I, who know every word (we were not the only parents singing along at the singalong, no sir).
Apparently HS SHUTS DOWN after around 6pm. Seems kinda shady to me, since the park is supposed to be open until I think 9? But there were almost no character meetings and very few food kiosks open when we were there. We headed toward Fantasmic with D perched on Ian's shoulders. She'd finally found her voice (yes, AFTER the singalong) and was now belting out Let It Go (her version) complete with dramatic arm gestures for anyone who would listen (Ian and I are both kicking ourselves for not getting it on video, but trying to haul ass across a theme park walking backwards with an Iphone is just not something I'm coordinated enough to pull off just yet).
Turns out our Fantasmic FastPass was completely unnecessary (in case you're pondering needing one for your own trip). Fantasmic is in a giant arena with a TON of seating. We had a few questionable moments as we waited to see if we'd get rained out (and not just ON). The show started about 10 minutes late, and it was... literally (no really LITERALLY) everything. Fantasmic takes the kitchen sink approach to night shows and it has everything you can think might be in there: fireworks, pyrotechnics, water, light projection, giant animatronics, lasers, Disney characters, lighted barges, dancing, Princesses, and VILLAINS... oh also Dragons and cobras... LITERALLY EVERYTHING. D was a champ. She was definitely a little spooked by some of the louder points (not just the explosions, the show in general, even the music and voices, is LOUD), but she snuggled up in my lap and never took her eyes away from the show. Pretty much every Disney character from the animated lexicon shows up at some point in that show, and there's a LOT of villain content. Some of it is cheesy (an inexplicably long Pocahontas segment), but by the time Maleficent Dragon comes out? I was catching flies. A-may-zing.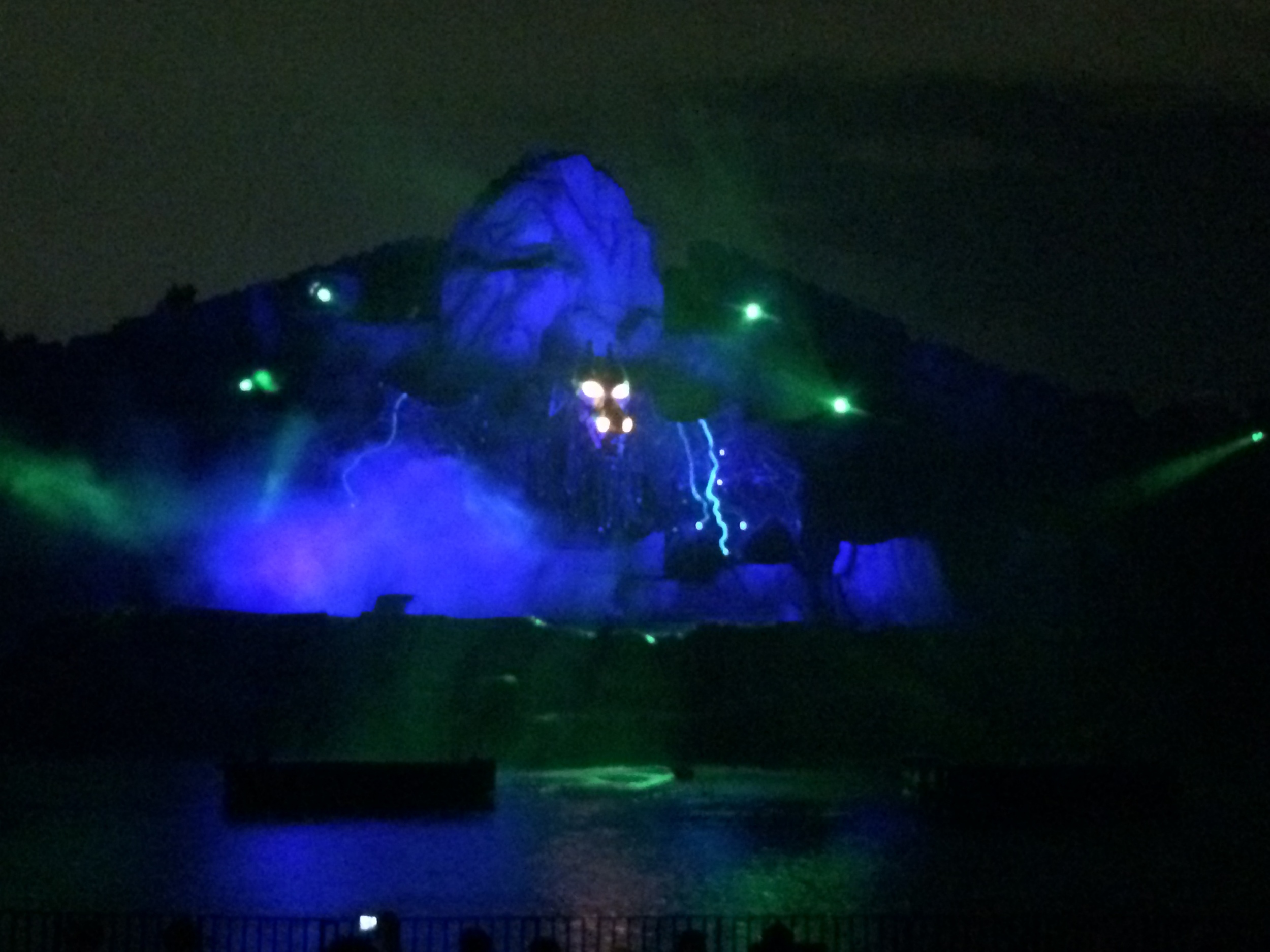 So here we are, it's around 10 p.m. (almost 3 hours post bedtime) and we're heading back to the car, and we've had ZERO meltdowns and almost no whining either. Ian and I are congratulating ourselves on a very successful night, congratulating D, high fives all around. D was a bit whiny when we got home and got her into bed, but it wasn't terrible.
D slept in a whopping extra 30 minutes Saturday morning (sigh). Speaking of shoe drama and bossypants behavior, D insisted on helping me put my shoes on Saturday morning.
We tried out The Bistro on Park Ave for breakfast (so cute, intimate setting, can't wait to go back). D told me she was done with her pancake, but she agreed to pose for this picture for TWP.
I wanted to swing by JCPenney to look for a Tick Tock Croc plush they allegedly had in stock. Things started out fine, D was deleriously happy picking out Disney toys, trying on Jake rainboots, and dragging suitcases all over the place. Finally the time came for us to check out and get D's shoes back on. Uh oh... I said shoes. Ian had the audacity to point out to Daphne that she ought to put her left shoe on the left foot. Tick... Tick... Tick.... TODDLER GO BOOM!
I heard the screaming halfway across the floor at the cash register, and I continued to hear it as it crossed the floor and went down the escalator toward the exit. Sure enough, when I met my family at the car, I was greeted by the continuing wailing Toddler siren. The wails were the soundtrack for the entire drive home. Ugh. Ian and I were having flashbacks to 6 week old Daphne screaming her head off every time we took a car ride. NO. THANK. YOU.
I went to work, Daphne refused to nap. It was with heavy skepticism that we approached stopping by Zombietoberfest at Audubon Park. D attended 2 years ago when she was still a tiny peanut, but we forgot to go last year. We hadn't seen D's BFF Audie for too long, so we all met up at the food trucks.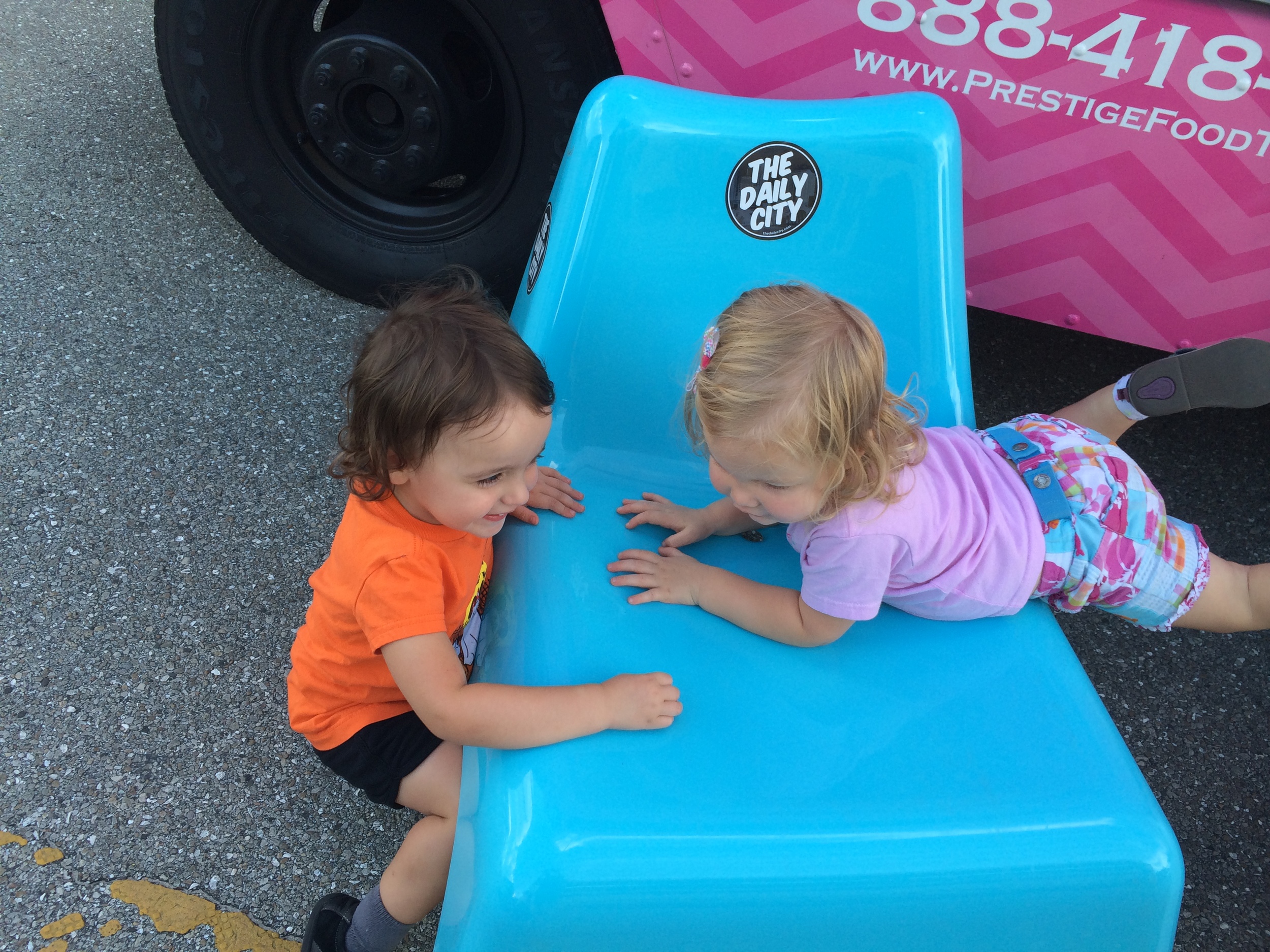 We took our tacos to Redlight Redlight and stuffed our faces while our toddlers disturbed the bar peace. Don't get me wrong, at first it was all darling toddler smiles and Yo Gabba Gabba on the ipad. That lasted about... oh... five minutes. Then toddlers do what toddlers always do when confronted with a wide open space: run around in circles. Katy was a champ and kept them from clotheslining themselves on tabletops while Ian and I inhaled our tacos.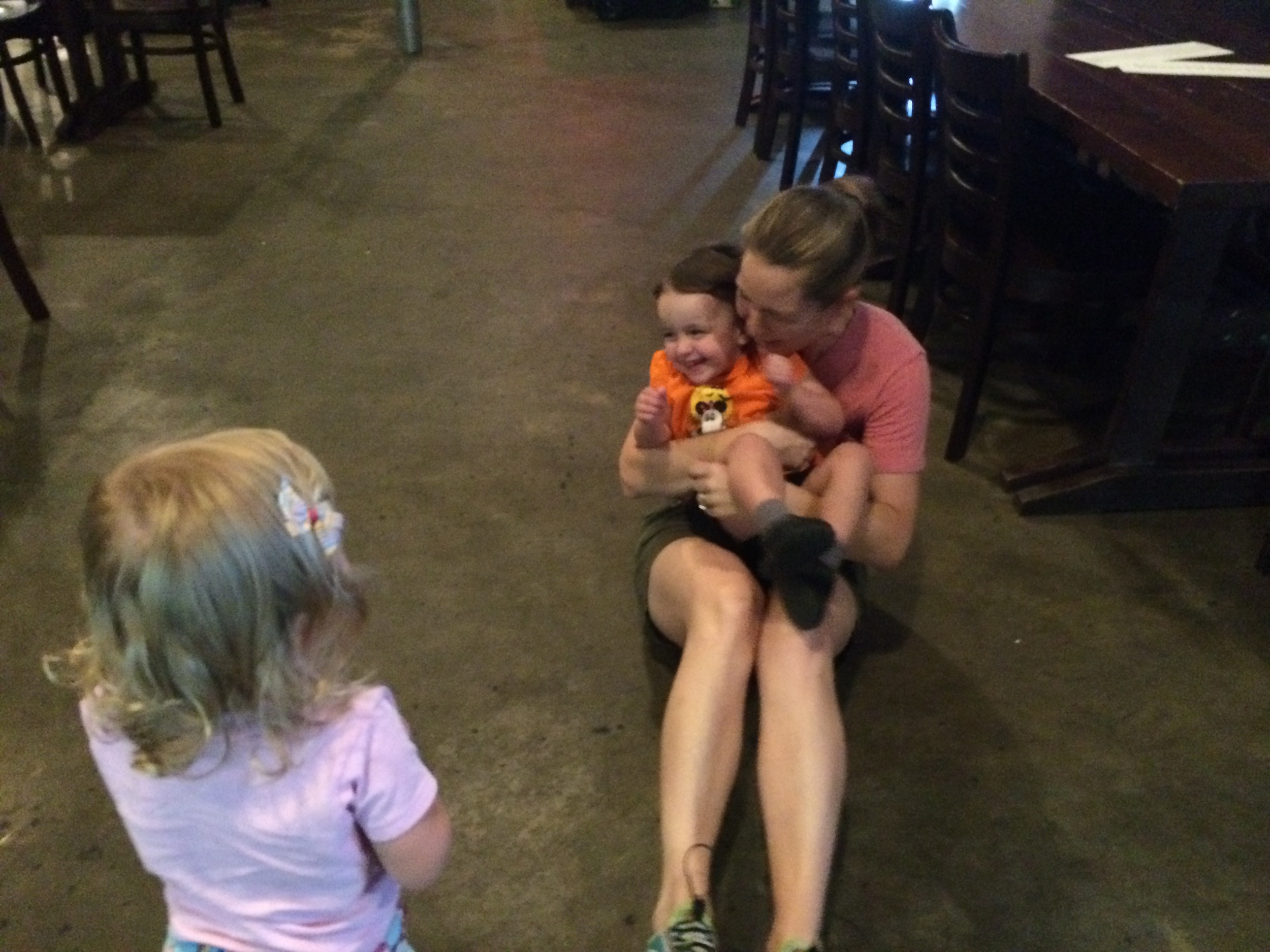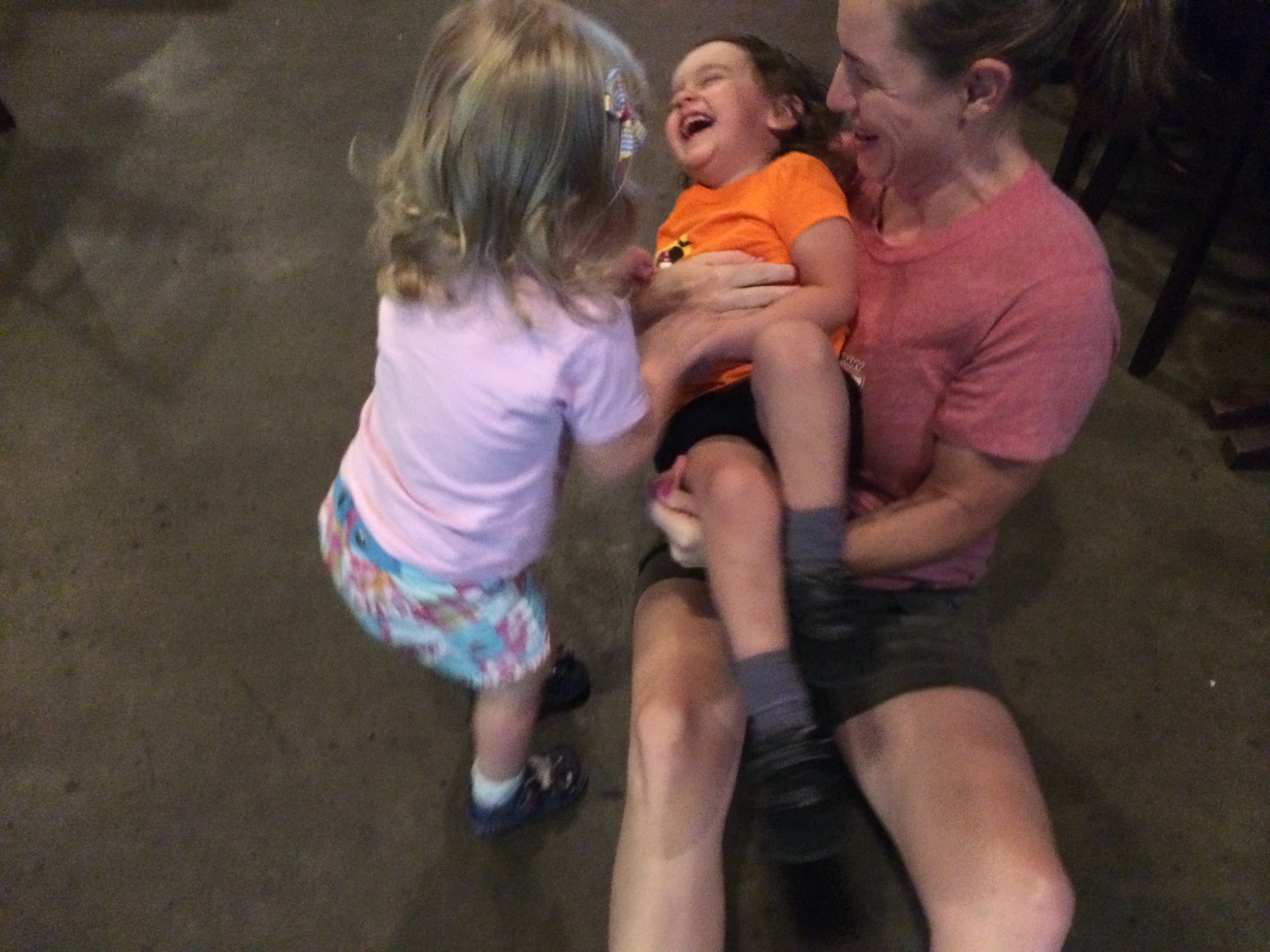 D tried to climb a tree. Ian helped.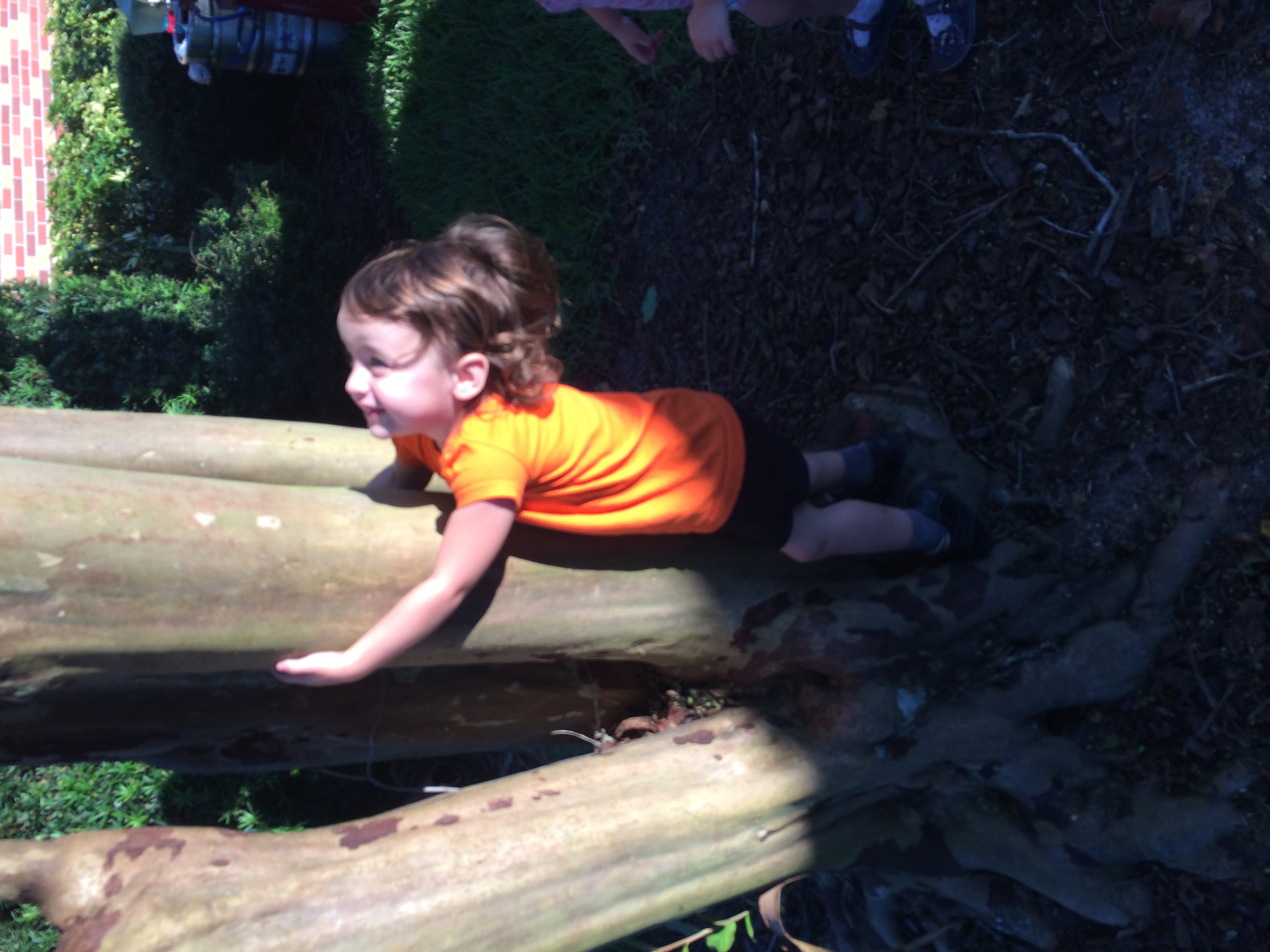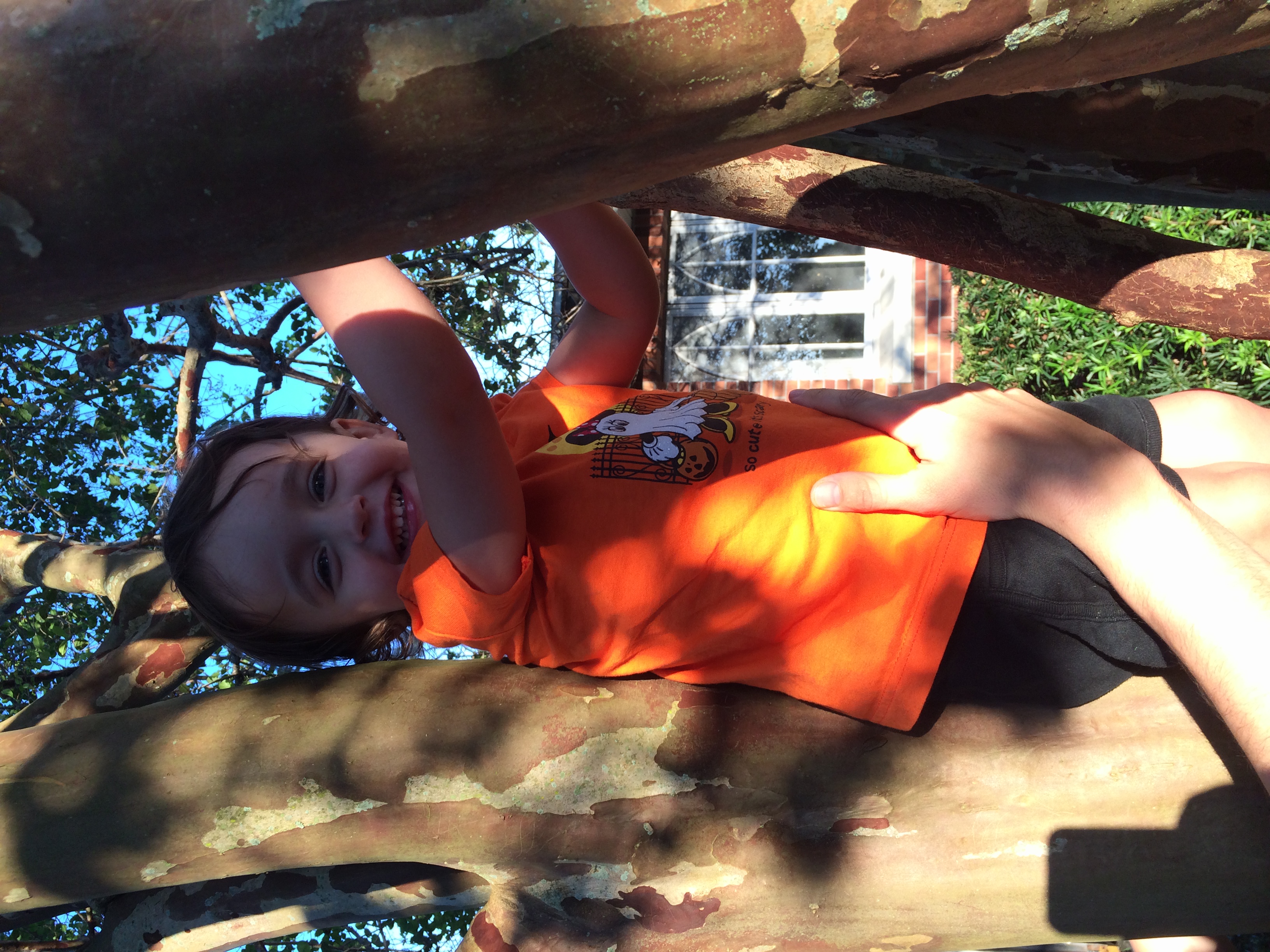 The main attraction for toddlers was a free bounce house. We headed over and heard the child ruckus from across the field. The bounce house was full of rampaging GIANT kids. Audrey took one look and was not having it. D? Would not be deterred. While I mentally prepared myself for consoling a trampled toddler, D hoisted herself to her feet and ventured into the chaos. She took one lap back and forth, giggling like a loon, somehow stayed on her feet, then seemed to realize she was taking her life into her hands and decided to end the bounce house romp.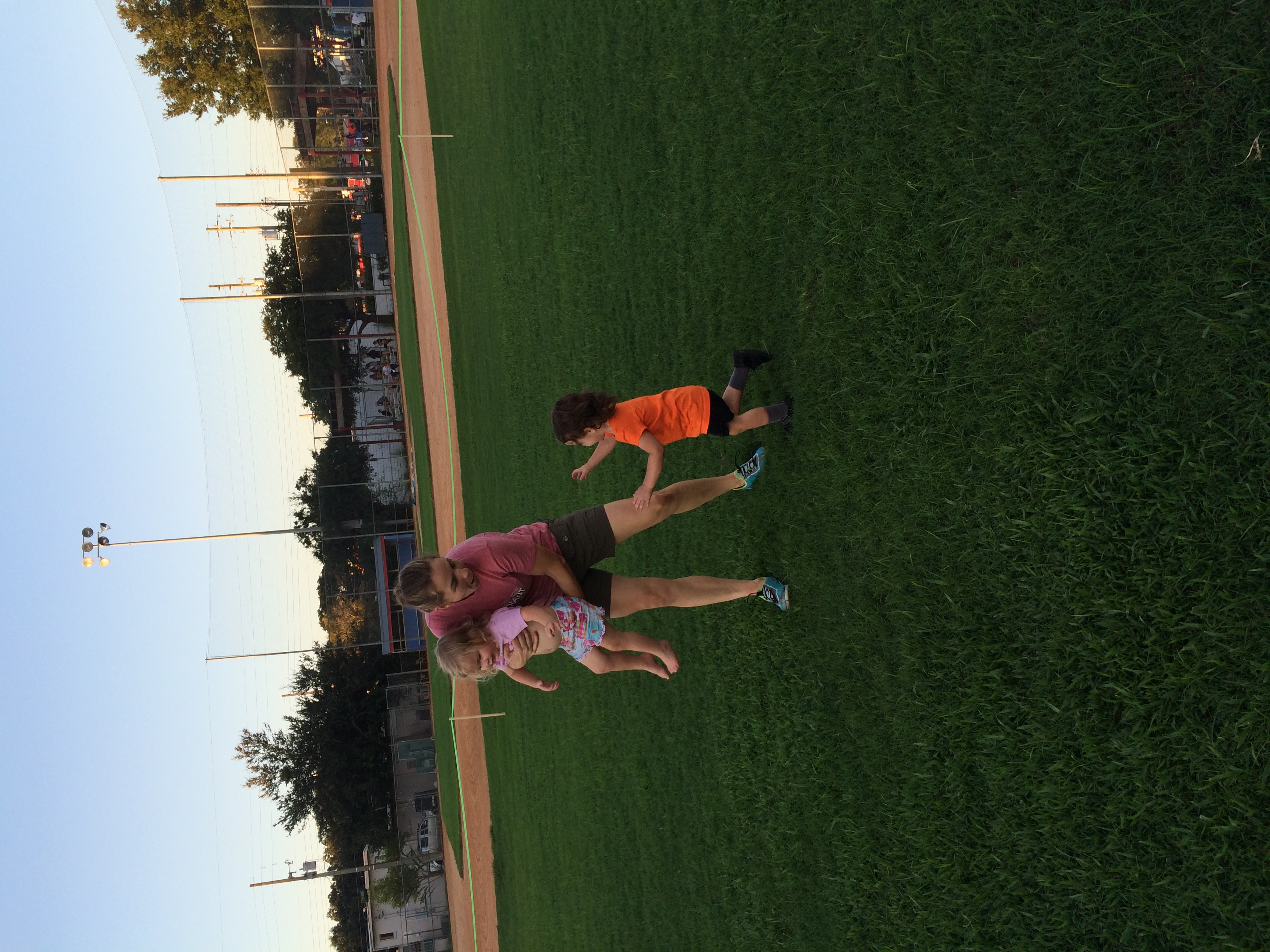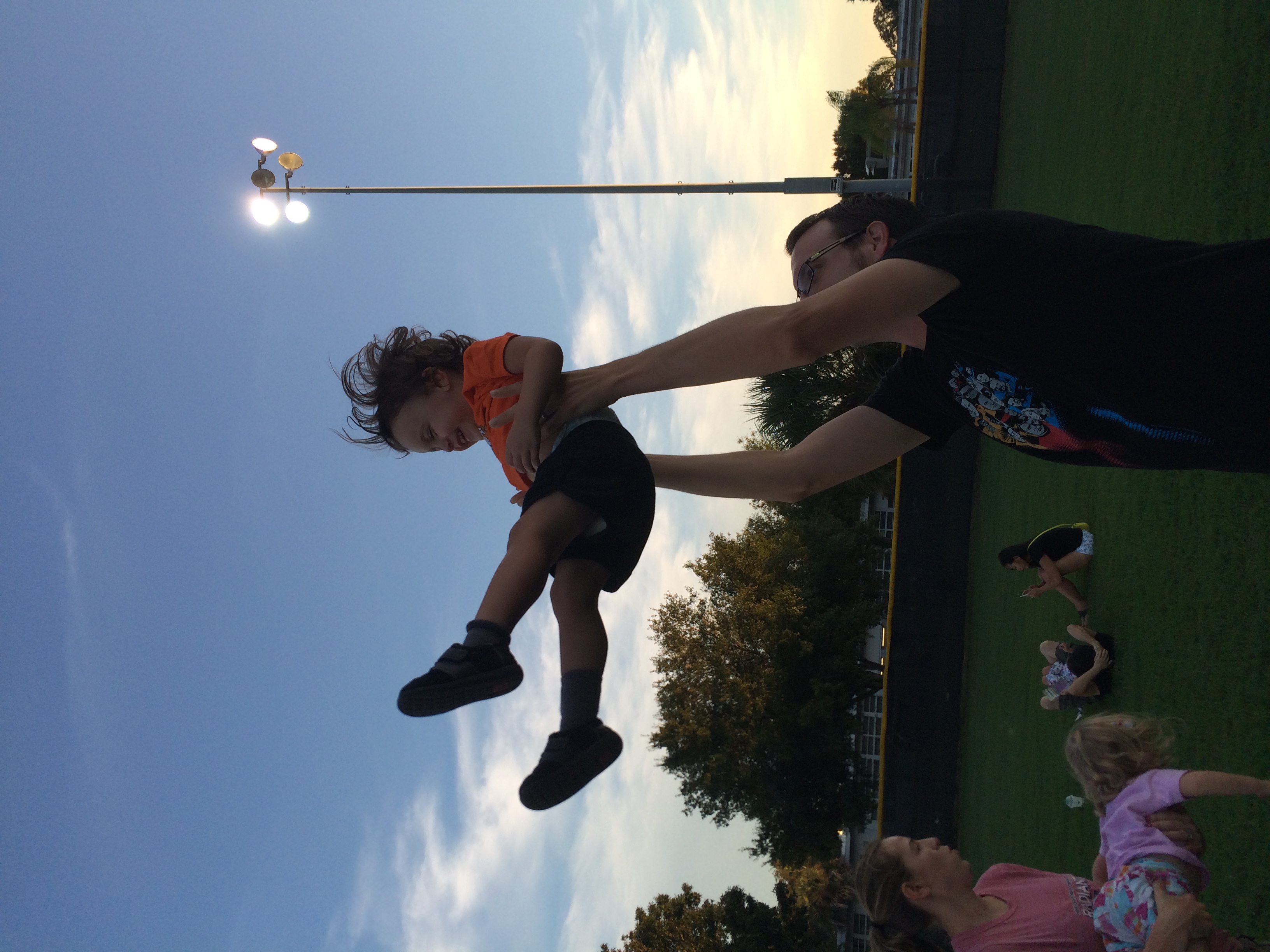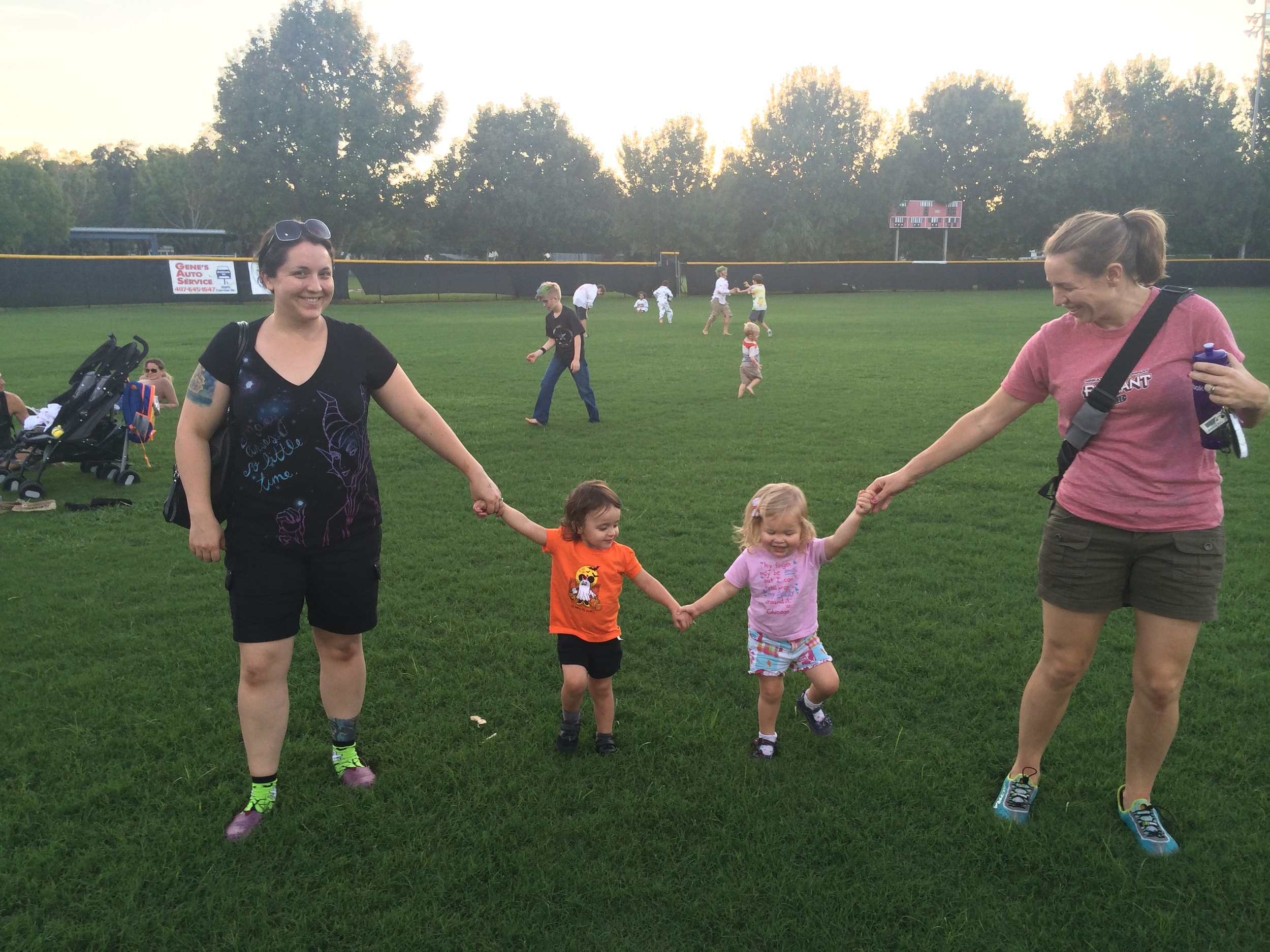 Another wide open space... another opportunity for toddler running. Eventually it was time to say our goodbyes and call it a night (pretty much at the exact moment that Zombietoberfest was picking up steam for the grown ups).
Sunday morning kicked off with a grumpy toddler and a grumpy husband. I know of no better place to put a smile on my family's place than the Magic Kingdom. Duh.
This was NOT the best Disney Day Ever, but it was still fun (between bursts of toddler drama). We visited Belle. D was way more consumed with twirling her Minnie Mouse petticoats than carrying on a conversation, at least she said Thank You (and was the only kid to do so, thank you very much) . On our way to Buzz Lightyear, I finally got to introduce D to one of my favorite character meetings: Stitch. Of all the non-face characters, Stitch is probably the best, the most engaging, the funniest. While waiting in line D and I talked about how cute Stitch was, and how sweet (I was TERRIFIED that she was going to pull a Mike Wasowski/Sulley on me and pitch a fit, since stitch has teeth and is technically a monster/alien). When it was finally our turn, D not only surprised me, she seemed to surprise Stich as well with the voracity of her affections.
She hugged, she kissed (OVER AND OVER), she posed for pictures, she said thank you, and she hugged again. I hopped in for a picture and a hug. Stitch stared after Daphne as we left with his little paw over his face. <3
We finally caught the Dreams Come True show in front of Cinderella's castle. It was cute. It featured "Talking" versions of not only Mickey, but also Minnie, Donald, and Goofy. Disney: seriously, making the "Talking" versions happen for more character meetings, they are THE COOLEST.
Obligatory carousel ride.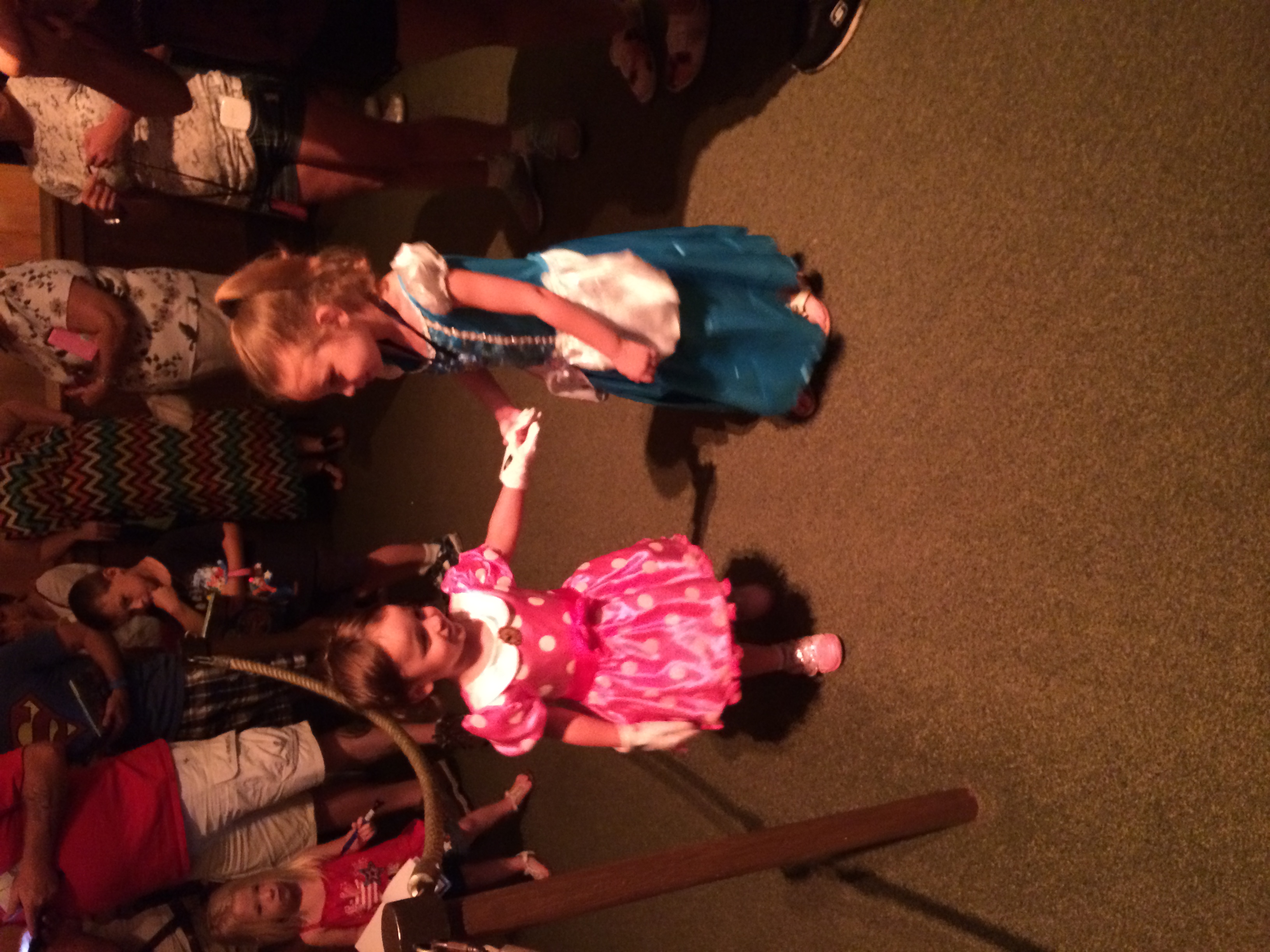 The glorious weather had the park PACKED. We decided we needed our Minnie/Minnie photo op, then call it a day. There was a considerable line, but D has no problem making friends with every other kid in the vicinity.
We had the most high-energy Daisy Duck of all time. Seriously, she was almost as nuts as my kid. I couldn't find a single picture that didn't have at least one of them blurry, since they were twirling and spinning like loons.
Thank goodness, this Minnie meetings was 100% nose-bopping free. D was thrilled to show off her GLOVES.
Daphne continues to run hot and cold ever since. In addition to the shoe drama, we're also having all kinds of bedtime drama over books (of all things). Bedtime storytime is supposed to consist of her sitting with us while we read a book together, but the last few nights she's just grabbed a book and plopped down as far from either of us as possible. Then when we try to let her pick out ONE book to take to bed, she'll pitch a fit that I won't let her take a fragile/paper book (rather than board), and get put to bed mid-tantrum. Monday night we went in to check on her after she'd fallen asleep to find she'd reached through her crib to chuck books all over the room in her towering rage. SIGH. Her ass is putting every one of those books back on the shelf when she gets home, so help me...