The Weekly Peanut, Issue 89
It's been a pretty darn good week in Peanut Land.
The word of the week has been "Oh." "Oh" is used as a flavoring addition to any statement to make people find it funnier. For example: "Daphne, would you like some goldfish?" "Oh YEAHHHH." "Daphne, did you forget to put your shoes away?" "Oh! Yeah!" "Daphne, did you leave that mess on the floor?" "Oh noooooo."
That's right, my kid is a comedian this week. Watching movies with my kid is pretty great (as long as you've seen it before, because she will TALK through it). Watching Fantasia...
D seemed rather perplexed when the crocodile only wanted to dance with the hippo instead. Watching Chernabog, which I was worried might scare her, "Ohhh... He biiiiig. Uhohhhh... no nice!"
We truly never know what kid we're going to wake up to every day. Right now she's oscillating between incredibly sweet and tender, silly, and loopy/crazy with a hint of violent. She turns on a dime. She's also turning into a little know-it-all. [Changing Daphne, she points up into her closet.] "You want to put on a princess dress? Elsa?" [She turns to look at me, puts her hand on mine to stop me and says, very seriously..] "Mommy... QUEEN Elsa." Touché.
Daphne is also big on establishing possession and we're trying to teach her possessive pronouns. "My goldfish." "My bike." "My shoes." Yup, yours. "Mommy vitamins." Yup, Mommy's. "Daddy coffee." Yup, Daddy's coffee. "My graham crackers." Well... no. Those are OUR graham crackers, yours, mine and Daddy's. [Hard squint] "MY graham crackers!" No. Ours. We SHARE.
November is going to be a VERY crazy month in our house; we have big plans pretty much every weekend, including a WEDDING in which Ian is the best man and Daphne will be the *gulp* flower girl. Plus it's out of town. Ah won't think about that now, Ah'll think about it tomahrroh.
We took this last free weekend to spend some quality time together. Saturday we opted for Animal Kingdom; for some reason it's never the first choice but we always have a great time when we go, plus there's the added bonus that it's a light day so there's no pressure to put in a long day like at MK or Epcot. The weather was PERFECTION. We opted out of a big princess costume (the coffee spill debacle of last weekend at MK... I'm still sad about the dresses that got thrown out, even if they were just the cheap ones), and pulled out one of her Frozen tutu dresses. Daphne looked at it for a second, "Aria dress!" ... What? Oh.. oh.... my god... "Uhh... yes, D. Your cousin Aria has this dress, too. She wore it when we saw them MONTHS ago." Holy moly I can't believe she remembered that O_O.
We started out at Kilimanjaro safari, since it really is different every time you ride it. Cooler weather always makes for a better safari, because the animals aren't hiding in the shade. The lions were even out! THAT NEVER HAPPENS. One of the giraffes was almost close enough to touch. After that we wanted to make a point of trying new things with D, so we hauled tail over to catch the Flights of Fantasy bird show.
D gave it a mixed review. She was a little stir crazy. She liked when the birds would fly over our heads. She was not fond of the lulls between birds during which the hosts would have long talks about things so clearly unrelated to Peanut life.
More new things: we got a FastPass to meet Mickey and Minnie at the Adventurer's Outpost. Now that the royal couple has been separated at MK, there aren't a lot of opportunities to get pictures with them together. D polished off almost an entire bag of goldfish between leaving the bird show and waiting in line for Mickey & Minnie. It helped improve her attitude remarkably. I had a little talk with D while we were in line about not being too mushy with Mickey since his wifey was there and we didn't want to start any trouble for the happy couple. D just can't help herself with Mickey, though...
Our next stop was all for me, something I'd been wanting to do since I found it was a thing and never got around to it: meet Dug (and I guess Russell is there, too). Seemed like there would be no better time since D recently watched Up and liked it, and the line was short (the thing that normally keeps me from doing this).
Waiting for the few families in front of us, I became convinced that Dug is trying to give Stitch a run for his money as the most entertaining character meeting. Seriously. He grabbed a pen away from a little girl and after he was done autographing her book he "licked" the pen repeatedly. He acted totally goofy anytime people were talking to Russell instead of him. I squee'd... I'll admit it. Several times maybe.
Our turn. D gave Dug a big hug, but then immediately ran over to Russell and started making googly eyes at him. Weird... Dug got one look at D's dress and started waving his arms around. Ian caught on first, "Oh... my god... he's doing 'Let it Go'." Dug nodded enthusiastically and went back to his Elsa arm flourishes, I started singing the song for him, D watched. Oh Dug. I love you so much. We even got my "SQUIRREL!" picture, even if Dug was the only one looking at an actual squirrel (I didn't know he had a squirrel toy in the room!).
By then it was lunch time, and we'd been craving Sa'naa ever since our lunch there in June so... that's where we went. I got their burger this time (with pickled shallots and goat cheese, omg so yummy). D was.... a little loopy in the restaurant. Spilled her water almost before we sat down. Then she insisted on "folding" all of our napkins on the table. Oy. She conked out in the car before we were out of the parking garage. It wasn't even that late... makes me think she's coming down from a growth spurt.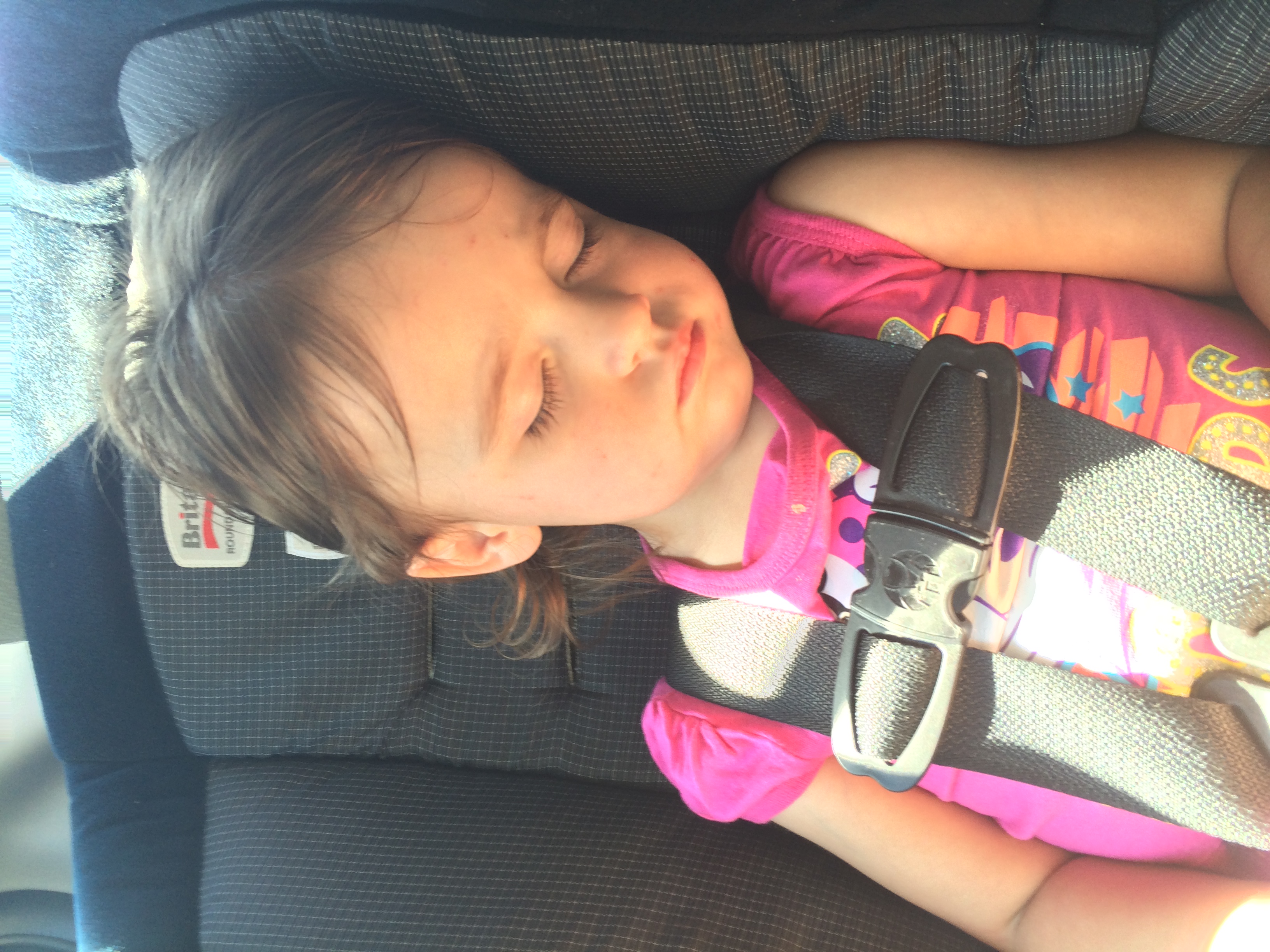 Saturday night my mom and Stepdad stopped by for dinner on their way back from a wedding in Howey in the Hills. I made a healthy shepherd's pie, and EVERYBODY ate it, even D, Hallelujah.
Sunday, aka "Ok let's get something accomplished this weekend" day. But not without some C&L brunch, first. We got D some profiteroles to try. She licked out all the chicory crema from the inside, of course. 'Cause coffee.
Then we stopped by Men's Wearhouse so Ian could get fitted for the suit he's wearing for the wedding that's sneaking up on us. D took the biggest, stinkiest poop in her diaper while playing with their blocks, which meant I got to change her diaper on the floor of their employee restroom. Ahhh the perks of parenting nobody tells you about!
Post nap I was on a mission: Photos for Disney's "Haunt Your Disney Side" contest. Costume category. I had a vision of D as Princess Tiana leaning over to sweetly kiss Fiona in a frog costume. I was going to have D saying "Arrrrrr" in her Pirate Fairy costume while Ludo posed next to her in a jaunty pirate hat. MAKING THIS HAPPEN. The first park we stopped at had a huge sign that said "NO PETS!" Grumble grumble. Finally we found our way to Kraft Azalea Gardens (thanks, Katy) in Winter Park/Maitland, and it really is everything I could have hoped for photography-wise. I wasn't the only one to think so; there were at least 3 other groups of people setting up photography gear around the tiny park. Cramming a kid and two dogs into the backseat of a Civic made for some interesting adventures, btw.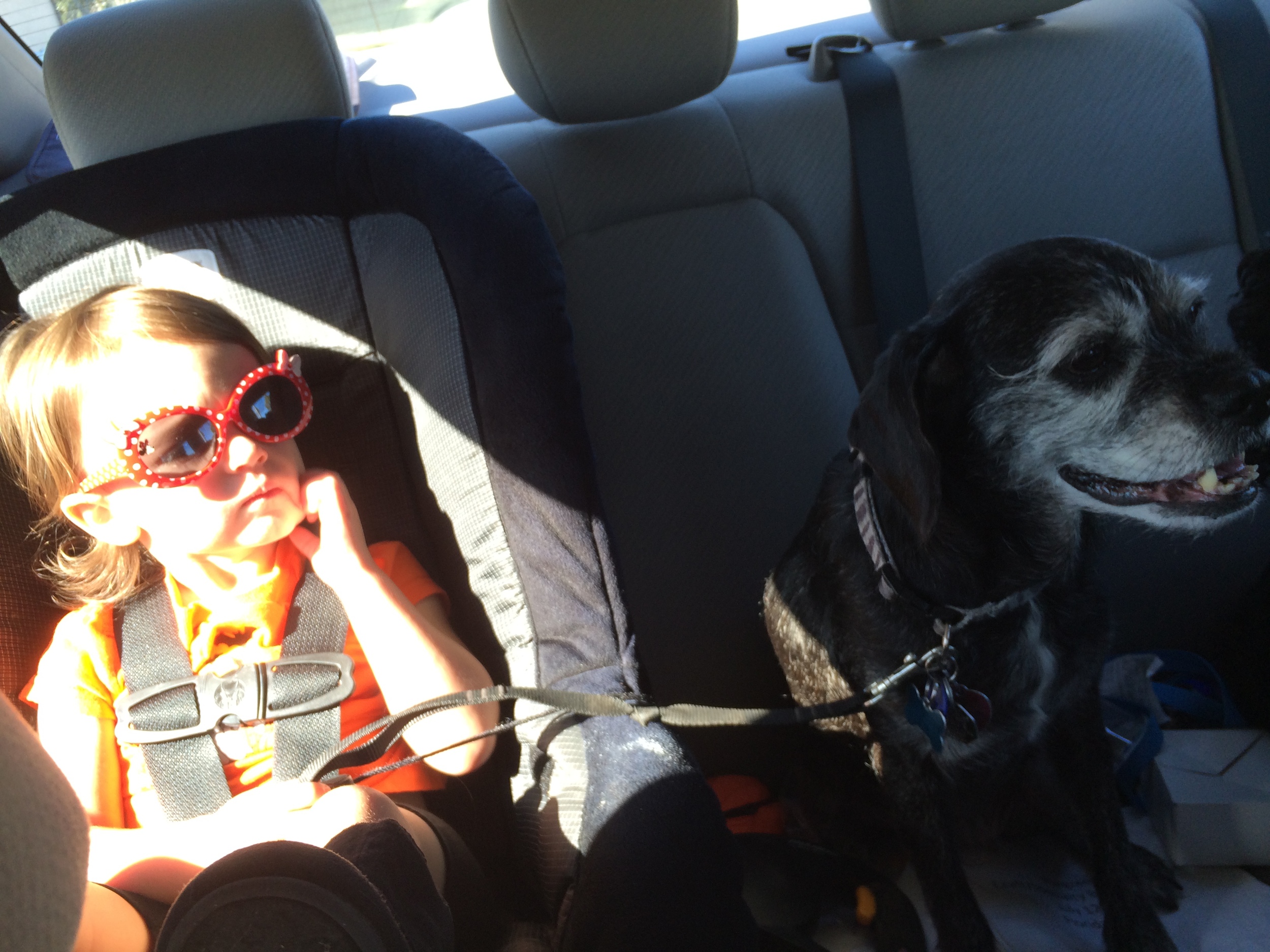 I grabbed my camera, kid, and the costumes; Ian wrangled the dogs. We found a bench and D eagerly put on her Zarina costume. I'd brought the headband and earring as a sort of wishful thinking, she never lets me put that stuff on her. "D... want to wear the headband and earring?" Eager nod. Knock me over with a feather. I tried everything to get Ludo to cooperate for the picture. He left the hat on, but that was about it. NONE of the pictures came out, not one. So we tried putting the hat on Fiona. No better. Oy. So I settled on taking pictures of D solo. It may not have been my original "vision," but I'm so tickled by these shots.
I took D over to the bench to switch her over to Tiana. She was less than thrilled, but she let me change her and get Fiona into the frog costume. I was hoping it was all the challenge of standing still that held the dogs back from the pirate shoot, so I sat D and Fiona on the bench and tried again. NO. DICE. NOT. HAPPENING. D wouldn't smile, Fiona just slumped over and looked old, bless her. *Sigh* So I took a few more photos of D solo. They came out cute, but I'm thinking we'll hold off and try again next year to do a Princess/Frog combo.
Dropped those unhelpful canines off at home and took D to her first pumpkin patch at a nearby church. Or, as D called it "Puhkidd Pashhh." She loved it. She tried to pick up ALL the pumpkins. We settled on one medium sized for the house and one little one for D to call her own. We came home and put our Mike Wazowski (or as D calls him, "MIKEYYY") face on it and called it macaroni.
There you have it. Another week in the books. I'm thinking of taking a solo Disney trip with D this weekend, so tune in next week to see how that goes.