The Weekly Peanut, Issue 87
*Sigh* The best laid plans and all that...
I feel like the fates have a constant tap into my inner monologue, just waiting for me to have a certain thought so they can make it explode in my face. I know better, I KNOW BETTER, yet I continue to have these thoughts and have to deal with the aftermath.
For example "We haven't gotten sick in a long time, IMMUNE SYSTEM OF STEEL!"
......
*SIGH*
But I'm getting ahead of myself. We've definitely been going through some tumultuous toddler tantrum times (ohhh the alliteration, it's soooo goood). D's language skills are getting better every day (she's FINALLY started to learn to thank people when they rain compliments down upon her. "D great job throwing your diaper in the trash! " "Thanks" I'll take it.
Bedtime Book Time continues to be a struggle with Our Lady of Perpetual Independence.
Through all the struggles of the week, I was not prepared for the sweet Peanut I was gifted with Friday night. She wanted nothing more to be snuggled up with Ian and I while patiently waiting for then scarfing her Macaroni and Cheese at Smokey Bones. She also struck a pose that's becoming a new favorite picture.
Ian's new job had him booked to work an event almost all day Saturday in Deland. Mommy and Daphne day? Yes. Where else? MAGIC KINGDOM, OF COURSE! It's been a while since my last flying solo Disney venture, and I had everything planned. Multiple outfit change options, all the snacks, all the bags, all the FastPass, EVERYTHING. PERFECT. Loaded in the car. Ready to go. We'd make it to rope drop if it killed me.
I woke up at 6:30 sans assistance (ahhh the perks of Parenthood nobody warns you about) and went into Mommy Tornado Mode in preparation for our BIG DAY. Finally, dressed and ready to go, I swooped into the Peanut's room ready for a day of DISNEY FUN.
D was not up and giggling. In fact she was curled up and groggy. "Peanut! Peanut it's Disney Day! Ready to go see Anna and Elsa?" She smiled up at me sleepily and I leaned into the crib to pick her up. "Whoa, kid... you are ROASTY!" No... no no no... no WAY. I'm just being paranoid. I grab the thermometer....
NOOOOOOOOOOOOOOOOOOO. 102.7.
I dumped my snuggly toddler furnace into bed with my husband so I could run to the store for Children's fever/pain relievers (I only had infant's, goes to show how long we'd gone without illness... SIGHHHHHH). I'd also like to add that MY KID ONLY GETS SICK ON THE WEEKENDS. Why is this annoying? Well 1) I can't call out sick to work and get unexpected days off (this thought came back to bite me on the ass, oy), 2) Dr's isn't open for walk ins on the weekend to tell me everything will be fine even though my kid burns scary hot fevers, and 3) Damnit, this is our family time. Now it's family sick time. Gah.
So we started pouring Childrens' Ibuprofen (which D loved, BTW) down her gullet while she demanded a Yo Gabba Gabba marathon. I, selfishly, got lots and lots of cuddly toddler snuggles. D, typical of her running a fever, other than being a little tired and snuggly showed no other symptoms of whatever was raging through her system.
When nap time came around D was starting up her usual protest when I sat her down for a serious talk. "Peanut, you're sick, right?" Nod. "You don't feel so good, right?" Nod. "Well when we're sick it's important that we help our bodies get better. Our bodies need lots of water and rest to get better, so it's important for you to lie down and take a nap, ok?" Okayyyy. She stopped whining and went into her crib. Took her about 40 minutes to fall asleep, but when she did HOLY MOLY 3.5 HOURS LATER. This kid hasn't taken a nap that long since I can't even remember when. High-five, Peanut!
Eventually we had to go to the grocery store to get some dinner. D got chicken nuggets, the race car shopping cart,
and a balloon for her troubles.
The meds were doing a great job of managing D's fever, and I had high hopes for Sunday when I caught D singing herself to sleep Saturday night.
Sunday morning I went charging into her room, thermometer at the ready. No dice, still fevered. Also still otherwise asymptomatic. Since we were not going to make it to Disney this weekend, we brought Disney home. D got fancy and watched Peter Pan.
Once the meds had her at a normal temperature we decided to venture out of the house for some yummy brunch. D's usually pretty reluctant to let me do anything with her hair, but when I offered "Anna braids" to go with her Anna dress? Sold.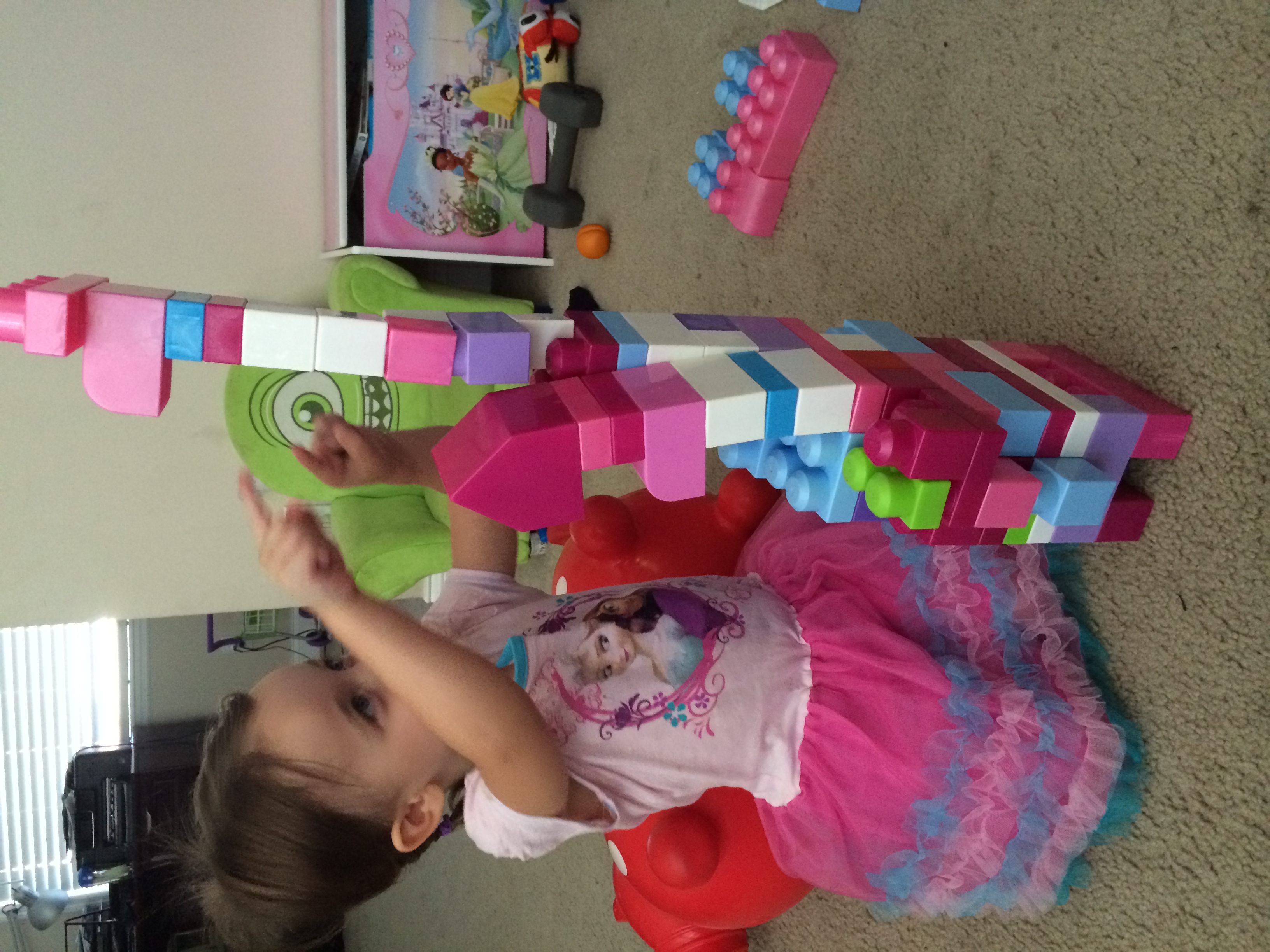 D also built (most) of that tower, I only laid about the bottom foot of the foundation. Way to go, teeny architect.
D was NOT on her best behavior for brunch. First she spilled fruit pouch all over her dress, my response was something along the lines of "Seriously, kid? This is not your first time at the Fruit Pouch Rodeo." She also got her whine on when I didn't have The Pirate Fairy on demand for her to watch. At least she's cute, guys, right?
D took another EPIC nap when we got home, then rediscovered her guitar.
Monday morning I'd resigned myself to finding a sick kid covered in snot and puke in bed (at some point this fever has to turn into something, right?). We'd go in to the doctor, and he'd tell us to stay home until the fever is gone, blah blah. I was NOT prepared to wake up sick as a dog myself (although, come on, my kid sneezed in my face at least a dozen times, I'm not sure what I expected). I entered her bedroom with the thermometer... and my kid is totally normal. She's up, she's perky, she has ZERO symptoms of any kind of illness.
The last time we had one of these random high-fever episodes, the doc said it was her body fighting off an infection. He said that no other symptoms appearing was a testament to just how powerful her immune system was, that it managed to burn off whatever was in her system without it getting any worse. So, yes, the fates heard my bragging out my family's awesome immune system and took it as an opportunity to demonstrate our immune powers.
No more inner monologues for me, nope nope nope.