The Weekly Peanut, Issue 32
This weekend kicked off with Daddy/Daphne Saturday. Any nervousness I might have had was totally unfounded (of course) since D had a really great time (in fact she only went into turd mode after I got home). Daphne even got a visit from Grandpa Bobo and a trip to the Cask & Larder out of the deal. WOW. Here are some fun pictures and videos from Daddy/Daphne day.
Sunday we went out for a "fancy" brunch at Dexter's. Daphne was the only fancy one in our party. D was actually on her best behavior, didn't hurt that I had Yo Gabba Gabba for her to watch. She also very actively yelled "DOGGY!" at the people next to us who'd brought their standard poodle to brunch. Doggy continues to be her only word. We're trying so hard for Mama or Dada but no dice.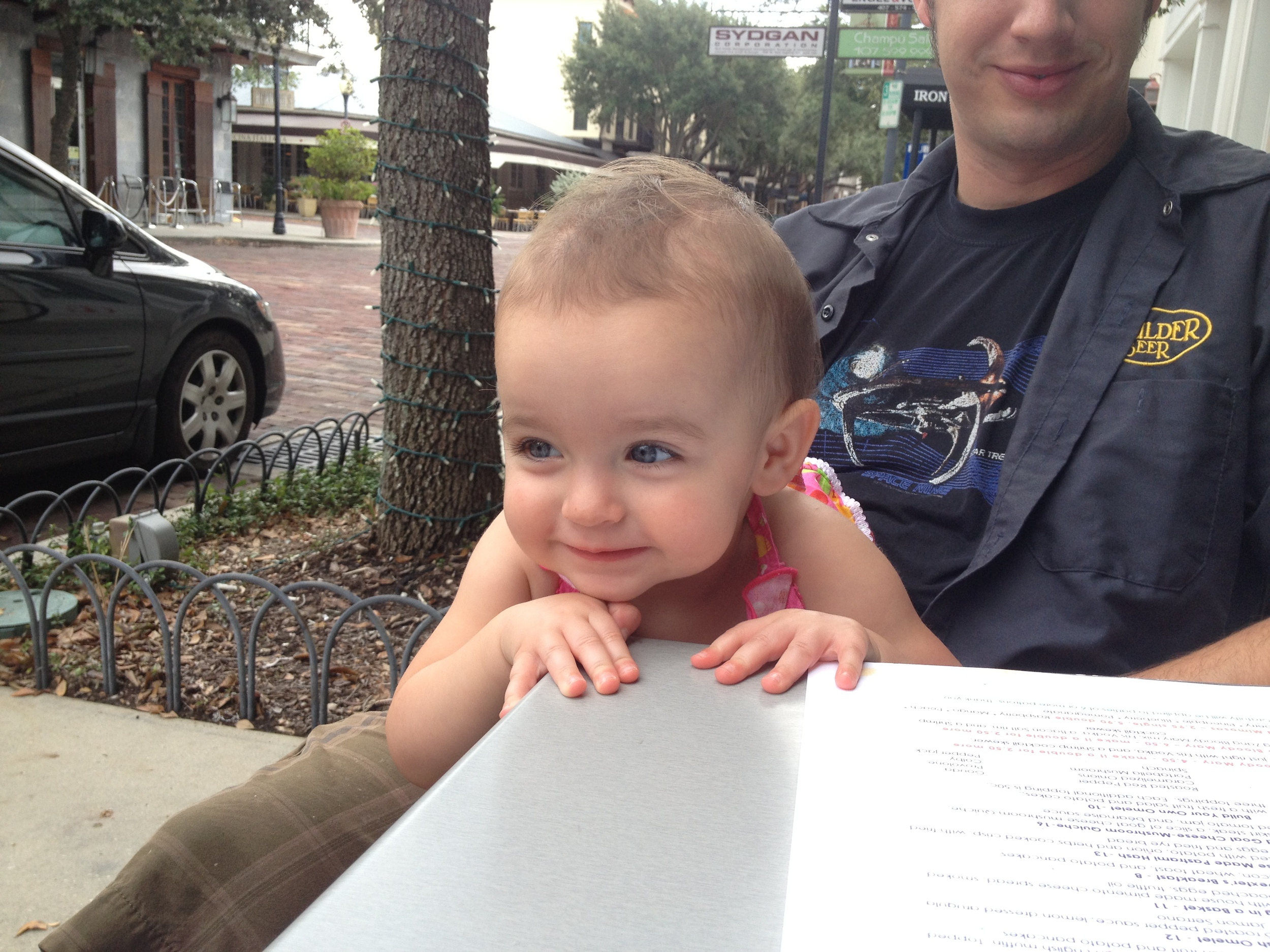 Monday we got school pictures back. Look at that punim. Already such a pro at posing. Although, that toothless grin is SO Ian.
Daphne is not much of a snuggler. At least not with us. With the dogs? Try to stop her. She crawled all over Fiona on the couch, tugging on Fiona's ears and rubbing her face into Fiona's belly.
We've decided the time has come to start weaning D off the pacis. This weekend was the beginning of the process. We're starting with limiting paci time to the car (she whines constantly without it when we drive), and the crib. When we go out, we keep one with us for emergencies, but so far she's been getting along fine with being distracted by food or the phone. So far, so good.
Daphne is not a fan of Ian's TV shows. So much so that Tuesday night, when Ian was trying to watch Bill Maher, Daphne cried and whined and screamed until we put on Yo Gabba Gabba, when she INSTANTLY cracked a huge grin and danced and bounced around the couch. Yup, sounds about right.
Monday we had a folllow up with the ID Doc, Dr. Jordan. He said she seems to be responding very well, no negative side effects to either script yet. Her neck actually seems to be healing, which seems to be on the faster tier as far as response times go, so we're optimistic. She also let me take the cutest darned picture in the waiting room.
Next week... Goshdarnit next week I'd better be able to say she's calling me MaMa!